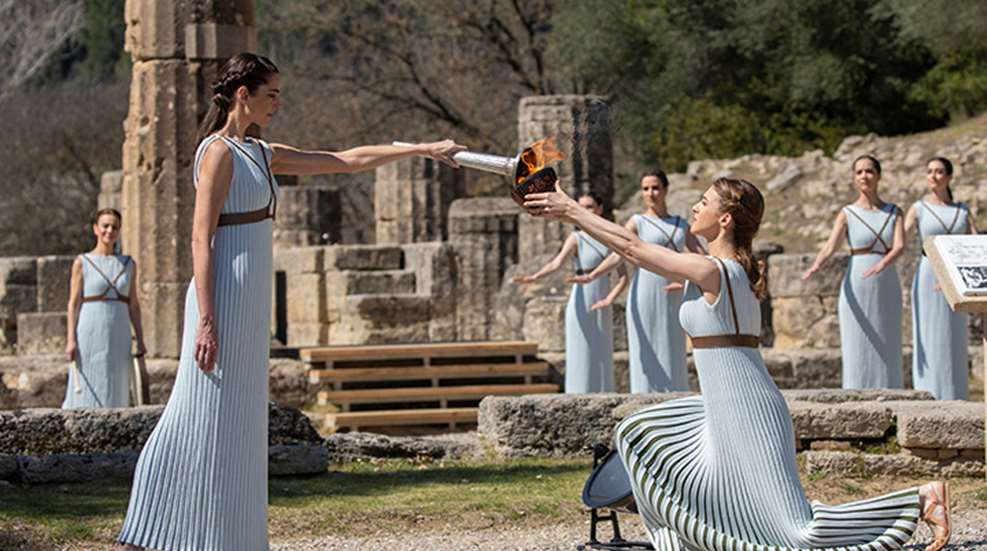 Above: The lighting of the flame ceremony held in Ancient Olympia, Greece, on March 12, 2020 for the Tokyo 2020 Olympic Games. (Photo courtesy IOC)
Facing soaring costs, organizers of the Tokyo Olympics and the International Olympic Committee (IOC) announced Thursday the implementation of cost-cutting measures in areas such as hospitality as well as some of the public spectacles we've come to associate with the Games. The cuts are intended to help reign in the estimated $2-$6 billion of added expenses due to postponing the Tokyo Olympics to 2021.
Japan will likely bear the brunt of the additional costs to conduct the Games. According to the AP, during a teleconference the IOC's Tokyo inspection team head John Coates "made it clear that Tokyo organizers and the Japanese government will be absorbing the billions in added expenses." However, while not footing the bill for postponement costs in Japan, the IOC does plan to contribute several hundred million dollars in aid to international sports federations and national Olympic committees that are facing hardship due to the coronavirus pandemic. Many of these groups receive all of their financial support from the IOC.
Coates also stressed how stakeholders must now differentiate between "needs" and "wants" moving forward to next year in the post-coronavirus world. The Tokyo Games are currently scheduled to open in July 2021, with 11,000 Olympic and 4,400 Paralympic athletes from 206 national Olympic committees heading to Japan.
"Do we need to make provisions for as much hospitality for the sponsors, the broadcasters and the national Olympic committees?" Coates was quoted asking during the teleconference. "Many of the broadcasters may not have as big a presence here as advertisers because of the economic downturn."
In a joint statement, IOC and Tokyo Olympics officials outlined a framework going forward "that will govern preparations for the postponed Games," with a roadmap coming next month. 
One of the principles in the joint statement says, "[Stakeholders] will explore all opportunities to optimize and streamline the scope and service levels at the Games, and reduce the costs that have been caused by the postponement. The IOC and the Japanese side, including the Tokyo 2020 Organizing Committee, will continue to assess and discuss jointly about the respective impacts caused by the postponement."
The spirit of collaboration should contribute to the success of the postponed Tokyo Games next summer, while keeping everyone safe at the same time. "A number of measures addressing the potential impact of Covid-19 will be incorporated into the Games Delivery Plan for the Games in 2021."
So how does this all affect Team USA? Well, really not much in regards to the shooting sports. Last month, USA Shooting announced that athletes who have already secured team berths will retain their spots at the postponed Games next year. As we move towards the Tokyo Olympics in 2021, SSUSA will continue to provide updates. Be sure to subscribe to the free Insider newsletter here.
---
See more:
About As Close As It Gets: The 1953 NRA Smallbore Rifle Prone Championship