by
Chris Christian, Field Editor
posted on October 21, 2015
Support NRA Shooting Sports USA
DONATE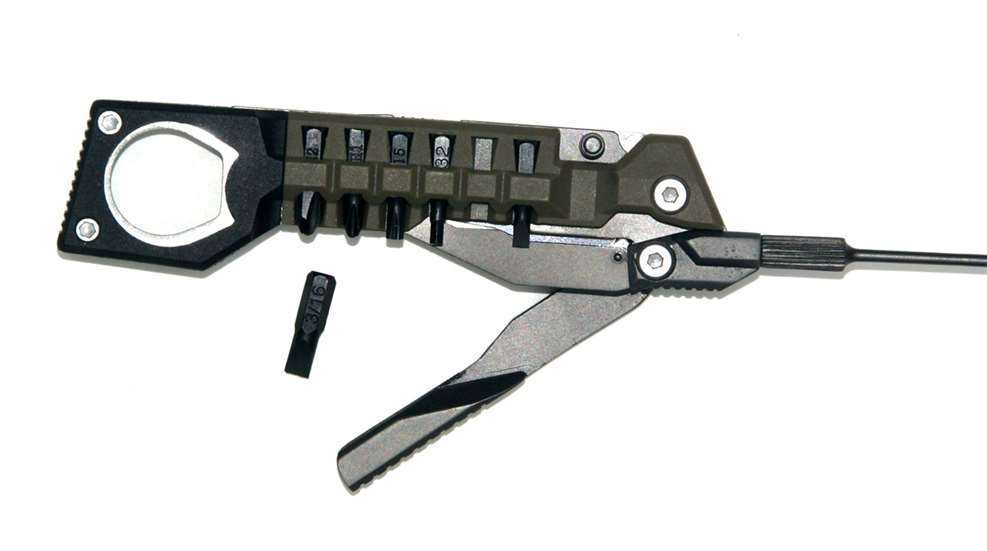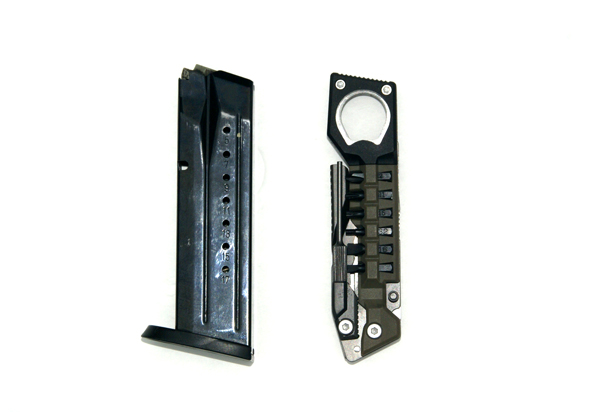 Handguns only seem to develop problems when you're actually shooting them. That's not good news if you have spent time driving to a range for a practice session, or paid good money to enter a pistol match.

Fortunately, barring a catastrophic gun or ammunition failure, most of the annoying "gun problems" that can turn your day ugly are relatively simple to fix if you have the proper tools on hand. With the right tools, a quick trip to a Safe Handling area can correct problems with loose screws in grips, revolver side plates and mainspring tension screws, sight mounts, or re-zero adjustable sights, clean out clogged extractors and re-set drifting pins.

Given the numerous screw types in common use, the only question is do you have the right one? The new Real Avid Pistol Tool provides an answer, and in a compact package that won't stress even the most heavily-loaded range bag.

Constructed from titanium-coated stainless steel, the Pistol Tool weighs about seven-ounces and when folded is virtually identical in size to a Smith & Wesson 9 mm M&P magazine. In fact, it will fit into the same magazine carrier.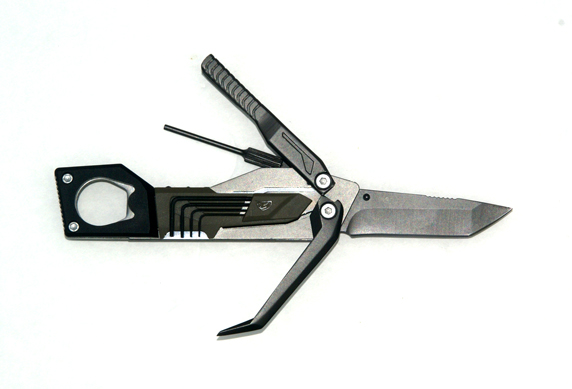 One end of the Tool features a double sided 1911 barrel bushing wrench. One side fits the Gov't Model and the other side fits the Officer's Model. On the end of that is a tap hammer surface. A three-inch Tanto blade and three swing out arms come out from the body and each features a liner lock to secure it in place during use.

Additionally, one arm holds a 3/32 inch pin punch in a female-threaded head. The punch can be removed and used with the tap hammer for stubborn pins. The 3/32 female threads also accept many common accessories (including bore brushes and slot tips that can be quickly installed to scrub a dirty chamber).
Another arm features a 2.5-inch bit driver that accepts six supplied ball detent lock bits. The bits are secured in a polymer holder mounted on one side of the tool. They include a #1 and #2 Phillips screwdriver, which will handle most Phillips chores and are especially handy if the tension screws on Kydex holsters or mag pouches need adjusting. A T15 Torx head and a 3/32 Hex head are also included and fit the mounting screws on a number of reflex sights and adjustable iron sights.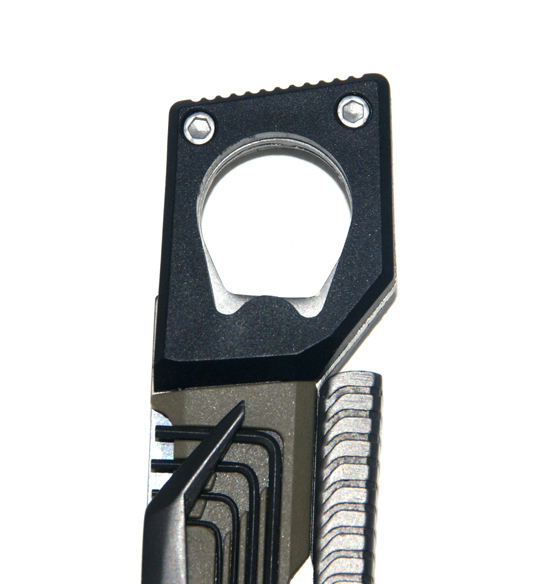 The last two bits are a 3/16 inch and a 1/8 inch flat screwdriver bit. The 3/16 inch is pretty versatile and handles a lot of chores. The smaller 1/8 inch has proven especially useful and will handle the small side plate screws on Smith & Wesson revolvers, and are small enough to deal with the windage and elevation screws on the Burris FastFireIII and similar reflex sights that use flat screw heads for adjustments.

The bit driver arm also features a small section of hardened, fine tooth, steel file on the underside of the head. It's not something one would often need, but I have used it to remove a burr or two from the top of a front sight that recoil smacked into the top of a firing port. It quickly got me back to a "clean" sight picture.

The remaining swing out arm is a non-hardened stainless steel carbon pick/scrapper that's handy for picking debris out of semi-auto actions, or cleaning up around revolver forcing cones.

Lastly, a second polymer holder on the opposite side holds four Allen wrenches: .028, .035, .05 and 1/16 inch sizes. The larger size is a perfect fit for the Allen heads that adjust windage and elevation on the JPoint and other "Doktor-type" sights using that system, while the smaller sizes will fit the adjustment heads on virtually all laser sights.

That's a lot of "useful stuff" from a $39.99 tool that isn't any bigger than one of my pistol magazines, and takes up no more room than that in my range bag.