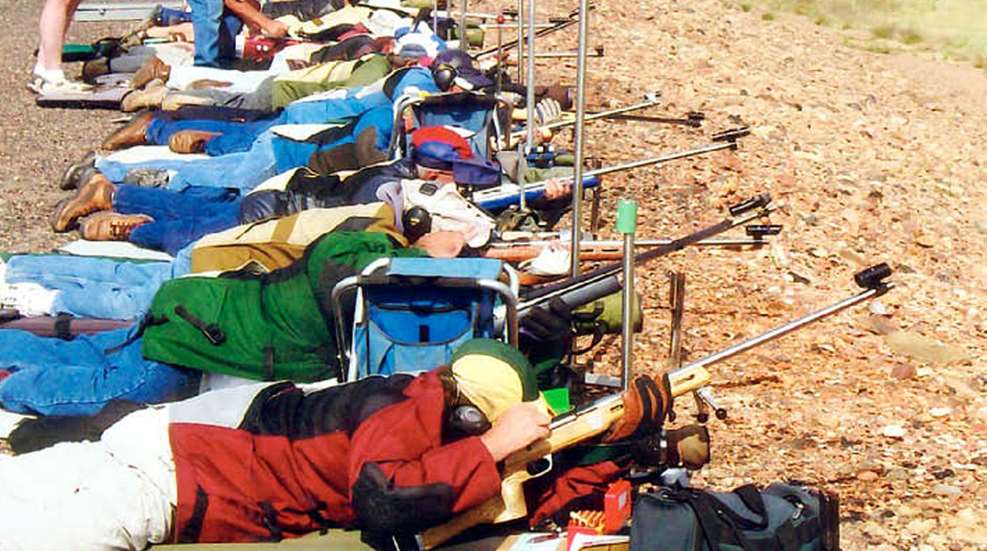 Editor's note: The 2009 Spirit of America match had a lot of familiar names at the top of the leaderboard. By then, F-Class and Fullbore rifle competitive shooting was in full swing. Here's John Gaines' article covering the event, as published in the August 2010 issue of Shooting Sports USA.

The first Spirit of America match was held in 2002 at the NRA Whittington Center, Raton, NM, and it has grown in size and stature to become one of the premier fullbore matches in the world. It is now the National Fullbore Rifle Prone Championship of the United States.

The 2009 match was held August 28-September 3, featuring individual and team matches at 300, 500, 600, 900 and 1000 yards. Matches for "target rifle" (T/R) shooters are fired prone with metallic sights. F-Class shooters shoot prone with scoped match rifles with ground support (bipods or pedestals).

Sierra Bullets, Sinclair International and McGee Rifle Stocks sponsored the individual matches. The hosting Bald Eagles Rifle Club also sponsored an individual match in honor of U.S. Armed Forces. Team matches were sponsored by Galaxy Glass, Cunico Automotive (Raton), Folsom Shooting Club (Sacramento, California) and Sierra Bullets. Our hats are off to these generous people and organizations for their support.

The overall match winner in the T/R category was Bryan Litz with 1793-121X, followed by Mitchell Maxberry with 1788-108X and Nancy Tompkins with 1787-112X. Eddie Newman was High Senior with 1775-95X, and Barry Smith was High Grand Senior with 1771-79X. In the F-Class contest, Charles Ballard was the match winner with 1775-94X, followed by Danny Biggs with 1770-83X and Larry Bartholome with 1769-103X.

Among the match statistics there was one name that comes up rather often—Bryan Litz. It seemed as if he could do no wrong. He is a ballistician for Berger Bullets, and word has it that he can sweet-talk the bullets. Other notable shooters in the long range shooting games, both T/R and F-Class, were at the match and did well.

The Spirit of America match has progressed from a rainy-day idea to a national championship. Many people have had a hand it putting it together, improving it and keeping it going. Along the way, the Bald Eagles Rifle Club has developed a set of rules to govern fullbore and F-Class shooting in this country.

The 2018 Fullbore Prone/Spirit of America National Championship will be conducted September 8-14 at the NRA Whittington Center in Raton, NM.