Remington Ammunition today announced that three-gun competitor Danyela D'Angelo has joined Team Remington.
A competitive shooter known for her videos highlighting speed, accuracy and her competitive nature on social media, D'Angelo has generated a large online presence with 153K followers on Instagram and 45K on TikTok.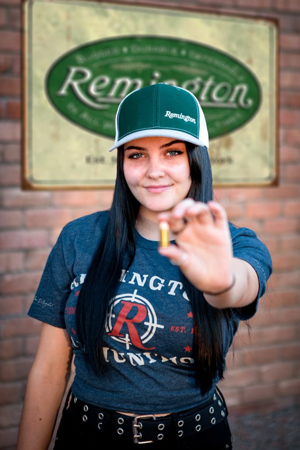 Shooting mainly USPSA Pistol Open division and three-gun, D'Angelo will soon be competing with Remington pistol, rifle and shotgun ammunition—showcasing the iconic Big Green brand to the next generation of competitive shooters.
"I'm so happy to be a part of Team Remington and get the opportunity to shoot a variety of Remington ammo for practice and competition," said D'Angelo. "Everybody knows the prestige and heritage associated with Remington and I'm really excited to showcase the capabilities of their ammunition and start winning as a member of the team."
Having the support of a solid company like Remington will surely help D'Angelo achieve success in her future competition goals. To prepare for matches, she shoots about 3,000 round each month during practice sessions. The partnership should prove fruitful for Remington as well, since D'Angelo can help spread the word about the company's products with her sizable social media fanbase.
"Danyela is a talented shooter and has been able to capture the interest of a huge audience in the shooting community," said Joel Hodgdon, Remington Ammunition's marketing director. "She has so much potential and with her reach to the younger generation of shooters, Danyela has the ability to promote Remington and the shooting sports in general in a very positive light."
To see Danyela D'Angelo put Remington ammunition to the test, visit her Instagram, YouTube, TikTok and other social media channels. For more information about Team Remington, go to remington.com.