Remington Ammunition has announced plans to reintroduce Peters Paper, a favorite shotshell for shooters that is sure to tug at your nostalgia strings. With the classic shotshell returning, trap, skeet and sporting clays shooters can look to it as a new option for classic paper loads with modern performance.
Available for only a limited time, Peters Paper shotgun ammunition will be sold exclusively on Remington.com.
New Peters Paper loads include the classic retro blue paper hull, clean and reliable primers, plus carefully selected powder blends and high antimony shot for tight, uniform patterns on clay targets.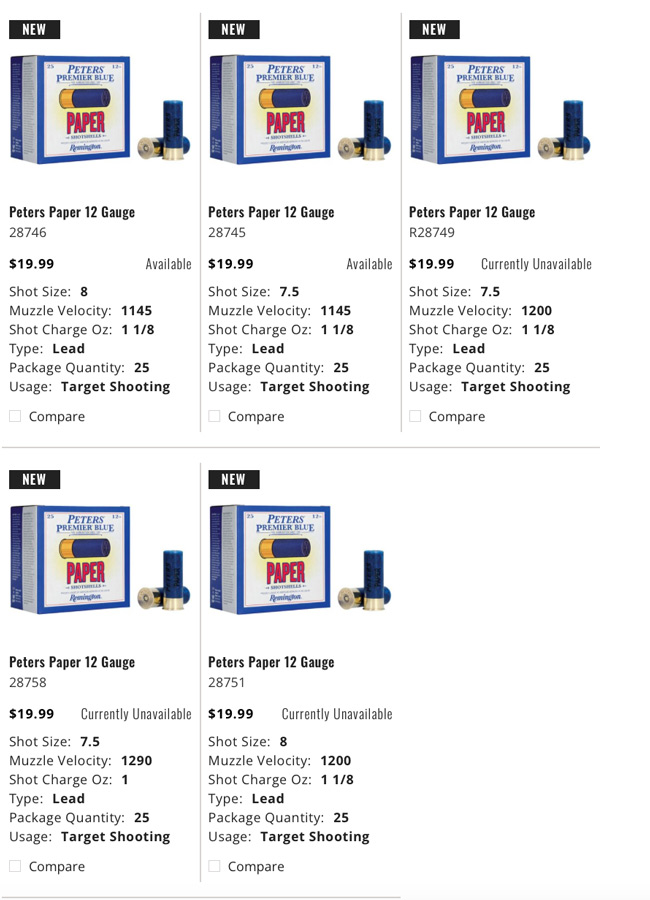 Founded in 1887, Peters Cartridge Company forged a solid reputation for innovative, high-performance cartridges for rifles, pistols, revolvers and shotguns. Remington purchased the Peters Cartridge Company in 1934 and became known as Remington-Peters for a time. Many Remington cartridge heads are stamped with "R-P" to this day. By 1960, Remington introduced the first shotshells with plastic hulls. For modern production, Remington hulls retain the iconic "Remington Green" coloration, while Peters hulls will keep its distinctive "Peters Blue."
Here is what Remington's Director of Marketing, Joel Hodgdon, has to say about the return of Peters Paper shotshells.
"We've talked a lot about Big Green being back. Now we are thrilled to add some blue into the mix. These Peters shotshells are a true classic that so many shooters know and love. Remington is proud to introduce paper loads back into our lineup, but don't worry, we are still making millions of plastic Remington rounds, too."
Learn more about Peters Paper and Big Green ammunition at Remington.com.
---
Read more:
What's In Your Range Bag, Sean Yackley?