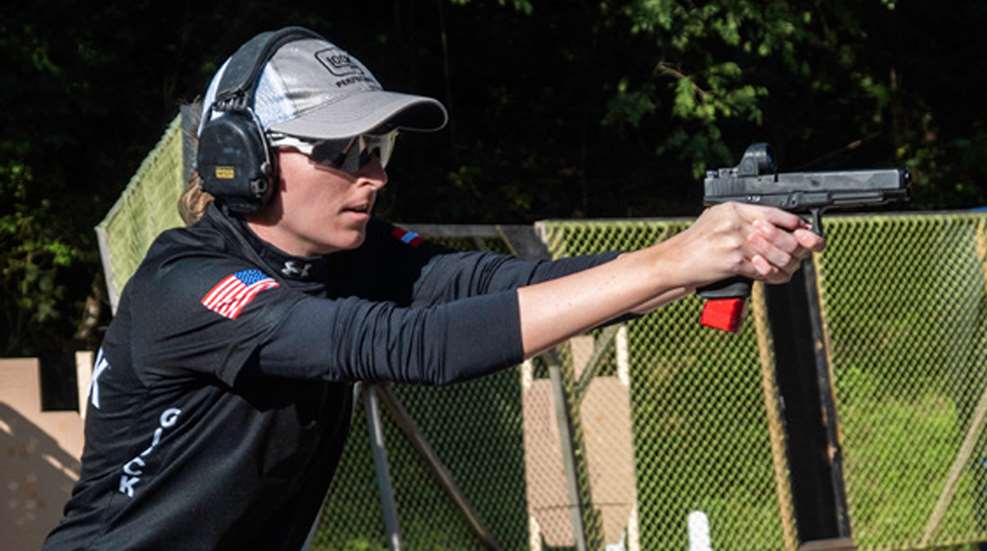 Three months may seem like a reasonable amount of time, but in Match Director land it's a blink of an eye. The blink took us from the June 2021 USPSA Kentucky Section match to the September 2021 USPSA Area 5 championship hosted by Blue Grass Sportsman League in Wilmore, Ky.
With a proper time frame to work under, this year the expectations were high for our resident glutton for punishment—I mean Match Director, Lafe Kunkel. Luckily for all the shooters (and for his sanity), those expectations were surpassed. For most, simply being the club's USPSA guy, on top of running a business, is more than enough. Our guy decided he wanted some majors also, but to make things interesting he decided to dig out and grade a whole new bay the week before stage building commenced. That was a huge risk, but it paid off. Let's start out with that stage, shall we?

Stage 7, I'm Strangely Comfortable With That, sponsored by EGW, was quite the surprise for Blue Grass regulars, as it was just a hilly swath of woods they walked past. This time, they were greeted with a quick stop for 18 rounds of zigzagging to break in the new bay. There were options on the move, but not too fast, thanks to some well-placed partials. This was one of those stages you want to shoot again with wide-open targets just to see how much faster you could push. Stage 7 was expertly staffed by Rameen Salehi, Aaron Brulc, Fred West and Paige Smith.
The match had competitors of all skill levels from 27 states, with 305 registered shooters, and 31 percent of them classfied as Master and above. There were 34 Grand Masters and 60 Masters. Tom Palmer, our Range Master, kept a watchful eye while addressing issues with composure.
All eight of the USPSA divisions were represented, with only one person shooting Revolver. Limited 10 came in second to last with three participants. Carry Optics took the majority of the participants at 30 percent, with Open coming in second with 24 percent. These percentages are in line with other major matches we have had at Blue Grass Sportsman League.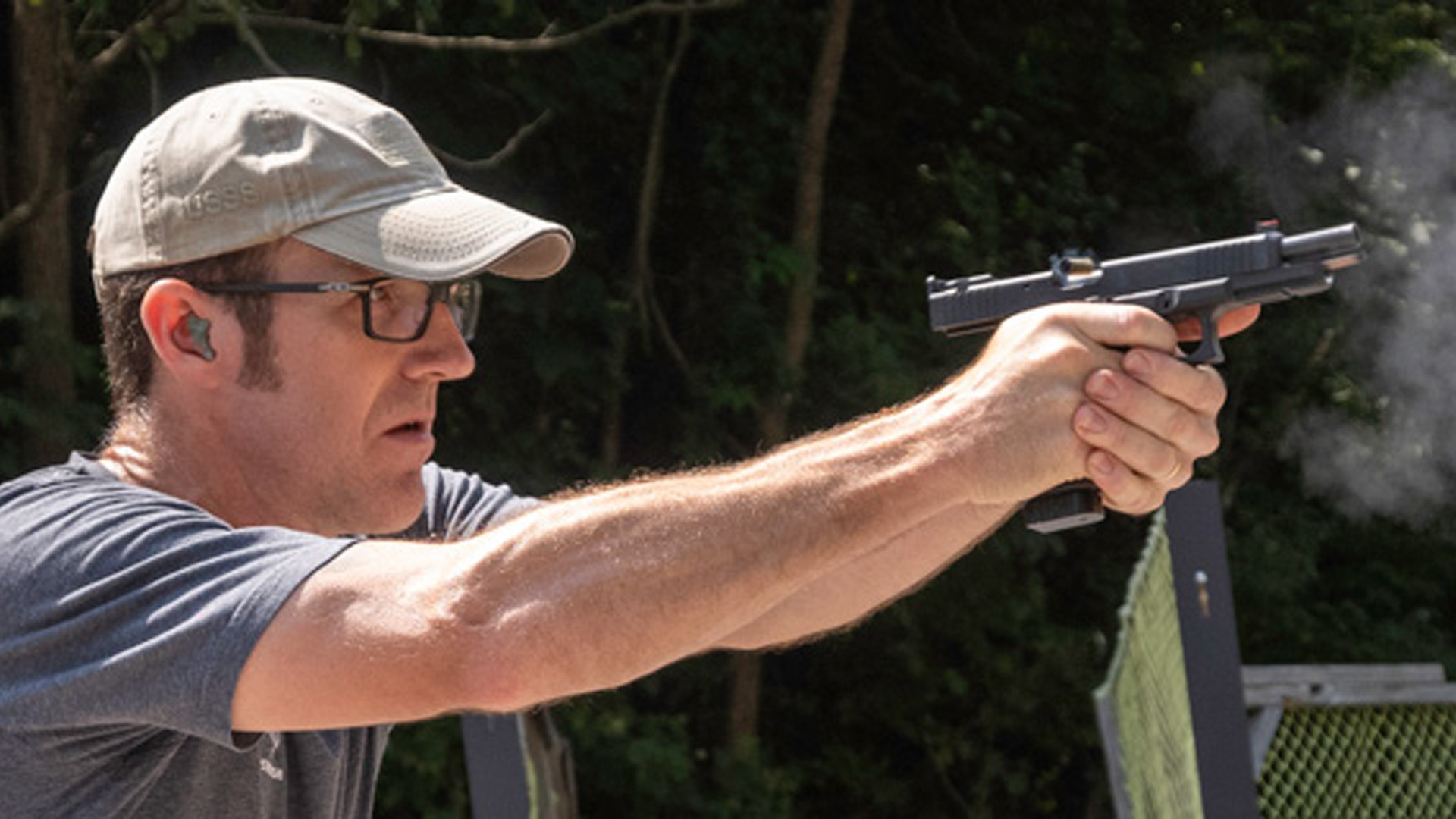 Stage 1, People In Glass Houses … Sink Ships, was our Glamour Shots stage, with Bluegrass Sportsman League's resident photographer Dale Matthews making everyone look like a seasoned professional, if only for a split second. Stage 1 was sponsored by Glock and staffed with the one and only DNROI, Troy McManus. Troy was joined by Jeremy Kifer, Lynn Janicki and Dan Click. Shooting on the move paid big dividends here—the shooting area shape allowed you to choose from multiple distances in order to engage the swingers, depending on your ability. Attention to small details was on display with the swingers at the match, as no two had the same engagement arc.
Stage 13, Yeah, Well, That's Just, Like, Your Opinion, Man, sponsored by Carver Custom, was a popular stage. I'm certain that was due to Russell Fortney's Perrier cooler. Russell, who is a Range Master, worked a stage at all of the 2021 USPSA Area matches. You may have also seen him working Nationals. Russell is a well-known connoisseur of water, but he also brings a great attitude and expertise to the game. Russell's teammates were the talented Candice Juliano, Hillarey Kriegler and Marcia Clift. Stage 13 took full advantage of the bay's ability to have larger amounts of movement without trading off target distances. The crisscross design of target availability meant more than a few people had to backtrack for a missed target that was painfully visible but not able to be engaged from where they noticed the misstep. Thanks to the plethora of Steel Challenge plates at Lafe's disposal, the double swinger was exposed only between 1 and 3 o'clock and 7 and 11 o'clock, adding an extra layer to the movers, which were placed at the perfect distance to question ones shot-calling confidence.
When asked, Lafe stated "None of the major matches at BGSL over the last couple of years would have been possible without the assistance from a couple of very key people. Tess Nash is the greatest staff coordinator in all the land, and works diligently to ensure that the matches are staffed with the highest quality personnel, and that all of the staff are given the tools they need to succeed and want to return for more! Mike Dame invests a large amount of time in the stage building portion of the major matches at BGSL, and did so with the use of a crutch for the Area 5 match this year. Mike's commitment to making the stages the best they can be is undeniable."
2021 USPSA AREA 5 CHAMPIONSHIP LEADERBOARD
Overall Champion: Hyder, Andrew
Overall Production Champion: Decker, Brennen
Single Stack Overall Champion: Alloway, Rich
Single Stack Champion: Lloyd, Tom
Limited Champion: Gnyra, Mike
Open Overall Champion: Hyder, Andrew
Carry Optics Overall Champion: Jonasson, Nils
Carry Optics Champion: Decker, Trace
PCC Overall Champion: Williams, Justine

We couldn't afford to do what we do without sponsor support. Please thank our sponsors by dropping them a note of gratitude, following them on social media and most of all, supporting them with your dollars. We can't thank them enough for all they do for us and our community.
I am grateful for the amazing staff that worked this match, including several RMIs and RMs working as CROs, CROs working as ROs, and the expertise of the DNROI and the Area 5 Director. We were truly blessed.
The 2022 Area 5 Championship will be August 3-7 and will be hosted by Brooklyn Sportsman's Club in Michigan.
Article from the January/February 2022 issue of USPSA's magazine.