The 2023 USPSA Area 1 Championship, held from July 27-30, was the culmination of more than a year of preparation and countless hours of hard work. The match was conducted by Magic City Action Shooters and hosted at the Billings Rod and Gun Club in Billings, Montana. This marked the first time the Magic City Club hosted a Level III match and, while preparation for the match itself took more than a year, getting to the point that our club could host a match of this scale took even longer.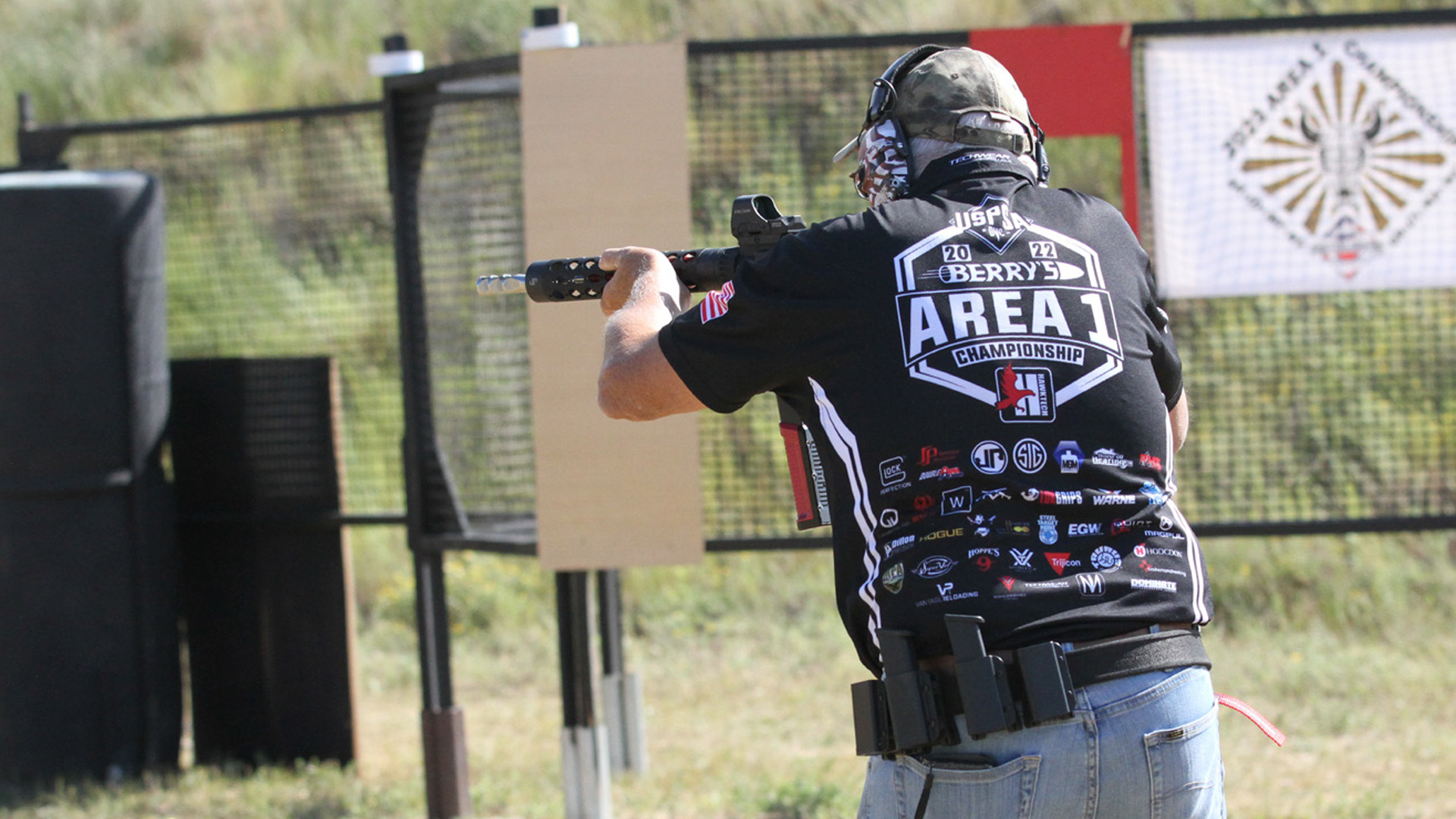 The recent history of Magic City Action Shooters and how we got to where we could host an area championship is an interesting story. We began running the club in 2014 when the Magic City founder, Scott Nielsen, decided to step away from his role as president. At that time, the pistol range consisted of two 100- yard bays, two 25-yard bays and one 50-yard bay. Little by little, the club made improvements to the range and we focused our efforts on streamlining the setup of matches and encouraging volunteerism. We redesigned the club's props and walls in a manner that made setting and moving them easier. This gave us some more flexibility with stage design and setup.
Our host club, the Billings Rod and Gun Club, has been a big supporter of our matches over the years. By partnering with grant-funding agencies such as the Friends of NRA and the Montana Department of Fish, Wildlife and Parks, the club was able to leverage master plan funding to reconstruct nearly the entire pistol range. We went from the five bays described above in 2018 to a total of eight bays by 2022. At the same time, stormwater drainage was improved, and we can host matches on days that may not have been possible in the past. Still, eight bays were not enough for an area championship and, in part motivated by designs seen at other clubs, we came up with the idea of creating additional temporary bays divided by rental storage containers.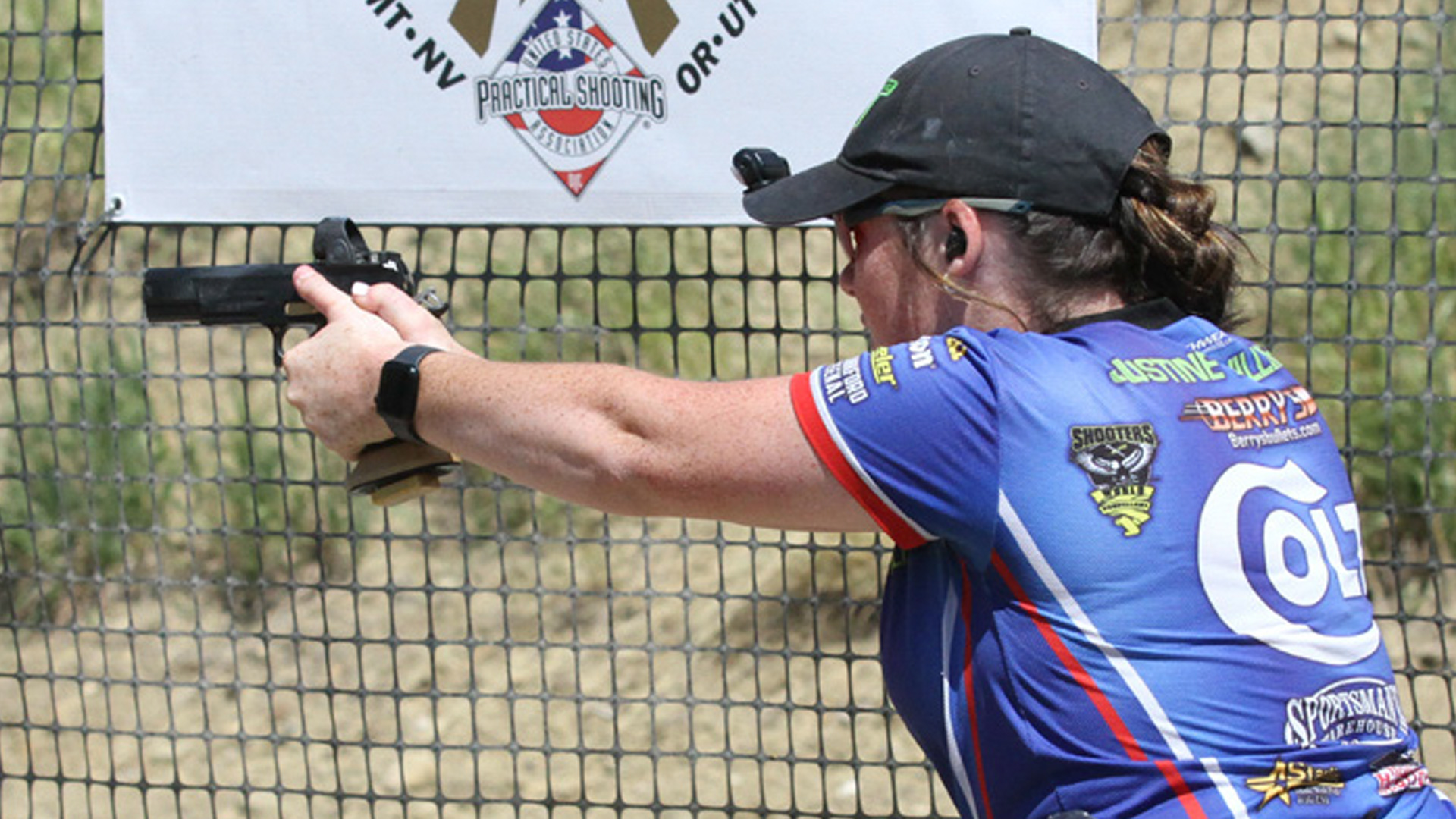 By splitting up an unused portion of the pistol range with these containers, we were able to add five bays. The stages in the temporary bays necessarily were designed to have shots straight downrange, or nearly so—the stages in these bays were generally shorter but still challenging and interesting. By placing two smaller stages in each of two bays, we were able to design a match consisting of 14 stages plus chrono in a total of 12 stops. Stages included five long courses, five medium courses, three short courses and a two-string standard exercise, for a total round count of 302 rounds. More than 400 shooters competed in the match. Range Masters Carl Schmidt and Jodi Humann worked all week to help set up and proof stages and to ensure that the match went off with a minimum of glitches; we sincerely appreciate their time and efforts with this match.
By all accounts, the stages were both fun and challenging, and several of them seemed to leave a notable impression on the competitors. Each stage had plenty of hard cover and no-shoots, and multiple options for shooters of varying skill levels and shooting different divisions. Several of the stages included more than one view of a target, which resulted in reengagement and twice as many shots on the target as required.
The stages were named after National Parks located in the eight states of Area 1. One of the more difficult stages was Yellowstone, a 32-round stage that included narrow planks as part of the shooting area and required the shooters to shoot from very specific positions for certain targets. Several shots were required at 20 yards or so on hard cover targets or targets with no-shoots. It was a challenging stage to plan, and more so to execute well. Unless you hit a couple of positions exactly, the target you were engaging was not visible and required awkward stutter-stepping to see. A scan of the results shows that nearly half of the competitors had miss, no-shoot or failure to shoot at penalties on this stage. The results show that the stage tended to favor optics guns, with national champion Aaron Eddins, shooting Open, having the highest hit factor of the match. However, two of the top three finishers shot Limited, with Joey Sauerland edging Gianni Giordano by less than one stage point; Joey's higher points were enough to top Gianni's faster time.
Death Valley was a fun, fast 10-round short course that produced the highest hit factors of the match. KC Eusebio, shooting Limited Optics, earned the high hit factor of 12.90. One of our local Distinguished Seniors, Mac Clark, had the second highest hit factor of the match at 11.93, shooting Carry Optics.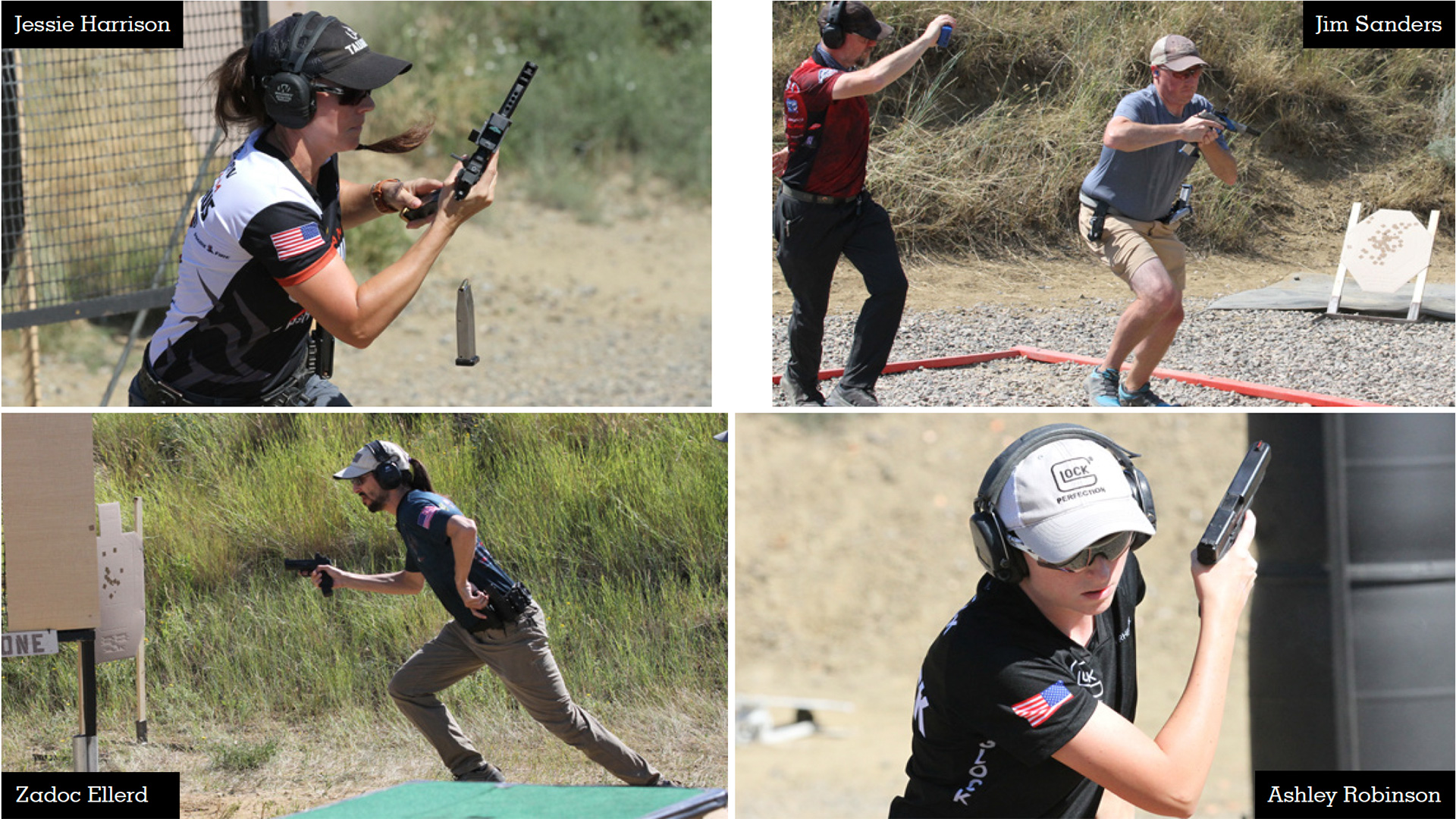 Another interesting stage was Bryce Canyon, a 30-round retrograde stage with a sideways V-shaped shooting area that was challenging to navigate. Most competitors shot their way uprange, but a few chose to run uprange at the start signal and shoot their way back downrange. It was a challenging stage, with a lot of hard cover and no-shoots and the opportunity for multiple engagements of several targets. The retrograde movement, combined with the shape of the shooting area, made shooting the stage awkward while taking care not to break 180 with the muzzle. This stage also seemed to favor the optics shooters, with the top ten all shooting dot guns. The iron sighted shooters—including Nils Jonasson shooting Production, and John Browning and Robert Krogh shooting Limited—had a good showing in the top 20.
Katmai was the smallest stage in the match, took the longest to set up, and was the most memorable for some. It was an eight-round Virginia Count stage with a box-activated swinger, and required the shooter to activate the swinger, open a door and retrieve their firearm from a multigun-type dump box before engaging targets. Generous hard cover on the swinger induced a lot of extra shots. The combination of tricky footwork, opening a door and retrieving a gun from a box, all before engaging a single target, made for an interesting stage. Adding the complication of Virginia Count scoring with a half-hard cover swinger made for a great stage and was well worth the trouble of setting up.
Gates of the Arctic was a 20-round standard exercise consisting of two strings. The start position varied between the strings, each string required a reload, and the last two targets were engaged strong-hand only for one string and weak-hand only for the other. Many procedural penalties were assessed on those who weren't paying attention or had a mental blank in the middle of a string. It was an interesting way to incorporate strong- and weak-hand only shooting with movement and a required reload, all of which are skills that need to be tested at a major match.
While combined results are typically only used for bragging rights with your buddies shooting different divisions, as a match director it is interesting to review the combined standings to see if there was a bias toward any one division or even optics versus iron sights. In looking at the results from this match, the top ten finishers on any stage included several different divisions and indicate that the match included a well-balanced mix of skill tests.
As mentioned previously, this was the first time that our club has hosted a USPSA Level III match. We have hosted several USPSA Level II Section and State Championship matches, which prepared us for the rigors of a USPSA Area Championship. Even so, the amount of work that goes into a Level III match is significantly more than that required of a Level II match. For the math nerds out there, the progression in work from a Level II to a Level III match is exponential instead of linear. However, the match went well and the work was well worth it in the end, and we would encourage any club to consider hosting larger matches.
As match directors, we are exceptionally lucky to have a core group of people that helped us with the match. Early on, we identified a planning committee with whom we met monthly leading up to the match. The committee included people with a wide variety of talents and allowed us to delegate much of the work. We asked a lot of this group of people but every time we asked, they stepped up and delivered. We cannot speak highly enough about these men and ladies.
For clubs considering hosting a major match, and clubs in general, we would encourage you to do as much as you can to foster a group of people to help with the details. Over the years that we have run the club, we have made specific efforts to encourage volunteerism by doing things such as simplifying match setup and offering incentives to both set up and serve as a range officer at our monthly matches.
One minor incident at a Steel cCallenge match provided a huge benefit to the club. At this match, we had closed registration and started shooting when newcomer Nick Tibesar arrived to shoot. We got Nick in to shoot, and he had a good time, so we encouraged him to come back the next weekend for our USPSA match. Within a short time, Nick had drafted a co-worker, Dan Dooley, to come to matches with him. Nick and Dan both work for a local construction company and are two of the handiest and most hardworking people we know. They put in more hours than we can count for the USPSA Area 1 match, and it goes to show how the smallest gesture can pay enormous dividends to a club.
One of the tasks of our planning committee was to solicit sponsorships. Given the financial climate and the demands on the firearms industry the last couple of years, we were anxious that sponsorships would be hard to come by, but the committee did an outstanding job and we ended up flush with prizes by the time the match rolled around. Berry's Bullets was a generous match sponsor, and DaVinci Machining came on board as the Presented By sponsor. Stage sponsors included Techwear USA, Shooters Connection, Red Hill Tactical, The Blue Bullets, House of Hearing, MasterPiece Arms, Gas Pedal, Hunters HD Gold, Glock, Taurus, Vortex, Scheels, IsoTunes Sport, Staccato and C-More. The list of additional sponsors is too long to include, but we extend our thanks to all of them and encourage anyone attending a major match to review the list of sponsors and to patronize them with your business. They support us, and we need to support them.
2023 USPSA Area 1 Championship Leaderboard

Article from the September/October 2023 issue of USPSA's magazine.