Spc. Aaron Eddins of the U.S. Army Marksmanship Unit grew up on a farm shooting small game with his .22 cal. rifle, which then led to an interest in hunting bigger game. Competitive shooting would later become his career focus. Learn what Eddins keeps in his range bag.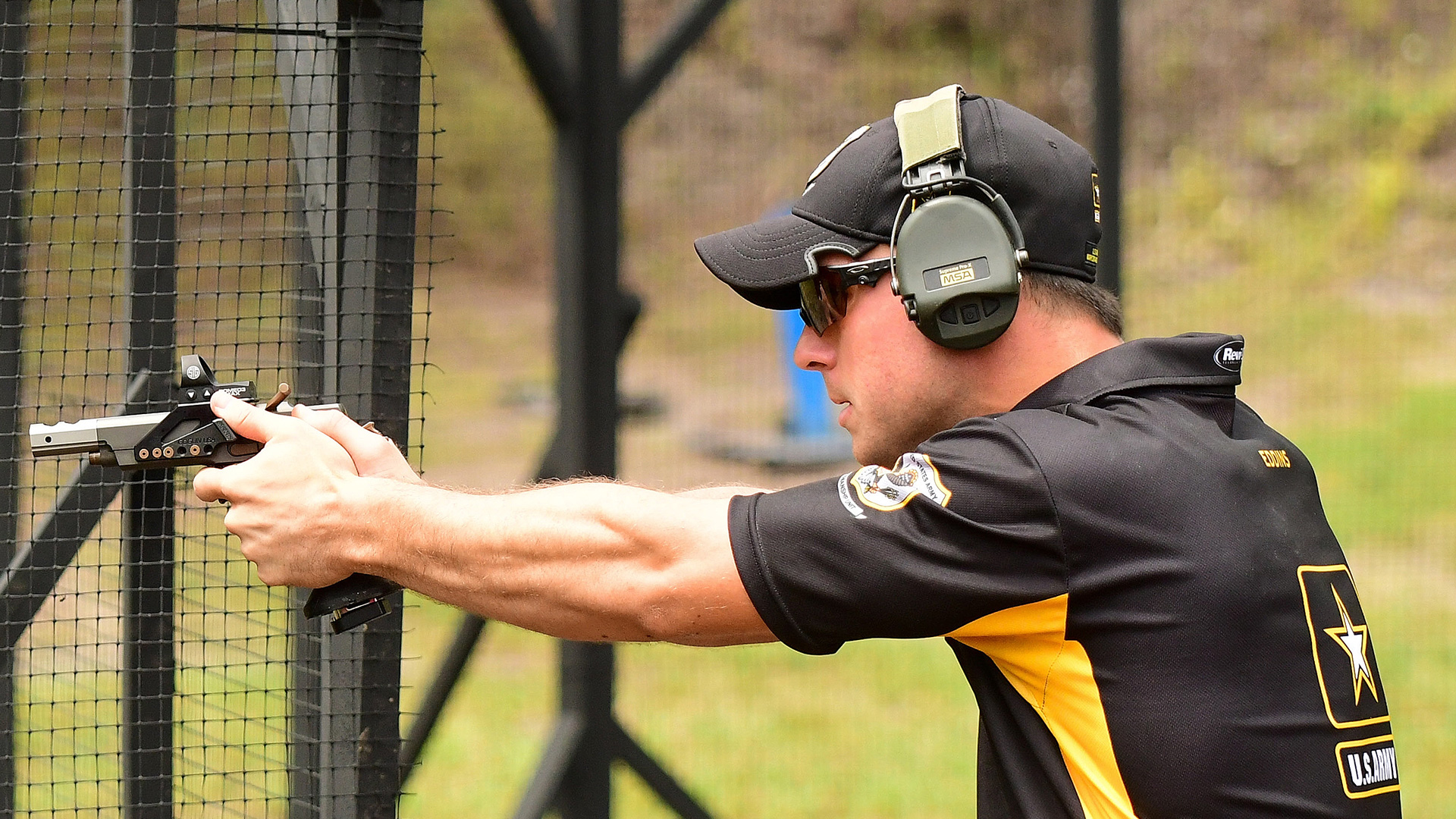 What are your first memories of handling a firearm?
The first firearm I remember having in my hands was a little .22 cal., single-shot Cricket rifle that my dad gave me when I was eight years old. My dad has always been into guns, so shooting and hunting have been part of my life for as long as I can remember. In addition to honing my skills through hunting, my dad and I would spend many weekends plinking, whether that was with pistols, ARs or long-range bolt guns—we did it all.
Tell us how you began in competitive shooting?
I started competing in late 2017 while in college after growing out of baseball. Baseball was the first sport I loved, and I played from tee ball through high school. I was not good enough to play in college (or at least at the college I wanted to attend) so I hung up my cleats. Back in the day, my dad shot some outlaw 3-gun, so while I was looking for my next hobby he brought me to my first competition, a USPSA match. After watching that first match, I fell in love. Now here I am, five years later, with the coolest job in the world. I get to shoot, compete and train others for a living.
Please share with us some of your major shooting accomplishments.
I don't have a resume full of accomplishments in the shooting world yet, but one achievement that I am proud of is making it into the U.S. Army Marksmanship Unit's Action Shooting team. Being part of this team allows me to pursue my goals and hone my craft every single day. Another accomplishment was last October when I won the 2022 USPSA Open National Championship. This win was especially exciting for me, considering I've only won a handful of other smaller matches (Area 3 in 2020 and sectional and state matches).
What firearms and other gear do you use for competition?
I shoot an EMG Customs open gun built by my good friend, Eddie Garcia. He builds custom 1911 and 2011 pistols for competition. Eddie puts nearly 90 hours of sweat and blood into creating each masterpiece. One feature on this gun that separates it from others I have previously shot, is this gun (along with all EMG Customs guns) shoots softer and flatter than any other I have experienced. I currently do not have any sponsors due to my shooting career with the U.S. Army Marksmanship Unit.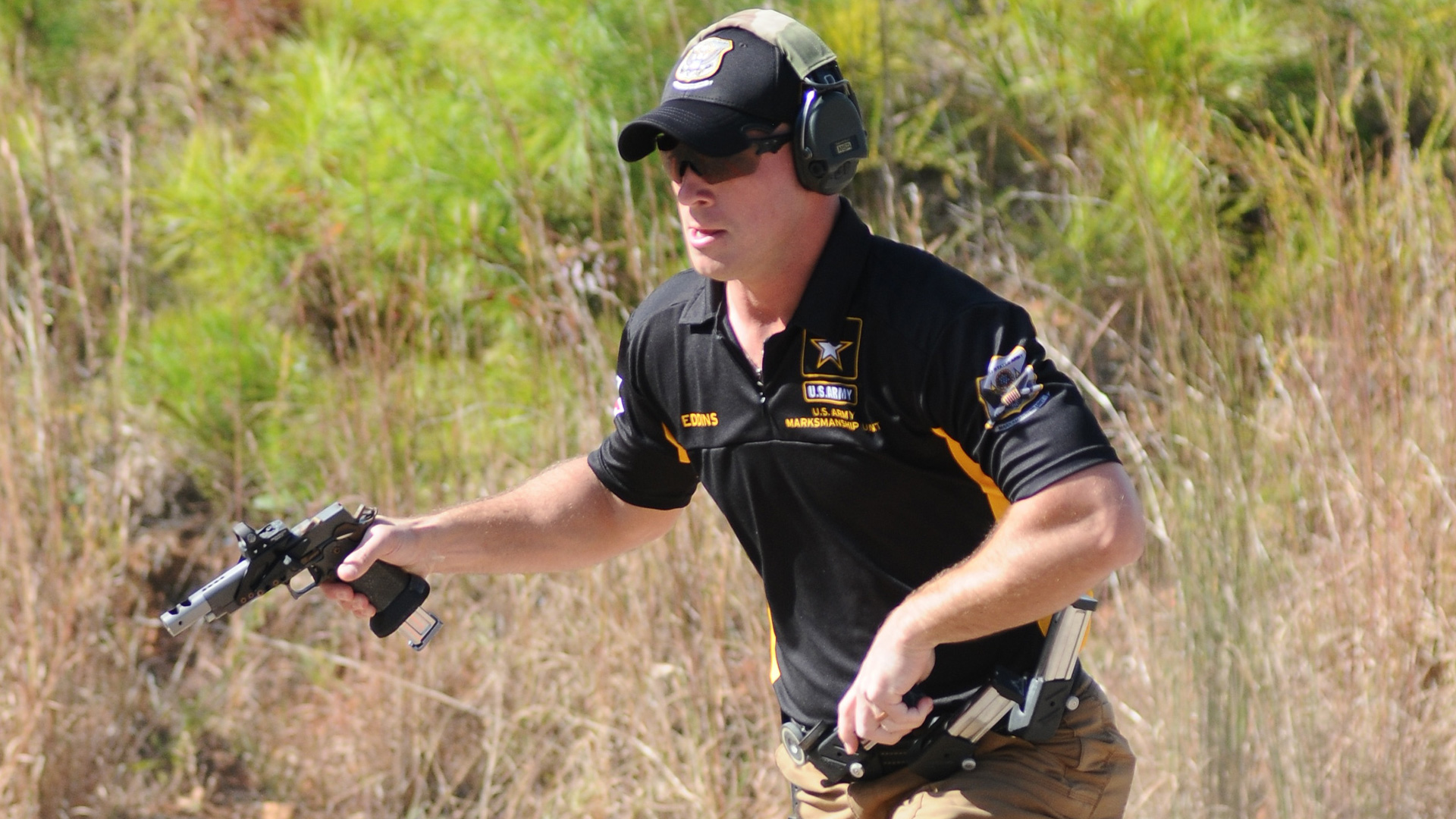 Tell us about your range bag and what you carry in it besides your firearms?
I have used many different range bags in the past including Double Alpha and Safariland, but I am currently using the Eberlestock UpRanger bag. This bag is convenient to use, due to the customizable interior, as well as different exterior compartments that allow quick access to my most-used match gear. In my bag, I carry my guns, tools, spare parts, mags, eye pro, ear pro, rags and ammunition.
Another reason that I am a fan of the UpRanger bag is because it helped me condense my previous match essentials from two bags to one. Previously, I lugged two different bags to matches, one for my gear and another for my tools and spare parts. I bring enough tools and parts to rebuild an entire gun if I need to, not necessarily for myself anymore, but to be able to help out a fellow shooter if gun problems occur. Gun issues are frustrating and I would hate for someone to be unable to finish the match because they couldn't get their gun fixed. The simplicity of having all my match necessities in one bag now is hard to beat.
What would you tell someone interested in finding out more about your sport?
Anyone interested in what I do should not hesitate to message me on my Instagram page (@ayeayeron_eddins) for information on how to get started and to watch videos of my work. I truly have a passion for helping people in this sport, as well as growing the sport for the future. Another great resource is the USPSA website. It has an interactive feature where you can find your nearest gun club.
Any tips for the new shooter?
My best advice for the shooter new to this sport is to ask questions. If you want to get better at something, you must question those who have more experience and results. After asking your questions and receiving feedback, put that guidance to work and adjust your performance accordingly. My second piece of advice for the new shooter is to jump right into the sport. The shooting community is full of wonderful people willing to help. Even if you don't know anyone, just show up and you will be blown away by the amount of people who will not only guide you, but also let you borrow their guns and gear.