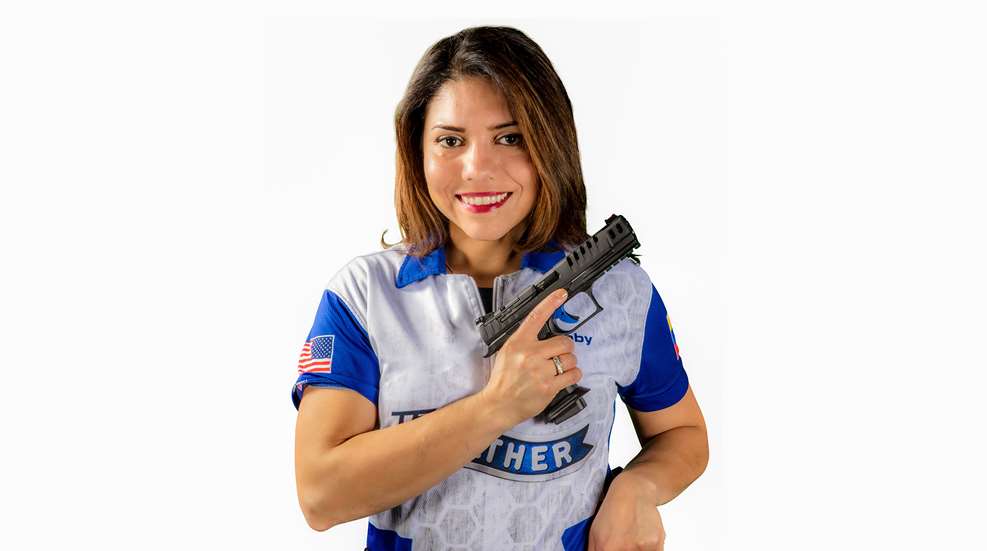 Even though she is a full-time college student, mother, wife and instructor, Gabby Franco finds the time to compete around the United States, winning several High Lady trophies and medals in USPSA Limited and Carry Optics divisions. A six-time Venezuela National Champion in air and sport pistol, Franco also represented her home country at the 2000 Olympic Games in Sydney, Australia.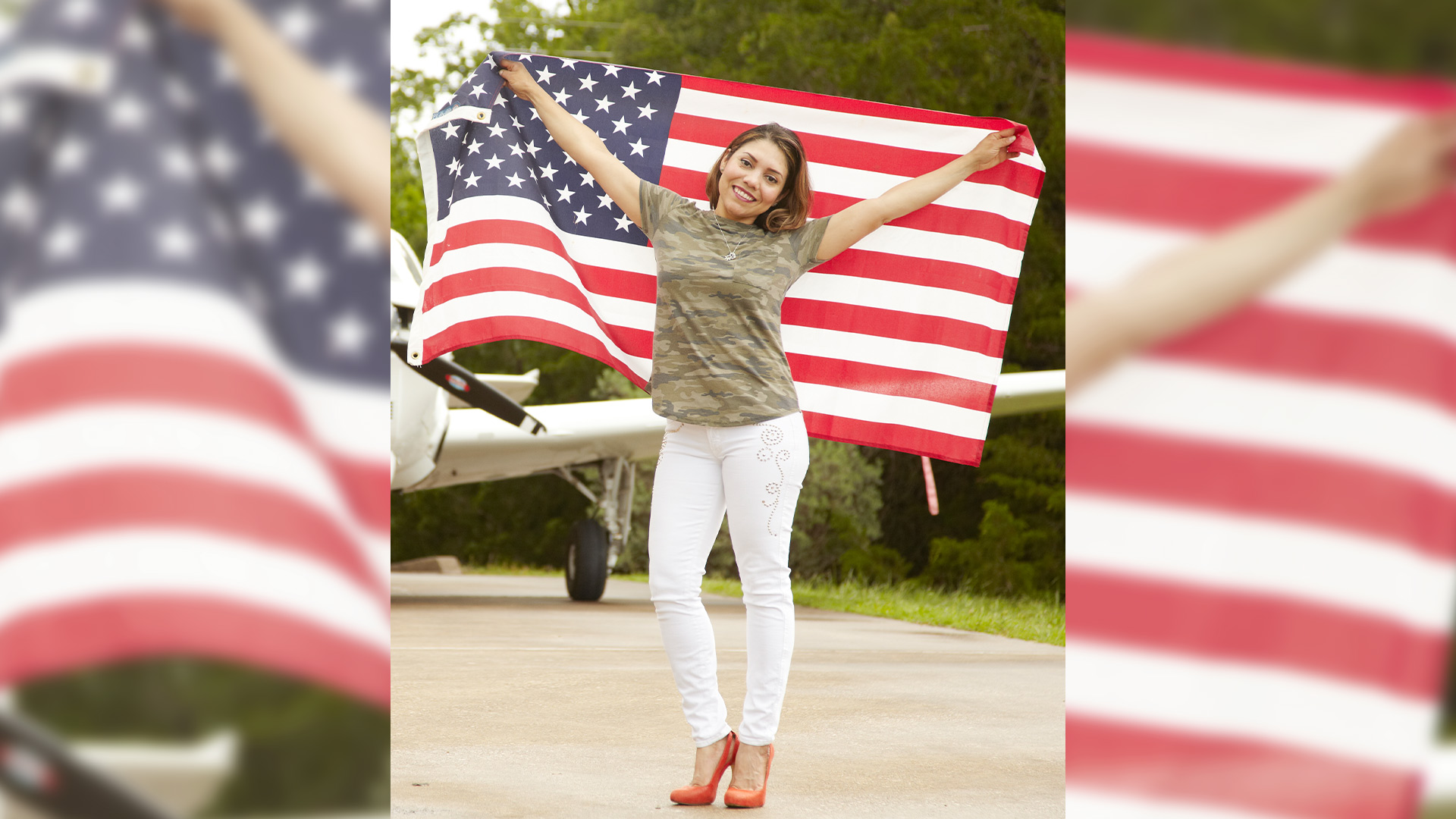 What are your first memories of handling a firearm?
At age 11, my dad introduced my two sisters and I to Olympic shooting sports in my home country of Venezuela. To begin I practiced with air pistols (.177 cal.), moving on to sport pistol with a .22 Long Rifle handgun. Shooting seemed easy, because neither the target or myself were moving. Yet, hitting a one-centimeter bullseye at 10 meters was a challenge.
Later on, a coach came to our home range to train us. His knowledge and passion for the sport furthered my interest in practicing and competing. I do not believe a love for firearms, per se, made me pursue a career in shooting sports. Rather, I loved what it was doing for in my life. Shooting made me more responsible. I was in awe of the improvements that came with training. Most importantly, I learned to say, "No!" to my high school peers when their plans could jeopardize my training or competitions.
Tell us how you began in competitive shooting.
Advanced shooters volunteered to train us whenever they could. My dad took us to the range once or twice a week to practice. After our shooting club hired a coach to train the junior shooting team, we practiced almost every day. In 1996, our coach enrolled us in a popular shooting tournament in our city. It was the first time I competed with proper preparation and the support of a fantastic coach. I won a bronze medal at this competition, which made shooting officials look at me as a potential national team member. A year later, I turned 16 and competed at the 1997 Bolivarian Games in Arequipa, Peru, where I won my first international silver medal.
What firearms and other gear do you use for competition?
Right now, I shoot a Walther Arms Q5 Steel Frame in 9 mm for USPSA carry optics division. I practice with the Walther PDP pistol in 9 mm because it is an excellent defense handgun. My concealed carry gun is the PPQ sub-compact pistol in 9 mm. In addition, I make my own ammo. (Alright, the hubby helps me too.) As for optics, I shot iron sights for over 25 years, so shooting with a red-dot optic has been a challenge I've learned to love. It has also helped me improve my shooting speed and quick movements as I move on the range. I'm about to receive the SLX red dot from Primary Arms that I look forward to trying out.
Tell us about your range bag and what you carry in it besides your firearms.
I use a Primary Arms backpack that fits everything I need. It has several different compartments to keep my tools and accessories separate, but accessible. This backpack is practical even when I use a wagon at the range, because it can open wide so I can see inside quickly. I always keep the following accessories inside my backpack:
Allen keys
Screwdriver set
Hammer and rod (in case of squibs)
Small cleaning kit
Special oil to maximize performance
First aid kit
Extra earplugs and eye protection
Hand wipes
Journal and pen
Timer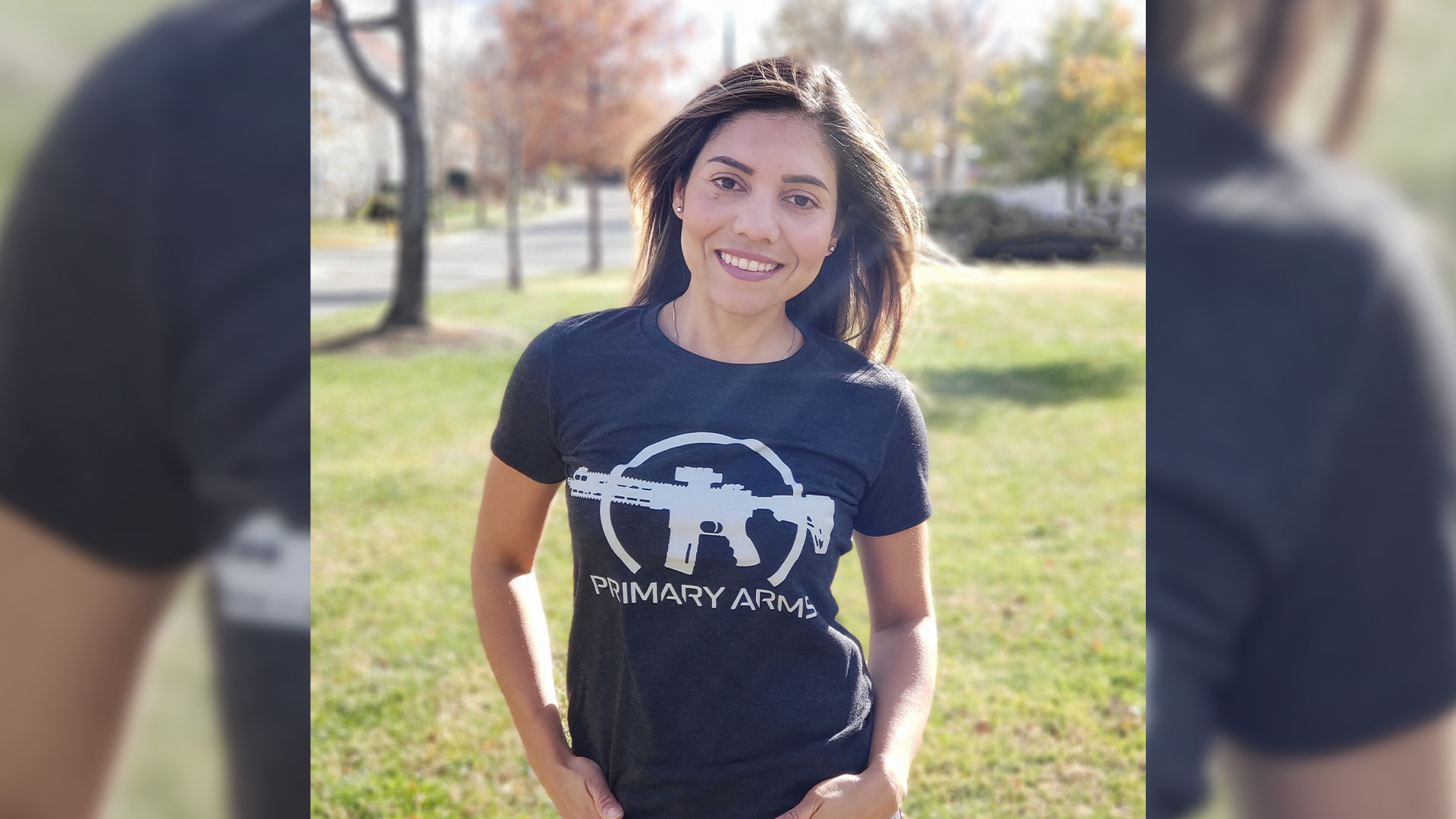 What would you tell someone interested in finding out more about your sport?
First, go to the USPSA website to find the closest gun club that offers these competitions. Second, visit the club and watch and talk to shooters. The shooting community is always receptive to those interested in learning, while taking one step at a time to be safe and improve their skills. Third, get out and participate. This is the best way to improve at anything. In addition, make sure to check out Walther Arms and Primary Arms. These companies are incredible supporters of what I do as a shooting athlete, firearm instructor and Second Amendment advocate.
Any tips for new shooters?
First, be safe and responsible. Second, seek training from reputable instructors. Bad habits are easy to memorize and hard to replace once they are embedded in our subconscious. Also, practice is essential for absolutely any discipline, and shooting is not an exception. Dry-fire practice training is necessary to maintain a higher skill with your firearm manipulation, accuracy and speed. Last but not least, learn about your Second Amendment rights and educate yourself about why gun control puts citizens in a vulnerable position.