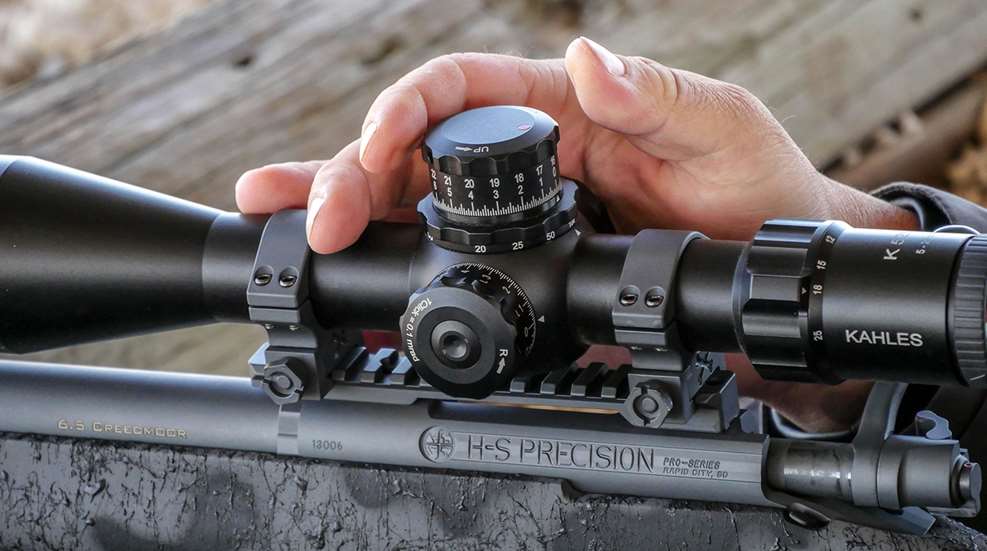 The sister company of Swarovski Optics, Kahles is Austria's oldest optics manufacturer still in existence. Noting the increasing demand for rugged, long range riflescopes, the company's new optics—the 56mm objective lens K525i and 50mm K318i—include features that have ambitious precision long range shooters buzzing. These two tactical riflescopes are tailor-made for PRS and NRA One-Mile competition, among many others.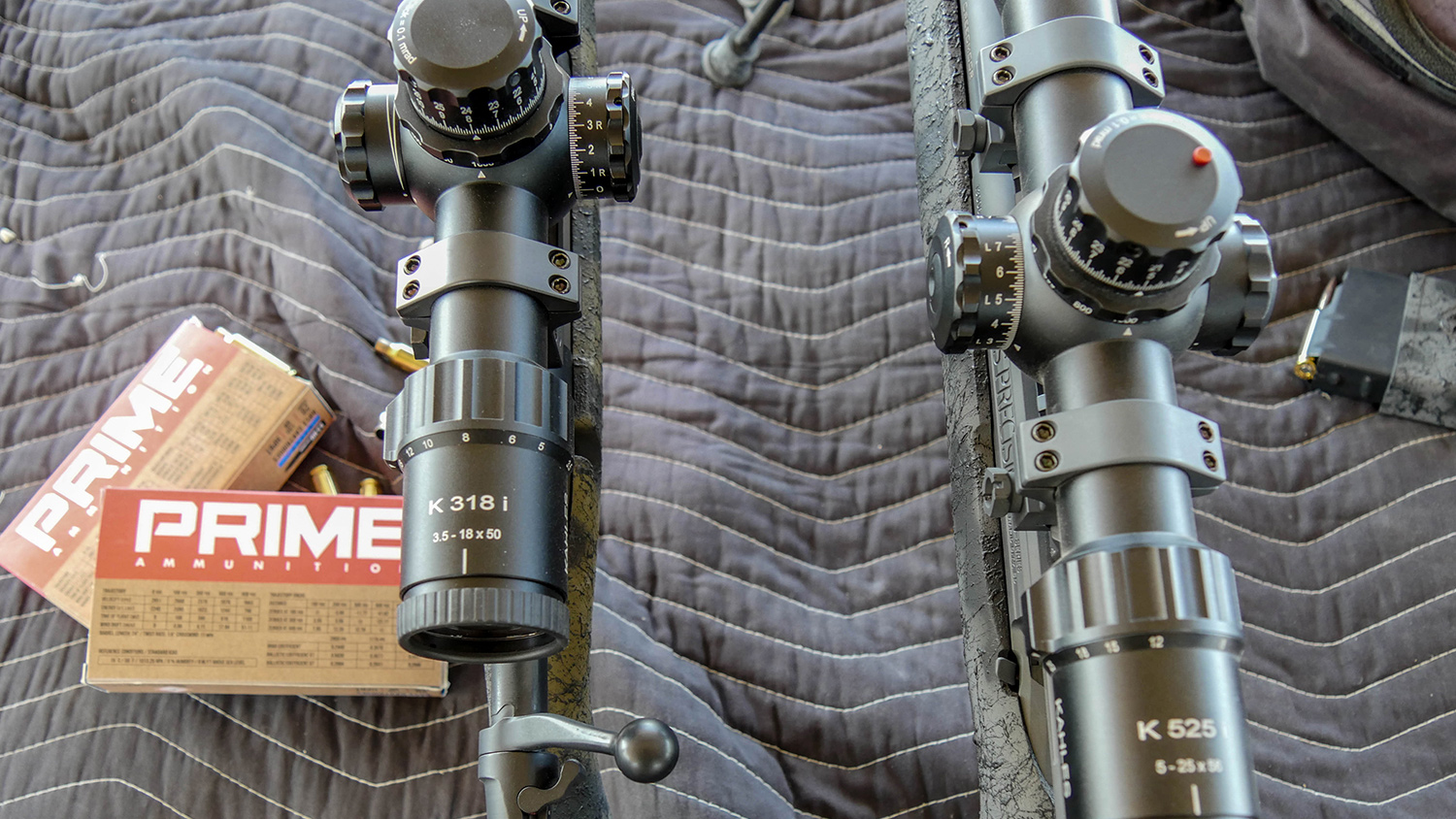 At a media event hosted by Kahles at FTW Ranch in Barksdale, TX, I had the opportunity to try out the new scopes for myself. Besides media, a few competitive precision rifle shooters were in attendance—Phillip Velayo (newly-minted lead instructor for Gunwerks) and Jeremy Kisner (Team Area 419).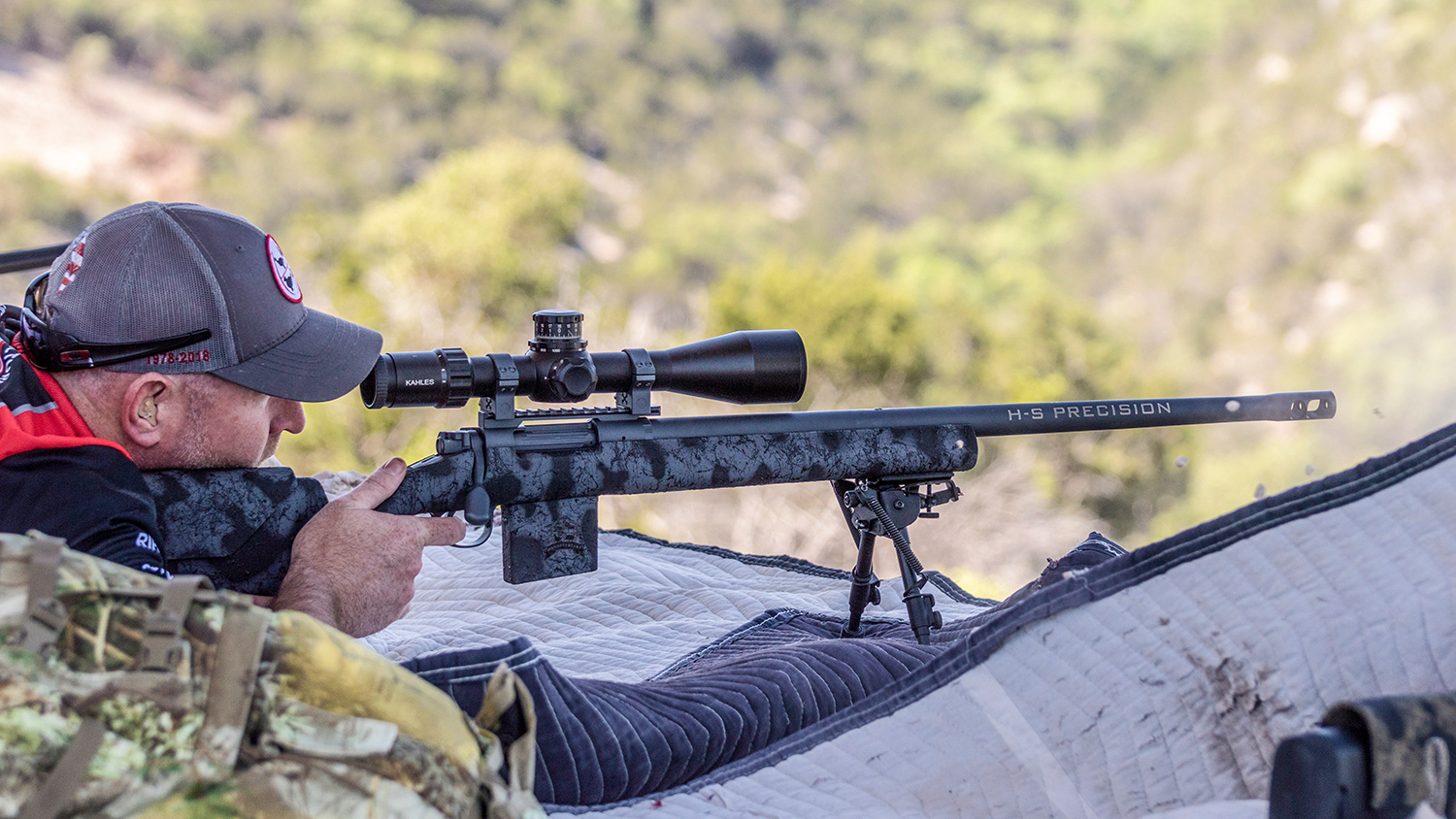 We tested the scopes on H-S Precision Pro-Series 2000 bolt-action rifles, chambered in 6.5 Creedmoor, which performed smoothly for the duration. The scopes were mounted on Talley rings that kept the hardware secured rock solid. On the ammo side of things, Prime Ammo supplied what seemed like an endless supply of their 130-grain OTM 6.5 Creedmoor rounds.

For ballistic data there were Kestrel 5700s with Elite Ballistics software, which FTW instructed us in the proper use of. I especially enjoyed the tutelage of FTW lead instructor Doug Pritchard, who broke down the Kestrel's complicated buttonology into sections that made it easy for newcomers, and a welcome refresher for seasoned users.

K525i
The new K525i, a first focal plane scope with an illuminated reticle and a 34mm tube, is a worthy contender for best new precision long range scope in 2018.




Starting with the optics themselves, there is just something about high-end European glass that sets it apart. The view provided by the beefy 56mm objective lens is incredibly sharp—like a 4K TV playing an enticing nature video you would see while walking through a big box store. You get used to it in a good way. In addition, 95 percent light transmission means the K525i consistently provides a clear view from edge-to-edge that's crisp and without distortion. I always saw my targets clearly and could read the wind at 1000 yards.

The magnification adjustment ring has a nice finger knob that allows for extra grip, and the adjustment has firm resistance—no matter where the power is set. Diopter adjustment is quick and precise, which is useful for someone that uses corrective lenses like myself. The eye relief is 3.74-inches, perfect for many commonly-used PRS rifles.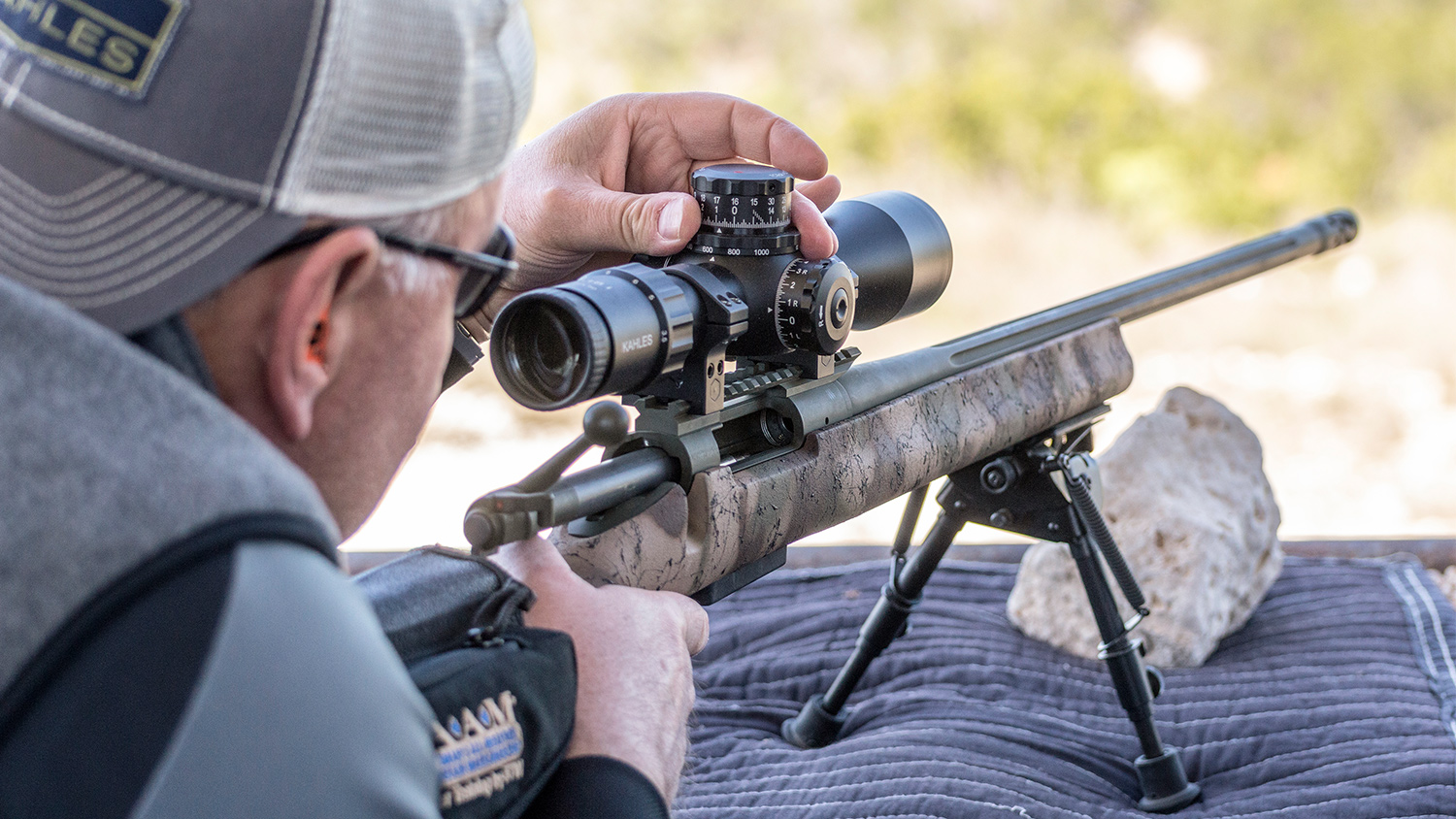 A Kahles design hallmark, the parallax wheel is integrated into the elevation turret in a style similar to the K624i. This makes it easy to keep in position when shooting, because either hand can be used to adjust the parallax. Precision long range competitive shooters will appreciate this because it allows them to acquire their targets rapidly at the different distances they often encounter at PRS and NRL matches. The parallax is adjustable from 22 yards to infinity.

The turret mechanism is extremely crisp, with .1 mil (¼ moa is also available) impact correction click adjustments. The Allen key for zeroing the turrets is housed in the cap of the illumination unit.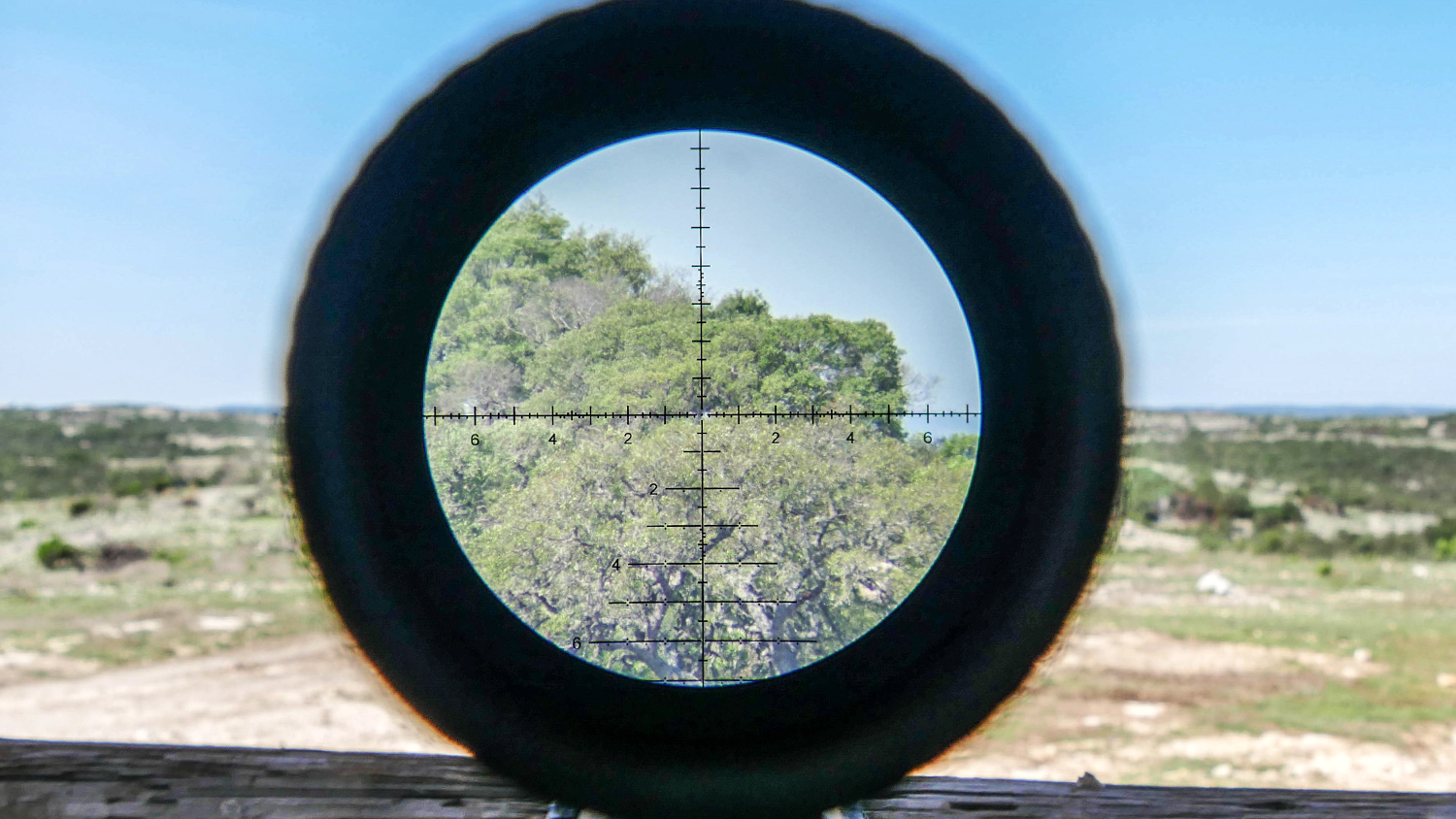 What should prove to be a gamechanging feature among competitive shooters is the twist guard windage system that incorporates a freely rotating end cover. This is an innovative solution to prevent accidentally moving the windage turret, while also giving shooters a quick way to handle windage without locking or unlocking the turret. The windage turrets are available on either the right or left sides of the scope. I was always able to make precise adjustments without compromising my shooting position, and it was easy to read the clearly defined markings.

Four different reticles are available: SKMR3, SKMR, MSR2 or MOAK. Eye relief is about 3¾-inches. Since it's a first focal plane optic, the reticle was accurate at any magnification. Something to note: Kahles did a bang-up job with adjusting the size and thickness of the reticle to allow good detail at all magnification levels, which is not a simple process.

With a 34mm tube there is plenty of room for mounting. The total length is 14.8 inches and it weighs in at 34.2 ounces. That's over an inch shorter than the K624i 6-24x56mm released last year, but .7-ounces heavier.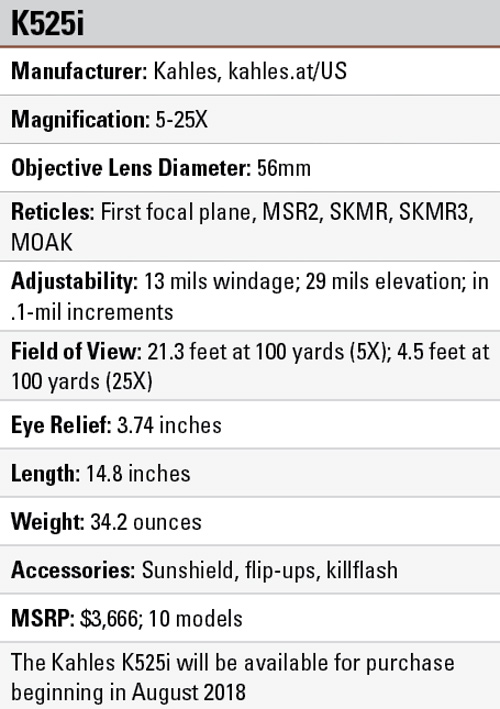 K318i
While I spent less time with this one, I found that the 50mm optic image to be just as vivid as its big brother. Shorter than the K525i at 12.32 inches, the K318i is more compact, yet retains the twist guard windage turrets and parallax wheel integrated into the elevation turret.




It also boasts a larger adjustment range, with a generous 30 mils available for elevation and 20 for windage. It comes with two reticles options, MSR and SKMR3, both illuminated first focal plane. This is a precision tool that is a great option for those in the market for a compact 50mm tactical optic.




Final thoughts
After two days of heavy use in the rugged terrain of Texas Hill Country, I could find no fault with the equipment. The Kahles K525i, which I spent the most time with, performed flawlessly. I loved the large, durable controls that gave every adjustment a sense of purpose. Making elevation, windage and parallax changes are a breeze with the convenient positioning of the controls. This is a serious tool for serious shooters, which justifies the cost. There's a reason that Kahles bills it as a "Professional choice for highest demands." The company has a well-deserved pedigree; successfully putting shooters on target accurately at 1500 yards and beyond requires great engineering to go along with high quality glass.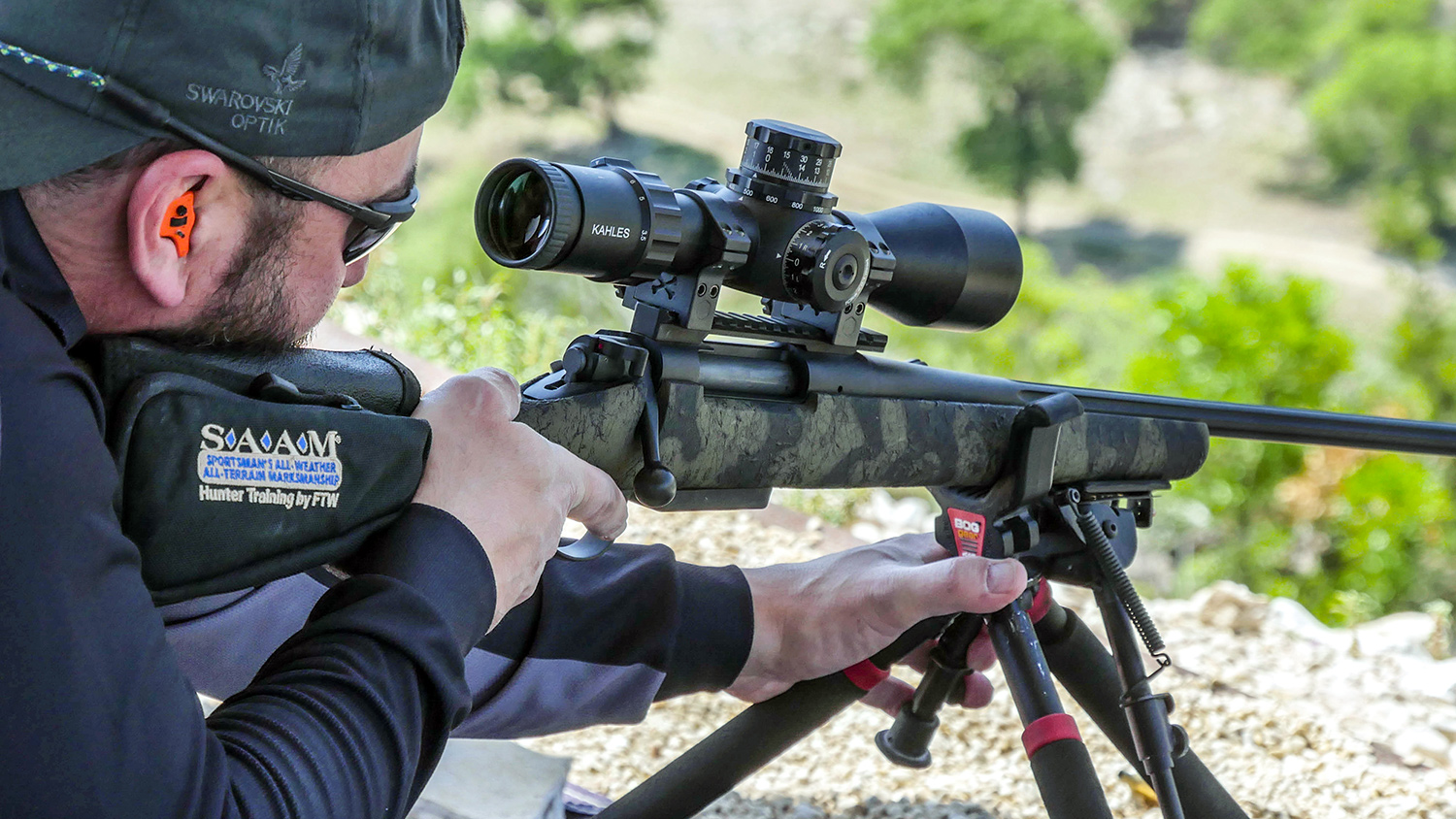 In addition to myself, there were others that commented on the performance of the optics.

"Kahles has yet again exceeded expectations with the K525i—this optic delivers a sharp image, robust construction and practical features we desire in a long range riflescope," said Jeremy Kisner. "Competitive shooters will appreciate what the Kahles K525i has to offer."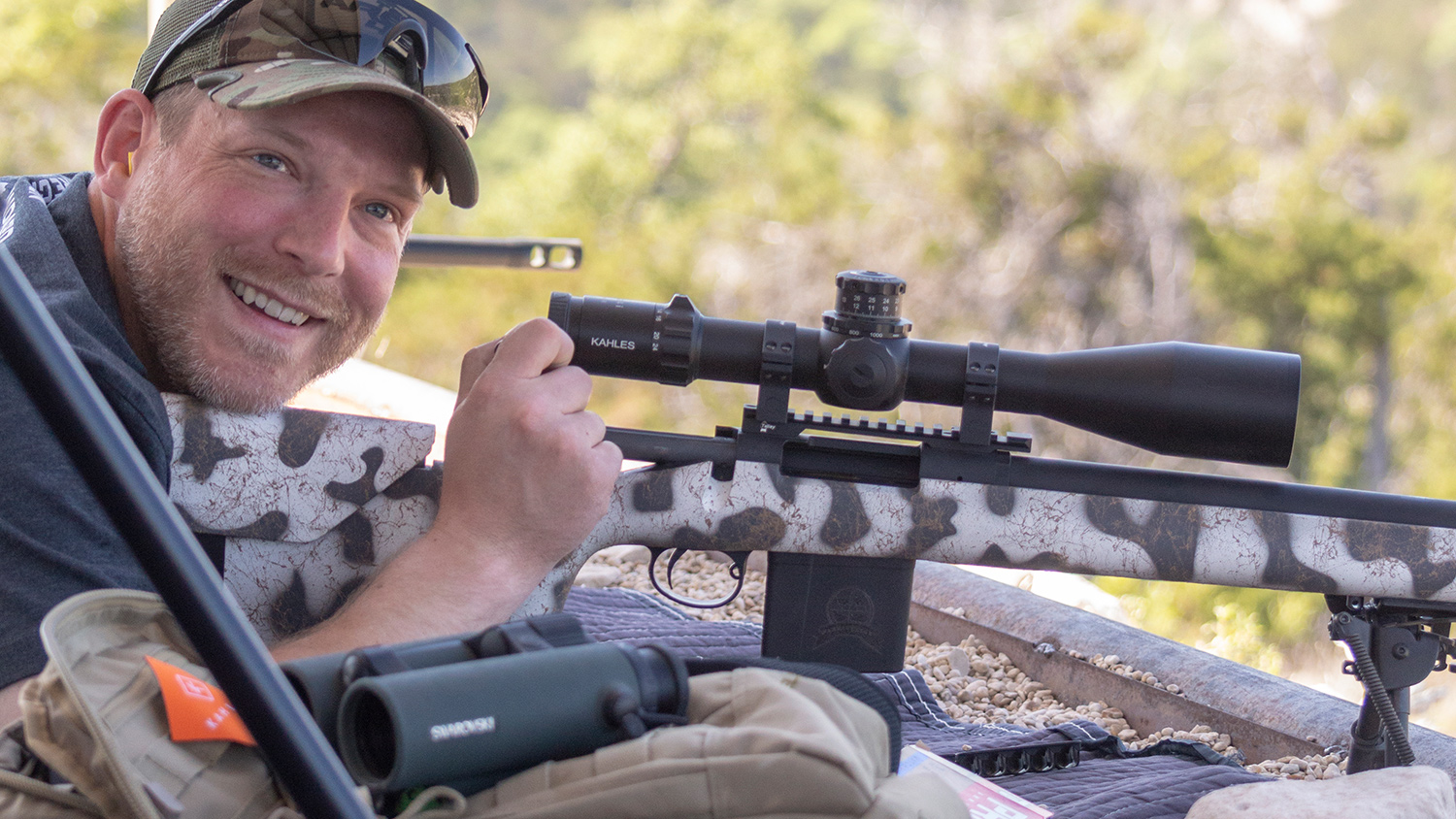 "This scope may be a gamechanger for precision long range rifle competition," added Phillip Velayo.

About FTW Ranch
FTW Ranch has 12,000 acres nestled in Texas Hill Country about 2½ hours northwest of San Antonio. It's a first-class facility that uses the wild Texas terrain to teach students how to consistently hit targets at 1500 yards and beyond. FTW's veteran instructors (Special Forces veterans) are able create scenarios that prepare shooters, whether competitive shooters or hunters—to always make the first shot.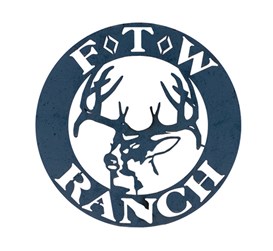 During our two-day long range shooting school, known as the Sportsman's All-Weather All-Terrain Marksmanship (SAAM) course, we learned how to use our Kestrels to true our rifles and build a "worldwide range card." The classroom portion of instruction was entertaining and informative. After morning classes, we'd head out to the covered firing points to shoot at what seemed like hundreds of steel targets that peppered the ranch landscape. Distances varied from 100 to 1500 yards and beyond. FTW has a small fleet of Jeeps that we would deploy in for excursions as a group, before splitting into teams. We spent our time evenly between shooting from covered firing points and out in the terrain, using rocks, trees, etc. to gain the stability needed for accuracy.

The curriculum emphasized the importance of stability when shooting. Use whatever you have to gain it, such as your backpack; have multiple points of contact to rest your firearm; breathe, focus and pull the trigger. The instructors really concentrated on making you better with the gear you have available.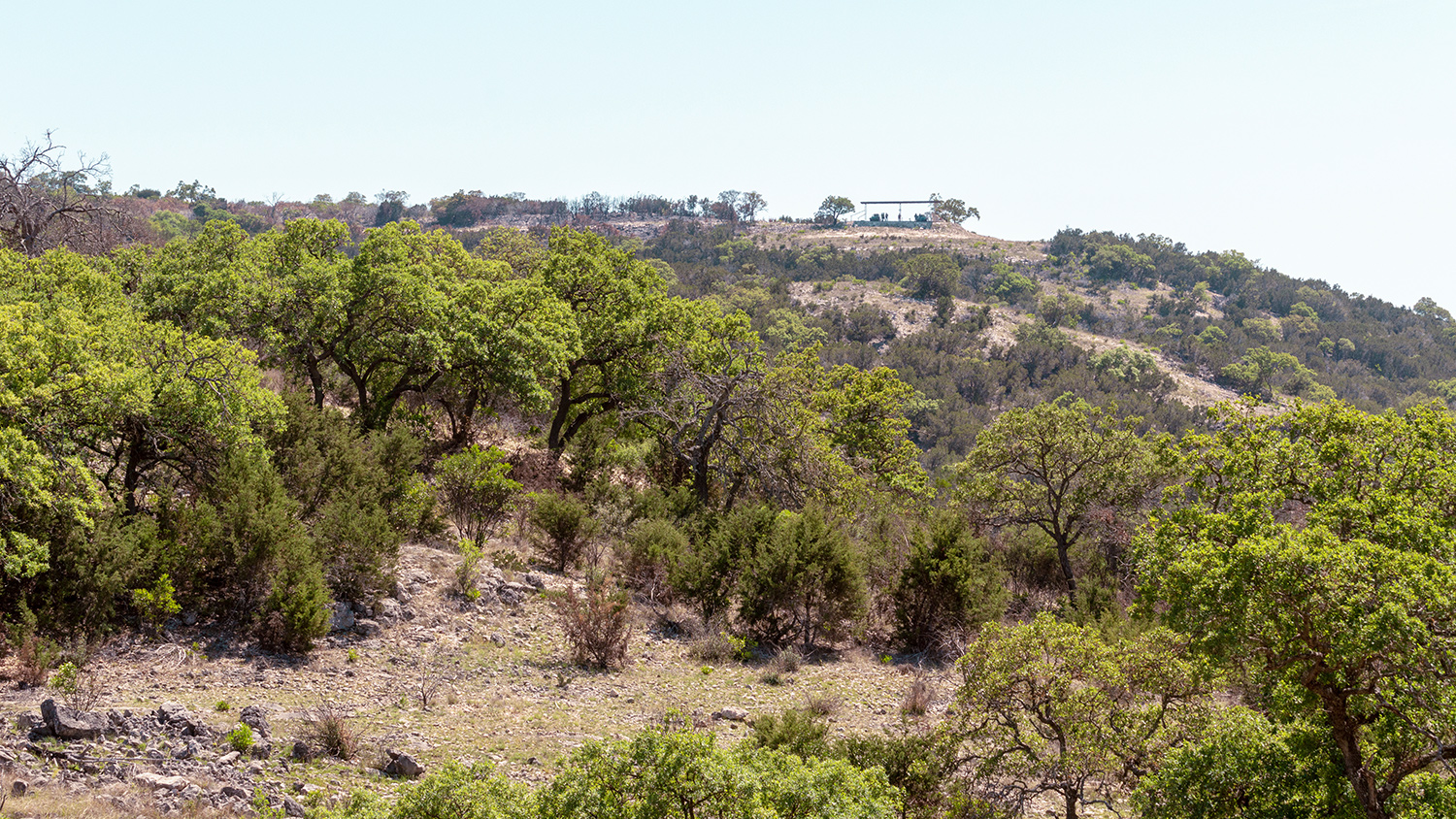 As a side note, the food is incredible. FTW has a main lodge with kitchen staff that whip up breakfast, lunch and dinner each day. Tex-Mex dishes dominate the menu since, you know, it's Texas. The lodge also has a common area that is great for rest and relaxation in between shooting sessions, and for the evenings when the guns are locked up—there's a bar and a fire pit outside with plenty of cornhole tournaments.


Bottom line: If you wish to be outside of your comfort level distance-wise, and increase your shooting range,
FTW SAAM

training
is an excellent choice. These classes build confidence for long range shooting; whether one is preparing for PRS competition, or has a big hunt coming up.