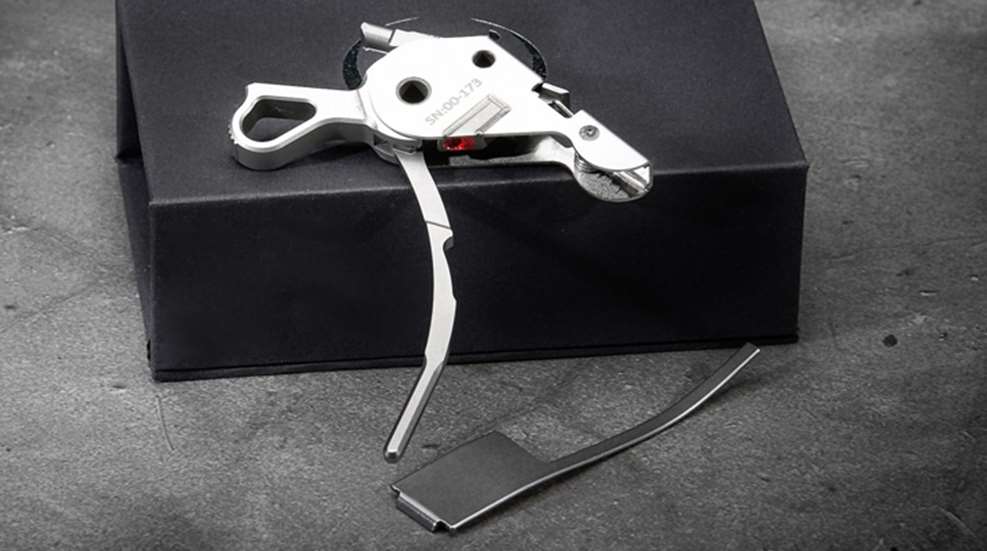 I met Mark Dye somewhere on a range in the Southeastern U.S. around the year 2000. He was a USPSA Master Class Limited competitor, and worked at Bowen Classic Arms in Knoxville, TN. Bowen is recognized for exceptional work on classic and modern revolvers, creating beautiful, hard-use tools that are also heirlooms. Dye worked on revolvers for Bowen during the day, and was allowed to use the shop to build raceguns for his friends at night. He also worked at Clark Custom Guns in Louisiana prior to his time at Bowen. Perhaps you have seen a Dye Custom 1911 or 2011 on the range at a pistol match.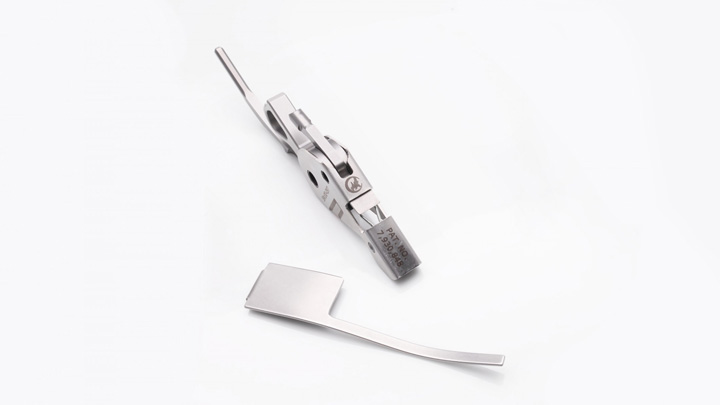 It was at a 2008 Level II or Level III USPSA match when Dye corralled me over to the safe area to share his new invention—a drop-in trigger system for the 1911/2011. It was a rudimentary sheet metal housing with a hammer, sear, disconnect, hammer strut and hollow/oversized hammer and sear pins. Similar to many of the prototype parts I have seen, it wasn't pretty—but it was intriguing. Dye had applied for a patent, so I was on a handshake-only non-disclosure agreement, which is common in the firearms industry.
Fast-forward a decade, where a lot can happen. For Mark Dye, the 2010s were full of changes. He received the patent on his trigger system in 2011, changed the direction of his career a bit and became the Program Director of Gunsmithing at Montgomery Community College in Troy, NC, where he'd graduated in 1998. I'd see Dye at the SHOT Show in Las Vegas every January, and he'd have his trigger system in tow. He was working on bringing it to market and looking for the right industry partner to ensure a successful launch.
After several unsuccessful meetings with well-known firearm and parts manufacturers, Dye met with Mark Stone of Nighthawk Custom.
"Over the next year and a half, Nighthawk poured a lot of time and energy into making the prototypes that I had into something they could manufacture repeatedly at a high quantity and consistent quality. I seriously doubt that anyone who I ever spoke to previously about this product would have produced nearly as well made of a finished product as Nighthawk has. I have been thoroughly impressed with every portion of my interaction with them," said Dye.
At SHOT Show 2020, Dye showed me the production model. It was a finely machined, highly polished and beautifully packaged product. It was still recognizable as the prototype I'd handled years earlier on the range, but more refined and robust. I received a sample immediately following the SHOT Show.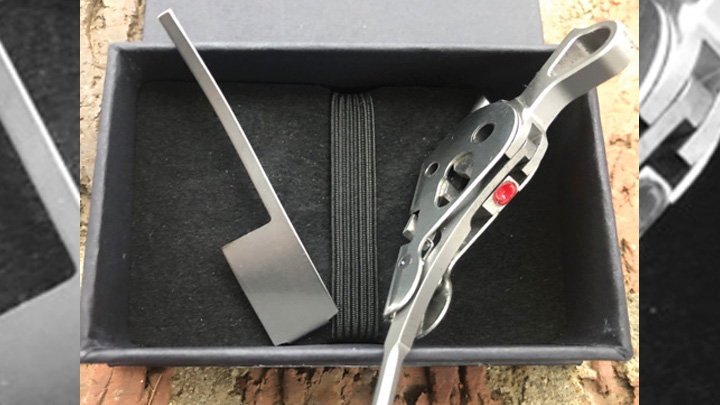 Looking through my safe, past several Wilson Combat, Colt and STI pistols, all with exceptional triggers, I found an essentially stock STI Nitro 10. I also borrowed a Springfield Armory 1911A1 from a friend, in hopes of installing the Drop-in Trigger System (DTS) into a less-than-custom pistol.
The Nitro had a 3.5-pound trigger that I'd call unremarkable, and the Springfield had a 6-pound trigger that I'd call terrible. I'd recently heard that a friend had dropped one of the DTS Units into a new BUL Armory 1911, yielding a nice trigger with no adjustment. Another friend dropped one into a new Colt 1911, and reported a crisp 4.25-pound trigger pull. It is important to note that there may be differences in weight due to significant differences in mainspring weight with ranges from 17 to 23 pounds. I was eager to see how it would work in the factory pistols on hand.
Inside the box was one Nighthawk Drop-in Trigger System, complete with a replacement for the sear spring, which is no longer needed for the sear or disconnect but will still operate a grip safety. The DTS is made from fully-machined bar stock 416 stainless steel. The instructions were very clear and should prove helpful to the novice.
If you can disassemble and reassemble a 1911, you can install this trigger system. If you know 1911s, and how the original system was to include its own armorers' tools hidden cleverly in the pistol itself, you know these tools make the job faster and easier. Though I didn't time it, the entire installation took less than five minutes.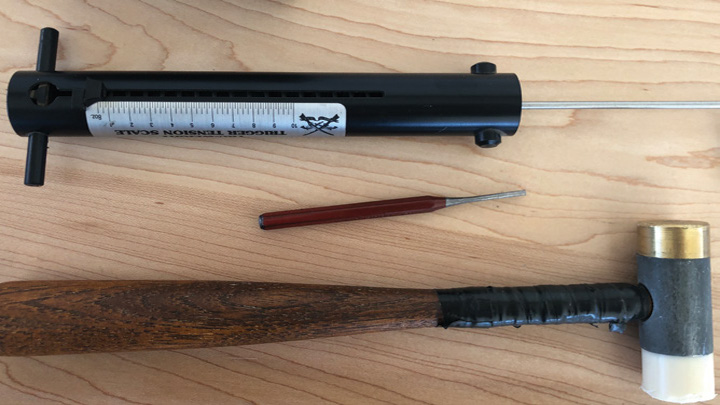 Testing trigger pull with a trigger pull gauge can produce unreliable results if done improperly. The best results are produced when the pistol is completely immobilized, the grip safety is fully depressed and the gauge is placed in the same spot on the trigger every time. This may require the use of simple fixtures or the help of a friend. Also note that testing triggers with any pull gauge that isn't calibrated can only give you trigger pull reduction weights and percentages. The beginning and ending points of measurement and individual differences in technique can yield different results. I used an old Tru-weight mechanical gauge, and while it isn't calibrated it generally is in line with other gauges.
After installation of the DTS, the trigger pull on the STI Nitro decreased from 3.5 pounds to 2.25 pounds, a 1.25-pound reduction or 35.7 percent. The trigger was crisp and clean at the break, and felt like a custom trigger from a gunsmith. The Springfield 1911A1 benefited even more from the DTS; the trigger pull decreased from 6 pounds to 2.5 pounds, a 3.5-pound reduction or 58.3 percent. Thus, for both of these pistols the DTS made a significant difference.
The DTS has a screw that applies pressure to the internal sear spring, and is locked in place with industrial thread locking compound. Theoretically, this could be used to adjust pull weight, but would certainly void the warranty as stated in the instructions. I don't recommend voiding the warranty due to liability and safety implications. This is where I'd add a skull and crossbones label and a "this means you" danger disclaimer. It is interesting, though, and may provide the manufacturer the ability to offer different versions of this product in the future.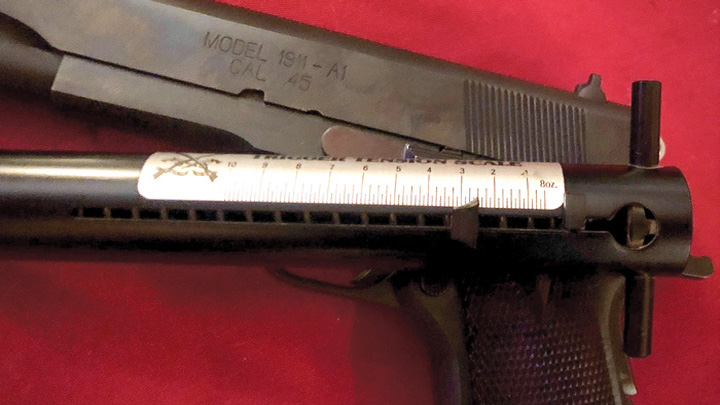 The DTS system retails for $299.99. Nighthawk promotes this as comparable to a custom trigger job at $380 with a two- to three-month lead time. I calculated custom trigger jobs with parts, labor, and shipping at $400 to $450, and lead times both shorter and longer than their estimate. I contacted a couple of custom gunsmiths who do trigger jobs a la carte to provide a couple of comparisons.
Pat Rafferty, of Rafferty Custom Guns, provided a quote utilizing quality parts that are very popular for raceguns. Rafferty uses a Koenig hammer, EGW disconnect, Extreme Engineering sear, Wolff sear spring and ISMI 17-pound mainspring. He polishes the trigger track, trigger bow, mainspring tunnel, and disconnector tunnel, cuts the sear and disconnect, modifies the sear spring and tunes the break and reset. He estimates parts at $140 (retail is $155 at Shooters Connection), and labor is $250. That's $390 plus shipping both ways for a highly-tuned custom trigger. Pat currently has a three- to four-week lead time for scheduling, but only needs the pistol for a week.
Dan Bedell, of Bedell Custom, provided a quote utilizing quality parts that are staples in his shop and also very popular. Bedell uses Koenig and EGW hammers, EGW hard sear, EGW ball-head disconnect, Nowlin skeletonized sear spring, ISMI 17- or 19-pound mainsprings (depending on the job) and titanium hammer strut and mainspring cap (to cut down on lock time). The parts for Bedell's kit are $178 (retail at Shooters Connection), and labor can vary.
Bedell stated, "The cost of the trigger job is based on which parts have to be replaced, if any, and the amount of time to fit all the components properly to produce a reliable and safe trigger. The amount of time varies based on several factors, including the sizing and location of the hammer and sear pin holes, which can vary in some manufacturers. It is difficult to quote a trigger job without having the gun in my shop to see exactly what has to be done."
Additionally, Bedell mentioned labor could be $50 to $150 for most pistols. His lead time is three to five months for complete builds, but one to two weeks on action work.
Nighthawk provided talking points for this system, and I added a few comments as well:
Anyone can install this system.
A quick 3.25- to 4-pound trigger in a matter of minutes.
No shipping or lead times. (No interruption of use of your pistol.)
Minimal tools required.
Can be swapped to a backup pistol. (Same trigger, different pistols.)
Safe and reliable.
Parallel alignment of hammer and sear.
Overcomes pinhole issues because the unit is in control of the hammer and sear pin placement. (Stock pins just hold it in place much like common AR-15 drop-in trigger systems.)
Works with Series 70, 80 and Swartz-style 1911s and 2011s.
Doesn't require bending or adjusting sear spring tensions.
Meant to be an upgrade to production 1911s, not a full custom trigger job.

The Drop-in Trigger System from Nighthawk is certainly interesting. It is comparable in price to the higher-end trigger groups available for other pistols and rifles, and is less expensive than a custom trigger job. Even if you have a custom 1911 with a great trigger, this part could be used as a back-up in your parts kit or range bag, perhaps in lieu of a backup pistol, and could potentially save your match, should your primary firearm's hammer, sear, disconnect or sear spring break during a match. With the easy installation, the swap to this unit in a safe area could be done in minutes. Learn more at nighthawkcustom.com.
Article from the May/June 2020 issue of USPSA's FrontSight magazine.
---
See more:
Springfield Armory Hellcat: Defensive Pistol with a Defensive Pistol