Nighthawk Custom's new Tactical Ready Series (TRS) line of double stacks chambered in 9mm combine high round capacity with a monolithic slide.
The new TRS line launches with two models: a full-size, government frame TRS Comp with an integrated compensator ($4,599), and the TRS Commander ($3,999) that brings the standard 17-round capacity to a commander frame.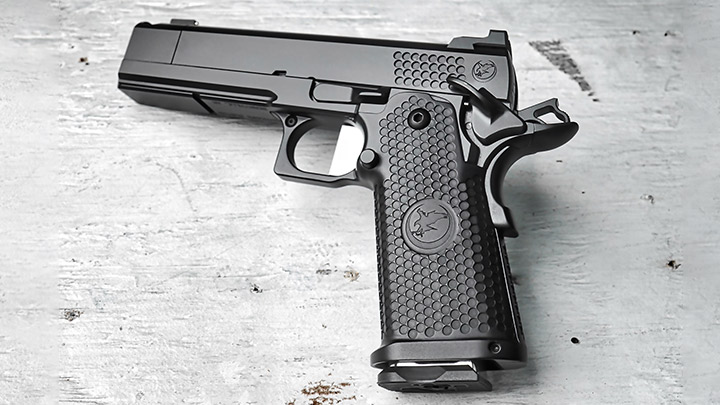 The TRS Comp follows up on the innovative Fire Hawk's integrated compensator, but this time with a double-stack magazine and a match-grade 5-inch barrel. It comes standard with a recon rail under the barrel, while a dimpled rear cocking design provides ample traction when racking the slide. The entire pistol has been finished in black nitride, and the solid stainless-steel trigger has a serrated flat face that can be helpful for staying on target. Additionally, the 18-carat gold bead front sight, combined with the Heinie Ledge Black rear sight should make for quick target acquisition. Empty weight is 39.6 ounces.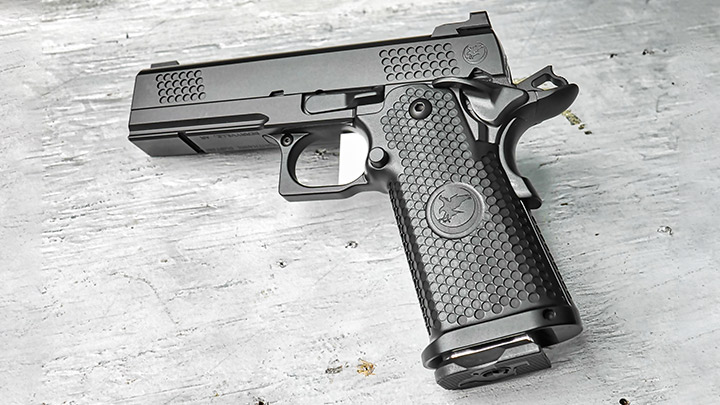 As for the smaller TRS Commander, even without a compensated barrel, this is a formidable pistol with the standard 17-round mag. Like it's big brother, the Commander includes a standard recon rail for adding a tactical light. The match-grade 4.25-inch stainless barrel is housed in a commander frame and monolithic slide. Plus, the full-length dust cover provides added weight to the front of the pistol for good balance. The TRS Commander also comes with a dimpled cocking design at the front and rear of the slide. Empty weight is 36.7 ounces. With lower capacity no longer a concern, the TRS Commander is an ideal carry pistol.
Learn more at nighthawkcustom.com.
---
See more:
Review: Ruger Custom Shop Super GP100 9mm Revolver