by
Chris Christian, Field Editor
posted on September 25, 2020
Support NRA Shooting Sports USA
DONATE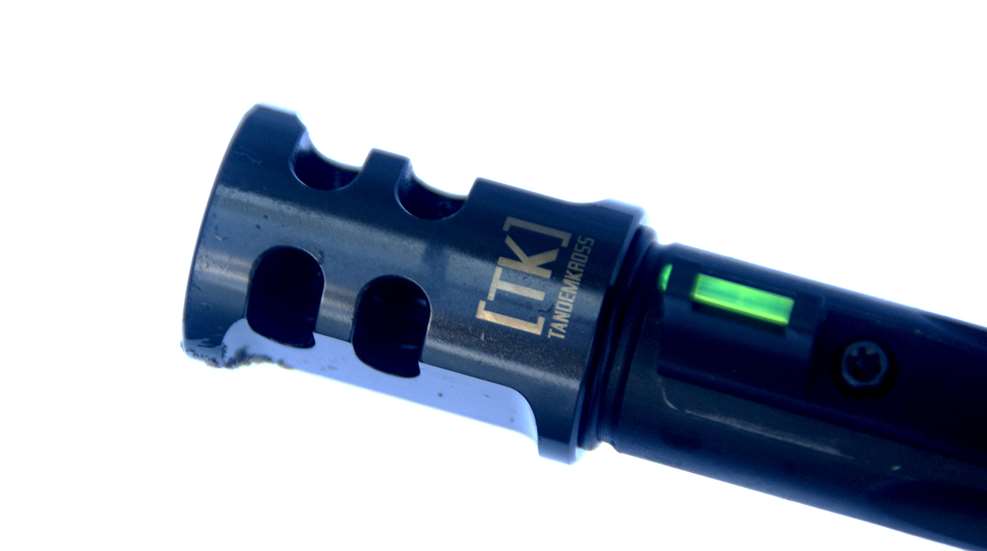 During a recent test on the new Tandemkross Eagle Eye Fiber Optic sights for my Ruger PC9 carbine, the company also provided me with its Game Changer Pro 9mm Compensator ($59.99, tandemkross.com).
This is a machined steel comp that fits the PC9, as well as other 9mm carbines with standard 1/2x28 threads. It weighs in at 2.83 ounces, measures 0.99 inch in width with a length of 1.5 inches. It vents exhaust gases upwards at dual 45-degree angles to reduce muzzle rise, and the company notes it has a special coating to facilitate cleaning. Interestingly, it also features an O-ring on the rear to prevent loosening, which can occur with some comps.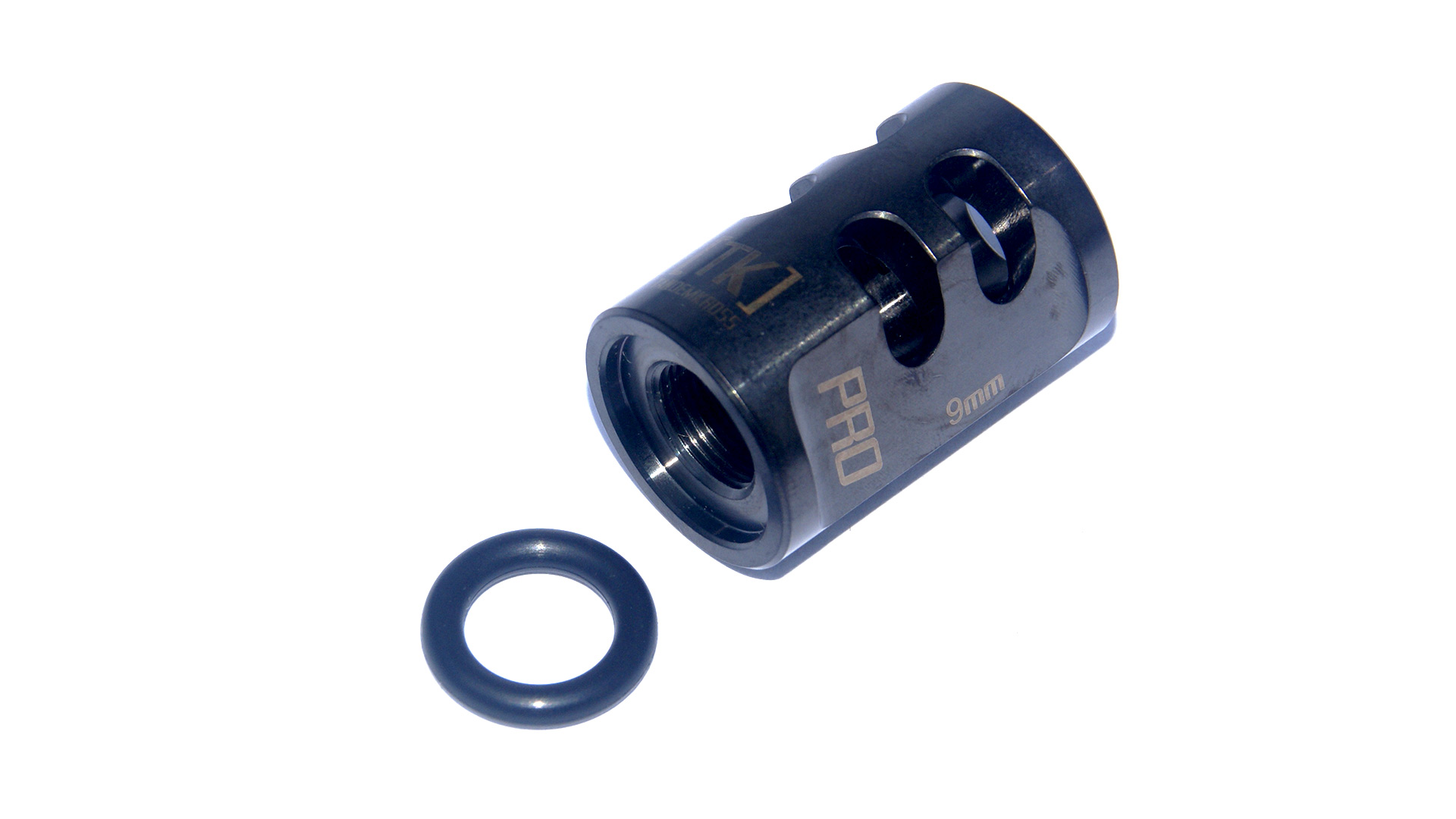 I decided to check this out before the sights. I wanted to see what effect it would have on recoil, muzzle rise, function and accuracy.
My Ruger PC9 was still wearing its SIG Romeo1 sight, so I headed to my range with my current Steel Challenge hand load. This is a 147-grain plated bullet with a modest charge of Win 231. Previous testing with the same gun and sight had shown that three-round groups were in the 1.40-inch range at 25 yards. It's not a tack-driver, but more than adequate for Steel Challenge. I then fired a three-round group from my 25-yard rest.
I did notice a slight reduction in recoil and the SIG's dot didn't seem to move upward as much on recoil, but this was a very light load anyway. However, when I checked the group with my binos, I received a major surprise.
I had expected the usual three spaced holes, but there was just one ragged hole with three rounds touching. I fired three more rounds on the same target. Two went into the first hole, enlarging it slightly, and one was about 0.25 inch above the hole. The six-round group measured 0.74 inch.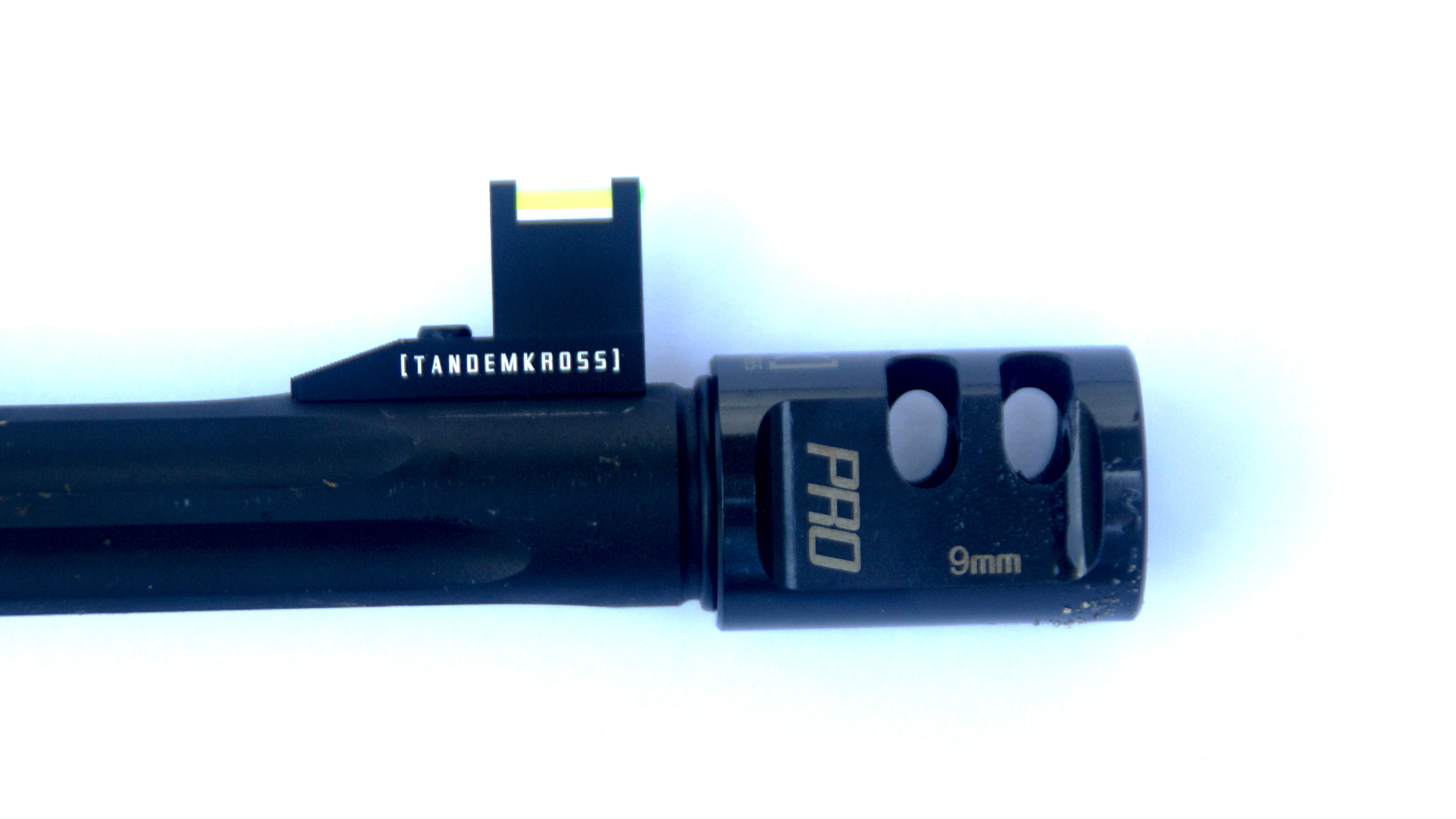 This load has never shot that well. But that was without the comp. My curiosity was piqued, so I dug back into previous ammo test records with the same Ruger PC9 and SIG sight, sans comp, and picked three loads I had tested and recorded: Federal's 147-grain FMJ FP, Federal's 130-grain Syntech PCC and Lapua's 123-grain FMJ. I fired a pair of three-round groups on different targets with each load. The gun, sight, rest, targets and the three-round groups were the same as the original tests. The only difference was the comp.
Without the comp, the Federal 147-grain was a 1.68-inch average; with the comp it was 1.28 inches. Lapua 123-grain; sans comp, 0.91 and with comp 0.65. The Syntech PCC sans comp was 0.88—with comp 0.54. Each round showed a noticeable reduction in average group size with the comp.
I can't explain it. I'll leave it to a ballistic engineer to explain why it happened. All I know is what happened. And, that the comp is definitely staying on this gun.
---
See more:
2 Great Tools For The Ruger 10/22