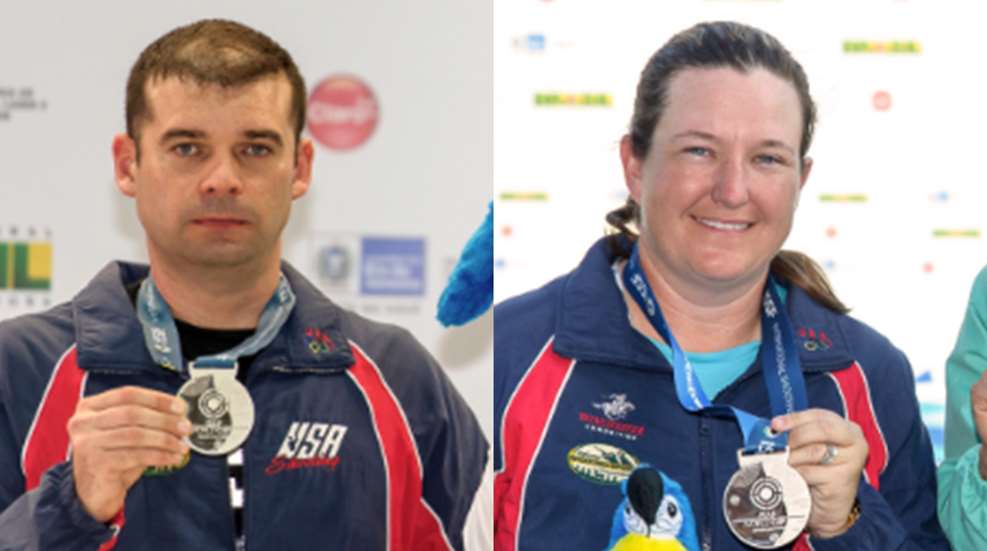 USA Shooting athletes doubled up on medals today at the International Shooting Sport Federation (ISSF) World Cup in Rio de Janeiro, Brazil as Keith Sanderson and Kim Rhode will each be bringing home a silver medal in Men's Rapid Fire Pistol and Women's Skeet respectively.

In the Women's Skeet event earlier in the day, Rhode qualified for a spot in the Semifinals in first place with 72/75 targets. She was joined in the Semifinals by teammate Amber English with 71 targets.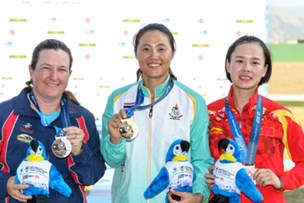 Once in the Semifinals, Rhode would advance to the gold-medal match with a leading 14/16 targets. Just one target back, English, Lu Min of China and Sutiya Jiewchaloemmit of Thailand would compete in a three-way shootoff to determine who would advance to the gold-or bronze-medal matches, with Jiewchaloemmit moving on to compete against Rhode for gold.

The gold medal would be determined by a shootoff as well as both competitors hit 15/16 targets. On the fourth pair in the shootoff, Rhode would miss and Jiewchaloemmit would hit both for the win. Min would win the bronze medal over English, 13 targets to 12. Women's Skeet World Champion and 2016 Olympic Team nominee Morgan Craft finished in 10th place with 69 targets—just one target out of a possible Semifinals berth.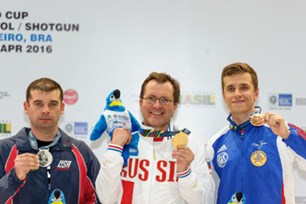 In Men's Rapid Fire Pistol, Sanderson advanced to the Finals in fifth place with a score of 582. Once in the Finals, however, Sanderson would fight to continually advance in the competition, right up until the second-to-the-last series when Alexei Klimov of Russia would seal his gold-medal fate with a six-hit advantage (each series in Rapid Fire Pistol has a maximum potential of five hits) for a score of 35, equaling the Finals World Record. Prior to his last series, Sanderson would congratulate Klimov on his win and finish with a strong four-hit series for a final score of 31. Jean Quiquampoix of France won the bronze medal. SSUSA readers may remember last year at Camp Perry, Sanderson won the NRA National Pistol Championship.

2016 Olympic Team nominee Emil Milev finished in 18th place with a score of 578.

The other U.S. medal won at this World Cup came from Glenn Eller last week when he won bronze in Men's Double Trap.

The ISSF World Cup wraps tomorrow with the Men's Three-Position Rifle and Men's Skeet competitions. Matt Emmons and Dempster Christenson advanced from the Elimination rounds and will begin Qualification. After the first 75 targets, 2016 Olympic Team nominee and two-time gold medalist Vincent Hancock currently has 74 targets. Hancock's 2012 Olympic teammate Frank Thompson and Hayden Stewart are tied at 72.

More than 660 athletes from 88 countries have made their way to this third World Cup of the season, which serves as the test event for the Olympic Shooting Center located inside Deodoro Park, one of three venue clusters for the 2016 Olympic Games. The range, opened in 2007, has already hosted the shooting events of the 2007 Pan American Games, as well as an ISSF Rifle/Pistol World Cup in 2008.

Photos courtesy of ISSF.