With Rio in Sight, USA Shooting is launching a brand awareness campaign that it hopes will rally the entire shooting sports community now and in the future, asking members, fans and enthusiasts to declare shooting as their Olympic sport.
The campaign will consist of a two-phase engagement approach for fans and member clubs. The first phase will concentrate on connecting with all shooting sports enthusiasts by providing them with exclusive content and access, bringing together millions of like-minded individuals to cheer for one team. The second phase will create greater synergy and enthusiasm within USA Shooting's 400 member clubs through a membership drive and engagement effort.
Specific to USA Shooting member clubs, an incentive program has been established for every new member they sign up in 2016. A $10 rebate for each new membership they help obtain will be given back to the club and the highest contributing club will earn an Olympic day opportunity with special recognition and Olympic Team member visits. An engagement kit will be provided for each member club to activate their own "Shooting Is My Olympic Sport" membership drive.

More details of what that engagement kit will include will be forthcoming in the days and weeks ahead.
"The Olympic year provides a unique opportunity for us to create greater connection and synergy with our member clubs that do so much for the vitality of our organization," said USA Shooting CEO Robert Mitchell.  "Our long-term success hinges on our ability to draw in new members and get them involved in enjoying Olympic-style shooting while producing and supporting our Olympic and Paralympic athletes. We hope that the financial incentives and membership engagement kit will provide the energy to motivate clubs to help make even more of a difference."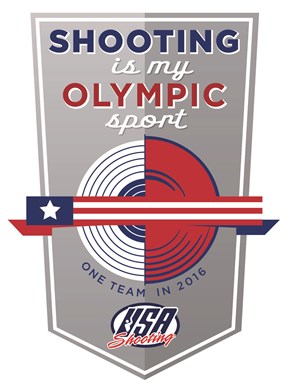 Accompanying the campaign is a newly-branded "Shooting is My Olympic Sport" logo the organization hopes the shooting sports industry will proudly embrace. Created to foster enthusiasm, patriotism and pride among USA Shooting team members, supporters and fans, the overall badge format gives the design a strong and forceful look and feel, while the central circular graphic creates a visual "unity" of the two distinct types of targets used in our sport. This symbolizes the "blending to oneness" among the disciplines and supporters of our sport. Strong, patriotic blue and red colors have been used within the logo, in combination with a steel gray shield. A horizontal flag strip wraps around the badge in a literal and symbolic manner. The two type fonts selected for use in the main badge text are contemporary and inviting, with a small touch of a "throwback" tone in a nod to the proud history of the organization. A Rio-focused tagline—"One Team in 2016"—has also been included below the target graphic, which customizes and focuses the message toward the upcoming Rio Olympic and Paralympic Games. An alternative Paralympic logo has been created as well to help spotlight athletes in the Paralympic discipline.
Despite the vast array of opportunity to compete and showcase skills valued by gun owners, the gold standard of marksmanship resides with the USA Shooting Team and their pursuit of Olympic and Paralympic medals. The tenets that have built the shooting sports into what it is today evoke passion, advocacy, nationalistic pride and tradition. There is no greater representative of those values for the shooting sports than the members of America's Shooting Team. The USA Shooting Team carries on the proud tradition of medal-winning success and shooting skill unlike any other country in the world, exemplifying the greatest defense possible for protecting, preserving and promoting the shooting sports legacy of this country.
Beyond the headlines, the rhetoric and constitutional battles the common thread among gun enthusiasts is that they all simply love to shoot. No matter your age, sex or ethnicity, our bond is the joy we extract by pulling a trigger whether for sport, competition, meat or simply for fun. Thus, why declaring shooting as your Olympic sport is the unifying message this year.
Representing a sport misunderstood, underappreciated and overlooked, USA Shooting athletes don the Red, White and Blue across this country and around the globe in pursuit of Olympic and Paralympic glory. This pursuit happens in the shadows of a society with a deep-seated professional sports loyalty and an Olympic enthusiasm with a far greater attraction to swimmers, runners and gymnasts.
USA Shooting Team athletes won't be included in the glitzy pre-Games promotions from sponsors nor the television networks, magazines and newspapers. In all likelihood you won't find them on the primetime telecasts during the Games, nor will they be the front-page story.
The bottom line is this: Our athletes are the story. Collectively they represent everything that we love about the shooting sports. Their story can't be told enough and as we cheer them on along their Road to Rio and beyond, we hope the shooting sports community will take the time to recognize what opportunity this next year provides to help change the narrative and to give the gun culture something to be proud of and stand behind: One Team in 2016. Go USA!