Maxim Defense pro shooter Kristie Watson won her division of this year's Tactical Games, the Women's Master's division.
Amazingly enough, this title comes to Watson after only two years of competitive shooting in the Tactical Games.
Watson also qualified for the 2022 Tactical Games National Championships in the Elite division.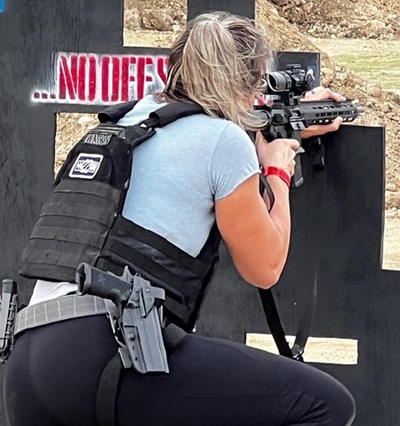 "I'm very fortunate to have qualified for Nationals at the Tactical Games," Watson said. "The combination of fitness and shooting drew me in initially, but the friends I have made while competing has been awesome. The camaraderie in the shooting sports world is unlike anything I've experienced before; fierce competition, yet completely supportive of one other. I wouldn't be where I am in my shooting career if it wasn't for the support of my husband, family, friends and coaches. They have pushed me to become a better athlete and person."
We shared our inside look at the Tactical Games earlier this year (read the article). Essentially, the Tactical Games were created to provide a platform to test the tactical skills and readiness of athletes of all backgrounds. Scoring is designed to weigh each competition ("battle" in Tactical Games parlance) equally on a 100-point scale.
Watson's winning setup this year included a Maxim Defense MD15 14½-inch barreled rifle chambered in 5.56 mm NATO, topped with a Swampfox Arrowhead LPVO 1-8x riflescope. In addition, Watson's handgun was a Staccato P 9 mm model.
Learn more about Maxim Defense and the Tactical Games.