Talladega, Ala.—home of Ricky Bobby, American pancakes and shakin' and bakin'. As I drove to the CMP Talladega Marksmanship Park on an early Wednesday morning in October, the sun rose in the east just behind the Talladega Superspeedway. The gorgeous morning was the perfect way to start the 2021 Infinity Racegun Nationals. Not only was I super stoked to see the Superspeedway, I was even more stoked that I would be there Sunday night for the awards dinner.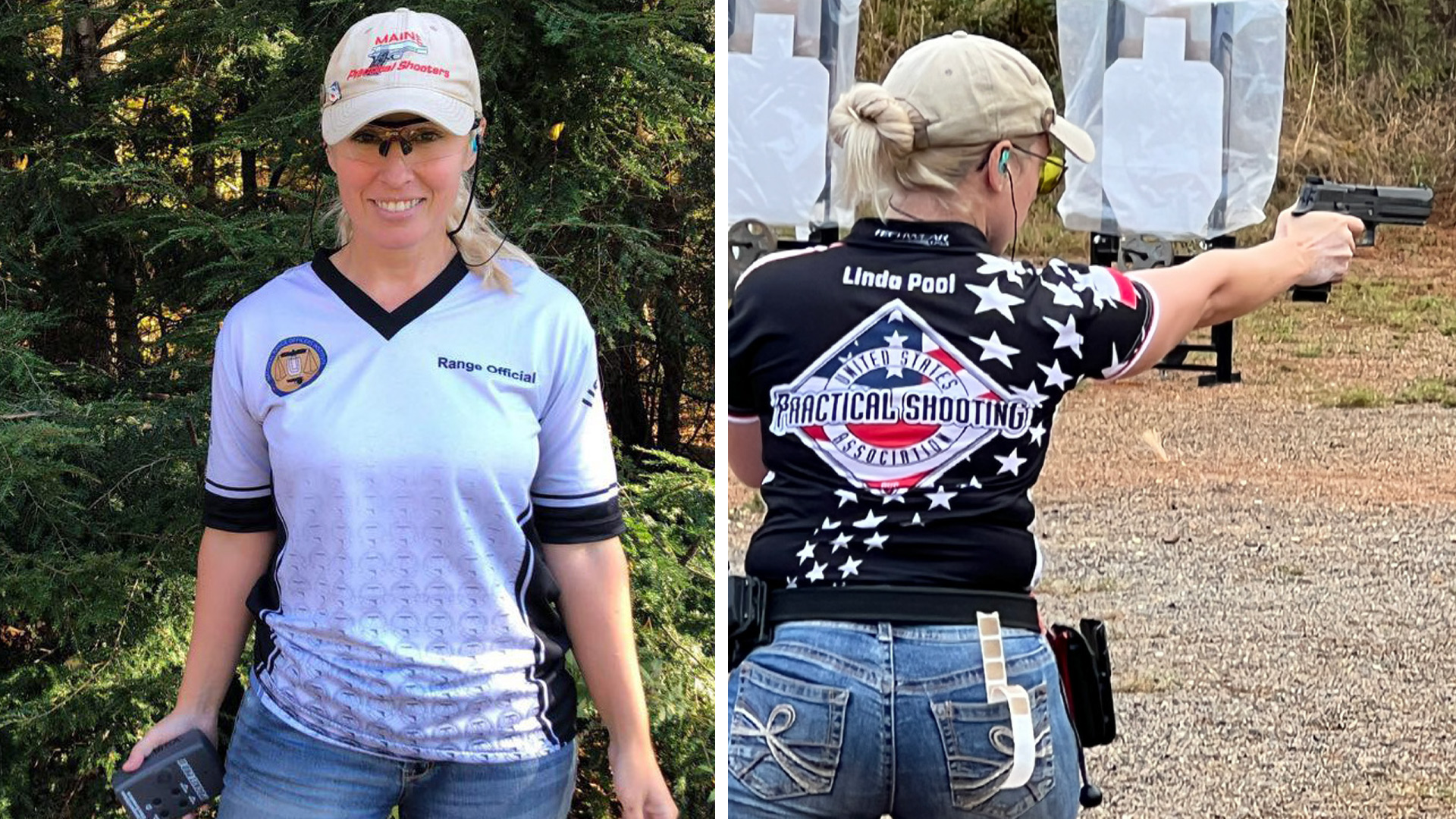 Day one began at the clubhouse. Everyone working or attending the match was required to have a current safety card, which were issued after viewing a 15-minute safety video. At 8:00 a.m., there was a staff meeting, where we picked up ammo (shipped or purchased), and headed to the range to prepare for the staff match. The staff package was excellent—I was able to fly down, eat, shoot the match and enjoy comfortable accommodations at little cost—and walked away with some great gifts.
The staff match was so much fun. My squad was funny, entertaining, helpful and excellent pasters and target resetters (always a plus). Danny and Marci were our ROs for the staff match—they were so upbeat—they would not let me give them a break and help them run shooters, no matter how many times I offered. They wanted us to relax and focus on shooting. I enjoyed my entire time at Nationals, but the staff match was the real highlight. It was such an awesome experience and an excellent way to reward staff that also wanted to shoot the match. Much time and effort goes into conducting this match, and I want to thank everyone who made it all possible.
The first day of the staff match was beautiful, sunny and hot. Rain was expected the next morning, so we wanted to bang out as many stages as we could that day. Our squad shot 13 stages the first day—an impressive amount.
The second day of the staff match saw a brief rainstorm, which quickly passed. We finished by lunchtime and I grabbed a sandwich on my way out. That evening was the staff dinner, where we feasted on burgers, sausages, beans, potato salad and cupcakes that definitely hit the spot—I was starving by that time. The staff was thanked for working, we all received some sweet gifts and the match director drew for five Glock pistols.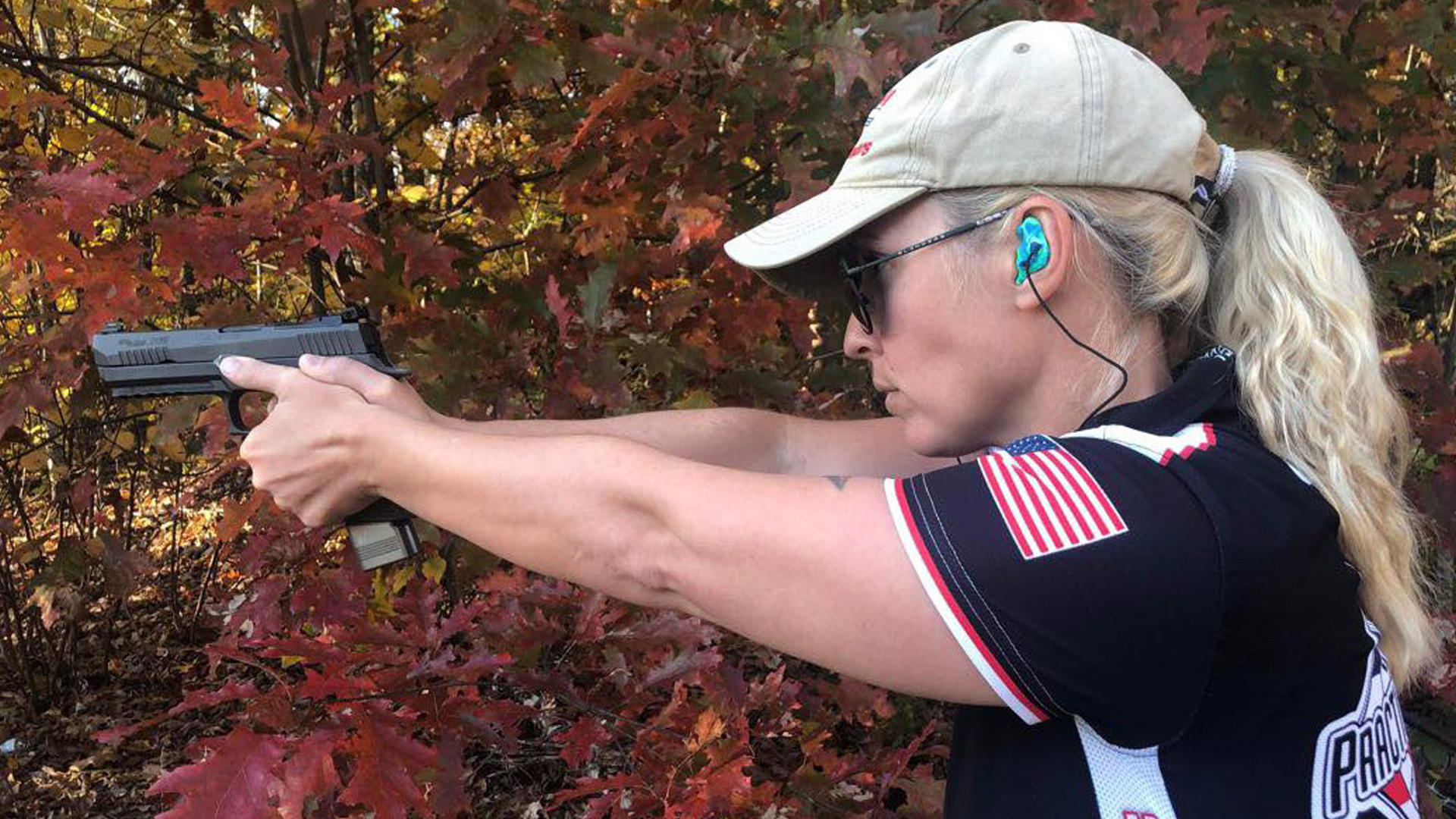 I am C class in Production and shot Limited D for the match. I run a gorgeous SIG Sauer X-Five Legion, equipped with a Grayguns competition hybrid trigger and Grayguns custom sculpted grip module, courtesy of Targets USA. My ammunition was Federal Syntech 150, which I purchased through the match and picked up at the clubhouse. All ran flawlessly. Unfortunately, I performed abominably, but I still had a rocking good time.
On the third day, which was the first paid competitor day, the weather was sunny and warm. I was assigned to Stage 4, which was located in Bay A4 along with Stage 5. Stage 4 was called "Take My Oath On It." Stage 5, "Let's Finish It," was a fast stage and a future classifier. The Range Officers alongside me on Stage 4 were Lee Cabana and Mike Carraher.
The fourth day I attended Nationals, the second paid competitor day, was another sunny and warm one. From the onset, our rotation was tablet, timer and rest. On rest, none of us chose to sit down. Instead, we helped paste to make sure to keep a good pace. For reasons outside of our control, we were behind schedule on our stage—only about 15 to 20 minutes, however. At the end of the day, we had so much help pasting, which made me smile. We ended well before sunset, and I headed out for some Mexican food and a well-deserved margarita.
On the final day, the conditions were pretty much perfect for shooting. It was overcast with a pleasant temperature, and the day went by smoothly. I enjoyed demoing a pair of Hunters HD Gold glasses for the second half of the day, and I am definitely picking up a pair. They are so clear and comfortable you almost forget you have them on.
At the end of the last day, I was finally able to drive into the Talladega Superspeedway. The large venue accommodated everyone comfortably and the pasta dinner was on point. I had a chance to catch up with many competitors and hang out with the Trident Armory Shooting Team, who are local to me. After all the top winners were called up, everyone was called to line up for the prize table. Every competitor had the chance to choose prizes in the order they placed at the match. I received some fantastic items that I will get to put to good use right away.
My big takeaway from this experience was from the people I met. Some of the greatest, kindest, hardworking and most helpful people you will ever meet are USPSA members and competitive shooters. I had a fantastic time during Nationals and afterwards hanging out, eating, recapping the day and sampling local beers. I was fortunate to attend this match, to be assigned to a fantastic staff squad, as well as to work with interesting people. The ROs who put in their time to put on these matches work so hard from pretty much sunrise to sunset, so make sure you keep giving them a huge round of applause at every stage.
See the full results of the match here.
I look forward to Nationals next year, as well as some exciting local matches. If you come to Area 7 or the Trident Armory Standby to Fly Benefit Match and Maine State Championships—both are being hosted at the Hampden Rifle and Pistol Club near Bangor, Maine—expect an excellent time, and please come introduce yourself if we haven't already met.
About the author: Linda Pool lives in Maine and is an assistant match director for Maine Practical Shooters in Augusta. She works from home through her business, Intellectual Novelty, providing website publishing, QA and customer service, among other things. She trains in Brazilian Jiu Jitsu, is a student pilot and absolutely loves the shooting sports.
Article from the November/December 2021 issue of USPSA's magazine.
---
Read more:
4th Annual Battle For The North Coast Attracts 241 Competitors