Hot off the heels of his victory at the 2021 Team Motley Dragon's Cup, Taurus has announced the addition of competitive shooting powerhouse KC Eusebio to its shooting team. A seasoned professional, Eusebio's presence will contribute to Taurus's mission to manufacture reliable, top-performing handguns for personal defense and recreation.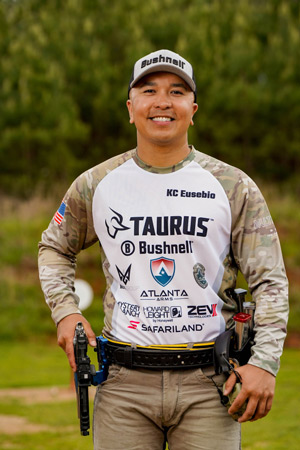 One of the best shooters of his generation, Eusebio has won numerous championships over his 25-year career, and he holds the distinction of being the youngest USPSA Master (age 10), Grand Master (age 12) and World Speed Shooting Champion (age 15). A first-generation American, after his early competitive shooting success, Eusebio enlisted in the U.S. Army, eventually earning a spot on the U.S. Army Marksmanship Unit action shooting team.
Regarding joining the Taurus shooting team, Eusebio had this to say:
"I'm so incredibly excited to be a part of the Taurus family. I've observed the company over the last decade and Taurus truly cares about their employees and customers, and that means the world to me. They are headed in the direction that I want to be a part of. I'm also very honored to be able to work and shoot alongside Jessie [Harrison]. She is the embodiment of a true professional in our field. I'm here to bring my knowledge and experience to the team so that we can make huge strides in the industry. I can't wait to be a part of some amazing projects in the near future."
Eusebio's Taurus teammate, Team Captain Jessie Harrison, expressed excitement about him joining the Taurus squad.
"I've had the privilege to watch and compete alongside KC for 16 years now, and there isn't a better advocate to the industry or champion to the sport that I would rather bring on board. In my opinion, it speaks volumes to the growth and innovation of Taurus for us to be able to expand the team and sign such a seasoned competitor. KC brings years of knowledge and experience from behind the gun that will be a valuable asset to the company and to the goals we want to achieve. I look forward to the future of Taurus and our newly expanded shooting team."
Follow KC Eusebio on social media at Facebook and Instagram. And learn more about Team Taurus at taurususa.com.
---
Read more:
Sporting Clays Expert Gregg Wolf Newest Member Of Team Federal