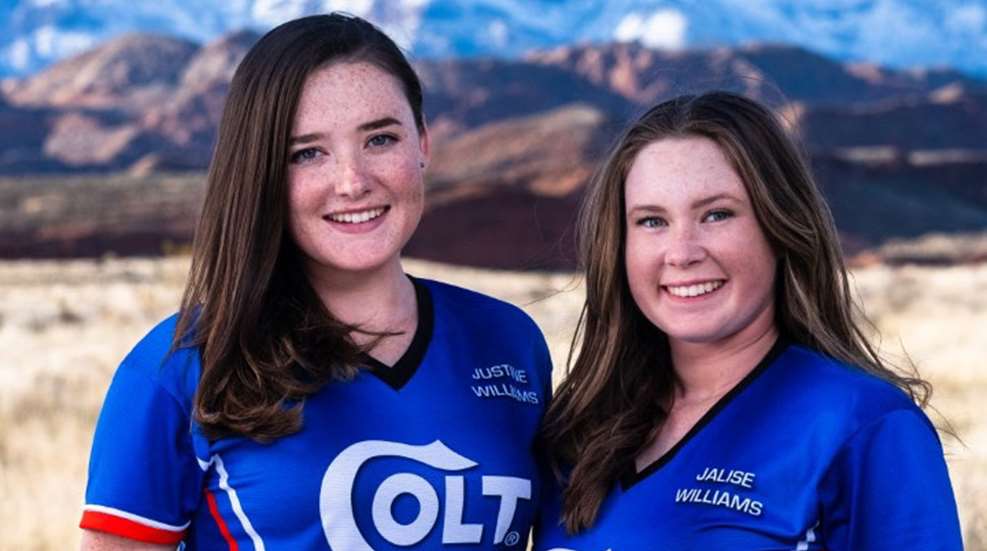 Colt has announced that Jalise Williams and Justine Williams are the latest additions to Team Colt. The Utah-based sisters will join Team Captain Mark Redl and Wyatt Gibson representing the company at shooting competitions and industry events.
Exceptionally talented, the Williams sisters began shooting competitively at a young age and have continued to hone their craft. SSUSA first met the sisters back in 2016 at the NRA Annual Meeting. In 2019, both Jalise and Justine won a slew of action shooting titles.
The elder sister, 17-year-old Jalise Williams competes in several disciplines including USPSA, IPSC, 3-Gun and Steel Challenge and holds over 100 shooting titles. Last year alone, she won USPSA titles in Limited Lady, Single-Stack Lady, L-10 Lady and A-Class, as well as IPSC Classic Lady National Champion. Addtionally, at the age of 15 Jalise became the youngest Single-Stack Lady National Champion in USPSA history.
Justine Williams, 15, has competed in a variety of shooting disciplines for six years. At age 13 she became the youngest-ever USPSA Production Grand Master, a scant two years later achieving the Pistol Caliber Carbine (PCC) Grand Master classification. She is the first woman to become a USPSA Grand Master in two shooting disciplines. In 2019, Justine won USPSA High Lady in the Open, Carry Optics and Production divisions, as well as the High Junior in Production and IPSC High Lady in the same division.
As for the rest of 2020, both Jalise and Justine have full competition schedules, including the upcoming Safariland Single-Stack Classic Nationals, IPSC Nationals and IPSC World Shoot XIX in Pattaya, Thailand.
Learn more at colt.com.
---
See more:
How A Positive Attitude Can Affect Your Shooting