The variety of shooting sports enjoyed by hundreds of thousands of Americans each year is extensive. This article concentrates on two commonly found on the college level—air rifle and air pistol. Each is challenging, and has specific rules and requirements for equipment and range facilities. Read our guide below.
Air Rifle and Air Pistol
Intercollegiate pistol is rapidly gaining popularity and requires less start-up equipment than smallbore rifle—a plus for a campus-style shooting program. Smallbore pistol events on the college circuit involve the free pistol, standard pistol and sport pistol. The event that has been shot the longest is the standard pistol. Many ROTC units have the standard pistol available to their cadets for training and qualifying for marksmanship awards. (To find a school with a collegiate shooting sports program, check out the NRA Collegiate Shooting Sports Directory.)
The pistol, relatively light and compact, lends itself more readily to accommodate a wide variety of students. There is little adjustment necessary to fit a person to a pistol, since almost any individual may use most commonly available guns. Basic equipment necessary for pistol shooting consists of the pistol, ammunition, safety equipment and targets. Multiple accessories or an elaborate set-up are not required, at least as a beginner.
The same principles of shooting apply to pistol that apply to all shooting events. Safe gun handling is paramount. The principles of firing the shot do not change from one shooting discipline to another. In fact, it is quite easy to jump from one shooting course curriculum to another. Shooters in a program may wish to try another shooting discipline during the following semester. This process is how collegiate competitive shooters—and shooting programs in general—grow.
For many years, the NRA has recognized air gun shooting as a legitimate shooting discipline. In the collegiate ranks, competitors vie for various honors, such as selection to the NRA All-American Team, and for titles at the different college shooting championships, such as the NRA Intercollegiate Pistol Championship, NRA Rifle Club Championship and the NCAA Rifle Championship.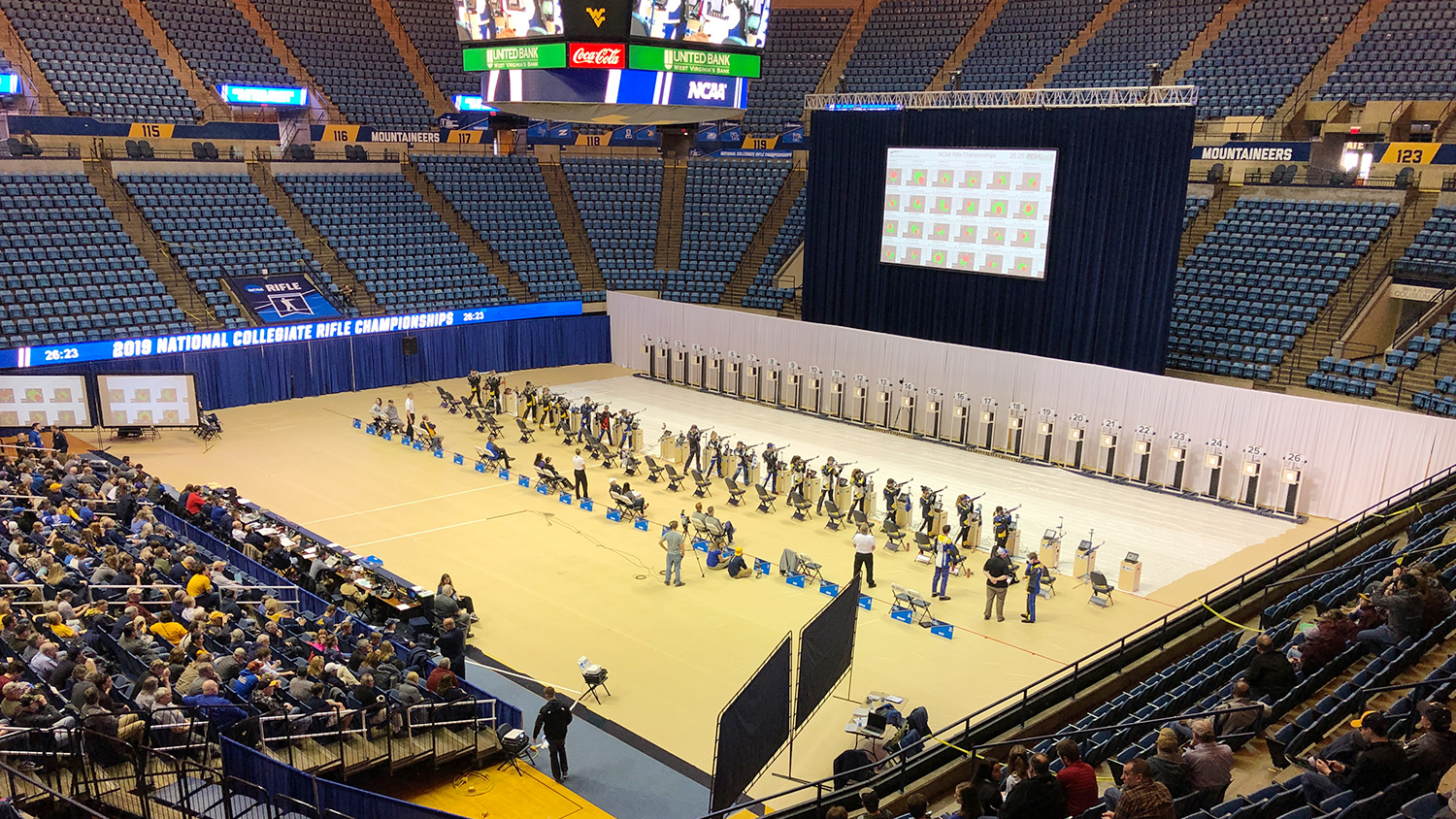 The air rifle and air pistol programs introduce more people to shooting than any other type of program. Air guns are an addition to the shooting sports, not a replacement for firearms. With this understanding, more coaches, clubs and instructors are starting to use these air gun shooting disciplines in their classes.
Air gun competition is ideal for schools with limited or non-existent range facilities. The challenge to competitors is equal to any other shooting sport—only the range and the equipment needs differ. A suitable air gun range can be set up in almost any empty classroom or meeting room. The elaborate, hardened-steel range backstops that are required for firearm ranges are unnecessary for air guns. Additionally, compared to smallbore rifles and pistols, air guns are quiet—making them good neighbors when located in a building with other activities. Equipment needs can also be reduced, because the low sound of the compressed air guns make hearing protection optional in some cases.
Air Rifle and Air Pistol Equipment
The two intercollegiate air gun events—air rifle and air pistol, are fired over the same 10-meter (32.8 feet) distance. Both events require the same ammunition—match-grade, .177-caliber pellets.
A competition-grade air rifle or pistol with adjustable sights is a must for the serious competitive shooter. The air rifle is fired from the standing position only for international-style competition. In addition, the air rifle can be used to teach the fundamentals of position shooting when a smallbore rifle is not available. In cases where the air rifle is used to teach position shooting, a kneeling roll and mat are used. Air rifle shooters should have a shooting jacket, glove and spotting scope.
Air pistol shooting is the easiest and least expensive shooting event to implement in a college program. It is too often overlooked as the means to introduce student-athletes—and colleges—to the shooting sports.
Air guns are very affordable and easily accessible to anyone wishing to start a collegiate shooting program. For the specific regulations for each type of air gun, equipment, targets and courses-of-fire are located, check out the discipline rulebook.
Helpful Links
---
See more:
New: Eley Precision Club Online Competition