Resiliency—if there's one word to describe Jim Kuzak, that would be it. Meeting him today, you wouldn't know that Jim experienced a life-changing event that few will ever endure. His positive attitude and sunny disposition will make you forget that he didn't always use a wheelchair.
Jim grew up around firearms and was introduced to them like so many of us were, shooting BB guns at a young age, graduating up to .22s and finally getting to play with the bigger calibers. His father taught him everything about firearms, and when it was too cold to shoot outside in Pennsylvania, his father had targets set up in the basement for him to practice with his BB gun.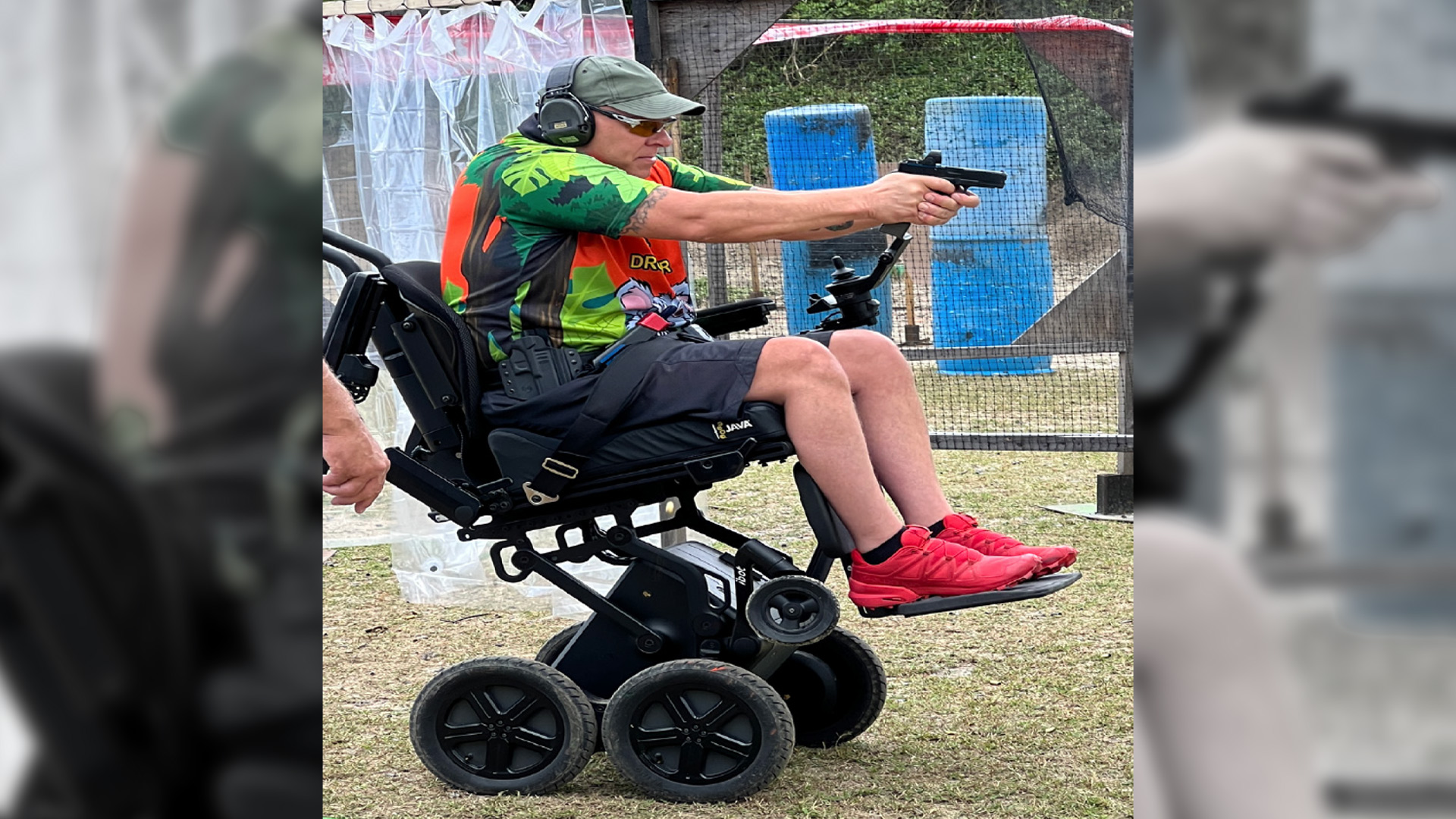 Another word that has defined Jim's life is serendipity. While he originally wanted to be a pilot growing up, a questionnaire he filled out as a kid had the answer "police officer" after the question, "What do you want to be when you grow up?" Later on in college, Jim witnessed an accident that altered his life to go into the police academy at 19 years old. In a way, Jim becoming a law enforcement officer was his destiny.
If you don't know Officer Jim Kuzak's story, it is unfortunately one of many we hear about today, except he got to live. Our brave law enforcement officers across the nation are putting their lives on the line daily. Jim was ambushed and shot five times more than a decade ago on April 4, 2011. To hear Jim tell his story is a distressing experience, but he'll let you know he's the lucky one who got a second chance at life.
Jim woke up after the shooting paralyzed from the waist down, but with friends, family and a community around him, he realized he had more to be grateful for than to complain about. Nowadays, Jim is just one of the many disabled people in shooting sports, inspiring others and showing the world what is possible. Trevor Baucom, founder of the Adaptive Defensive Shooting Summit and an adaptive shooter himself, has inspired Jim in his journey into competitive shooting.
Jim and his cousin, Guy, who was also a police officer, started shooting competitions before Jim was paralyzed. They took training into their own hands, with the goal to be better than the average cop, so they would go out and shoot competitions in their duty gear. While shooting competitions couldn't replicate what would happen in an actual shooting, they knew it was the best place to improve their shooting skills while moving and under the pressure of the timer.
After Jim was paralyzed, it took time for him to get used to being around gunfire again. In 2015, Guy and Jim searched the internet and found the United States Practical Shooting Association. Eager to get started, Jim immediately signed up for a membership and started getting his name out to the shooting community. I've learned as a shooter that the shooting sports community is as small as they get. What happened next is complete serendipity.
Jim was scrolling social media one day and sees his buddy commenting on Michelle Viscusi's photo and asks him to connect. After chatting with Michelle, Jim found out that Michelle's dad was a police officer in Western Pennsylvania, the state where Jim was born. Soon after that, Jim was connected with J.R. Moore of the Officer Store and eventually got a call from Ed Fitzgerald, the advertising manager at Glock, offering Jim a position as a brand ambassador for the company.
Go big or go home, right? Jim's first shooting competition was the 2016 National IDPA shoot at the Smith & Wesson Academy. There, he saw some of the top shooters in the world compete, which fueled him to dive into competitive shooting even more. Like many of us, he spent a few years shooting before realizing he should probably take a class on how to play this game. Enter Kita Busse. Kita's movement class helped Jim learn how important it is to get in and out of positions and think critically about what was possible in terms of movement for him. For adaptive shooters like Jim, he had to learn how to safely turn the wheelchair 180 degrees without the gun following in that direction. Jim's stage plans typically look nothing like most other shooters' plans with this limitation. Jim has learned a lot about what's possible for adaptive shooters in disciplines like IDPA and USPSA. (Learn about NRA adaptive shooting programs here. —Ed.)
Remember what the shooting sports have done for your life, and let's work to bring more adaptive shooters into the community.


Jim has been a guinea pig for the past few years, testing stage designs, stage props, fault lines, range facilities and accommodations for adaptive shooters. The terrain of a shooting range can be a significant limiting factor for USPSA adaptive shooters on wheels. The lack of handicap bathrooms or Port-A-Potties is no longer acceptable if we want to be inclusive of all. Low ports, high ports and stage props that are not possible for an adaptive shooter to reach or use will always limit the equal opportunity of shooting a stage. Fault lines that are set up to require a hard lean to shoot a target can be a limitation for anyone in a chair. While I don't know what the future of adaptive shooting looks like, more accommodations can make it fair for adaptive shooters to complete a stage, along with a dedicated USPSA division.
Looking to 2022, Jim is looking forward to shooting more competitions, maybe even dabbling in 3-Gun if it's possible and having fun on the range. With the advancement of technology, a new chair called the iBot by Mobius Mobility is changing the game for adaptive athletes to move in ways they can't get with a regular wheelchair. This chair can move in two-wheel and four-wheel drive, climb stairs, tilt left and right with the person and raise to eye level. In addition, the iBot can move from three to over six m.p.h., depending on the mode. Trevor Baucom helped prototype and test the iBot and owns one of his own. Gary and Mari Linfoot of the American Mobility Project received funding from the Peace*Love*Happiness Charity and chose to gift Jim with the iBot chair.
If you've read this far, I hope you return to your home range and take what you've learned from Jim's experiences to create a more inclusive environment to welcome all types of shooters. And don't be afraid to change your perspective and put yourself in his shoes. With organizations such as Battle Buddy 3-Gun, you can learn firsthand what it's like to shoot a stage in a chair, struggling to draw your gun and carry your gear.
Jim's story sure puts my life into perspective and makes me appreciate the things I have that much more. Remember what the shooting sports have done for your life, and let's work to bring more adaptive shooters into the community.
Article from the January/February 2022 issue of USPSA's magazine.