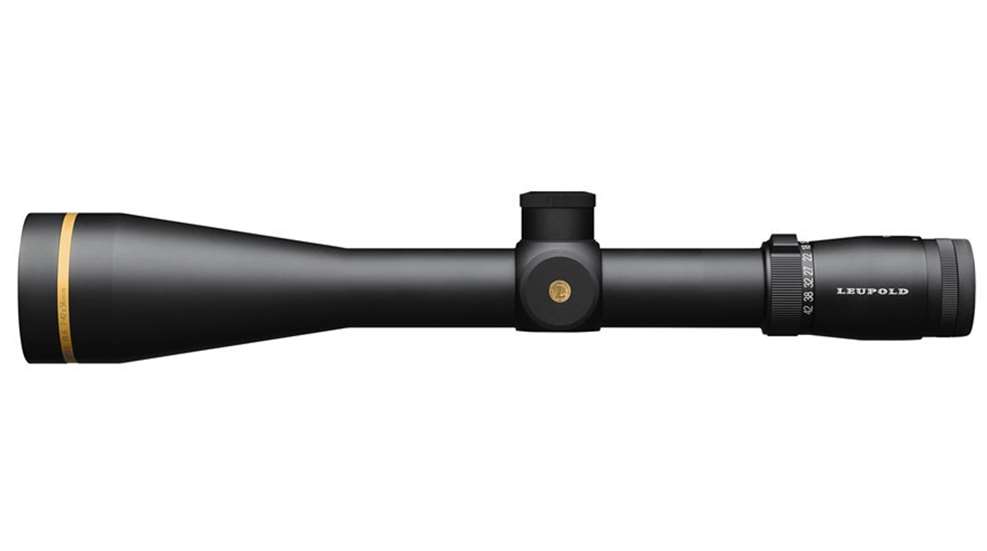 Above: The Leupold VX-6 7-42X56 mm riflescope is built from 6061-T6 aluminum, and employs a twin bias spring that reduces stress on the  internals of the scope for a longer life.

The promise of Markus Friederich Leupold was simply this: "We solemnly promise never to let down on quality; the customer is entitled to a square deal." Somehow, Leupold & Stevens has managed to remain true to that doctrine, because over a century later, it still holds a strong reputation for building some of the world's finest sporting and military optics.

Born in Germany in 1875, Leupold was an only child. After his mother died, he didn't get along with his stepmother, so in 1891 he immigrated to America. He soon found work as a machinist for a Boston engineering firm that manufactured surveying instruments. While in Boston, Leupold met Adam Voelpel at the YMCA. Voelpel took Leupold home for dinner where he met Voelpel's sister, Rose, whom he married in 1899. Their son, Marcus, was born in 1900.

Voelpel had an adventurous soul and wanted to move west, so he and Leupold drove a truck to San Francisco, Seattle and Portland looking for a place to set up business. They settled on Portland because of the surveying taking place in the area. In 1907, Leupold set up a one-man operation for repairing surveying equipment at 5th and Oak Streets. Voelpel was his financial backer, so the company was called Leupold & Voelpel.

In 1911, Leupold & Voelpel began manufacturing surveying equipment. There were eight employees, and the weekly payroll was a mere $130. But it wasn't long before the company grew to more than 40 employees.

Leupold had built a good name in the surveying industry, but was struggling against well-established and better-financed competition.

Enter John Cyprian Stevens, inventor, engineer and hydrologist. Stevens had patented a device to record the flow of water, but he needed somebody to build it. Leupold was his man, and they entered into a business arrangement.

Even through the Great Depression, the company was able to flourish. That was due in great part to another Sevens' invention, the Telemark. This was a water-level recorder that could send information over telephone lines, which of course revolutionized the way water-level measuring products were used.

Because of the success of the Telemark, the company outgrew its plant, so it moved to a new facility in northeast Portland. Voelpel, who had changed his last name due to the anti-German sentiment, had passed away in 1940, and with the move came a new name for the company—the Leupold & Stevens Instruments Co.

Few companies were left unchanged during World War II, and certainly Leupold & Stevens Instrument Co. was no exception. It manufactured sextants and peloruses for the U.S. Navy and Merchant Marines. It also developed a market in repairing Merchant Marine machine gun sights, and worked on developing a riflescope for the U.S. Army.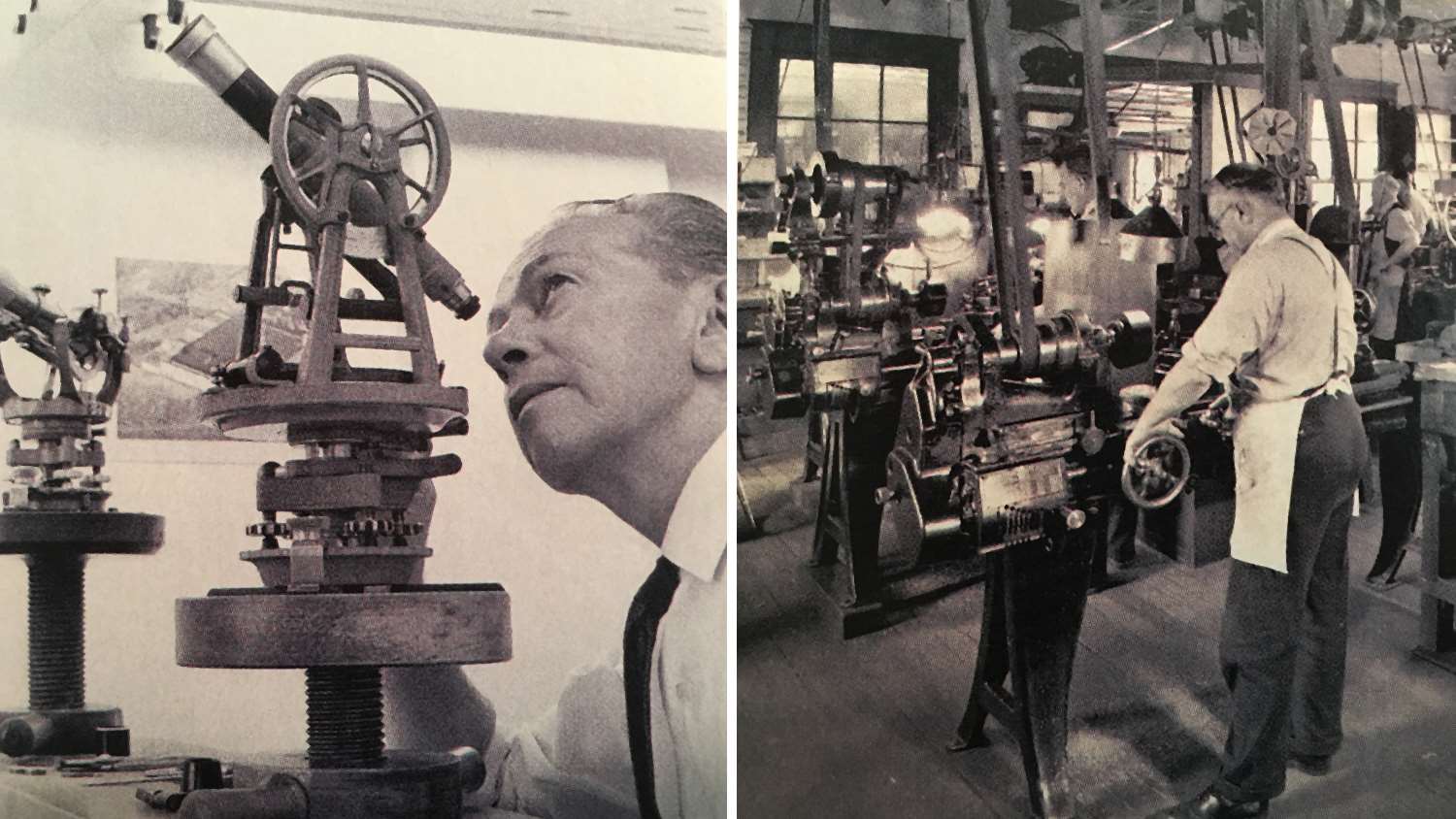 The elder Leupold passed away in 1944, and another of his sons, Norbert, joined his older brother, Marcus, that year to also work for the company. Management of the business passed to Marcus and Norbert, and to Stevens' son, Robert. The three young bloods were all avid outdoorsmen—an important trait to the future of the company.

Marcus came to hunting late in life, after his wife, Ruth Saunders, introduced him to the sport. The pivotal moment came when he was hunting in the Steens Mountains in eastern Oregon. It was a rainy day, and when he tried to shoot a blacktail buck his riflescope had leaked and was filled with moisture, causing him to miss. "Hell, I could build a better scope than this," he exclaimed. And that's just what he did.

In the company's experience in repairing optical machine gun sights, its engineers discovered that if the air inside a scope was purged and replaced with nitrogen, the chances of internal fogging were all but eliminated. That discovery would prove pivotal.

In 1947, Leupold & Stevens Instruments Co. introduced its first riflescope for hunters. It was called the Plainsman, and was the most water-resistant scope to date. The Plainsman featured internal adjustments and, of course, a permanently sealed tube. Hunters who were fed up with fogging flocked to it, and Leupold found its destiny.

By the end of the 1940s, the company was still making water-recording instruments, but riflescopes were a growing part of the business. It incorporated in 1949 as Leupold & Stevens, and Marcus rose to the position of president.

He realized that with returning veterans and the post-war prosperity, there was a great market potential for riflescopes for sporting use. The company continued to grow and prosper, and by the 1960s, was one of the premier suppliers of sporting riflescopes.

With the sales genius of Jack Slack, Leupold and Stevens grabbed an ever-increasing portion of the riflescope market, and by the 1970s, riflescopes were a huge part of its business. This growth prompted a move in 1968 to its present location in Beaverton, OR, where it opened shop in a new 66,000 square-foot plant. With a staff of 150, Leupold figured it was big enough to handle 20 years of growth, but in just a few year's time, it had to add on to the building. It expanded again in 1977, again in 1981 and in 1993. This growth continued over the years, and by 2007 the facility covered more than 200,000 square-feet and housed over 670 employees. Today, over 700 employees work for Leupold.

One secret of Leupold & Stevens' success is that it has always invested in the most technologically advanced equipment. No matter if it was a dividing engine in the early years or a top-end CNC machine today, the company has never been afraid to invest in quality. Today, it boasts that its production floor houses the largest installation of index-brand turning centers west of the Mississippi. These are computer-controlled manufacturing machines that can turn, cut, punch and mill lumps of metal. Computer-controlled production allows for around the clock manufacture.

In 1996, the company sold off the Stevens Instrument division, which is still operating with corporate offices in Beaverton. Over the years, Leupold has branched into other areas of the shooting industry, but in the end, it remains committed to optics and optics-related products.

Any outdoorsman knows Leupold has long been an industry leader. The scopes are legendary for toughness, accuracy, optical quality and are known for having the longest eye relief in the industry. Leupold is also one of the top manufacturers of mounting systems for scopes. Its bases and rings are renowned for strength and precision.

Additionally, Leupold's binoculars, rangefinders, spotting scopes and military sights, mounting tools, filters, tripods, and most recently—thermal optics—have all proven themselves to be great product choices, built with high-quality components. Throughout it all, one constant theme has remained for over a century of business, and is a sacred vow promised by Fred Leupold so long ago.