Here are the top moments from the competitive shooting world in 2015, as chosen by the
Shooting Sports USA
editorial staff.
10)  NRA and USA Shooting Work for Olympic Gold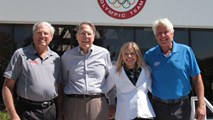 Thanks to both USA Shooting and the NRA, there are many programs available to support our Olympic hopefuls. If a future Olympic competitive shooter did not excel in other sports, they might become discouraged with them in general. The shooting sports do not require a participant to be able to make a slam dunk or hit a home run. A level playing field is one of the hallmarks of the shooting sports. Competitive shooting teaches patience, determination, organization skills, mental and physical control, safety awareness, goal setting, problem solving and good sportsmanship.
9)  The First Ever Starlight 3-Gun Championship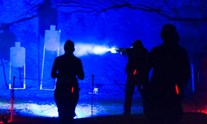 The inaugural Starlight 3-Gun Championship was held in conjunction with the NRA World Shooting Championship, and was quite the sight to behold. Shot over two nights, several of the finest competitors in the shooting sports made the trip to Peacemaker National Training Center in West Virginia, with some shooters, such as Jerry Miculek, shooting the NRA World Shooting Championship in addition to the Starlight 3-Gun Championship.
8)  Reloading .22 Long Rifle—A New Option for Competitors

Common knowledge has it that reloading .22 Long Rifle cartridges isn't possible, or at least isn't practical. But necessity being the mother of invention—in this case necessity being the present drought of .22 LR ammunition—American entrepreneurship has now added the rimfire cartridge to our reloading repertoire.
7)  World Long Range Palma Championship at Camp Perry
In August, the National Rifle Association of America, in conjunction with the International Confederation of Fullbore Rifle Associations (ICFRA) hosted ten countries and some of the world's finest long range shooters at Camp Perry, Ohio for the 2015 World Long Range Palma Championships. Competitors took to the firing line shooting at up to 1000 yards, contending for the historic Palma trophy.
6)  Thrasher Wins 2015 Smallbore Metric 3-P Championship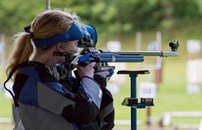 2015 was a great year for Ginny Thrasher, who won this year's NRA Smallbore Metric 3-Position Championship in Bristol, IN, with a score of 2305-81X. Regarding the NRA Smallbore Championships, Thrasher said, "It has been very gratifying for me to spend the last three years competing in the sport I love, and the NRA runs a great match with very dedicated staff. My dad and I road trip together to the championship and have a great time. Every year I have attended I have achieved more than the last."
5)  U.S. F-Class Team Wins Historic Creedmoor Cup in Ireland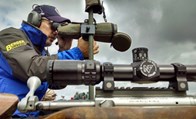 Former NRA president John Sigler showed us there really is a "pot of gold" at the end of the rainbow on the Emerald Isle. He meant not only the gold medals won by the U.S. team during the 2015 Emerald and Creedmoor Cup team matches held in Ireland this past June, but the good as gold relationship between U.S. and Irish competitive shooters as well.
4)  Keith Sanderson Wins 2015 NRA National Pistol Championship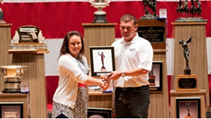 In July, Keith Sanderson won the NRA National Pistol Championship with a score of 2655-122X. The two-time Olympian won by 14 points at an extremely muddy Camp Perry match for the ages. Not only did Sanderson literally write the book on pistol marksmanship fundamentals, he won an unprecedented three medals (gold, silver, and bronze) at three World Cups in 2009.
3)  SFC Brandon Green of the AMU Wins 2015 NRA High Power Championship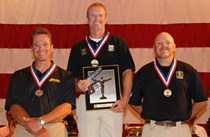 This past August, SFC Brandon Green of the U.S. Army Marksmanship Unit (AMU) won the 2015 NRA National High Power Rifle Championship, beating three-time champion Norman Houle 2387-140X to 2380-126X. About his championship win, Green said, "This win feels pretty good … There's a lot of hard work that goes into competing with the type of competitors that are on the rifle range every day. It's nice to see all that hard work pay off and come out on top."
2)  Bruce Piatt Wins NRA World Shooting Championship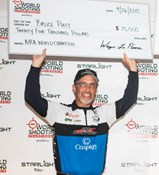 Back in September, Bruce Piatt won the 2015 NRA World Shooting Championship presented by 
Magpul
. When asked about his championship win, Bruce said, "It's been a very challenging and rewarding three days at the NRA World Shooting Championship. Thanks go out to all of my sponsors and family for making it possible for me to shoot as much as I do, and to the people at NRA and Magpul for putting on this event."
1)  Doug Koenig's Sweet Sixteen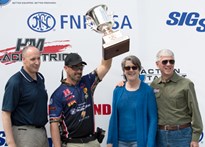 Doug Koenig continued his streak of success in May at the Bianchi Cup. Koenig won a historic 16th Action Pistol Championship this year with a score of 1920-180X. With 37 total Bianchi Cup Action Pistol Championships held, Doug Koenig has competed in 28 of them.
How do previous Bianchi Cup champions with multiple wins stack up against Doug's 16-peat?

Did we miss something? Email us at
[email protected]
and let us know!