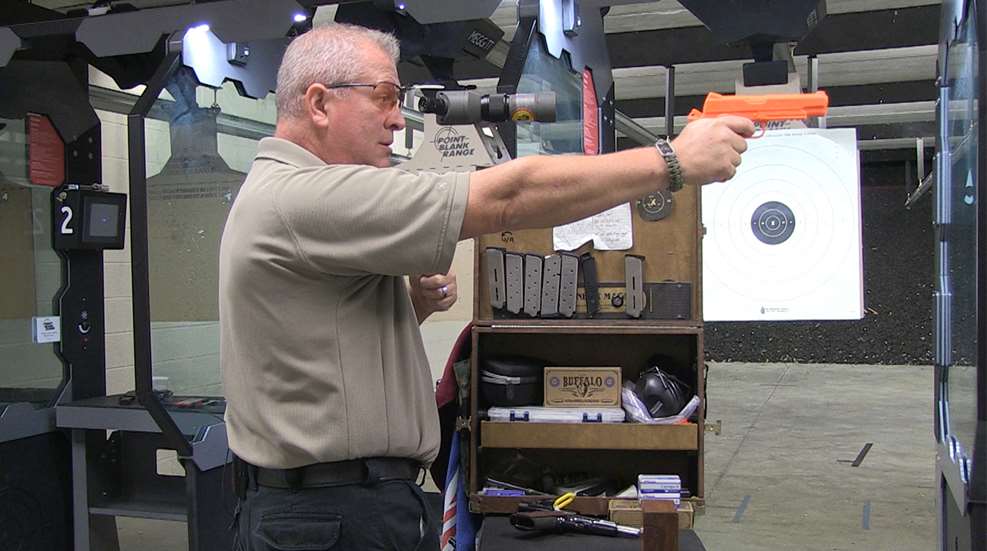 Beginning
bullseye shooters
need only a
.22 LR pistol
in good repair with good sights, ammunition, and eye and ear protection. Here are four of our top tips for novices to this discipline, the original competitive pistol shooting sport.
4)  Contact your local range.
If you have a large or very active range near you, chances are that it has or participates in a bullseye league. Just call or email to inquire, and they'll tell you the when, where and how of joining. Additionally,
SSUSA's
Coming Events
section is an excellent resource you can use to find bullseye matches local to you.
3)  Ask questions.
The best sources for information about bullseye pistol shooting are other competitors. It's not just that they don't mind sharing information
—they're eager to do so. Shooting is often their passion, and they welcome the opportunity to share it with others. Other good sources are the NRA Precision Pistol rulebook, and the Bullseye-L online forum. The latter is a great place to discuss all aspects of NRA precision pistol shooting.

2)  Exercise safe gun-handling skills. Bullseye is a fun, relaxed sport of good fellowship. The guns are often beautiful, sleek, competitive tools, but they are guns. Others will be patient with you as you learn the ins and outs of bullseye, but no one tolerates dangerous gun handling—nor should they. Observe the basics of safe gun handling, whether on the range or practicing at home.

1)  Don't be intimidated. It's a handicap league. The Pardini-armed world champion in the next lane has no better chance than you do with your beat-up plinker you purchased fourth hand at a gun show. Believe us when we say the pressure's on him. Relax and have fun.


---
More reading on bullseye pistol shooting: