by
at
USA Shooting
posted on November 2, 2022
Support NRA Shooting Sports USA
DONATE
USA Shooting shotgun and rifle athletes brought home a total of 19 medals and five U.S. Olympic quotas during both 2022 ISSF World Championships conducted this fall. The two championships were held in Croatia and Egypt this past September and October.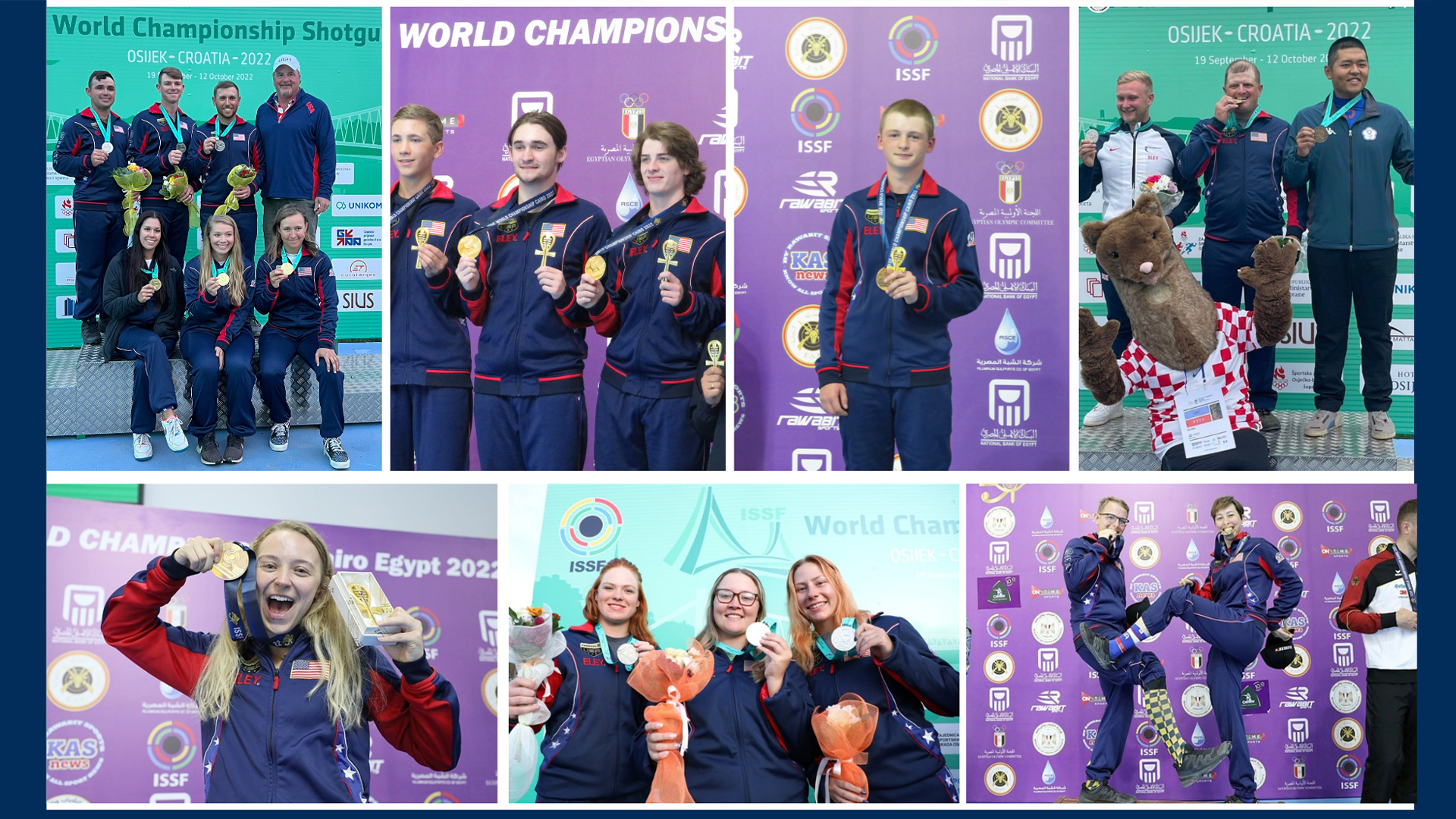 Shotgun
Team USA shotgun athletes earned nine medals and three Olympic quotas for the U.S. during the 2022 ISSF World Championship held in Osijek, Croatia, September 19 to October 12.
Derrick Mein won a gold medal and a U.S. Olympic quota in the Men's Trap event, while Benjamin Keller earned gold in Junior Men's Skeet. The Women's Skeet team, consisting of Sam Simonton, Dania Vizzi and Austen Smith, also earned a World Championship title with a first-place finish. The fourth gold medal went to the Junior Men's Skeet team with Benjamin Keller, Aidin Burns and Jordan Sapp.
Vincent Hancock captured a silver medal in Men's Skeet and earned the U.S. an Olympic quota in the event. Hancock, along with Dustan Taylor and Christian Elliot, shared the podium when they earned second place in the Men's Skeet Team event. The Junior Women's Skeet Team, with Alishia "Fayth" Layne, Julia Nelson and Mikena "Grace" Fulton, also earned silver in their event.
Sam Simonton earned a U.S. Olympic quota in Women's Skeet after finishing third overall in the event. Next, Matthew Kutz, Emilio Carvalho and Lance Thompson brought home bronze medals in the Junior Men's Trap Team event.
Rifle
U.S. rifle athletes earned 10 medals and two Olympic quotas at the 2022 ISSF World Championship in Cairo, Egypt, October 12-28.
Alison Weisz earned the U.S. an Olympic quota and was crowned World Champion in Women's 10m Air Rifle. Sagen Maddalena and Ivan Roe also brought home that coveted gold in Mixed Team 50m Prone Rifle. Additionally, Maddalena garnered the U.S. an Olympic quota in Women's 50m Rifle 3-Position after placing fourth in the event.
As for the third gold medal, it was won by the trio of Rylan Kissell, Braden Peiser and Gavin Barnick in the Junior Men's 50m Rifle 3-Position event.
Another U.S. three-person team, consisting of Mary Tucker, Alison Weisz and Sagen Maddalena, earned silver in the Women's Team 10m Air Rifle event.
Mary Tucker also earned bronze in the Women's 50m Rifle Prone event. Griffin Lake secured a bronze medal in the Junior Men's 50m Rifle 3-Position event.
Katie Zaun and Rylan Kissell earned two bronze medals together—one in Junior Mixed Team 50m Rifle Prone, another in Junior Mixed Team 50m Rifle 3-Position.
Scott Rockett, Benjamin Salas, and Rylan Kissell also placed third in the Junior Men's 10m Air Rifle Team event.
Finally, Tim Sherry placed third in the 300m Standard Rifle Open event.
Pistol
U.S. pistol athletes had notable finishes as well. The Junior Women's 10m Air Pistol team—Suman Sanghera, Ada Korkhin and Annabell Yi—placed fourth overall, while the Junior Women's 25m Pistol Team with Abbie Leverett, Ada Korkhin and Katherine Ahn, finished sixth overall.
Next for USA Shooting is the Paralympic team competing at the 2022 World Shooting Para Sport World Championships, to be held in Al Ain, United Arab Emirates, from November 3-18.
Learn more about USA Shooting at usashooting.org.
See the full results of both championships at issf-sports.org.