A surprise after school trip to Walmart began the transformation of Addysson Soltau into Alpha Addy. On that day she received her first rifle in .22LR/L/S, a Keystone Sporting Arms Crickett. Addy trained with a functioning practice rifle for an hour a day for eight weeks before she was allowed to fire a live round. She worked on a different Olympic precision shooting position each week, starting from prone. This gave her plenty of time to research and try on different rifles. Why the Crickett?

Not only did it fit her with a perfect length of pull and simple controls, it's also light, easy to break down and clean, all at an inexpensive price.

After watching an episode of NRA Women's Love at First Shot, a video from Faith and Jenna Collier caught Addy's attention. The girls are similar in age, also from Texas and looked like they were having fun. Soon after, Addy received a rimfire pistol for her eighth birthday in September 2016. She spent the next couple of months training and getting all the gear she needed to start competing. Finally in December 2016, Addy competed in her first match, the Texas Steel Competition at Cedar Ridge Range in Bulverde, TX.

Not too long after, in February 2017, Addy competed at the Magpul Texas Youth Action Shootout SASP SW Winter Regional Match hosted by the Texas A&M Marksmanship Unit. She was squadded with her teammates from the Austin Sure Shots Women's Pistol League during this first non-local match. Yes, she had a lot of fun and as you may have guessed, was the youngest shooter there.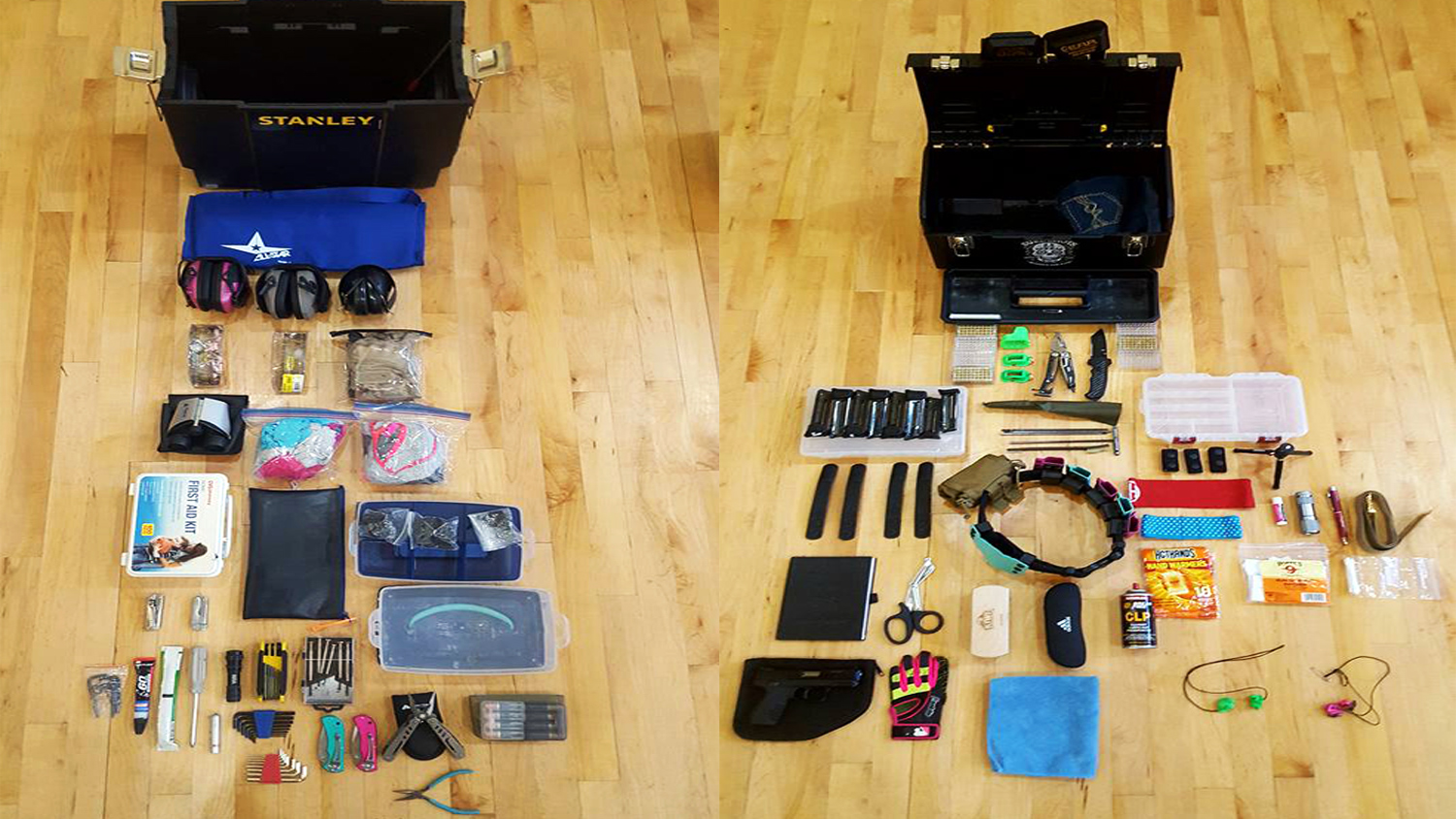 For competitive shooting, Addy shoots a used Ruger SR22 rimfire pistol from the Gun Shack in Helotes, TX. Her SR22 runs no matter what. She's even had the magazines full of mud (from dropping them at practice) and it still ran with no malfunctions. All of her magazines have Tandemkross +5 Wingman Magazine Bumpers. They give her more to grab on to so she's not pinching her hands during magazine changes anymore. For ammunition Addy only uses CCI 40-grain standard velocity and Aguila 40-grain standard velocity, both lead round nose. In her rifle its Winchester Super X 40-grain hyper velocity jacketed hollow points.

To carry her gear Addy uses a Stanley Mobile Work Center 2-1 rolling tool box she bought for only $25. When she first started out, she noticed some competitors fight with zippers and look clumsy when carrying everything between stages. Since she's responsible for her own gear she wanted something different. Her "range bag" is easy to roll and the flat top gives her a place to work. In it Addy carries a first aid kit and extras of everything. During the winter she keeps lotion and lip balm, and in summer bug spray and sunblock. There's also plenty of snacks; like cheese sticks, Lunchables, hot tamales, water and Gatorade. After every match she replaces anything she used, cleans her handgun and magazines, and packs everything back up.

For those interested in the shooting sports, Addy suggests just showing up at a local match. Not to shoot, but to just watch what everyone does. Talk to the match director, the range officers and the competitors. Ask a lot of questions. The people at matches are super helpful and give a lot of good advice. This will make your first match more fun because you'll know what to expect, plus you'll have already met a few people.

If you're new to shooting, take a few classes. Many ranges have basic pistol, rifle, and shotgun courses. Never stop learning. Most importantly, always practice safety (the other shooters around you will really appreciate that). And the first time you go to the range or a match, just go super slow, make every move have a purpose.