Learning how to handle firearms safely began with a Ruger Single-Six .22 revolver at four years old. Now 18, Brian Nelson still has "his official first gun," a Henry Youth Model .22. He has come a long way since then, competing in various disciplines with great finishes, such as the Overall SASS Wild Bunch World Champion in 2012. Brian placed High Junior from 2011 to April 2015 in many MultiGun and USPSA matches.

When competing in the 3-gun tactical division, Brian shoots a Taran Tactical Innovations Benelli M2. For his rifle, it is a TTI TR-1 with an 18" Proof Research Carbon-Fiber wrapped barrel, with a SJC Titan muzzle brake and Rubber City Armory BCG. His optic is a Leupold Mark 6 CMR-W 7.62 reticle in a Warne E-Skel mount. For a pistol, he shoots a 9 mm EMG Custom 5.5" 2011. It's built on an STI Tactical frame with a 1913-spec rail so he can mount a Crimson Trace RailMaster Pro for night matches. As for USPSA; in the limited division it's an EMG Custom 2011 .40 S&W. For production, a CZ-75 SP-01 "Shadow," with work done by Automatic Accuracy.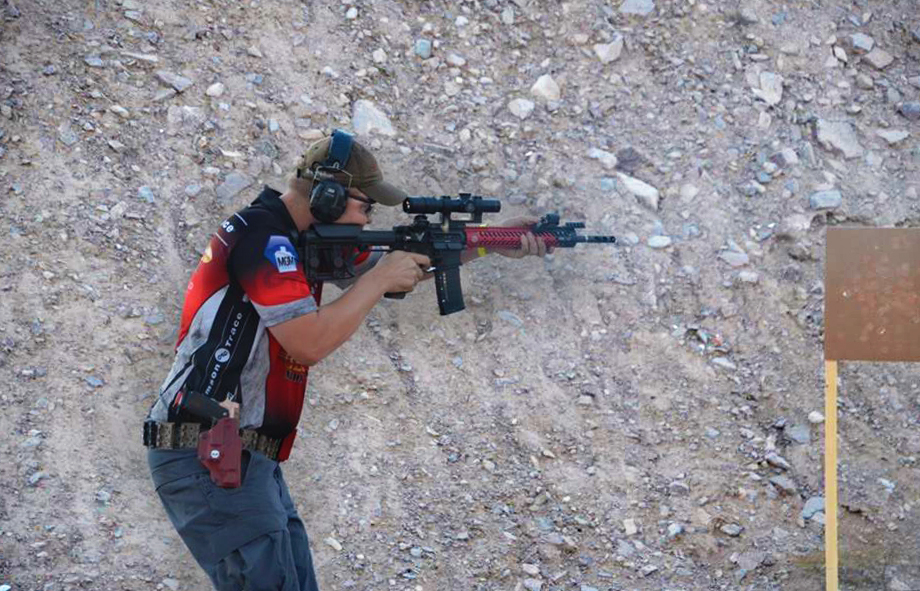 Brian's favorite range bag is the Eberlestock UpRanger. "It's the neatest range bag I've ever used," said Brian. "It has room for most of my 3-gun ammo, mags and a scabbard on each side for a 3-gun shotgun and rifle." Brian also carries a small trauma kit from Red Hills Tactical containing a tourniquet, QuickClot and other badges.

As a Tactical Performance Center instructor, Brian assists with the Handgun Bootcamp and instructs at the 3-Day MultiGun Bootcamp. His free time is spent reloading pistol ammunition on a Dillon XL650 press, using Berry's plated bullets. And if that wasn't enough—Brian shoots matches three times a week.

For those new to firearms, Brian suggests, "Figure out what works for YOU before you buy anything. Ask a gun owning friend to take you shooting. See what guns they have that you enjoy shooting and can shoot effectively, and then get trained on the fundamentals."

Read Brian's blog at brianknelson.com, and his articles on the TPC Dump Pouch blog.