Jake Martens' father and uncle were both active in NRA bullseye matches, as well as skeet and trap. At age eight, Jake spent time at the Daniel Boone Gun Club near Evansville, IN, watching them practice. The first handguns he remembers shooting were a Smith & Wesson Model 41 and a Ruger Security Six Revolver. He bugged his dad and uncle to shoot their 1911s. Eventually, they allowed him to shoot one of the different Colts they brought along for practice. Everything from Clark heavy slide .38 wadcutter guns to ones built by Jack Best from the AMU and Gold Cups.

In October 2000, Jake competed in his first match, an IDPA classifier at the Riley Conservation Club near Terre Haute, IN. He read about IDPA and wanted to give it a try. The self-defense style that IDPA offered drew him to the discipline. Jake joined IDPA that day at the range, shooting a Kimber Gold Match 1911 .45 ACP in Custom Defense Pistol Division. He then re-shot the match in Enhanced Service Pistol with the same gun, making Sharpshooter in both divisions. In 2001, he hit the competition circuit pretty hard, attending Winter Nationals at Rangemaster in Memphis, TN, S&W Indoor Nationals, Spring Nationals in Columbia, MO, and then Nationals in Tunica, MS. He had many top finishes as a Sharpshooter in CDP. Over the next few years he became classified in Stock Service and Revolver division as a Sharpshooter, and an Expert in CDP in 2004.

That same year, after he shot his first USPSA match there was no looking back. It was a State Championship, and he was unclassified shooting in L10 with a Single Stack and 10-round mags. USPSA matches are pretty much all he's shot since 2005. Although Jake still enjoys IDPA, he finds the stages and the freestyle approach to USPSA more interesting.

When it comes to firearms, Jake shoots several different guns. A few examples: custom STI Trojan (Single Stack), Walther PPQ Q5 Match (Carry Optics and Production Division), JP Enterprises GMR 15 (Pistol Caliber Carbine) and for everyday carry the Walther PPQ M2 4-inch.

Jake prefers to use a Competitive Edge Dynamics Professional Range Bag. He uses two of them set up depending on what division he's shooting. The range bag is just the right size, has usable storage, and is priced at under $100.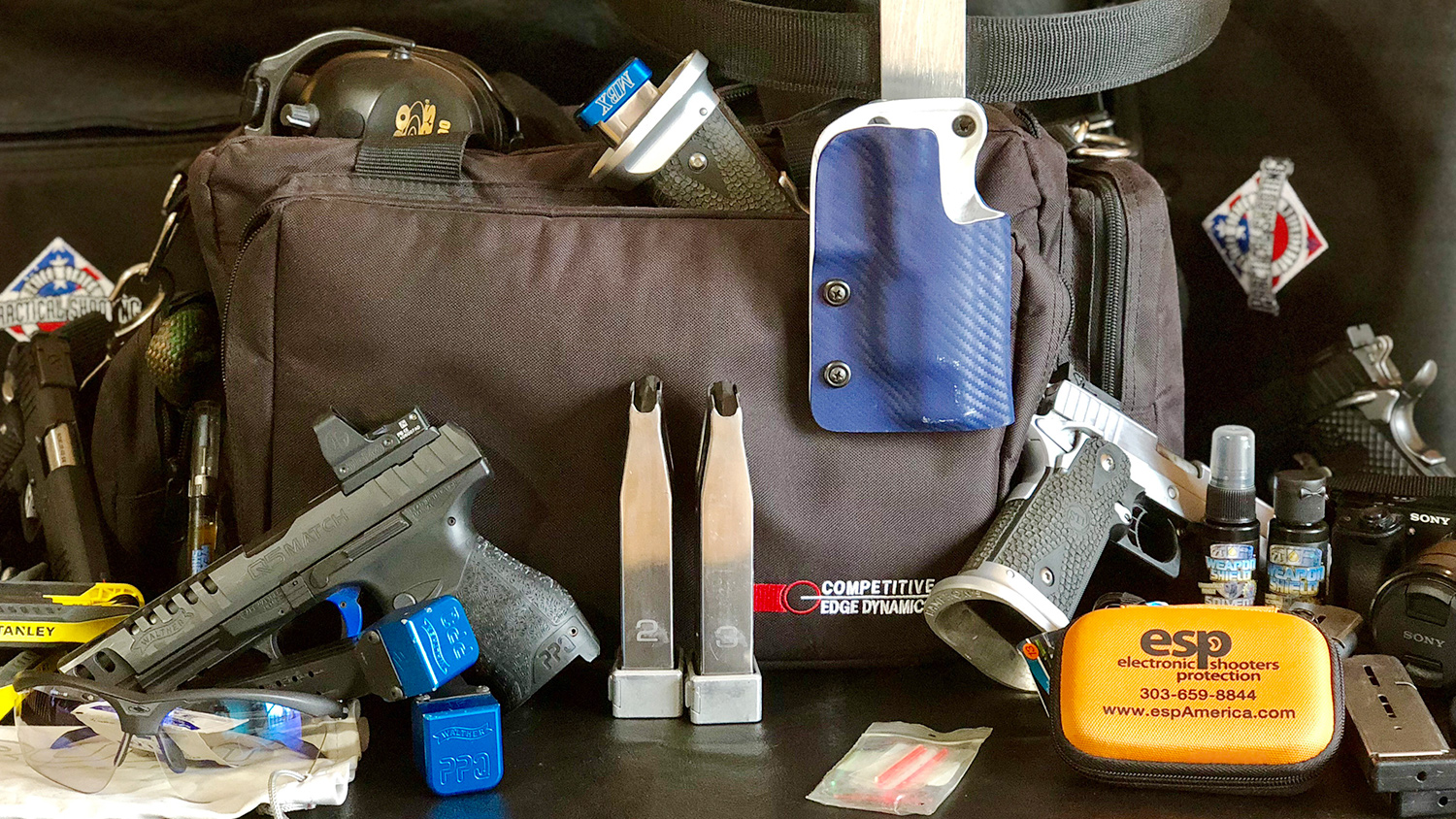 Besides his firearms, he also carries the following in his range bag.
Small cleaning kit with Weaponshield lubricant and solvent, boresnake
Extra fiber optic replacements, lighter and cutters
Allen wrenches and screwdriver set
Hearing protection and extra batteries
Extra pair of contacts, glasses and lens cleaner
Hand wipes
ProGrip
Lots of magazines
USPSA Rulebook and overlays
Camera

For those interested in the shooting sports, Jake suggests just going to a match near you. Don't shy away from competition because you are afraid of doing badly. These matches are attended by people of all ages and all skill levels. Go, ask questions and have fun.

As for new shooters, Jake says, "Learn the basics, how to align the sights and press the trigger without interrupting your sight picture. Doesn't matter what type of shooting you are doing, everything comes down to those two things, sight picture and trigger press."

He added, "Then, help at your local range or club match. Take a safety or range officer class if there is one offered. Take a co-worker, neighbor or extended family to the range. Participate in training classes for concealed carry or self-defense or even offer to put on "new gun owner orientation classes."

Jake's final thoughts: "Share your love of firearms and shooting as much as you can, and get involved. The more people you can positively educate on the safe and practical use of a firearm for sport and self-defense the better we can defend our rights."