Find out what champion Steel Challenge junior shooter Kaitlin Bethin carries in her range bag.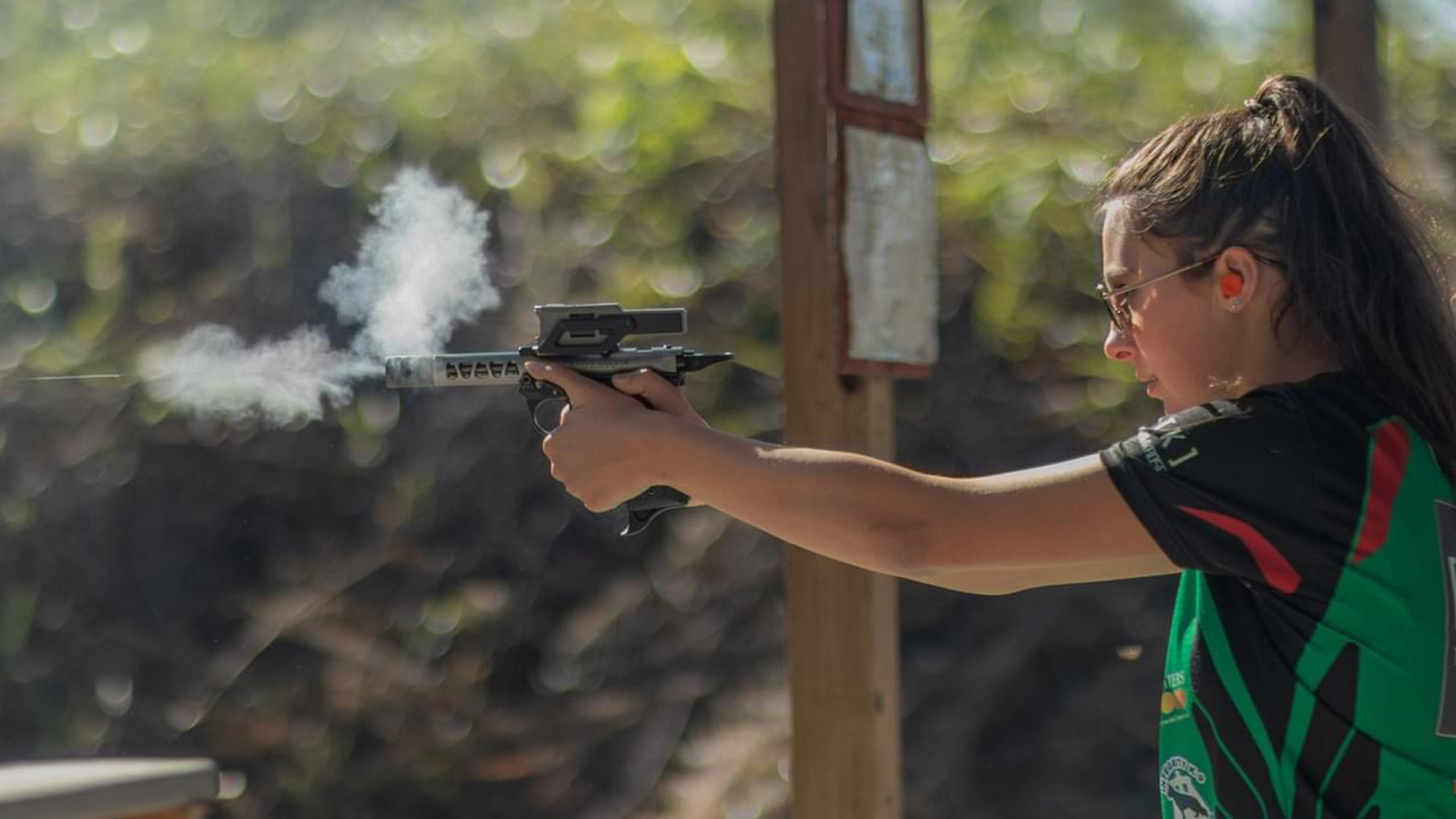 What are your first memories of handling a firearm?
The first time I picked up a firearm, I was three years old. It was a pink BB gun that my dad gave to me. He taught me how to safely handle a firearm from a young age to eliminate any curiosity around firearms.
Tell us how you began in competitive shooting.
I started competing when I was nine. My dad's friend asked if we wanted to come out to our local range and try shooting a rimfire match. After that match, we kept going back again. I fell in love with it, so we started traveling to different area and world matches.
Please share with us some of your major shooting accomplishments.
My major accomplishments include the Rimfire World Youth Championship in 2018, and being a three-time Steel Challenge Area 8 Overall Ladies Champion. I am so thankful for all the titles I have won, so picking any more specific favorites is difficult.
What firearms and other gear do you use for competition?
I shoot SK ammunition, specifically the SK Rifle Match ammo in my .22 rifles and the SK Pistol Match ammo in my pistols. I use the SK magazine and SK Standard Plus ammo when practicing. SK always runs flawlessly—I haven't had a problem with the ammo, and I've been shooting it for almost two years. As far as 9 mm goes, my dad hand casts, powder coats and loads all my ammunition (he's awesome). The bullets are a 95-grain cast, powder coated in Tiffany blue. American Reloading has been great in ensuring I always have primers for practice and matches during the shortage.
I shoot Ruger Mark IV pistols. My irons and optics are the same setup, with Mark IV uppers, Tandemkross Kraken lowers and all Tandemkross internals. My optic gun has a Striplin custom 90-degree mount for optics, placing the C-More red-dot sight as close to the barrel as possible.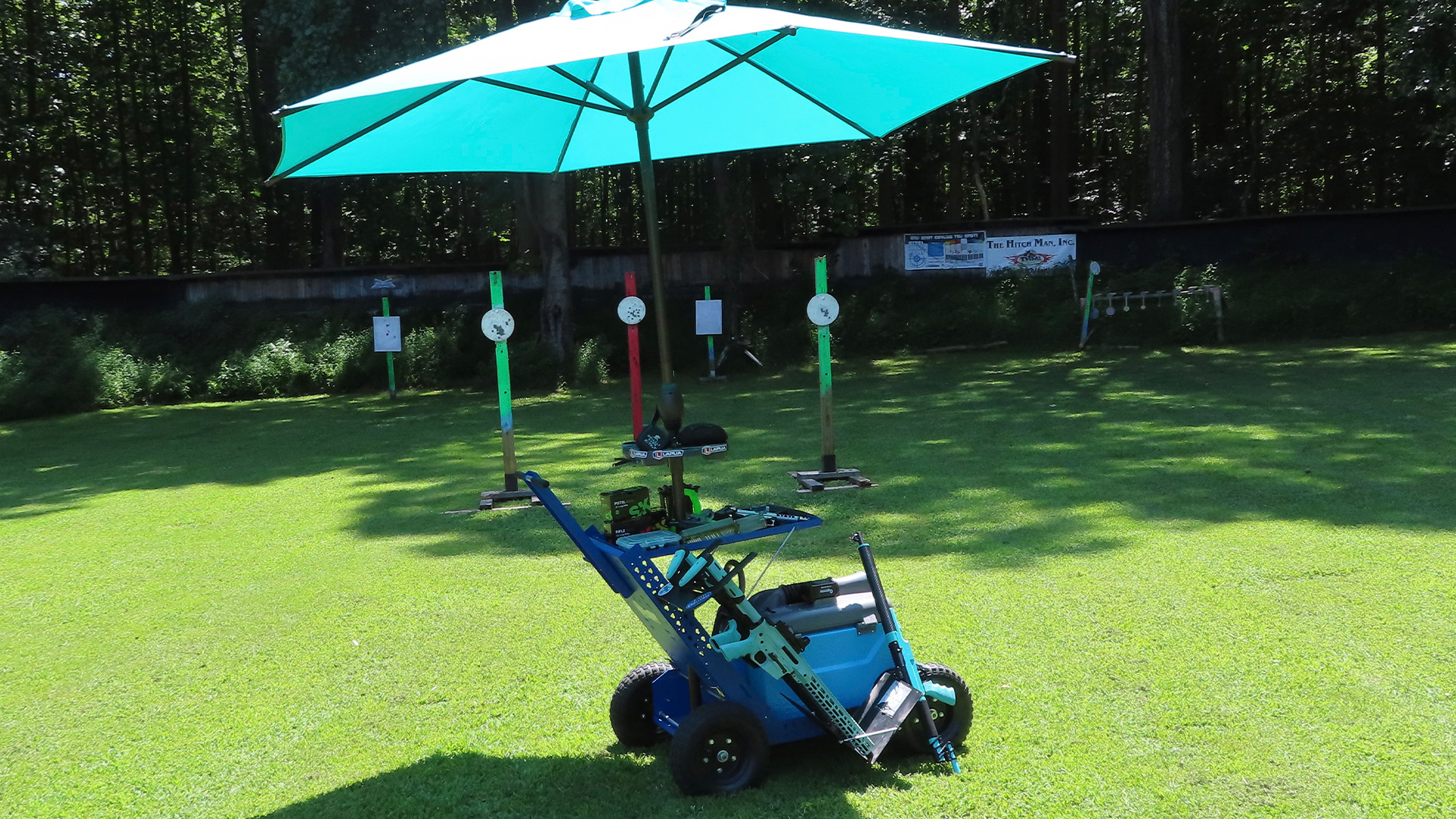 My rifles are Ruger-based 10/22s with totally Tandemized internals, Taccom ULW barrels, Striplin custom iron sights, and a custom 90-degree mount for my C-More optics. I also use Hogue grips.
Both of my pistol-caliber carbines are from Palmetto State Armory. The sights are Striplin custom iron sights. They also have the Taccom ultra-lightweight barrels and Taccom bolts with Hogue grips.
Tell us about your range bag and what you carry in it besides your firearms.
I carry all my gear on a Range Tactical Gear range cart, including all my ammunition, firearms, cooler, snacks, etc., plus my portable Icy Breeze air conditioner. The cart holds everything I need, including a nine-foot umbrella.
What do you do in your free time?
In my free time, I am a member of my school's marching band as well as the wind ensemble. I am the drum major this year. I also participate in my school's theater program. I am the head of our paint department this year, which means I get to design how the painting and texturing on the set pieces will look and what colors we will use. I also enjoy listening to music, playing video games or watching a show to unwind after a long day.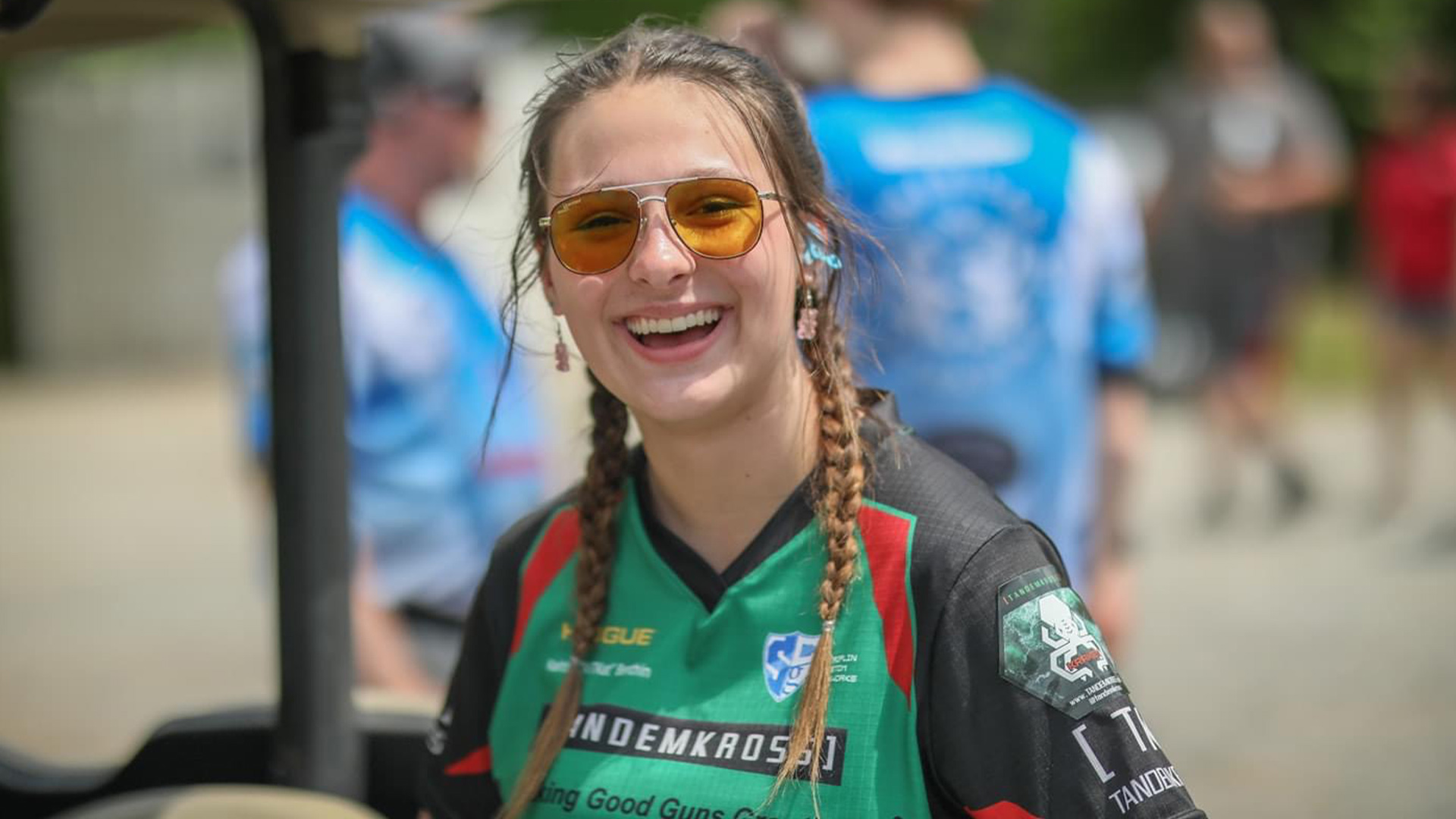 What would you tell someone interested in finding out more about your sport?
I would invite anyone interested to check it out for themselves. I can explain the shooting sports to someone all day, but no explanation does it justice. You must go there and experience the environment for yourself and see how great it is.
Any tips for the new competitive shooter?
If you are a new shooter, go at your own pace and think happy thoughts. Everyone starts somewhere. Even the fastest shooters in the game were shooting seven- or 13-second strings at some point. You must shoot to the best of your abilities, not to the best of someone else's. At the end of the day, you're really racing yourself to beat your previous best times. Remember, if you shoot a bad string, you can't change it. The more upset you get with yourself, the worse your day will get. If you clear your head, think happy thoughts, and just have fun—even if you're not doing the best—your day and times will improve, and you'll have a better time overall.
Enjoy the time with your shooting family, too. You will gain a whole new family through this sport, a totally unbreakable bond. They will always be there for you and support you no matter what. The scores will work themselves out in the long run—but enjoy the time with the people you're around. It's one of the best parts of this sport.