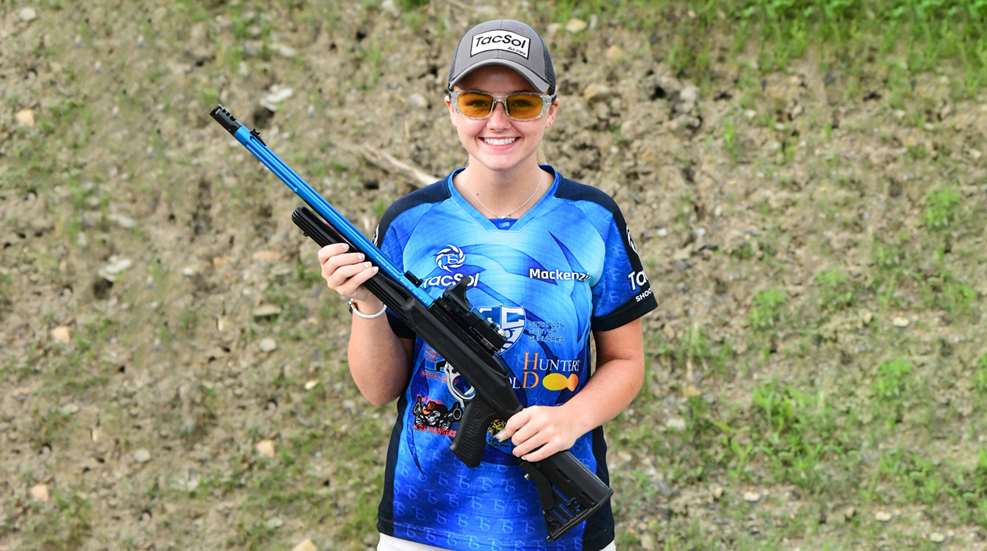 When you meet Mackenzie Bragg, you will notice she is a quiet, yet articulate young woman. However, there is something about her that you'll quickly learn—Bragg set the overall world record in Rimfire Rifle Open (RFRO) this past May. Here, we learn what she keeps in her range bag.
What are your first memories of handling a firearm as a youth?
My first gun was a pink Daisy BB gun I received for Christmas when I was 6. Even though many people thought I was too young, my dad wanted to get it for me. He made sure that I understood firearm safety and how to shoot it properly. In 2015, I got my first real firearm, a Tactical Solutions 10/22.
How did you begin in competitive shooting?
Before I started shooting competitively, I played softball. But after my dad passed away, softball wasn't really as enjoyable. My cousin Zoey shot local Steel Challenge matches and in 2015, she and my uncle invited me to join them. Initially, they taught me the commands and safety procedures. I immediately fell in love with it. Competitive shooting wasn't something that I thought would stick with me—but it did, and I'm happy.
What are your major accomplishments in the shooting sports?
2017 U.S. Steel Shoot Ladies Rimfire Rifle Optics (RFRO) National Champion
2017 Rimfire Challenge Ladies Open Champion
2018 U.S. Steel Nationals Ladies RFRO and RFPO (Rimfire Pistol Optics) National Champion
2018 World Speed Shooting Championship Ladies RFRO and PCCO (Pistol Caliber Carbine Optics) Champion
2018 Rimfire Challenge Ladies Overall Champion
2019 U.S. Steel Nationals Ladies RFRO, RFPO and PCCO National Champion
2019 World Speed Shooting Championship Ladies RFPO and PCCO Champion
2019 World Speed Shooting Championship Junior, Ladies and Overall RFRO Champion, setting a new world record

What firearms do you use for competition?
My rimfire rifle is a Ruger 10/22 with a Tactical Solutions X Ring barrel, Blackhawk Axiom Stock, SJC Compensator and C More 8 MOA optic. As for a pistol, I use a Ruger Mark III 22/45 with a Tactical Solutions Pac-Lite barrel and comp, Tandemkross internals, Striplin Custom Gunworks thumbrest and C-More 8 MOA optic. I feed my rimfire guns with CCI 40-grain Mini Mags.
My carbine is a custom-built 9mm with a New Frontier Armory upper and lower, Kaw Valley Precision bolt, Taccom Barrel and buffer, HIPERFIRE trigger and C-More optic. My open pistol is a Glock G17 built by SJC with a C-More 6 MOA optic.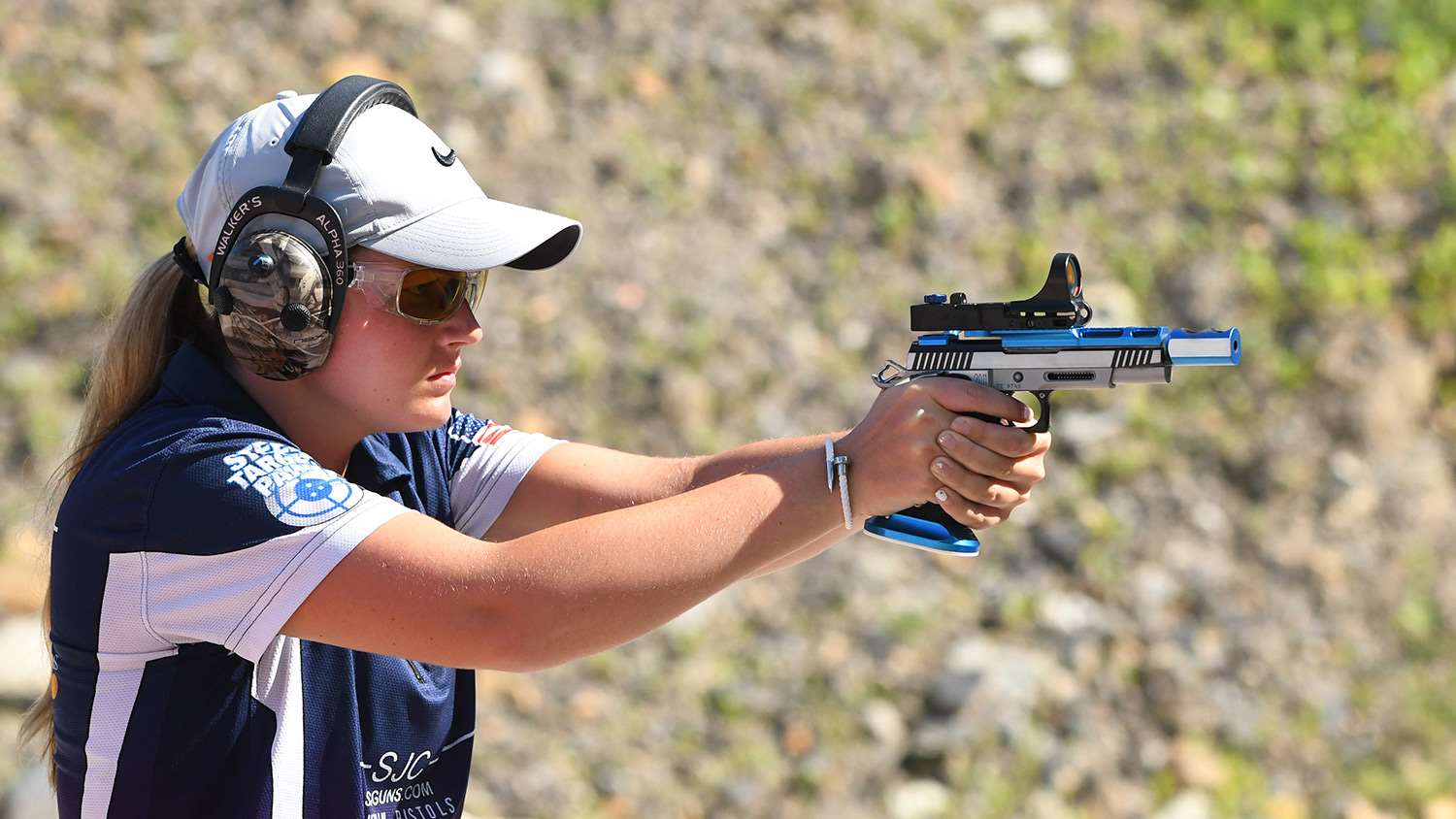 Tell us about your range bag and what you carry in it besides your firearms.
I use a MidwayUSA range bag. I like it because it's big, durable and has a lot of different pockets. In it I keep the best shooting glasses ever, Hunters HD Gold, Walker and Ruger electronic ear protection, a can of Steel Target Paint, hand and lens wipes from Rangestore.net and Z Clear Anti Fog spray. I also keep tape for blisters and a left-hand batting glove for when my rifle barrel gets hot. I have about every spare spring and part for my guns as well.
What do you do in your free time?
In my free time, I hang out with my 13-year-old cousin Zoey. I also shoot clays for the Mississinewa High School trap team in Gas City, IN. Additionally, I enjoy the National Honor Society and art functions at school. I love hunting, fishing and boating as well.
What would you tell someone interested in finding out more about your sport?
The easiest way to find out more about the shooting sports is to find a local shooting range with monthly competitions. I compete in Steel Challenge, Rimfire Challenge and USPSA, but there are many other types of shooting sports. Just show up and ask questions—I promise you, everyone will be more than happy to help. Be ready though, because chances are once you start in this game, you will be hooked. The shooting sports are about so much more than just shooting. It's the community and the atmosphere that really gets you hooked. There's no sport that is as encouraging as Steel Challenge and Rimfire Challenge. Young or old, male or female—shooting is something everyone can do safely—all while having a blast doing it.
Any tips for new shooters?
Have fun, although when you're shooting it's impossible not to. Do your research, read magazines, watch videos, visit competitive shooting-related social media pages (Steel Challenge, Rimfire Challenge, U.S. Practical Shooting Association and NRA Competitive Shooting come to mind) and ask questions. However, the easiest way is to just show up at a match, watch and learn. Be sure to talk to people. Listen to them, and take what works for you and apply it. Don't be afraid to change what you do until you find the right formula. Take your time and be smooth—the speed will come. If you have any questions, visit me on Facebook, and I will help anyway I can.
---
Read more Range Bag articles: