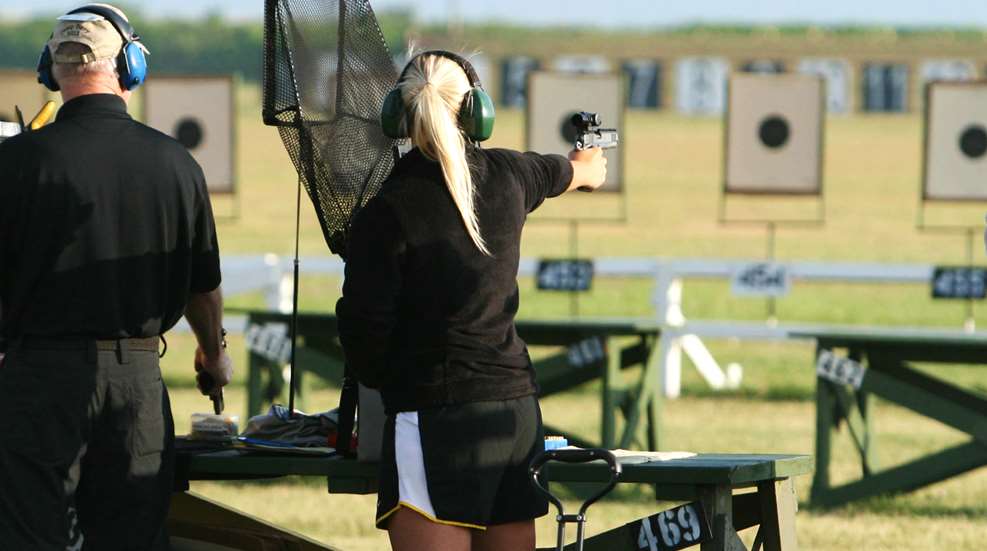 Until Liz Buerling began competing with air pistols in 7th grade, there were no firearms in her home. As a Pentathlon competitor (swimming, running, fencing, riding horses and shooting air pistols), Liz's weakest event was shooting. So in 2008, she started shooting small matches at her local range.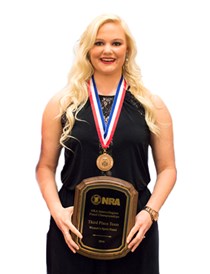 When Liz is shooting international pistol, she uses two guns. For air, it's a Steyr LP 10 and a Pardini .22 for rimfire. In Bullseye competitions, she shoots a Trailside .22 pistol and for center-fire, a custom built 1911. She didn't specify the make. The favorite feature of her 1911 is under the grips where her coach engraved, "Follow your dreams." She didn't even know it was there until she stripped it to be cleaned for the first time.

Liz has quite a list of accomplishments. In 2012, 2013 and 2014 Liz won High Female Junior at the Bullseye Nationals. 2010 through 2014 her team won High Junior Team for rimfire, .45 caliber center-fire, and 3-Gun Aggregate. Now a junior at Ohio State University, Liz shoots on the Pistol Team and has much to be proud of. The team won the Collegiate National Championships in 2014, 2015 and in 2016 this past March.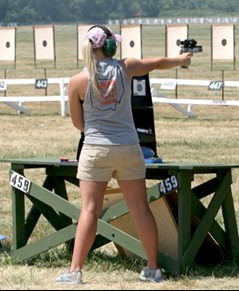 Rather than a range bag, Liz uses a Strong Case made by TnB Enterprise, in Nevada. It's more like a box, made of aluminum, lightweight and suitable for all weather. She thinks of the case as a purse. When teammates on the line need something they always come to her. The Strong Case houses obvious things like: tools, oil, spotting scope and ammo. But, there's also sunscreen, headache medicine, way too many pens, a lot of batteries and a notebook full of notes to herself. Liz comes prepared, she says, "You just never know what you might need."

To new shooters, Liz tells them to remember everyone starts somewhere and showing up is half the battle. Don't compare yourself to the people right next to you, it is truly about personal gain and what you can accomplish on that day.