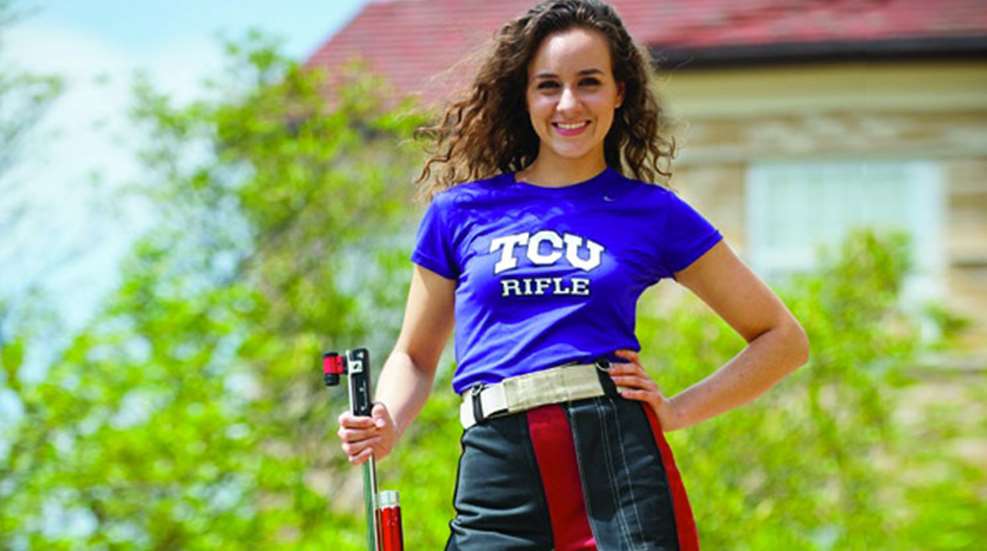 When you're related to Daniel Boone, you come equipped with the potential genetics to be a great shot. Sarah Scherer shoots 10m air rifle and 50m 3-position. She started training in
Colorado Springs at the Olympic Training Center
last January and is focused on earning a spot on the current Olympic team. The Texas Christian University grad grew up shooting and competing alongside her brother, Stephen, a 2008 rifle Olympian.
"I grew up in a suburb of Boston where I first joined a local junior rifle club. My brother and I participated in their junior program and trained 3 to 5 hours every day. Through healthy sibling competition and rivalry, we helped push each other toward our goals," said Scherer.
She shoots a Feinwerkbau air rifle and an Anschütz .22 rifle. She chose a fūl bag because it is the most lightweight bag she could find in a large size. "Since flight travel is a monthly thing for me, being able to pack efficiently and fit all of my equipment into one bag under 50 pounds is critical," said Scherer.
What's in your range bag, Sarah Scherer?
• Mouche brand jacket. "It was the only jacket I found that fit me correctly. It was measured in 15 ways to fit my position and I love it!"
• Kurt Thune brand pants and AHG gloves, sling and boots
• Shoulder-height stand, used to put the gun down between shots
• 3 different Anschütz buttplates to save time preparing for each position
• Padded container for sights
• Kneeling roll and pillow
What she cannot pack in a bag is her attitude. "The very last thing I want to add to what I bring to the range every day is my faith in the Lord, the support of my family, friends, and
USA Shooting
, and the attitude to be the best I can be and to do your best to help others be their best."