Whereas many might think of the
Army Marksmanship Unit
(AMU) in terms of the world's toughest men, it also trains steely-eyed women champions. From the AMU public affairs office: "In 1959, SFC Barbara Hale joined the unit and won the 1961 service rifle championship. In 1965, LTC Sallie Carroll became the first woman to join the service pistol team. And then we had the likes of Olympian Margaret Murdoch, now a career nurse, and Sherri Gallagher, now with the Army Golden Knights sky diving team, among others." We asked four women AMU alumni to tell us about their days with the unit and what's on their to-do list.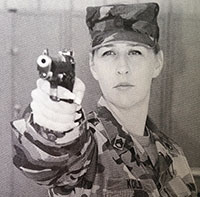 Kimberly Kolb-Eakin
shot service pistol and broke eight national records, four of which still stand. Today, she is an incurable entrepreneur. Having sold her gourmet wine business, she now sells machine guns with her husband and is assisting him with the launch of his new book, No Middle Ground? She served in the Army from 1990 to 2011.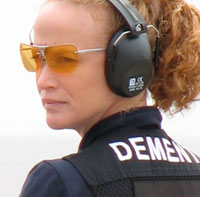 Joetta Demint
was a member of 19 World Teams in seven years as a Women's Double Trap Champion. She retired from the Army in 2014 and has been catching up on the things she said she'd do when she retired. Today, she is the Merchandising Manager for Jager Pro, a company of 10 retired Army soldiers who eradicate feral hogs. She served in the Army from 1994 to 2014.
Terri DeWitt
competed in International Double Trap, earning Armed Force Female Athlete of the Year in 1996, among numerous other awards. She is now the Program Manager for the MidwayUSA Foundation that provides sustainment funding for youth shooting teams. She served in the Army from 1991 to 2011.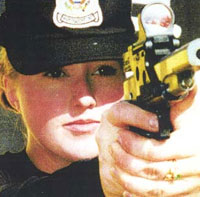 Julie Golob
competed in Action Pistol and earned Army Female Athlete of the Year in 1999. She is now the Captain of the Smith & Wesson Shooting Team, record-setting national champion, author and frequent television guest star. She served in the Army from 1995 to 2003.
What lessons did you take away from the AMU?

Kimberly:
"The quality of my training depended directly on how well I paid attention to daily routines and their effect on my shooting. With 5-6 hours of range time each day, I was forced to examine every little habit and figure out if it worked for me or not. I also had the opportunity to shoot shoulder-to-shoulder with the nation's top shooters."
Joetta:
" Discipline, working together as a team, and not to ever let anyone tell you 'you can't do that.' Always believe in yourself."
Terri:
"Success is a journey. All things being equal, attitude will determine outcome."
Julie:
"Leadership and the value of hard work. Regardless of the weather or how tired we were, we were there to shoot, to train and to win. That experience taught me about goal setting. A series of seminars by Lanny Bassham also taught be about mental management."
What's on your "shooting bucket list?"

Kimberly:
"Go back to Camp Perry and win the National Championships. And, Sandra Uptagrafft may coax me back into Air and Sports Pistol yet."
Joetta:
"My focus has switched from me to our son. He loves to shoot and we have started taking him hunting."
Terri:
"In addition to working on a Master's Degree in Sport Coaching, I've been asked to participate in Wobble Trap, which is a modified version of International Trap. So I'll need to start training again."
Julie:
"After world travel with the Army and Smith & Wesson, I'd still like shoot and/or hunt in all 50 states. And I'd like to get back to Camp Perry and achieve the Presidents Hundred; try my hand at cowboy action shooting; and maybe, one day, become competitive in Olympic Sport Pistol."