When Wilbur and Orville Wright traveled from Ohio to Kitty Hawk at North Carolina's Outer Banks in September of 1900 for their first season of experimental flights, they carried along two noteworthy pieces of equipment: a bulky tripod camera and a .22-caliber rifle. With the camera they captured our most historic images on the birth of flight. The rifle they used both for hunting and competitive tests of marksmanship. Since Kitty Hawk lay at the heart of a birding paradise, America's inventive aeronauts joined an annual parade of hunters who went to the freshwater sounds of the Carolina coast during birding season. Target shooting was a rare recreational frill permitted in their intrepid pursuit of human flight.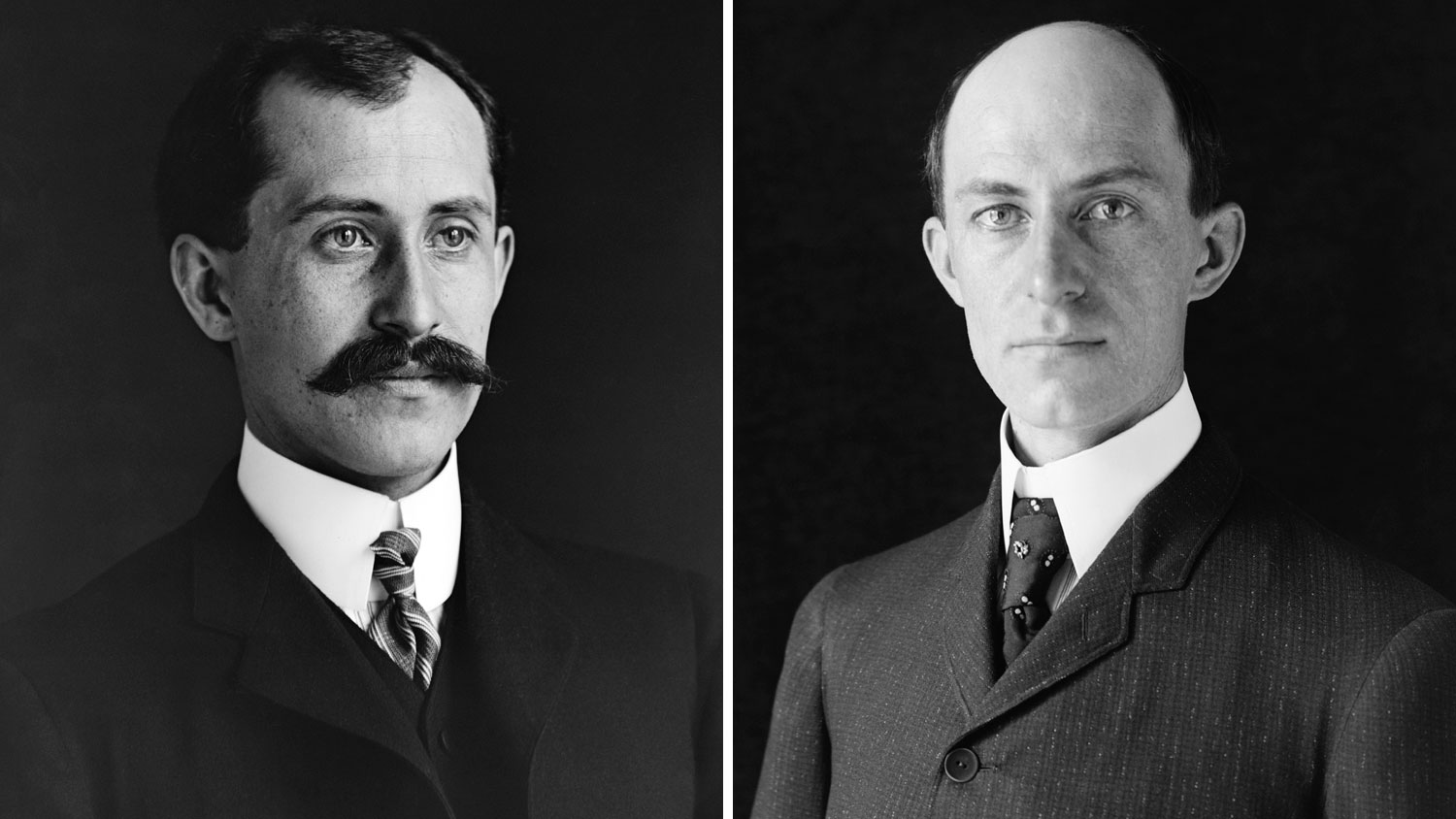 Soon after putting up a tent atop an imposing sand dune near Kitty Hawk, Orville wrote, "We have succeeded in killing two large fish hawks each measuring over five feet from tip to tip." These birds and some fat "sea chickens" they also shot provided their first meals. They also fired their rifle to chase marauding pigs and to erase intruding mice.
On a windless day at their 1902 camp, Orville disclosed, "We shot at mark [a target] with result that W.W. beat me with a record of 5¾ inches total from center to my 5⅞. L.W. 7¾." Wilbur thus bested both Orville and their older brother Lorin, a frequent guest at their Carolina camps, in their first recorded marksmanship contest. The only published report of their target shooting habits occurred in 1911 when a friendly New York Herald journalist wrote, "After a while Mr. [Orville] Wright quit work, and shot holes in a target with a small caliber rifle."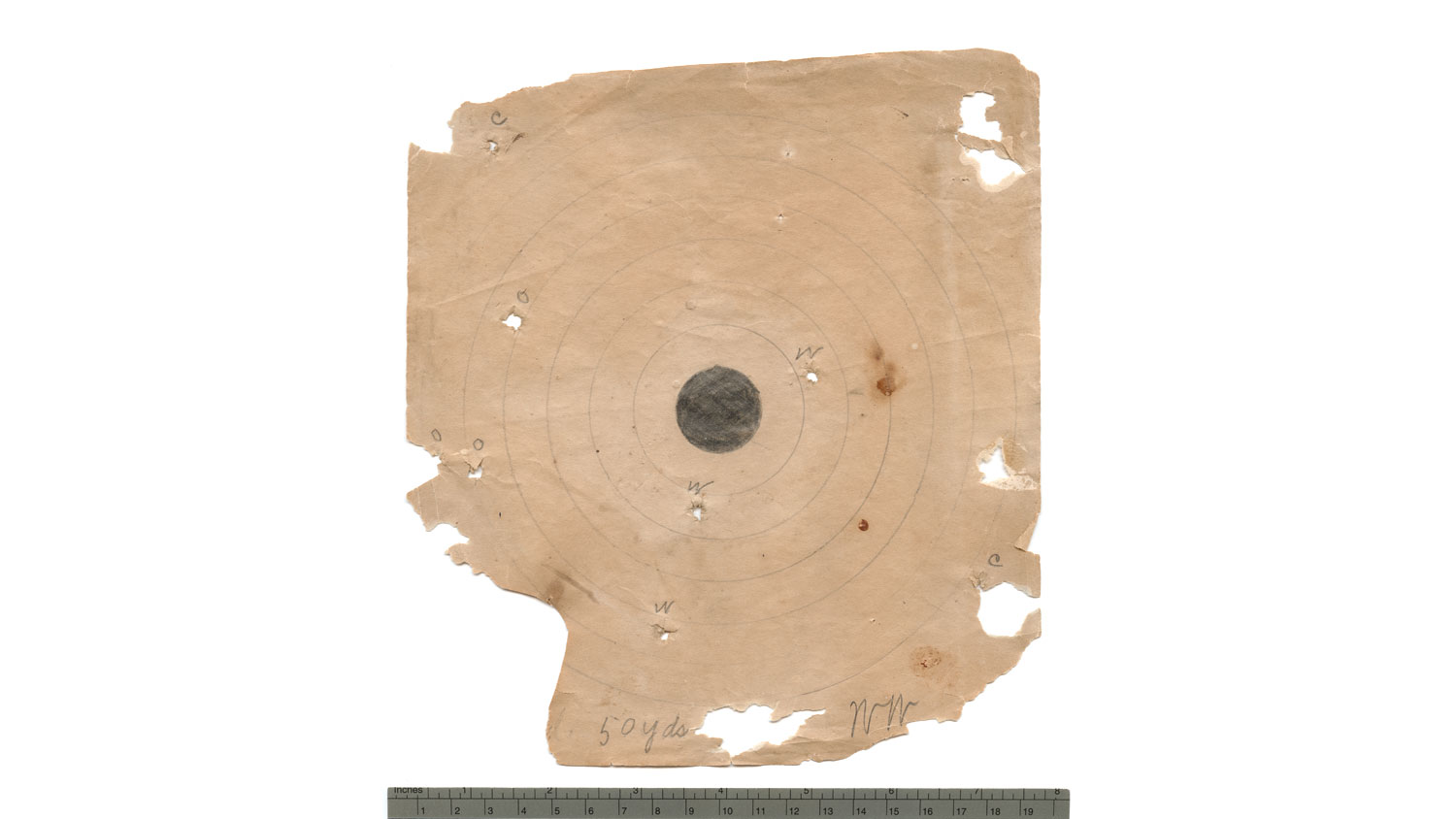 They rarely made diary entries on their shooting sessions since these mainly occurred on days not fit for flying. Their best documented contests were in 1908, but not referenced at all in their notes. We only know about these contests because a young woman named Margaret Hallowell later acknowledged that she and other seasonal residents at nearby Nags Head had invaded the Wrights' 1908 camp in search of historic artifacts.
By 1909, the brothers' personal effects had suddenly become priceless. Upon leaving the North Carolina coast in 1908, they began flying publicly for the first time—Orville near Washington, D.C., and Wilbur at Le Mans, France. Setting flying records on both sides of the Atlantic almost daily, the Wrights became instant international celebrities, their feats and faces front page news around the world.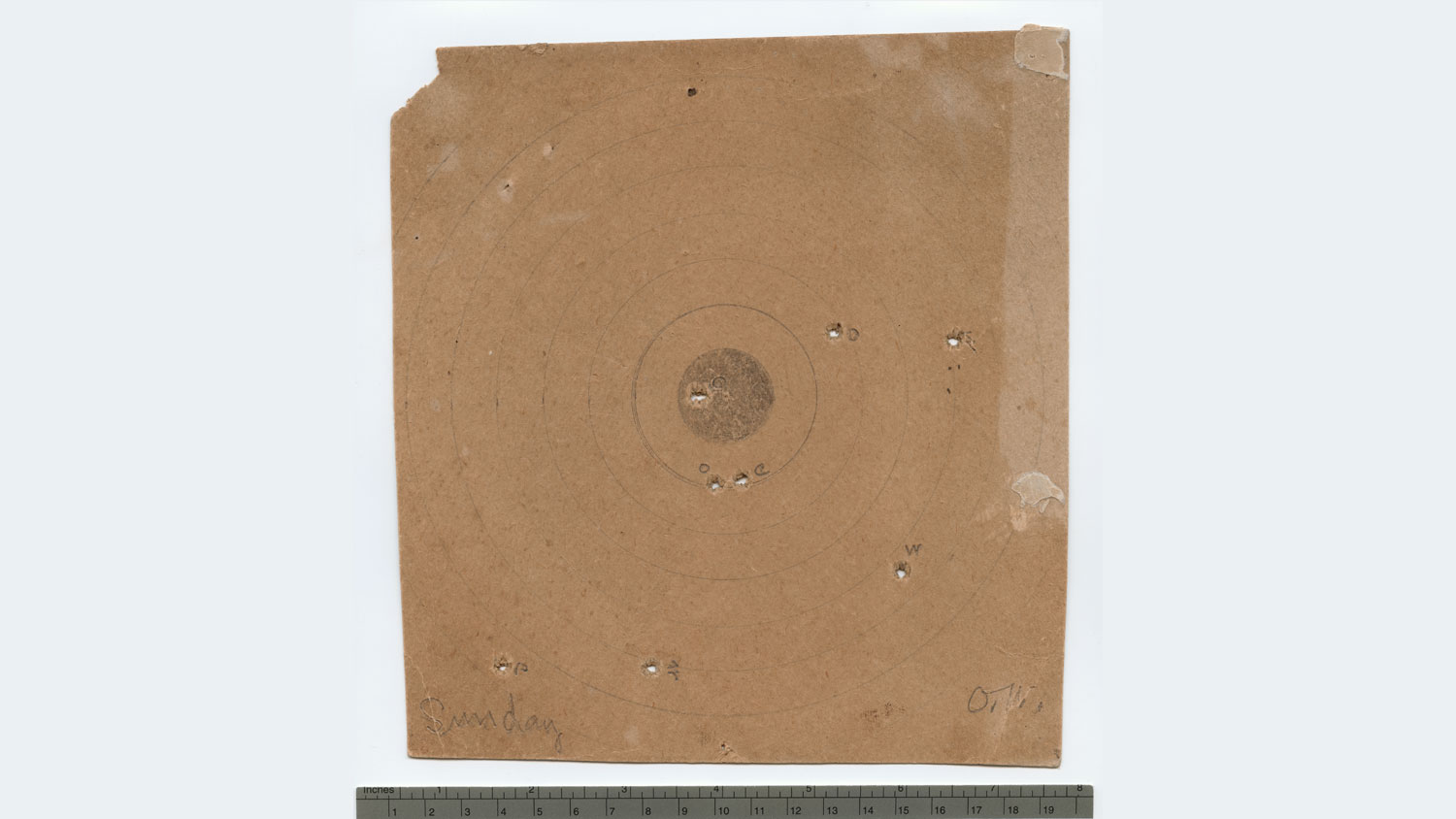 Among the items discovered by Miss Hallowell (as she preferred to be known) were four undated handmade targets used by the Wrights and their mechanic Charles Furnas during shooting sessions in 1908. At the 25th anniversary of their first powered flight of December 17, 1903 held at Big Kill Devil Hills in 1928, Hallowell fessed up to Orville her pilfering exploits of 1909 and offered to return everything she took—including the four historic targets. Nine years later in 1937, Orville belatedly acknowledged receipt of the goods and returned them to Hallowell with a written inventory. About the bullseye marks, he wrote, "The paper targets were made in May, 1908. The initials W, C and O indicate Wilbur, Charles Furnas and myself." Hallowell carefully preserved the targets till her death in 1951. They remained in the Hallowell estate until the 1990s when they were purchased by Doug and Sharon Twiddy of Kitty Hawk, NC. I, in turn, discovered their existence in 2009 while visiting the Twiddys.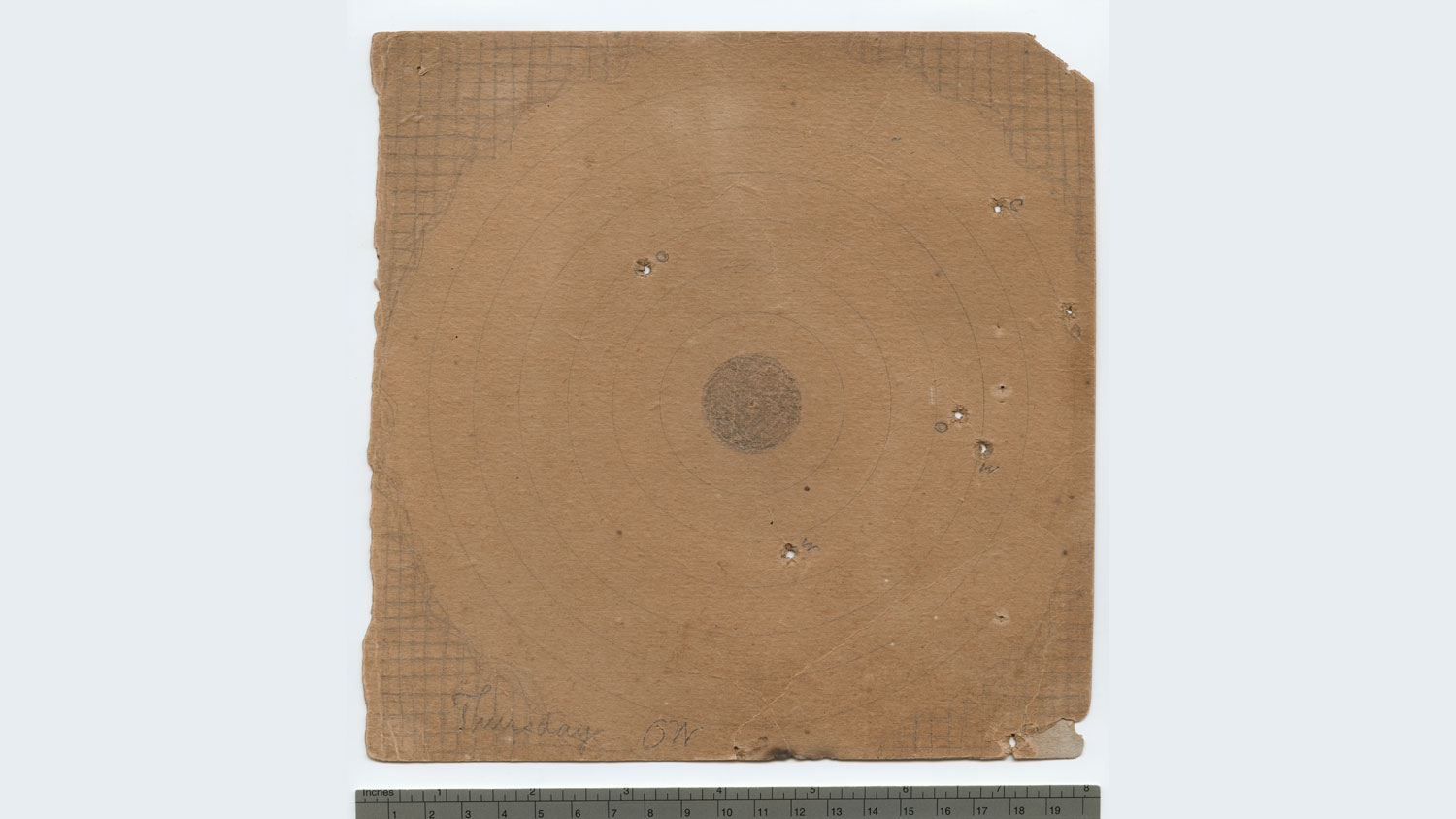 With the assistance of forensic firearms examiners, I conducted a physical analysis of the targets and a surviving photograph of Orville Wright holding the brothers' rifle in 1911. We determined that the firearm was an inexpensive .22-caliber Marlin repeating rifle available for a few dollars at the time in a Sears Roebuck catalog. We also confirmed that the targets' holes were made by such a rifle. From notations on the targets we established that Orville was the superior marksman, prevailing on two days, while Wilbur and Furnas each won on the other days. Further, they held their contests on four different days of the week, including once on Sunday—which the Wrights observed religiously as a day of rest and recreation.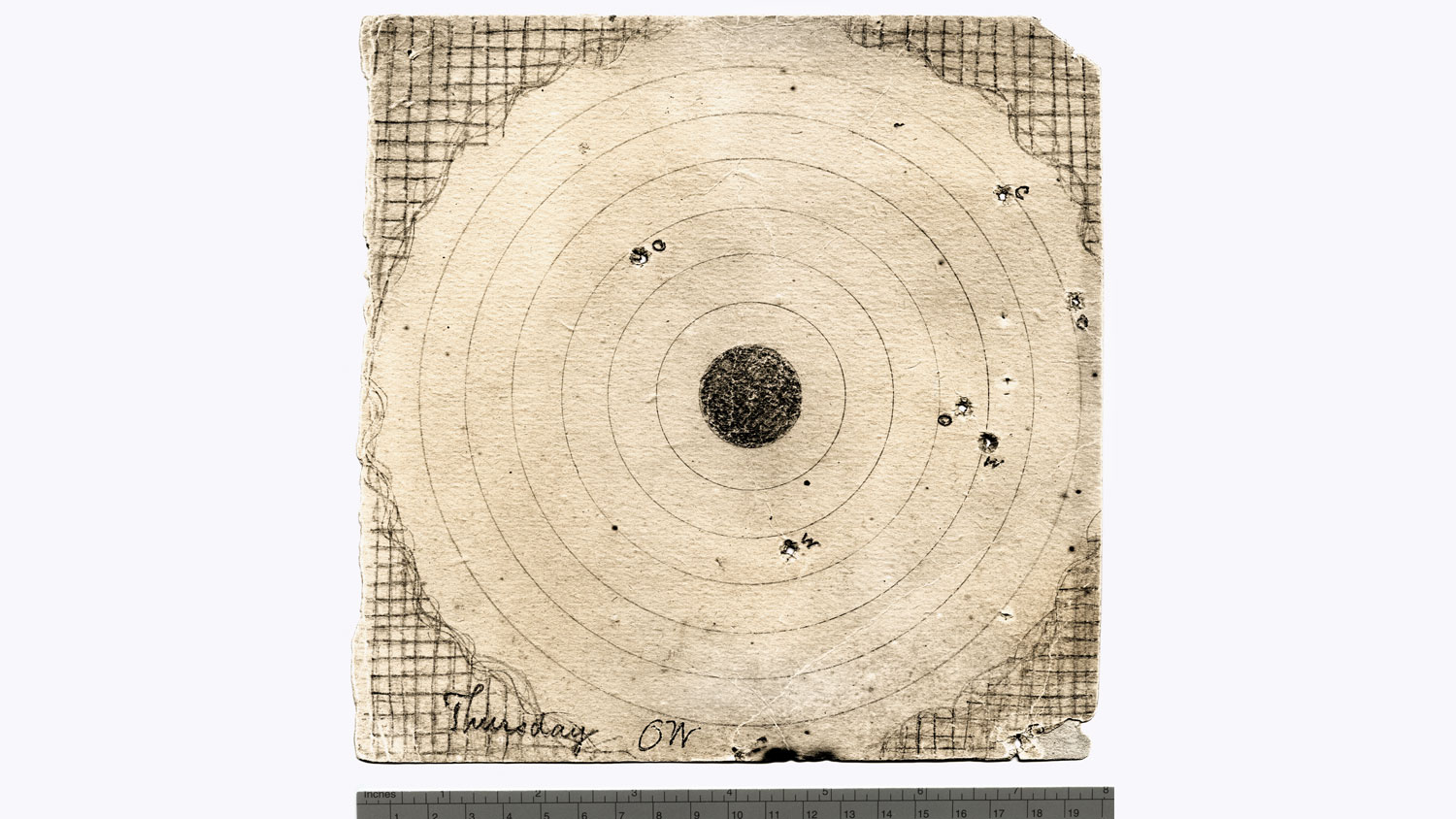 Special thanks to Larry E. Tise, Ph.D., Wilbur and Orville Wright Distinguished Professor of History at East Carolina University, 2000 to 2015 ([email protected]). Larger elements of this article appear in his recent books:
Circa 1903: North Carolina's Outer Banks at the Dawn of Flight (University of North Carolina Press, 2019) ISBN: 978—4696-5114-9
Hidden Images of the Wright Brothers at Kitty Hawk (History Press, 2019) ISBN: 978-1-4671-4243-4.
The Wright brothers' 1908 targets in this article are from the historical collections of Twiddy & Company, Corolla, NC. Historical photographs and high contrast images are by Joseph Barricella, Digital Services, Joyner Library, East Carolina University.
---
See more: