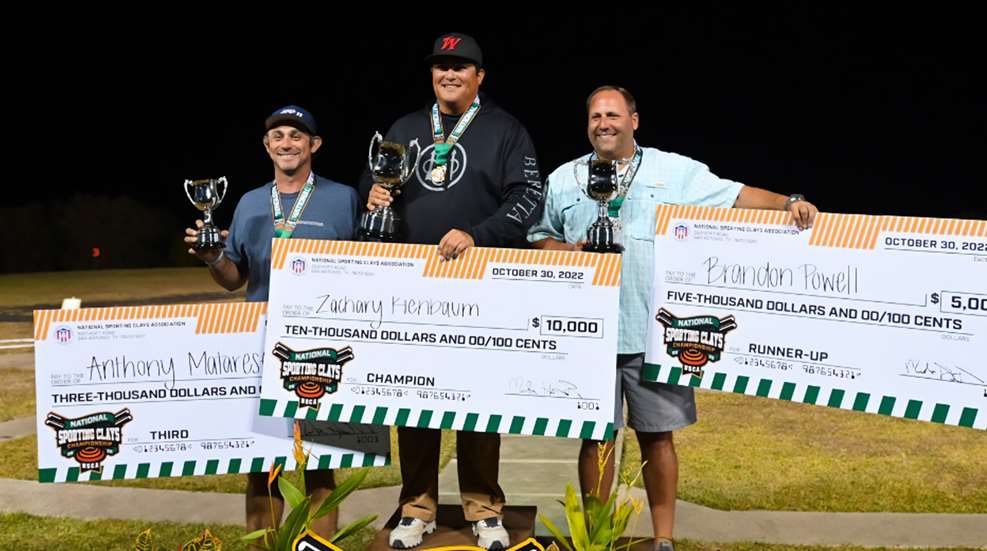 Team Winchester's Zach Kienbaum topped the leaderboard at the 2022 National Sporting Clays Association (NSCA) National Championship, Powered by Winchester, held in San Antonio, Texas, and the grand finale event of this year's sporting clays season.
Spanning nine days, this year more than 2,300 competitors attended the NSCA National Championship in Texas.
For Zach Kienbaum, it was certainly a memorable week that began with his induction in the NSCA Hall of Fame, ending with claiming the 2022 NSCA National Championship title, his third in total after previous wins in 2018 and 2019. His final main event score was 285.
In second place was Brandon Powell, who was only one point behind Kienbaum with a score of 284. Taking third place was Anthony Matarese with 283.
Other Team Winchester members had strong performances, including the aforementioned Anthony Matarese (fellow NSCA Hall of Fame shooter) finishing third in the Main Event, and Desirae "Desi" Edmunds clinching runner-up in the Main Event Lady class with a score of 275, only one point behind the winner, Haylyn Hanks. As for Joseph Fanizzi, he claimed the 2022 Junior Championship with a score of 281, and Connor Daniel captured his class at the 2022 NSCA National Championship as the top Main Event Sub-Junior with 269.
All Team Winchester members shoot Winchester AA shotshell ammunition.
"We congratulate our team members and all competitors on an excellent year competing in the NSCA Championship Tour, Powered by Winchester, and the Winchester Ladies Cup," Brett Flaugher, president of Winchester Ammunition, said. "It's exciting to see our team so well represented at each shoot and consistently atop the leaderboard."
Winchester Ladies Cup
Year two of the Winchester Ladies Cup is now a wrap, with the podiums determined for both the San Antonio event and the yearlong point race. The Winchester Ladies Cup includes additional funds committed by Winchester Ammunition to increase the championship earnings within the Lady class, and encourage increased participation from a broader group of shooters. As such, $5,000 is split among the top three lady shooters, with the highest cumulative scores at each of the eight NSCA Championship Tour events with $10,000 in added prize money awarded to the three lady shooters with the highest cumulative scores for the entire season. This season alone, there were 27 individual Winchester Ladies Cup payouts totaling $50,000.
2022 Winchester Ladies Cup (San Antonio Event) Leaderboard
Karen Shedd ($2,500)
Desirae Edmunds ($1,500)
Haylyn Hanks ($1,000)
2022 Winchester Ladies Cup (Overall) Leaderboard
Karen Shedd ($5,000)
Madison Sharp ($3,000)
Haylyn Hanks ($2,000)
See the full results of the 2022 NSCA Nationals here. Learn more about Winchester at winchester.com.