by
posted on October 12, 2018
Support NRA Shooting Sports USA
DONATE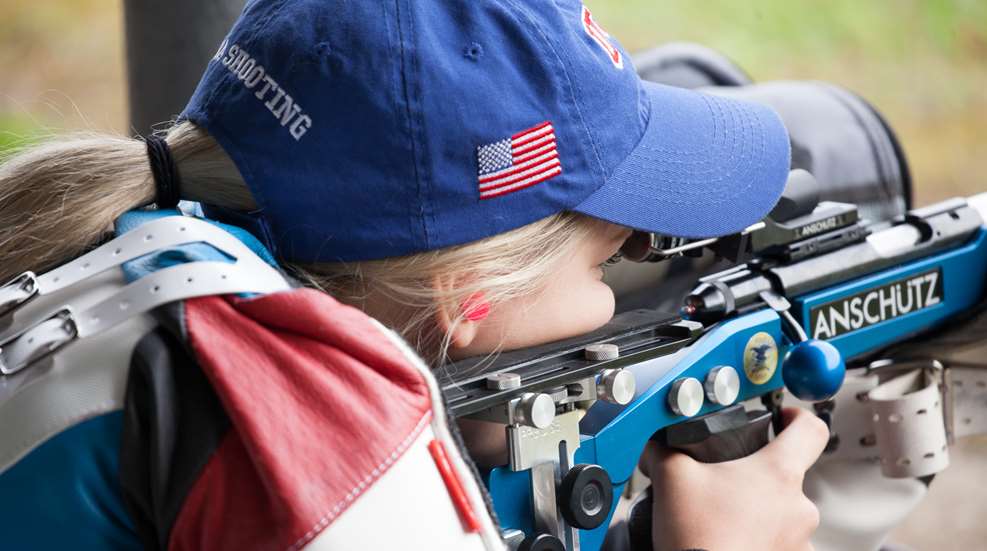 The 2018 NRA National Smallbore Rifle Championships were an 11-day marathon of position, prone, and F-Class shooting held at the Chief Wa-Ke'De Rifle Range in Bristol, IN. The event marked the consolidation of all the various NRA National Smallbore Rifle Championships at a single venue, a true Iron Man competition, and the inaugural NRA National Smallbore Rifle F-Class Championship.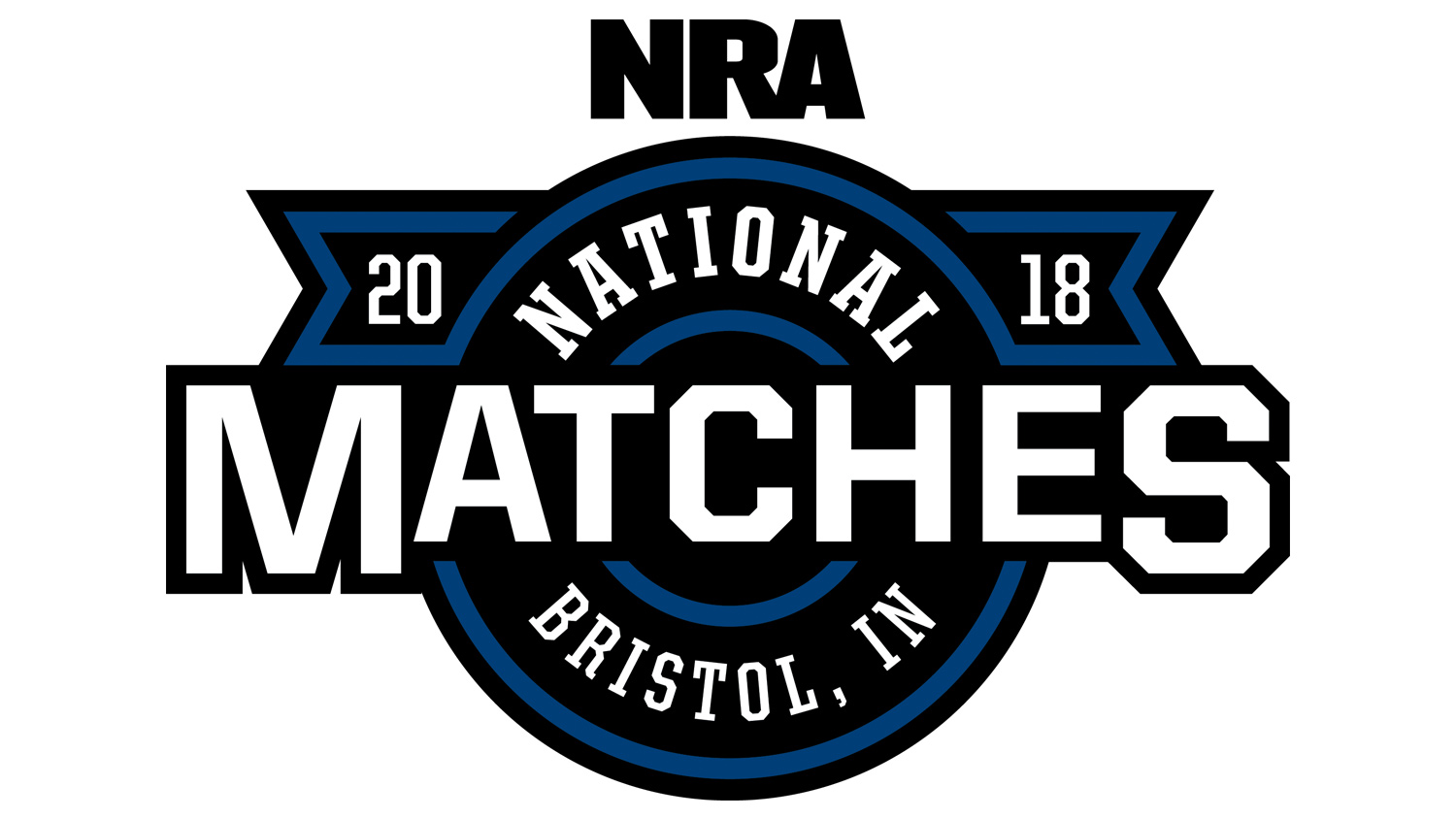 Young Shooters Shine
The Conventional Three-Position Championship started with Daniel Martz winning the prone metallic sight match with a 400-38X. West Virginia University's Elizabeth Gratz's had the high score of 394-17X in standing. Jaden Thompson's 398-23X in kneeling out X-ed North Carolina State's Bill Marciniak by three for the win. The Metallic Sight Championship and the Krilling Trophy went to Intermediate Junior Thompson, 1190-74X, after a tight 3-way battle with Gratz, 1190-73X, and Marciniak, 1190-66X. Senior Mandy Otero took home the Meister Trophy, Marciniak captured the Rennie Trophy as Collegiate Champion, and Junior Richard Clark was presented the Alves Trophy. Mike O'Conner was the Intermediate Senior champion while Katrina Demerle seized Sub-Junior honors.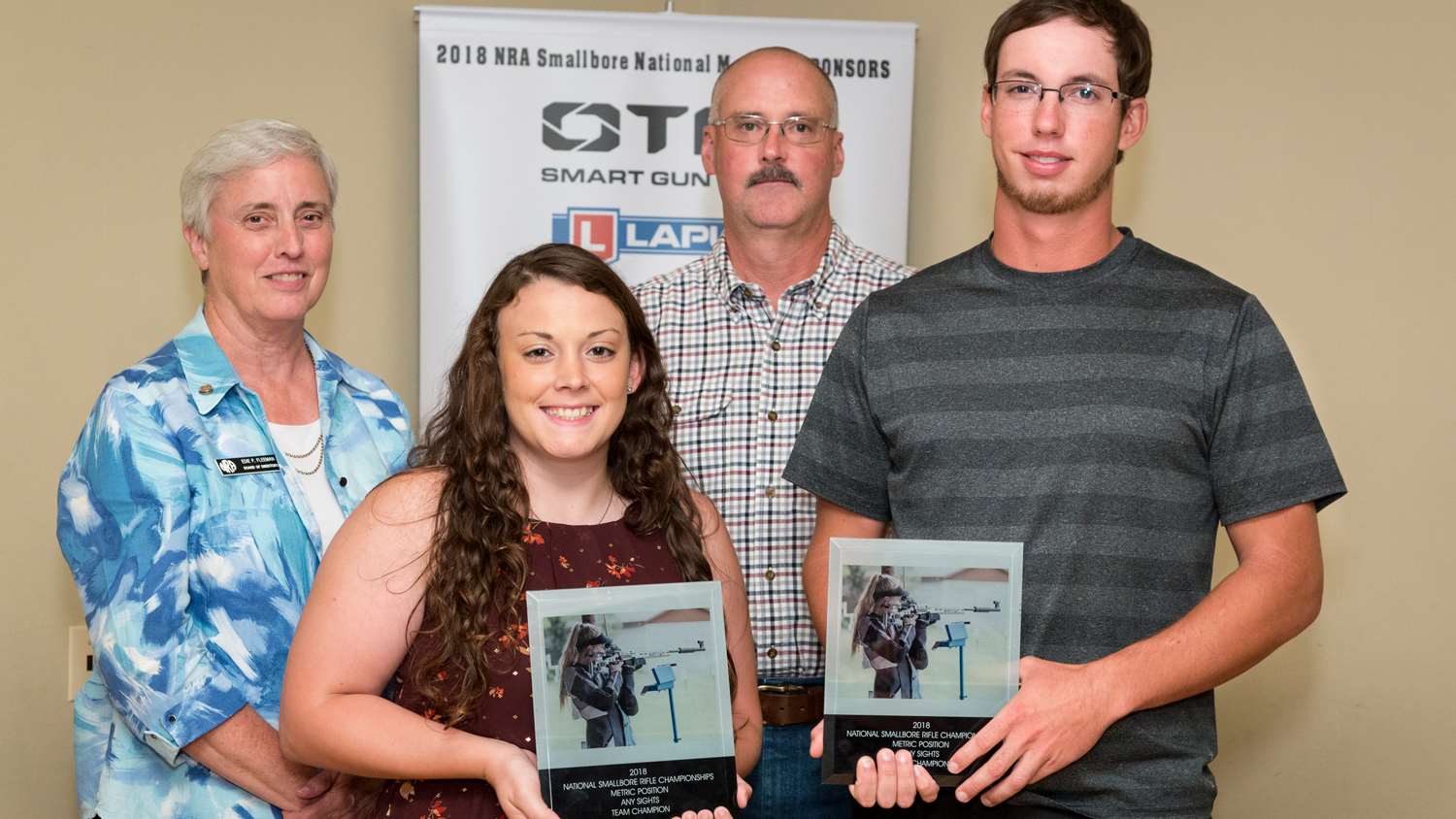 Emporia State University's Megan Hilbish posted a 400-36X to win the prone stage of any sights and motored right onto a 397-24X win in standing, outshooting Gratz by eight Xs. Clark, 397-24X, won the kneeling match. Gratz won the Any Sight Championship with a 1193-68X. Otero repeated in the Senior category while Paula Lambertz took Intermediate Senior honors. Category championships went to Marciniak; Collegiate, Clark; Intermediate Junior, and Demerle; Sub-Junior.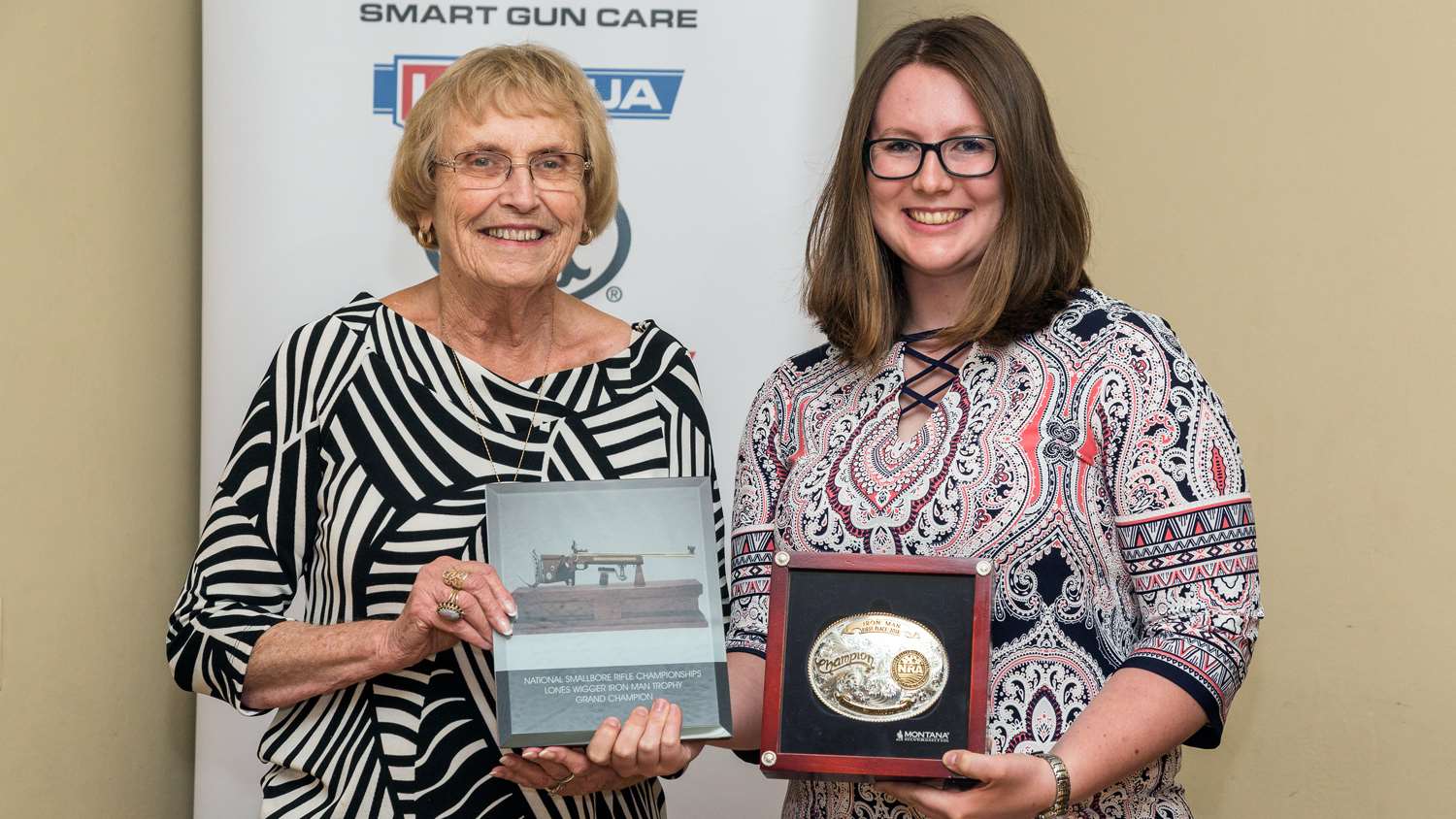 Gratz, 2383-141X, was presented the Parsons and Winchester Trophies as Conventional Three-Position and Civilian Champion. Thompson, 2378-142X, won the Intermediate Junior Putnam Trophy while Marciniak earned the Volunteer Trophy as Collegiate Champion. Australian Matthew Boots took High Visitor honors. Senior Otero took home the Moore Trophy, Intermediate Senior O'Connor was presented the RWS Trophy, the Cobb Trophy went to Junior Clark, and the Stark Trophy went to Sub Junior Demerle.

Experience Trumps Youth
The youth movement suffered a detour when 1984 Olympian Bill Beard won the metallic sight prone match with a 393-18X in the opening event of the Metric Position Championship. Clark shot a 382-14X standing as Beard, 394-16X, came back to win kneeling. In an odd turn of events no one who won a match was in play for the aggregate, which went to Marciniak, 1138-39X. Australian Elise Collier was High Visitor. Beard and former National Position Champion Jeff Doerschler took home Senior and Intermediate Senior honors. First Junior was Clark while Martina Gratz was high Intermediate Junior. Demerle maintained her supremacy in the Sub-Junior category.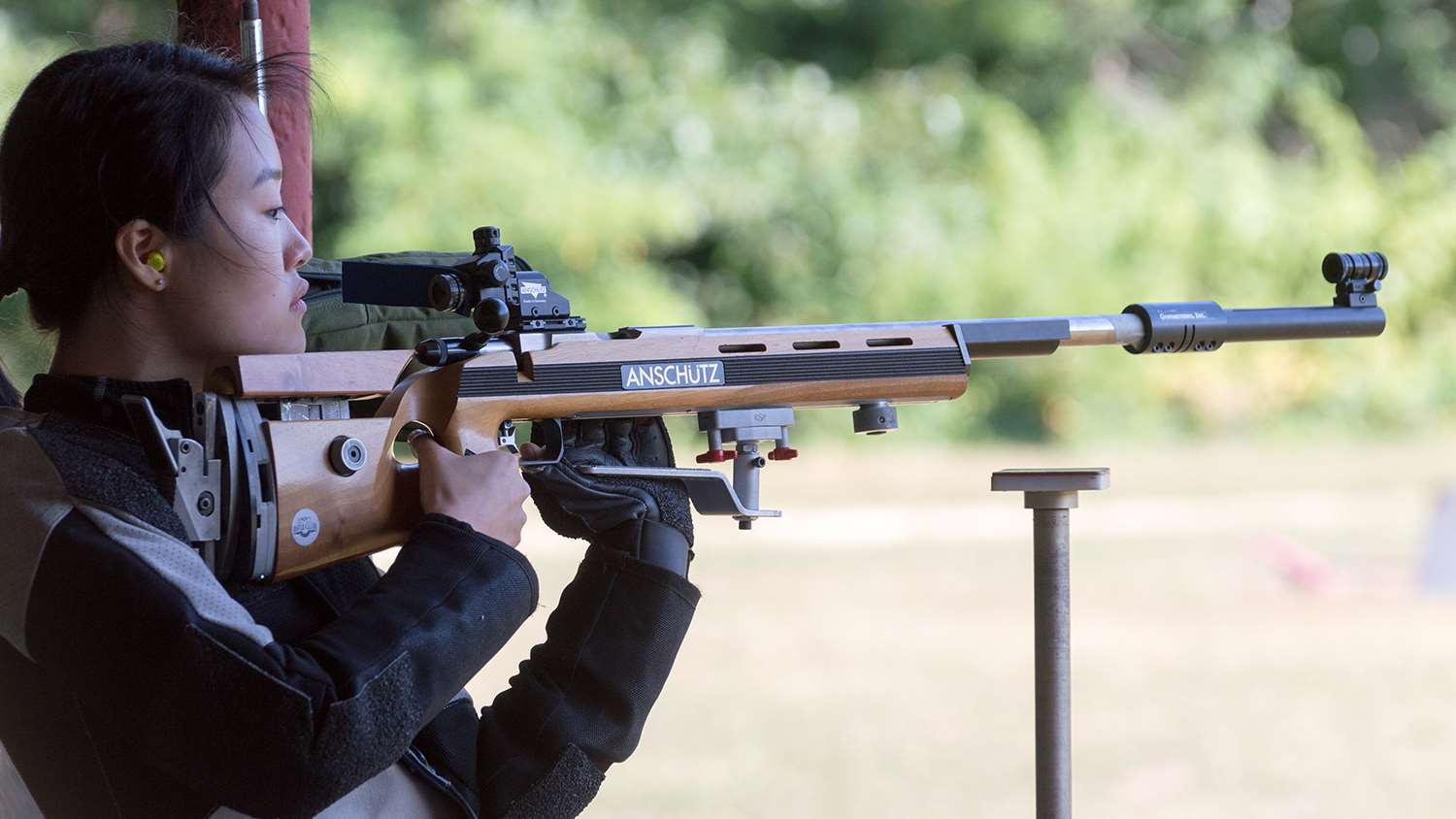 Thompson fired a 398-28X prone for a win in the opening match of any sights. Elizabeth Gratz, 376-11X, won standing as Lisette Grunwell-Lacey fired a 383-8X to capture kneeling. Additionally, Gratz notched her second aggregate win of the tournament with a 1145-44X. The usual suspects continued to win their categories: Beard, Senior; Doerschler, Intermediate Senior; Marciniak, Collegiate; Clark, Junior; Thompson, Intermediate Junior; Demerle, Sub-Junior; and Boots, High Visitor. The Metric Grand Aggregate was an exact duplicate of the any sight results with Gratz, 2283-79X taking home the Parsons Trophy, Clark, 2277-73X, second and Marciniak third with a 2272-73X.

Elizabeth Gratz handily won the National Three-Position Championship shooting a 4666-220X. Clark was second, posting a 4652-223X, just ahead of third place Marciniak, 4650-213X. Beard, the perennial Senior Champion, repeated. Lambertz was high Intermediate Senior and Clark first Junior. Thompson won the Intermediate Junior category while Demerle completed a Sub-Junior sweep. Collier won High Visitor honors.

Prone Championship and Iron Man
The prone championship began with SFC Eric Uptagrafft, of the U.S. Army Marksmanship Unit (AMU), opening the metallic sight phase with a 400-40X in the Meter Match. Uptagrafft and Gratz posted a rare unbreakable tie in the Dewar Match when both posted 400-37Xs. Joe Graf bested the field at 100 yards with a 400-31X. The first day went to Mark Del Cotto who shot the only 1200 of the day.

Day two saw Uptagrafft repeat his Meter Match win with yet another 400-40X. Uptagrafft next beat Del Cotto on a tiebreaker in the Dewar Match when both shot 400-36Xs. The tables turned at 100 yards with Del Cotto's 400-33X besting Uptagrafft when they tied. Three 1200s were posted on the second day with Uptagrafft, 109X, Del Cotto, 107X, and Howard Pitts, 91X, finishing first, second and third respectively.

Del Cotto won the Metallic Sight Championship and the Hoppe Trophy with a perfect 2400-205X. Uptagrafft and Pitts finished right behind with a 2399-221X and a 2396-178X. Senior Champion Peter Church was the recipient of the Walter Tomsen Trophy.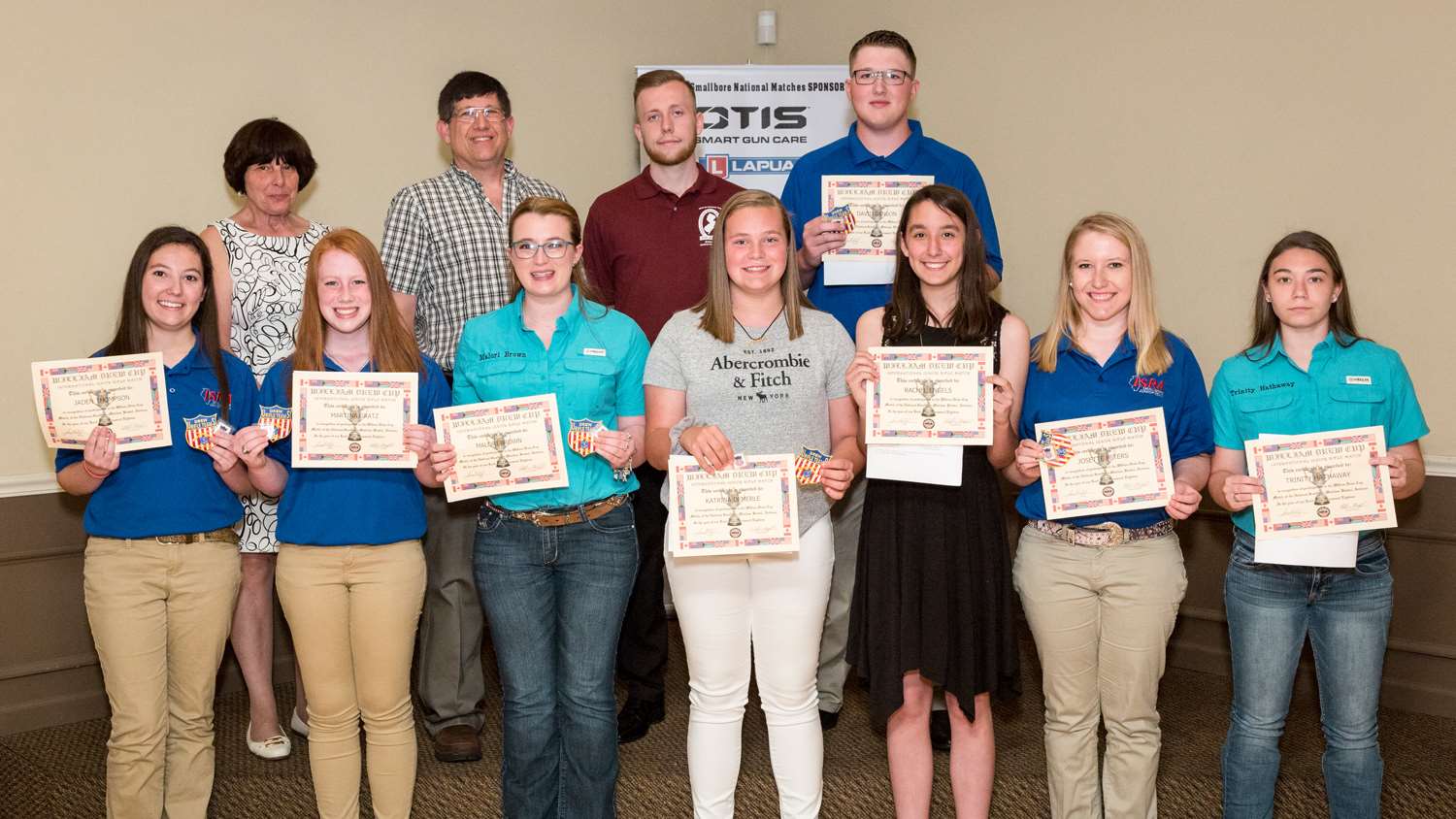 Uptagrafft stuck with iron sights in the Any Sight Championship and led off with yet another Meter Match 400—but with only 38Xs this time, to win a tiebreaker over Kevin Nevius. Carlton Hardin's 400-37X, won the Dewar. Jaden Thompson and Nancy Tompkins found themselves in an unbreakable tie at 100 yards, each shooting a 400-31X. At the end of the day, Nevius was on top with a 1200-100X. Hot on his heels were Uptagrafft with 1199-104X, and Hardin with a score of 1199-102X.

The final day of conventional began as the rest had, another 400-40X Meter Match win for Uptagrafft. He conducted a 4-day Meter Match shooting clinic. In an accomplishment of historic proportions he used metallic sights, mounted on an action he built with a barrel salvaged from the AMU scrap bin, to hit the X-ring (a .393-inch circle) 158 out of 160 opportunities. In the Dewar Match he ended up third in a 3-way tiebreaker with Hardin, who won, and second place Pitts, when they all shot 400-36Xs. Pitts nailed the 100-Yard Match with a 400-24X to end the Championship. Five 1200s were posted on the final day with Uptagrafft edging out Hardin 1200-104X to 1200-103X.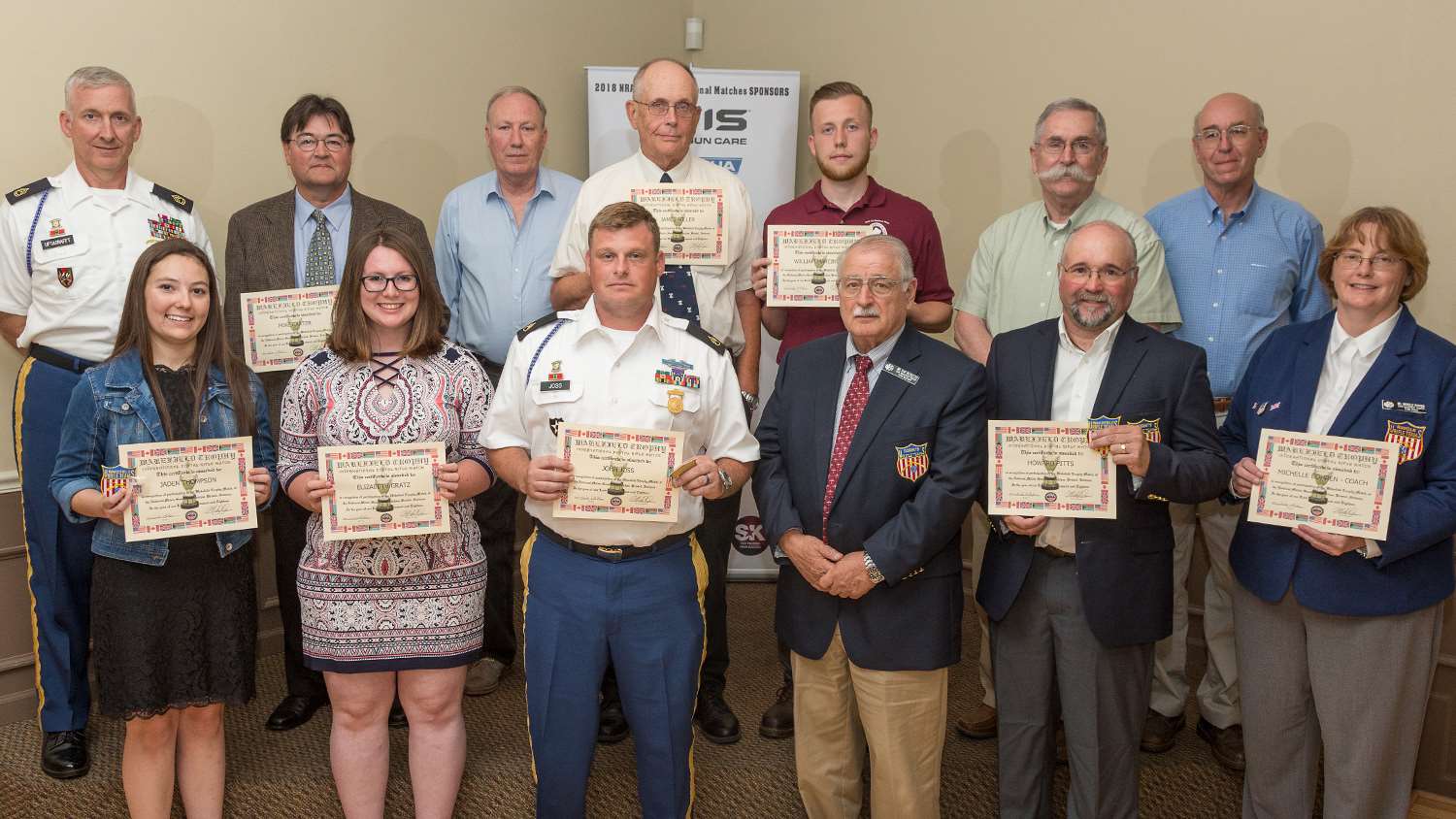 When the scores were added up after shooting it was Nevius, who had lurked quietly in the background on day two, posting a clean score of 2400-198X. He won the Any Sight and Civilian Championship and the U.S. Cartridge Company Trophy. Second place, and High Service, was Uptagrafft, 2399-208X. Hardin, 2399-205X, was third picking up the Plimpton Trophy as Senior Champion. Wes Schumaker earned Intermediate Senior honors, Marciniak was again the Collegiate champion, while Malori Brown took home Junior laurels.

Uptagrafft won the Conventional Prone championship, dropping only two points for a 4798-429X. Del Cotto and Pitts were in second and third shooting a 4797-383X and a 4794-383X, respectively. Ed Mank won the Any Sight Only category and the Marianne Jenson Driver Trophy, scoring 4770-296X.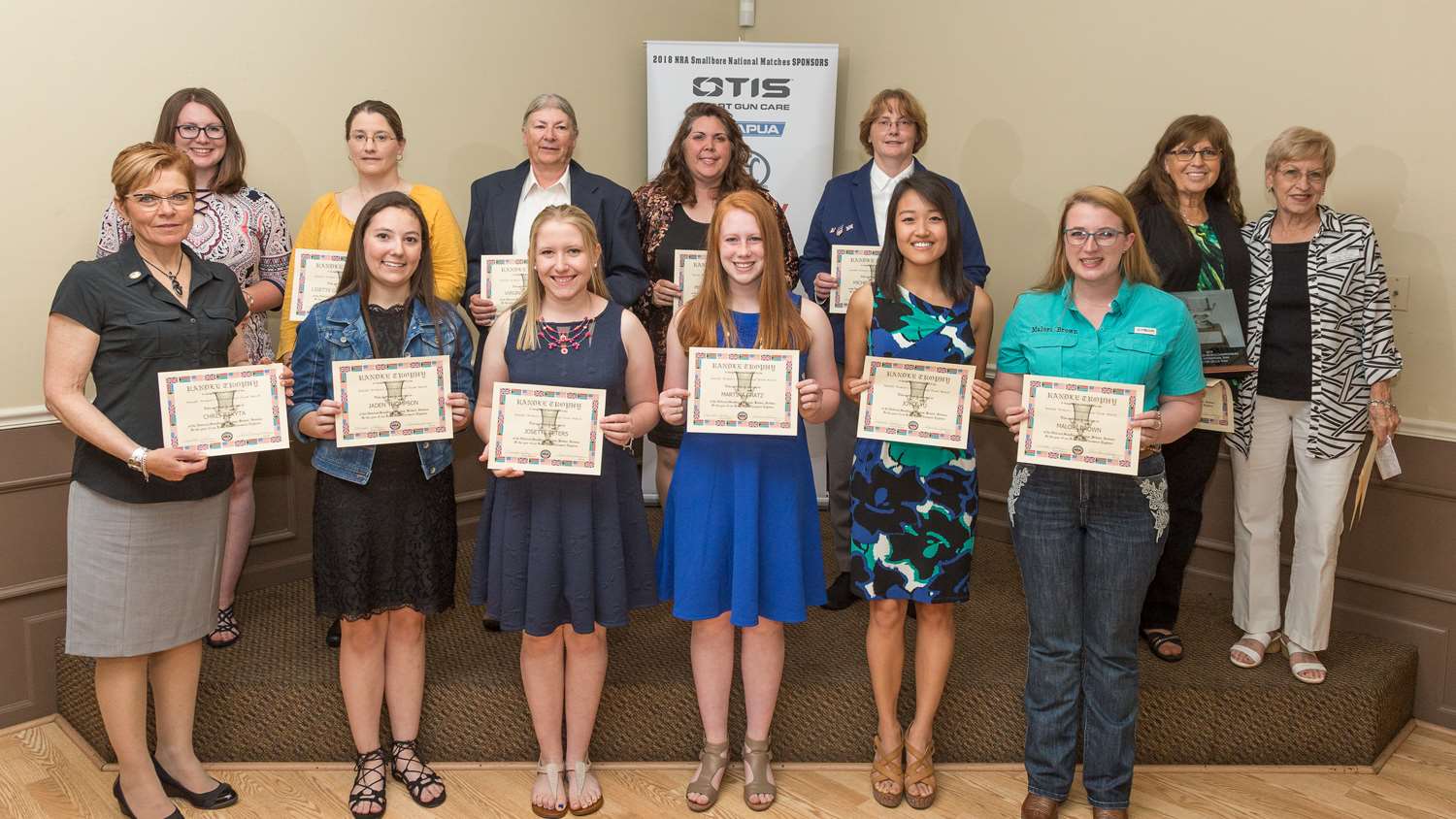 The Metallic Sight Metric Championship opened with a 3-way tie at 50 meters, won by Del Cotto with a 400-28X. Uptagrafft took both the Dewar, a 398-25X, and the 100-Yard Match, with a 395-25X, giving him an 1184-71X and the Metric Metallic Sight Championship.

Pitts opened the Metric Any Sight Championship with a winning score of 399-34X at 50 meters. Uptagrafft won the Dewar with a 397-25X. The match ended when Shawn Carpenter came within one point of the 100-Yard National Record. His 398-23X's final target was a 200-12X. Pitts won the daily aggregate with a score of 1187-79X.

Uptagrafft won the Metric Prone Championship, and the Pennsylvania Railroad Trophy, with a 2367-142X. Pitts was second, 2359-136X, and Nevius' 2356-137X earned him third place. George Harris was the Senior Champion while Ron Wigger led the Intermediate Seniors. Junior Josette Peters topped that category, while Jaden Thompson was best Intermediate Junior.

You had to be a hard holding gunsmith who was a member of the 2017 Roberts Team to place in the top three of the Prone Grand Aggregate. Uptagrafft, having won both conventional and metric titles, took home the Critchfield Trophy, a National Championship belt buckle, and the Grubar Trophy as Service Champion with a score of 7165-571X. Pitts was the silver medalist and Schweitzer plaque winner as Civilian Champion with 7153-519X, followed by Nevius with 7148-515X.

Jim Miller received the Bond Trophy as the Senior Champion. The Black Hawk Trophy went to Intermediate Senior Ron Wigger. Collegiate Champion Marciniak was awarded the Austin Trophy. Jaden Thompson took home the Rogers Trophy as High Expert as well as the Stark Trophy for winning the Intermediate Junior category. Junior shooter Peters received the Whittington Trophy.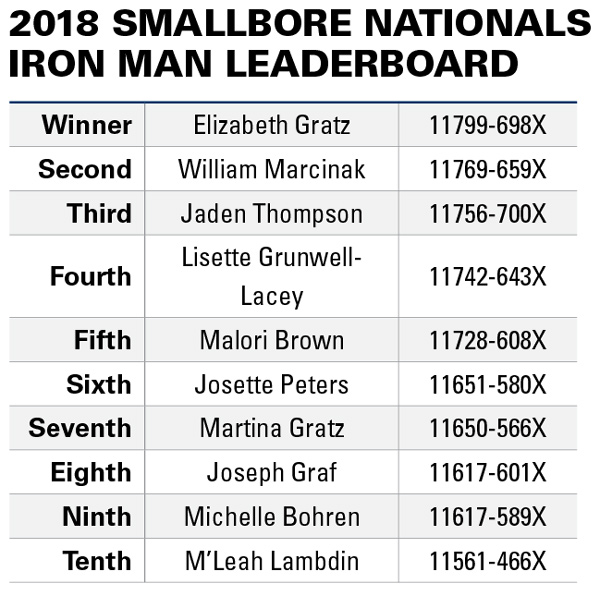 The hardiest shooters, who labored through 1,200 record shots, 66 target changes, four courses of fire, rain, and sun, now awaited award of the coveted Lones Wigger Rifle Trophy. Informally known as "The Iron Man," it was presented this year to, ironically, a woman. Elizabeth Gratz, whose skill and staying power enabled her to shoot an 11799-698X, just eight Xs less than the record set by the first Iron Man, George Norton. Gratz received the gold-plated trophy rifle from the hands of Mary Kay Wigger. Bill Marciniak, the 2015 Iron Man, was second followed by Jaden Thompson.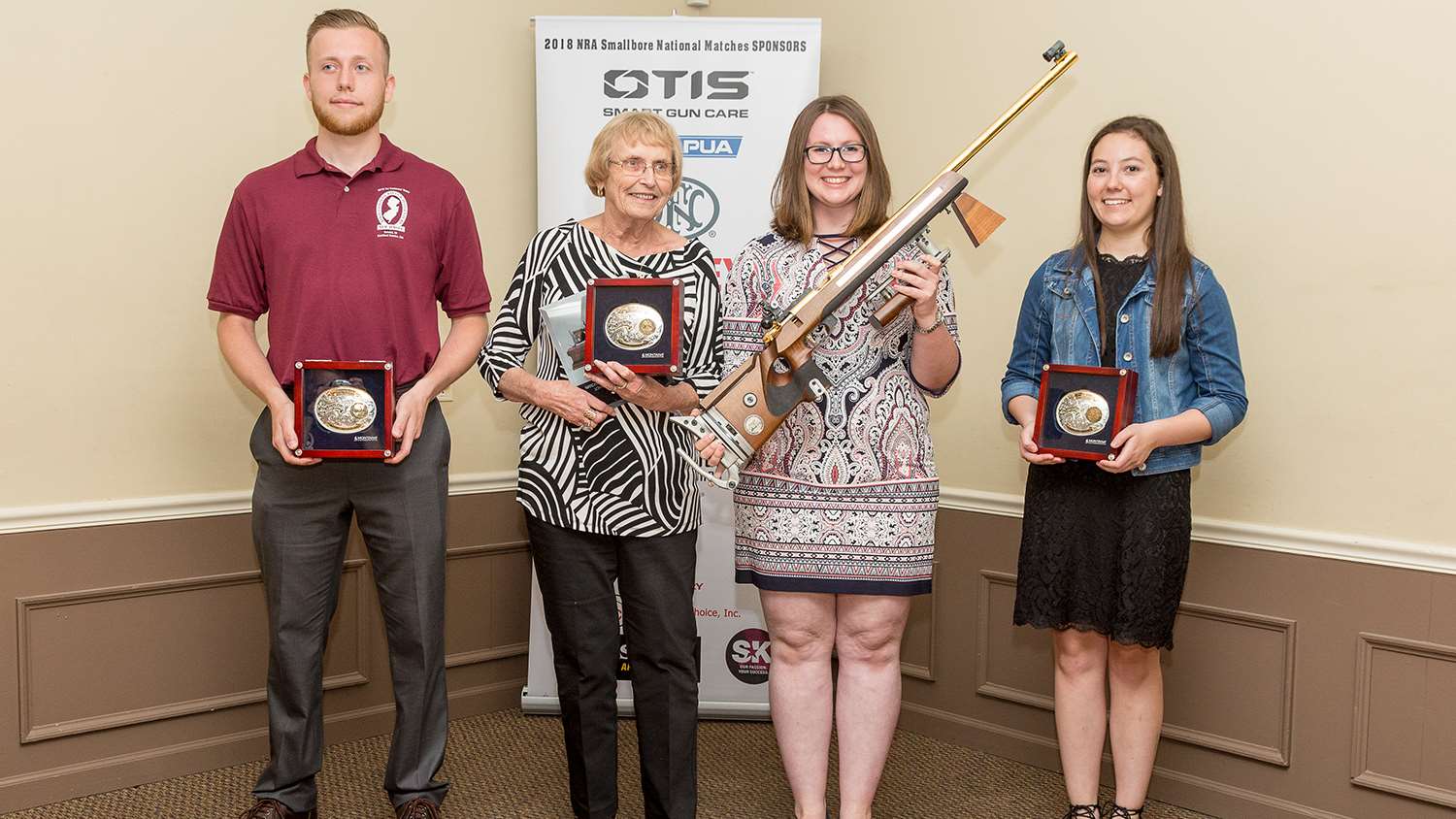 The 2018 NRA National Smallbore Rifle Championships was a successful mixture of tradition and innovation. In 2019, we will celebrate the centennial of smallbore shooting in the United States and look back on the many changes that have made our sport what it is today.

View the full results of the 2018 NRA National Smallbore Rifle Championships at competitor.nra.org/ChampionshipResultsSmallbore.aspx

Photos by Forrest MacCormack and Jesse Snyder