by
posted on September 24, 2018
Support NRA Shooting Sports USA
DONATE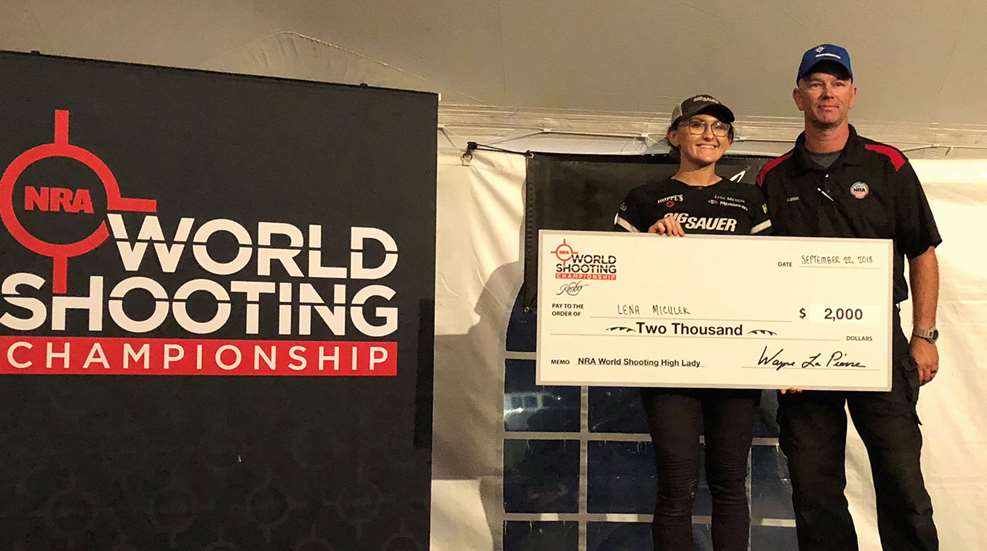 Never one to disappoint, at the 2018 NRA World Shooting Championship, Lena Miculek was once again the top shooter in the Women's Championship. Miculek received a prize check in the amount of $2,000 during the awards ceremony at Peacemaker National Training Center in Gerrardstown, WV. Previously, she won the High Woman award at the match consecutively in 2016 and 2017. Miculek has now won four of the last five NRA World Shooting Championship High Woman awards since the championship debuted back in 2014.

For this year, not only did Miculek win the High Woman award, she also finished 14th of all 349 shooters with a final score of 853.21, which was 58.57 percent of points available. Her best stage was Stage 7 PRS, where she claimed the fourth highest score of all shooters. Miculek's next best stage performance was Stage 11 Trap Sporting Clays, finishing this stage in seventh place.

Finishing in second place for NRA World Shooting Championship High Woman was Becky Yackley (mother of newly-minted 2018 NRA World Shooting Champion Tim Yackley), and in third place was Tes Salb. (Tes Salb is the former managing editor of Shooting Sports USA.)

Lena Miculek, Championship Shooter
Earlier this year, Miculek won the IPSC Shotgun Ladies Championship, winning a gold medal at the match in Châteauroux, France. Previous victories for her include: back-to-back 3GN Lady Championships, and recently winning her first Overall Pistol Caliber Carbine victory at the USPSA Area 4 Championship.