by
posted on November 29, 2016
Support NRA Shooting Sports USA
DONATE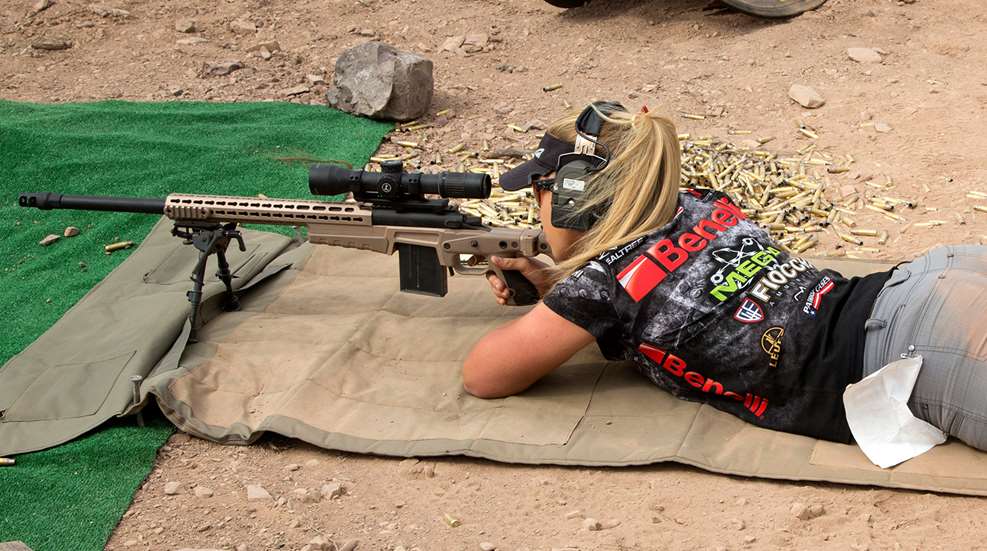 Approximately 200 competitors made the trip to the Peacemaker National Training Center (PNTC) in Glengary, WV, in September for the third annual NRA World Shooting Championship. Shooters competed for cash and prizes in three different divisions at this year's match. New for this year, the Open Professional Division had shooters using their own guns and ammunition. The 12 stages featured a variety of different pistol, rifle, shotgun, and multi-gun disciplines.

The 2016 Championship
Doug Koenig is this year's NRA World Shooting Champion, after facing windy conditions and unfamiliar shooting disciplines. Shooting in the new-for-2016 Open Professional Division, Koenig's win netted him a check for $25,000.

Koenig, who is also a 17-time Bianchi Cup Champion (among many others), is widely considered the world's best all-around shooter. After the awards ceremony, he said, "This was a really great match—and a fun test of all the different shooting disciplines. It's without a doubt one of the most difficult matches that I have ever shot. I have a lot of respect for the other disciplines that I have never done before."

Greg Jordan won first place in the Stock Professional Division with a score of 2934, concurrently finishing second overall. Jordan won the 2-Gun, 3-Gun, and America's Rifle Challenge stages, enough to propel him to the top of the heap. He said, "Every year I look forward to competing in the NRA World Championship. You sign up, show up to the range with your eyes and ears—with your fingers crossed!"

Jordan added, "It is one of the best ways to test a competitor's raw shooting ability using unfamiliar weapons in several different shooting disciplines."

Lena Miculek won the Ladies Championship with a score of 2816. Additionally, she finished 12th place overall in the Professional Division. Miculek's best score was in 5-Stand, finishing the stage in second place. Her final score of 2816 was enough to edge out her mother, and this year's second place winner in Ladies—Kay Miculek. Dianna Muller, the 2015 defending Ladies Champion, placed third this year. All three were competing in the Stock Professional Division.

"What has made this competition so great in the past, is that it has truly been about the competitors and their skills," said Miculek. "Everyone in the Stock [Professional] Division is required to shoot the same firearms and ammo on the same stages. The only variable is the shooter. To me, this is a true test of one's shooting ability across all of the major shooting disciplines."

About the ladies at this year's championship, Miculek said, "Nothing makes competition better than competing with people you are close to and respect. Some people suggest that you shouldn't be friends with your competitors because that only makes them harder to beat. I disagree. All of the ladies in this year's competition are fierce competitors— and while we are all trying to reach the same goal; we are all also encouraging each other at the same time. To me, the people in the sport are what makes it so great."

Keeping the match fresh
Competitors had their work cut out for them this year, according to NRA WSC Match Director Dennis Willing.

"The NRA is keeping the championship fresh by improving stage design. For example, the 3-Gun stage this year presents competitors with a crashed plane as a firing point. We want all the shooters to be challenged," said Willing.

The Stock Professional and Amateur Divisions could use a mulligan card—allowing for the re-fire of any stage once. Shooters in the Open Professional Division were not allowed a mulligan.

Scoring for the championship is point-based, with each stage worth 250 points. Each competitor receives points for a stage based on their finishing rank—subtracted from 250. For example, a competitor winning a stage receives all 250 points for that stage, second place receives 249, etc. The final aggregate score is the sum of all 12 stages, making a perfect score 3000 points.

Each of the 12 championship stages was sponsored by a different company, along with Presenting Sponsors Kimber and Nightforce Optics. Other sponsors included Armalite, JP Enterprises, Taylors & Co., Kahr Arms, Daniel Defense, Surgeon Rifles, ELEY, Magnum Research, Mossberg, STI, Smith & Wesson, Strategic Armory Corps, and Nexus Ammunition. Additionally, there were two side matches sponsored by Kahr Arms and Pyramyd Air.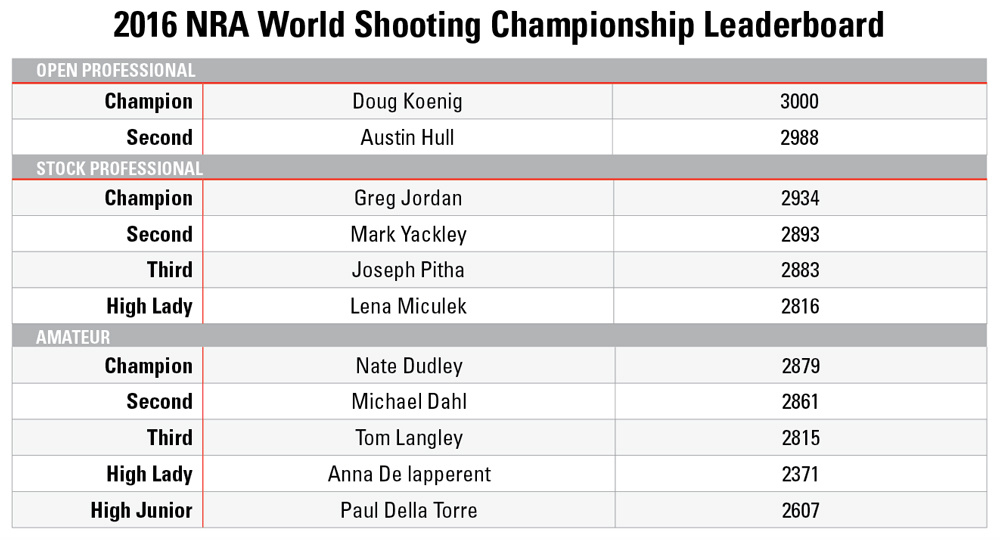 Learn more about the NRA World Shooting Championship at wsc.nra.org, or email [email protected].