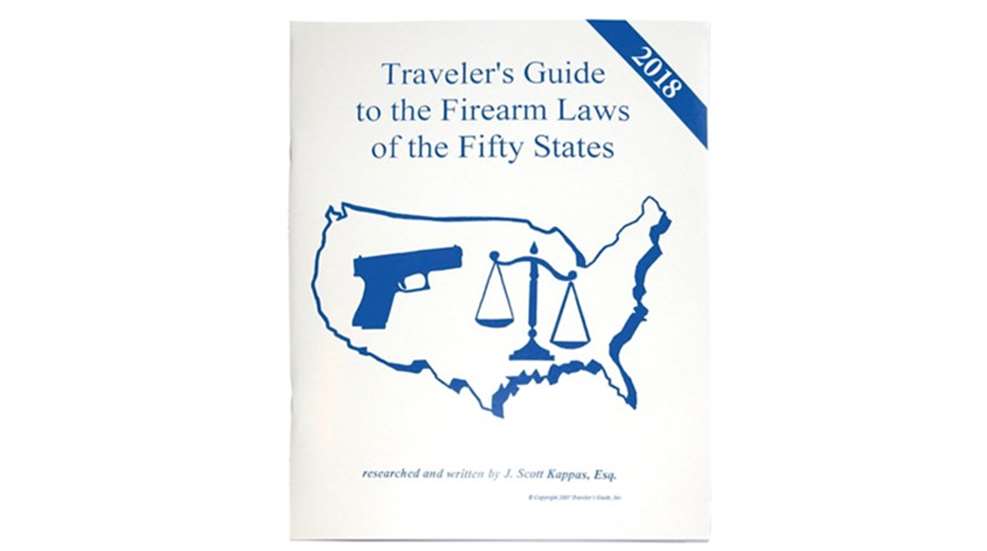 The standard in the realm of firearm law for the layman, the Traveler's Guide to the Firearm Laws of the Fifty States, now in its 22nd year, is meticulously updated annually by J. Scott Kappas, Esq., an attorney in private practice who endeavors to keep his readers consistently abreast of the nation's ever-changing laws governing gun use, transport, and carry.

A brief overview of the 68 page text leaves one in little doubt as to why over 1,000,000 copies have been sold since 1997. Despite having a price point of only $14.95, the book is a veritable goldmine of practically useful information concerning: the carry of firearms in a motor vehicle, concealed carry reciprocity, and firearm law preemption, along with a plethora of additional subcategories.

This year's edition alone features over 100 updates, newly elucidated segments (50 to be exact) on carrying in hotels by state, and a fresh page format to improve ease of reading and reference.

Given the haphazard manner in which firearm laws seem to change in the U.S., one particularly innovative feature is the linking of the book to a website, www.gunlawguide.com, which is continually updated with changes in state permit reciprocity, to keep readers as informed as possible between print editions. Hopefully of course, this reciprocity section will soon become null and void, with the Concealed-Carry Reciprocity Act already having passed the House, now only needing a positive vote in the Senate. But in the meantime, this portion is invaluable for any traveler concerned with self-defense.

For its more internationally minded readers, the Traveler's Guide includes segments on taking guns to America's neighbors: Canada and Mexico. Though the segment on Mexico could be easily summed up into one word: don't; the information relayed to readers on Canada is very helpful, as though the country is very restrictive, the carry of firearms into the country is still possible if one is willing to meticulously traverse some exhaustive rigmarole. Given the popularity of Canada as a hunting destination, this could definitely come in handy to a number of readers, as could the portion educating readers on how to prove the guns they are reentering the United States with are in fact their own.

As mentioned, the Traveler's Guide is available for $14.95 (price including Bulk Mail Shipping), at www.gunlawguide.com/shop. Pick yours up today.