Driving through tall pine forests in the South Carolina Lowcountry on a gorgeous mid-May morning, I know I'm getting close when road signs bearing the "Hemingway" name appear. That name is shared with Mr. Rick Hemingway, the owner of Back Woods Quail Club in coastal Georgetown County. My smartphone's GPS confirms I'm nearby, instructing me to make a right turn on Hemingway Lane to reach my destination. I'm headed to the 2022 U.S. Open, one of eight stops on the National Sporting Clays Association Championship Tour, sponsored by Winchester. This weeklong sporting clays extravaganza, known for rotating from location to location each year, was previously held at Back Woods Quail Club in 2013.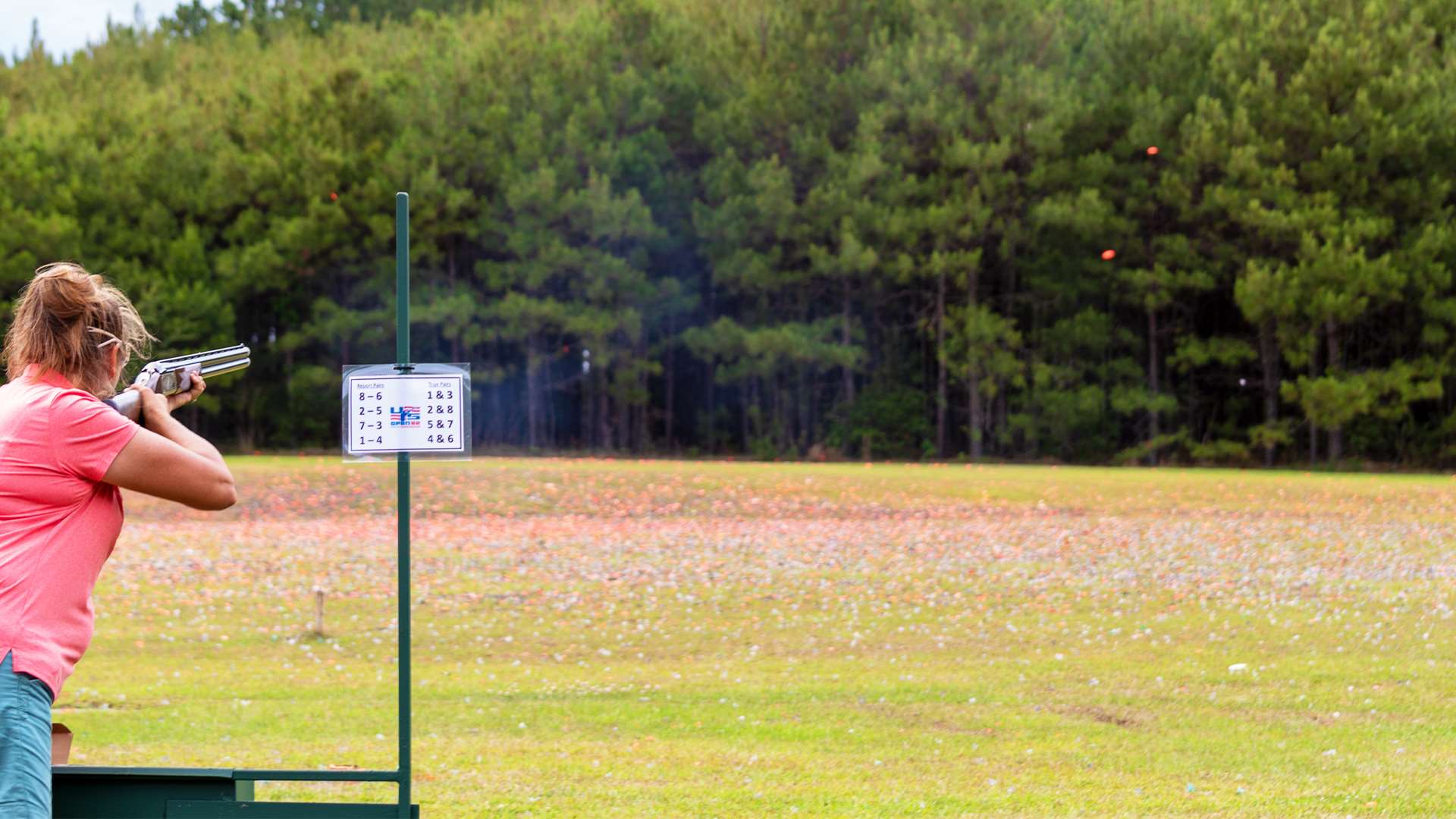 It's early Saturday morning, and after five days of competition everyone is ready for the weekend's slate of big-money events. Upon my arrival at Back Woods, I track down Rick's older brother, Sel, who agrees to cart me around the grounds on the penultimate day of the tournament. Welcoming me with a smile, he relays that I'm in for a treat.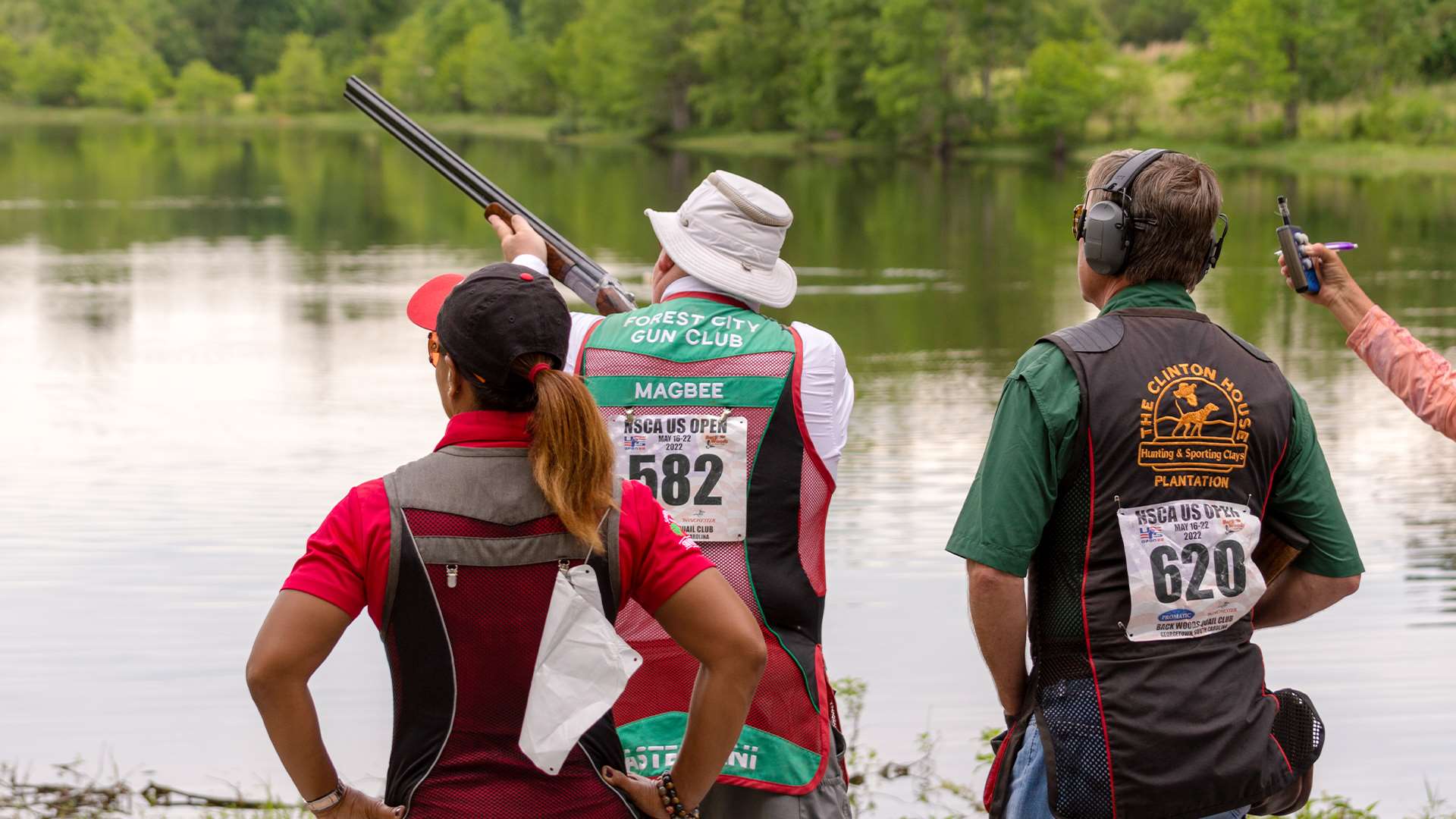 "Back Woods has been waiting for years to host the U.S. Open again," he says in his southern drawl, beaming with pride. "The delay from the pandemic actually gave us more time to prepare, so we took advantage to make things even better." Hitting the golf cart's accelerator, Sel puts us on a southerly course towards the side events.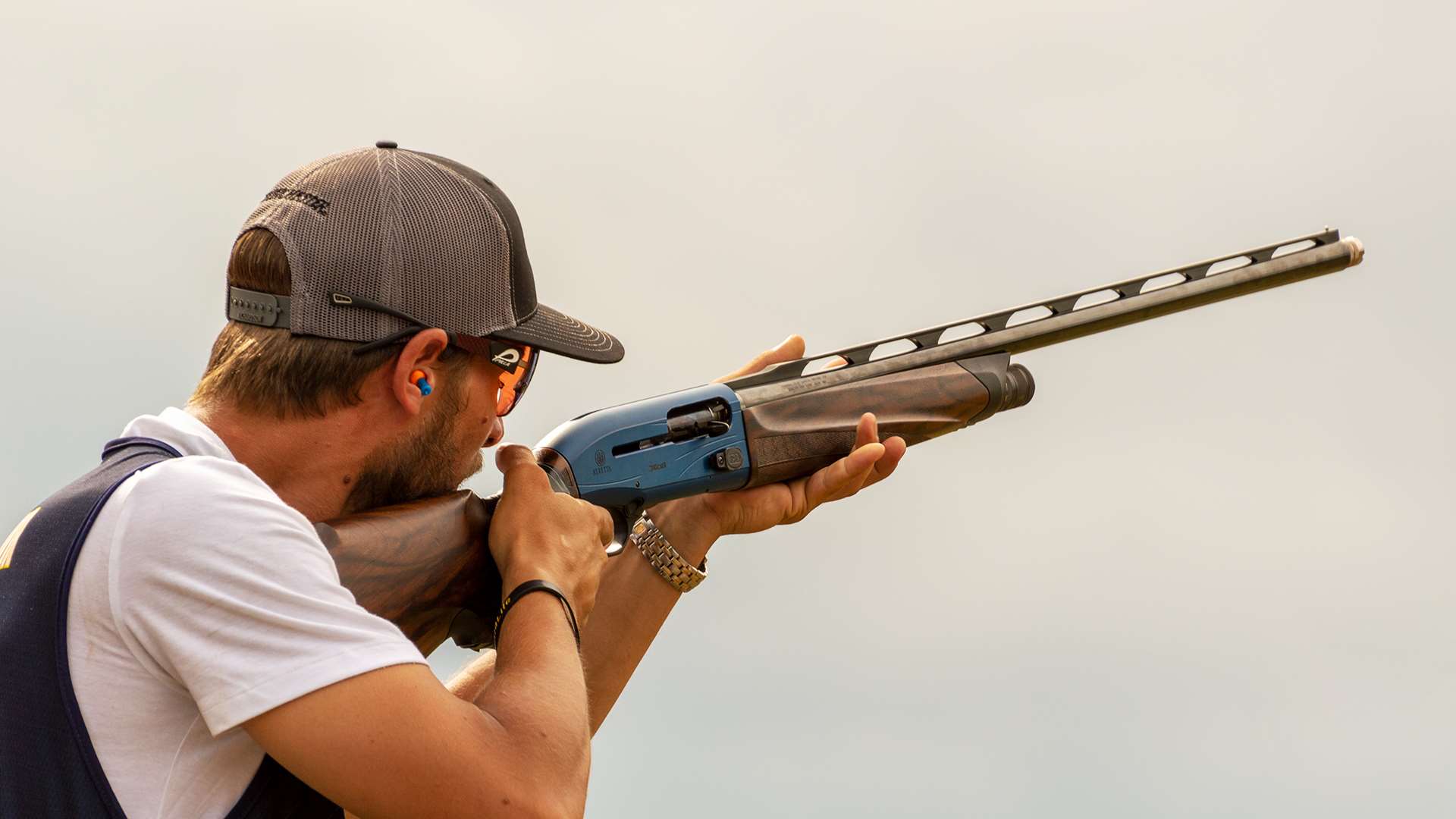 SPORTING CLAYS CITY
With 16 events and 1,392 total registered shooters this year (a possible new U.S. Open record), the tournament's gargantuan scale didn't stymie match operations, as the venue is one of the best in the country for sporting clays. Large enough to host the nearly 1,400 shooters and their families, Back Woods Quail Club transformed into a small city during the 2022 U.S. Open Sporting Clays championship. While I was there for only two days, what I observed was a well-oiled sporting clays tournament machine, beginning at the top with the owner of Back Woods. Rick Hemingway's second go at the U.S. Open resulted in an exceptional competition. Leading a match staff of more than 100, spread across three main courses and multiple side events, the execution of the 2022 U.S. Open was impressive to see in person.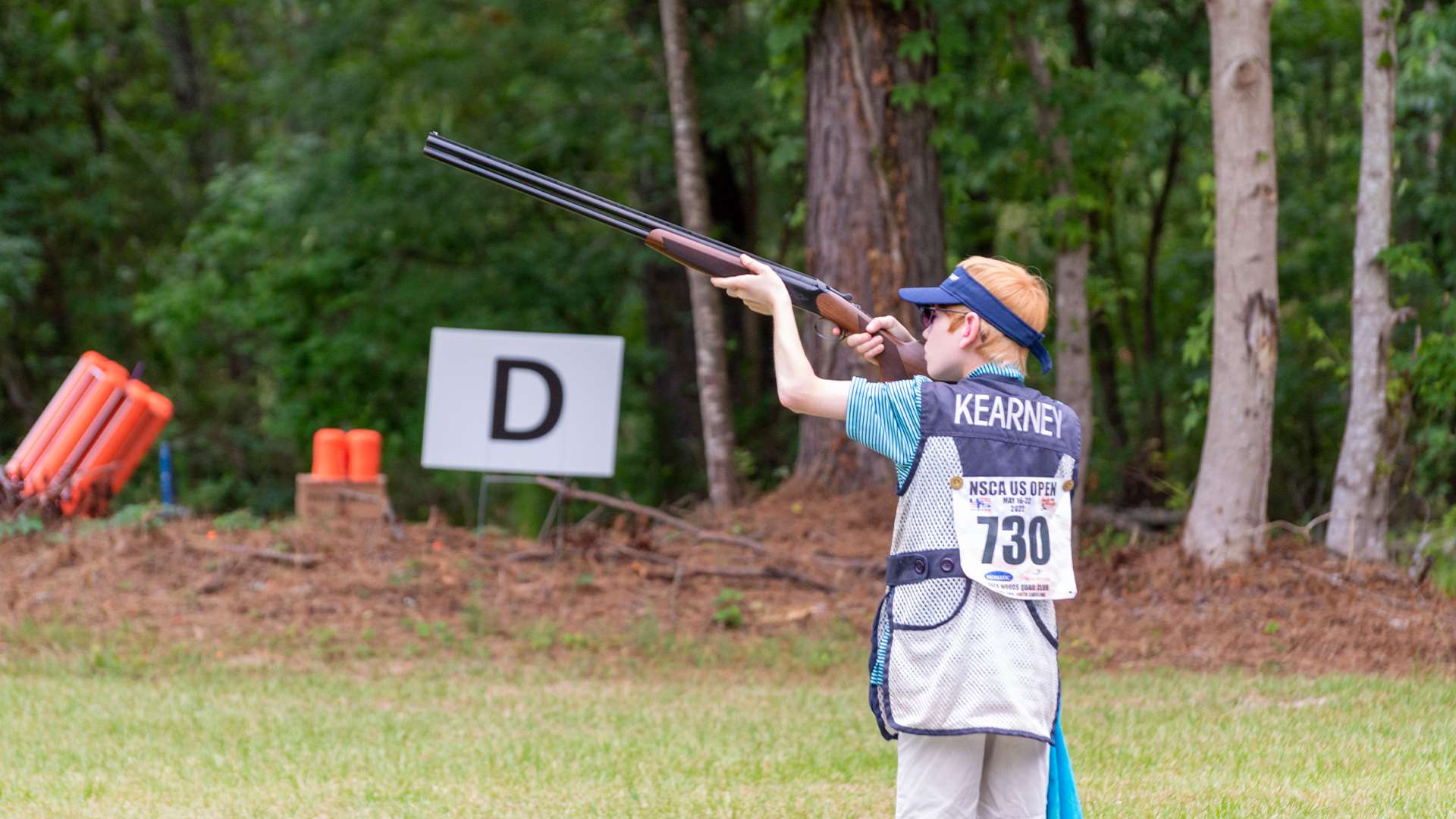 "I couldn't have asked for a better outcome this year. The U.S. Open is a complex operation with many different moving parts," explained Rick. "For the staff to work as good as they have, and experienced tournament managers traveling from as far as California to help us, that whole conglomeration made it all come together to run smoothly. Mother Nature also did her part, providing us some great weather. It's been absolutely perfect so far."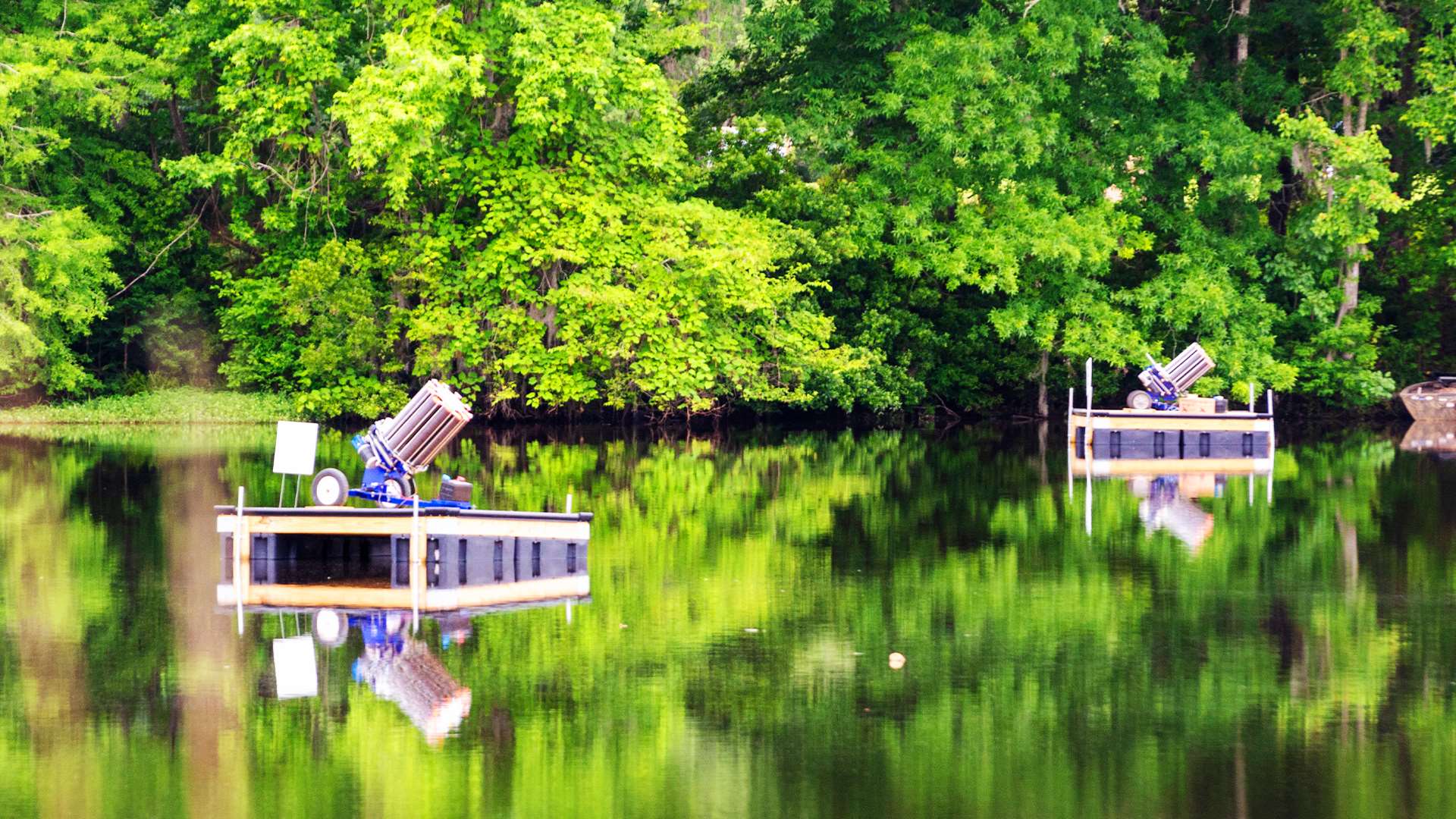 The clubhouse area was the nerve center for U.S. Open match operations, with Rick Hemingway usually nearby with smartphone in hand frenetically texting orders to staff. To move around, a small army of golf carts shuttled competitors and staff across the 700 acres used during the match. And typical for a large clay target competition, many shooters brought their own rugged transportation or rented personal golf carts. While I was there, state troopers and local police stationed near the parking lots were directing traffic (both pedestrians and vehicles), because Back Woods Quail Club is so big, it is split by South Carolina State Highway 51, a main artery for Georgetown County.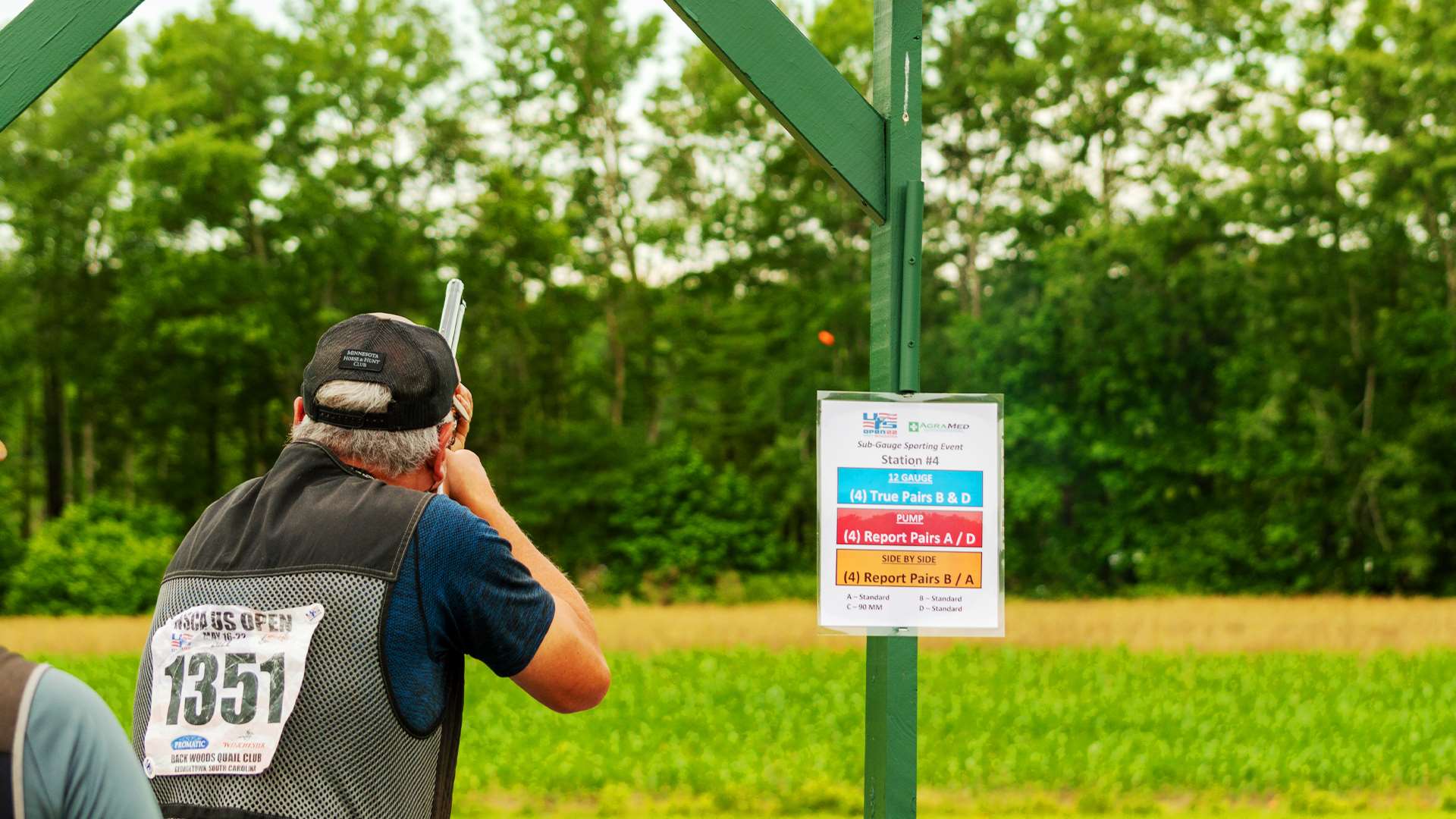 Rick Hemingway and his team made many improvements to the facility to accommodate the large crowds, including new roads, separate parking lots for personal vehicles, trucks, trailers and RVs, along with personnel strategically located to guide traffic. There were also plenty of food vendors on site, including boiled peanuts from Sel Hemingway's daughter that are a must-try if you are in the area.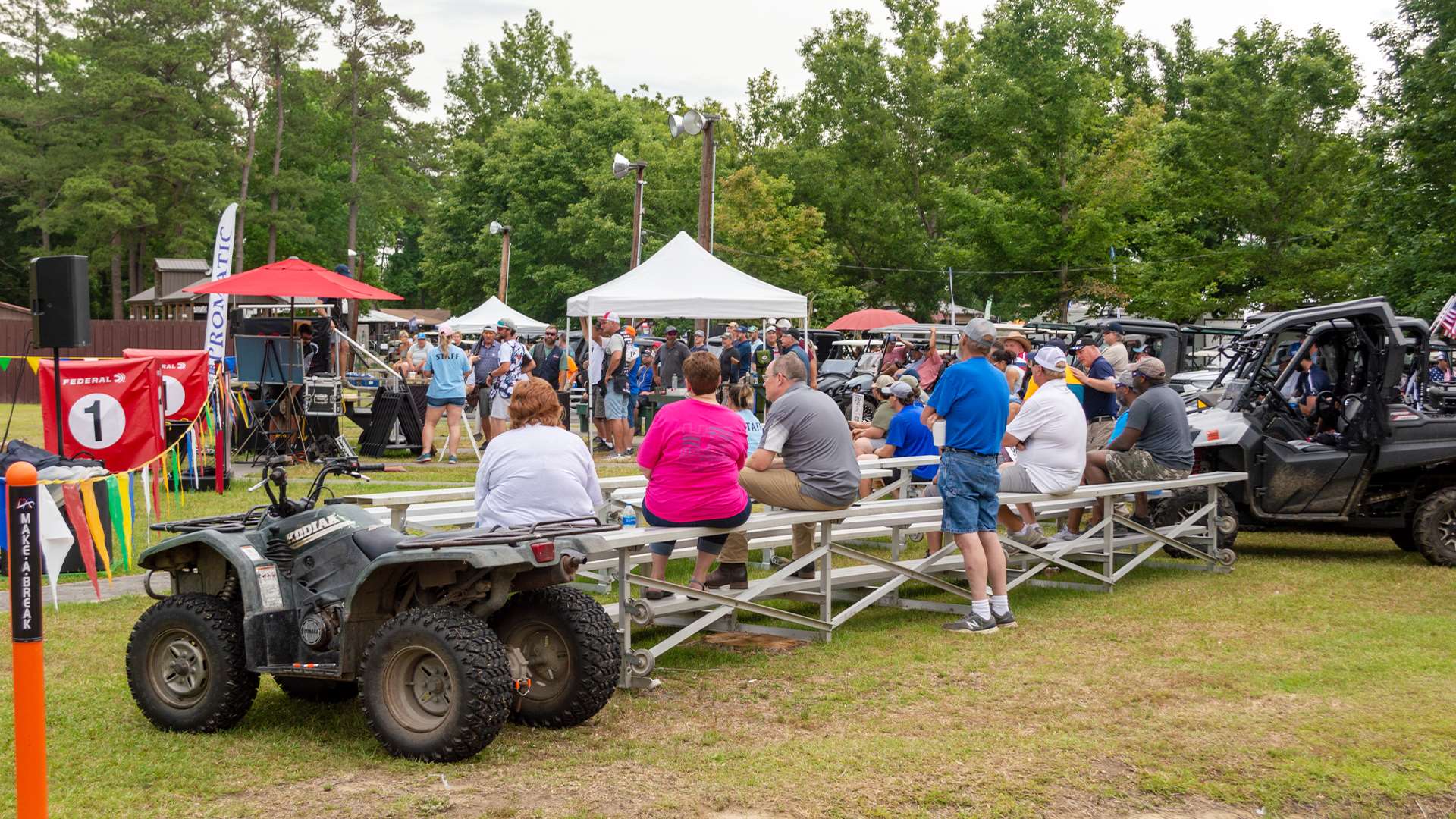 The centerpiece of the tournament was the three-day Beretta Main Event, held May 20-22. Testing sporting clays skill, the field of 1,178 shooters competing in the U.S. Open's Main Event faced three 13-station courses filled with challenging presentations.
From the south side of Back Woods, where the Super Sporting, International and Sub-Gauge events were located, Sel pointed our golf cart north to observe the Main Event courses. After passing by a few ponds loaded with traps, he mentions that the paved road we're on, which is more than a mile long and functions as the main route for Main Event traffic, was finished last year. I was impressed with the plethora of signage bearing clear directions, a detail sometimes overlooked at big tournaments. "Back Woods employees and outside staff worked many hours to get everything ready and perfect for the U.S. Open," he said. "Our priority is for the event to be memorable for competitors, so we made it easy to get around so they can focus on shooting and having a good time."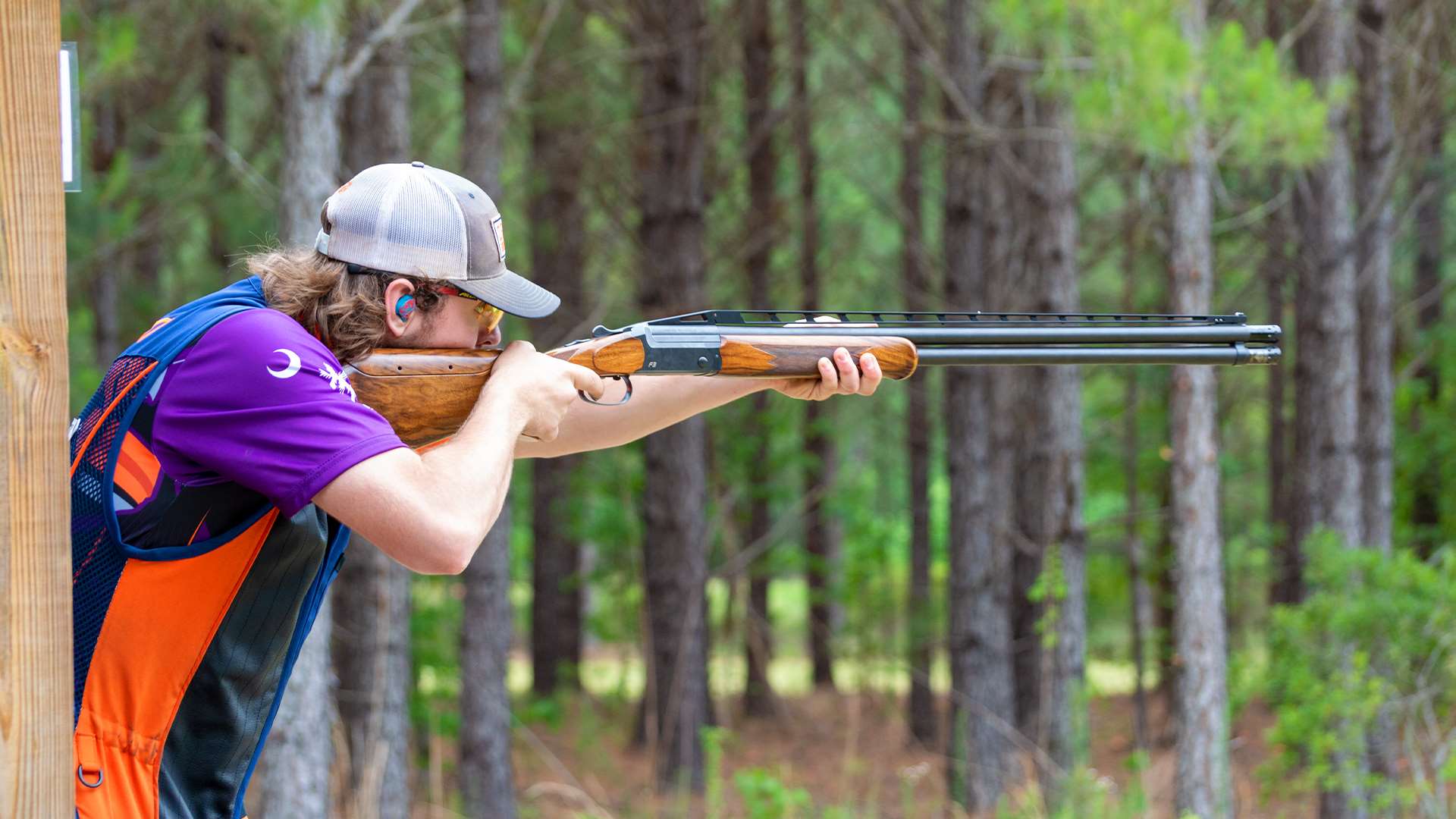 At one Main Event station, Sel and I took a break from the tour to chat with Clemson University Shotgun Team shooters and Back Woods Quail Club regulars Sam Clyburn and Mary Claire Lee. The two freshmen were enthusiastic about the match and sporting clays competition in general. "I'm just trying to win every time," said Sam with his Blaser F3 shouldered. "This is my second U.S. Open, and our team competed at seven matches this season." Mary, who was shooting her Beretta 691 Vittoria Sporting 12-gauge, is also a fierce sporting clays competitor. "I've been at the U.S. Open since Thursday," she said. "Back Woods is my favorite club. I've traveled as far as Florida, Ohio and Texas for matches."
Creative sporting clays targets are one of Rick Hemingway's hallmarks, and he made sure to bring in top course designers and target setters to prepare for the 2022 U.S. Open. "I get all the credit, but the match staff is really key to our success," he said. "I try to get all the pieces of the puzzle in place so that it all comes together at the right time. You can always have a 'basic' U.S. Open, but here at Back Woods we've always tried exceed expectations and provide everyone as good a shoot as they've ever had."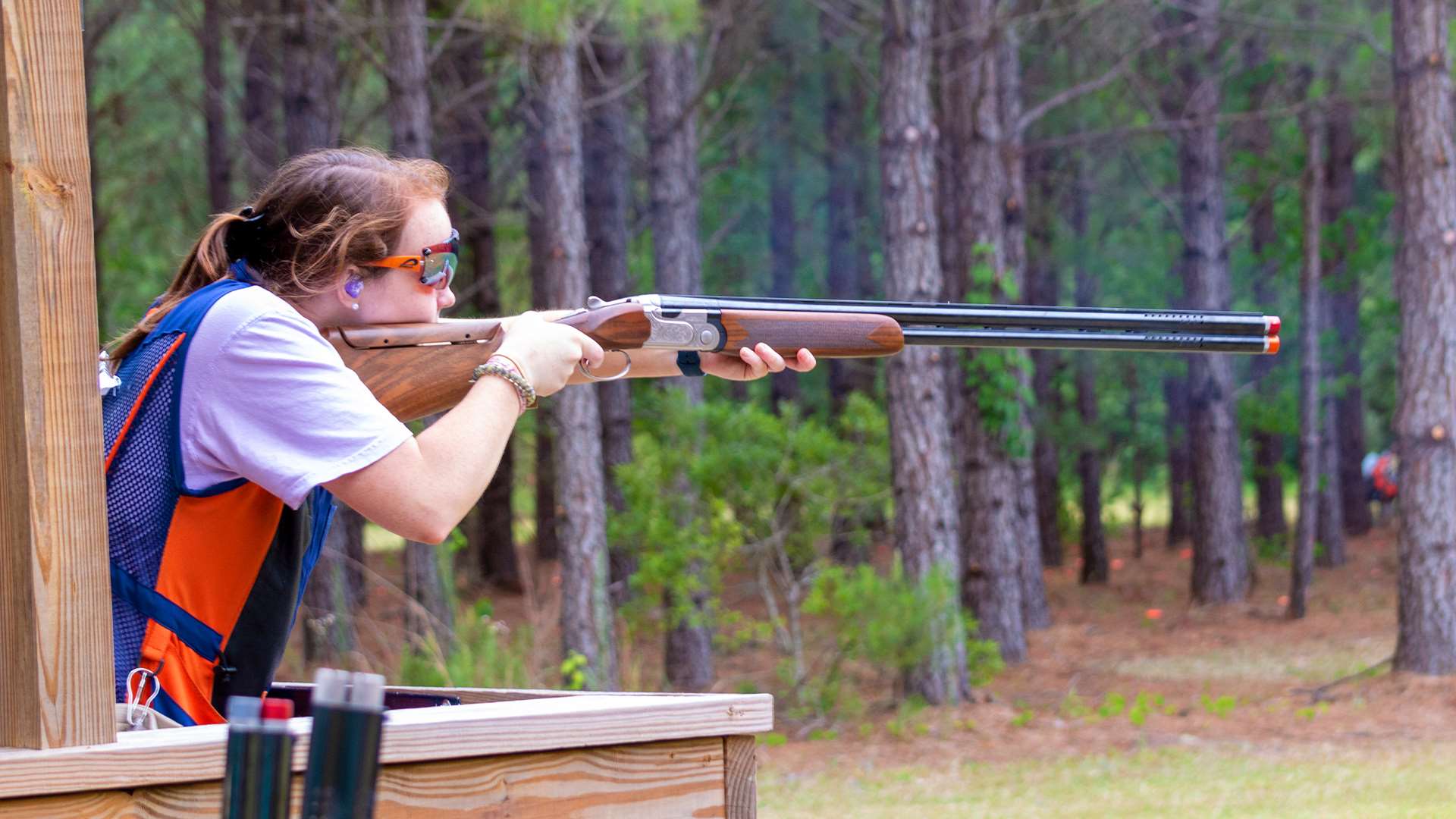 U.S. OPEN RESULTS
Brandon Powell walked away from the 2022 National Sporting Clays Association U.S. Open with the High Overall title, scoring 177 in the Main Event. Including options, Powell earned a payout of $4,042.25 at the U.S. Open. The Beretta Main Event runner-up was Anthony Matarese, Jr., also finishing with a score of 177, but losing a bird in the shoot-off against Powell. Matarese earned $2,000 as HOA runner-up. Taking third place was Gebben Miles with 175, good for a $1,500 payout.
Befitting such a grand tournament, the total prize money payout at the 2022 U.S. Open was a mind-boggling $250,000. ($250,598.47, to be exact.)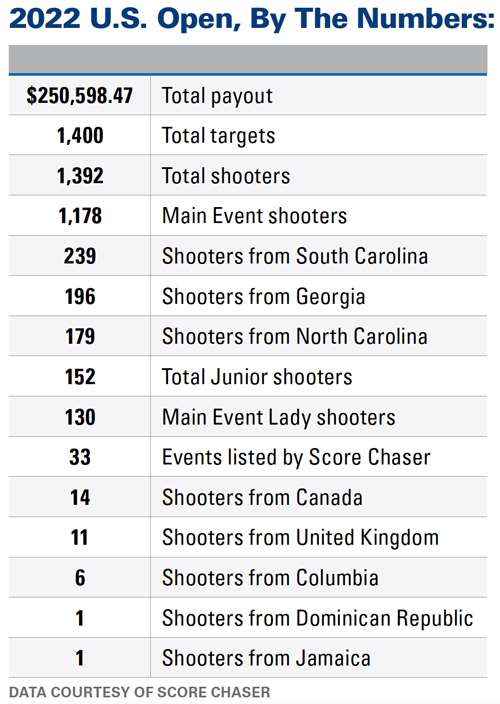 Winning High Lady in the Main Event was Madison Sharpe, who triumphed over a talented field of 130 shooters with a final score of 169 to win a $500 payout. Not only was Sharpe the Main Event High Lady, the newest Team Remington shooter garnered the highest cash payout of all the competitors this year at the U.S. Open, earning $6,297.93 in total, including $1,500 for runner-up in the Winchester Ladies Cup and a slew of High Lady and High Junior titles in other events. The only shooter nearing Sharpe's total payout was Main Event HOA runner-up Anthony Matarese, Jr., who, with included options, netted $5,289.20.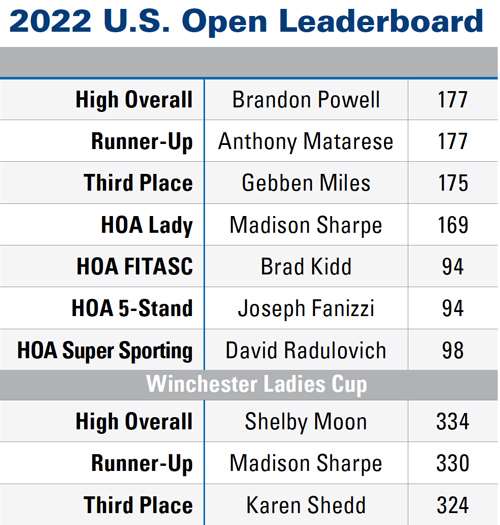 You can see the full results of the 2022 National Sporting Clays Association U.S. Open at Back Woods Quail Club, along with all the payout numbers, at the Score Chaser website. Learn more about the NSCA at nsca.nssa-nsca.org.