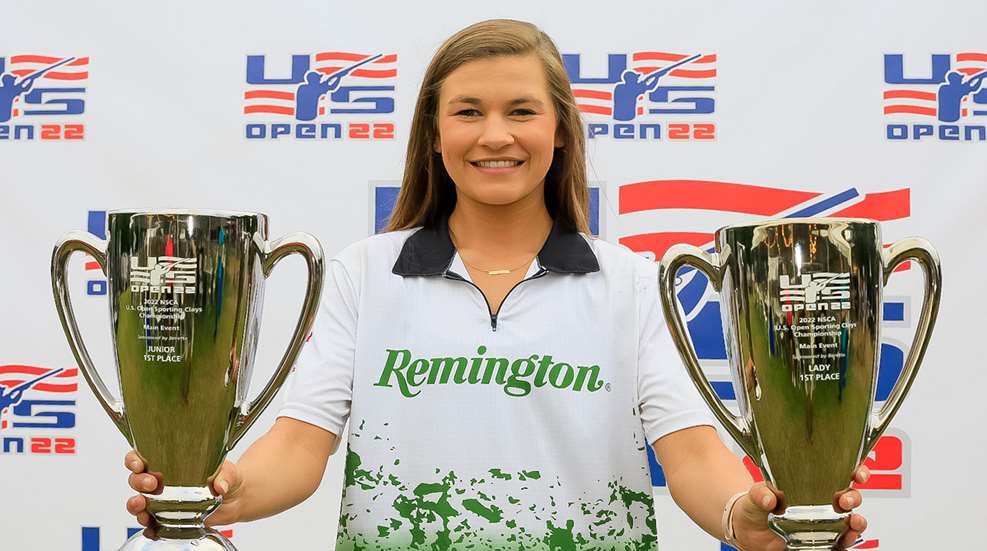 Team Remington's Madison Sharpe won High Overall Lady in the Beretta Main Event at the 2022 U.S. Open Sporting Clays Tournament, held May 16-22 at the Back Woods Quail Club in Georgetown, South Carolina. Finishing with a score of 169, Sharpe also captured the High Overall title in the Junior division.
With included options, Sharpe's total prize payout was $6,297.93.
In addition to Sharpe, fellow Team Remington shooters Wendell Cherry, Todd Hitch and Reanna Frauens all claimed top finishes in their events. Team Remington shooters use Premier STS shells.
Reanna Frauens earned Lady High Overall in Five-Stand (92) and Super Sporting Cole Gun Lady runner-up (89), while Wendell Cherry was Veteran High Overall runner-up in the Beretta Main Event (169). Additionally, Todd Hitch secured the FITASC Junior High Overall runner-up spot (91).
There were 1,392 shooters that attended the 2022 U.S. Open Sporting Clays Tournament. The competition is one of eight on the 2022 National Sporting Clays Association Championship Tour, powered by Winchester.
See the full results of the 2022 U.S. Open at the Score Chaser website. Be on the lookout for a full match report in a future issue of the digital magazine.