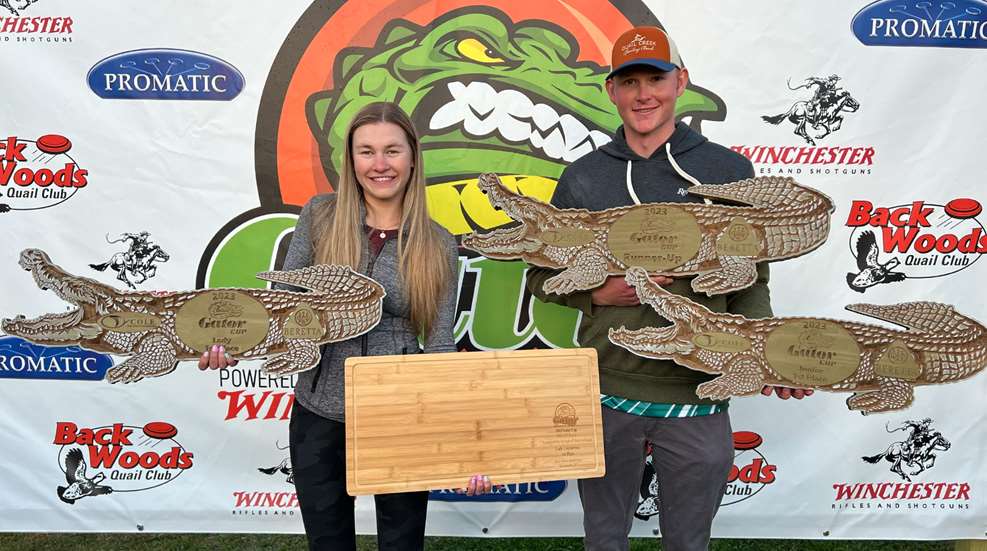 Team Remington shooters landed multiple podium finishes this month in South Carolina at the Gator Cup sporting clays competition, thanks to solid performances from Madison Sharpe, Todd Hitch and Wendell Cherry.
The 2023 Gator Cup was held at Back Woods Quail Club in Georgetown, South Carolina, from March 14-19.
Madison Sharpe captured the High Overall Lady Champion and FITASC Lady High Overall titles, the former with a score of 167, which was eight points ahead of the High Overall Ladies runner-up, Desirae Edmunds. For winning the HOA Lady title, Sharpe won a $1,000 payout. In the FITASC event, Sharpe walked away from the competition with a score of 82.
Todd Hitch was the Main Event High Overall runner-up with a score of 187, only one point behind the match winner, Brandon Powell. Hitch was also High Overall in the FITASC Junior event with a score of 91.
Additionally, Wendell Cherry finished as runner-up in Veteran High Overall (178), also landing the Veteran title in the FITASC event (93).
Team Remington is comprised of top shooters who compete with the best in the world across trap, skeet and sporting clays competitions—both domestically and internationally. Using Remington Premier STS Target Loads, Team Remington shooters will continue to tally podium finishes and represent Big Green against the fiercest competitive shooters in the world.
"The Gator Cup marked an amazing shoot for Team Remington competitors," Team Remington's Manager, Mike Hampton, Sr., said. "We continue to be amazed at the podium finishes and outstanding performances from each competitor. We're charging full speed ahead this season as Big Green brings home big wins."
Well known as one of the largest and best-run sporting clays tournaments in the country, the Gator Cup attracts hundreds of talented shooters to compete in several challenging categories each year. In 2022, Shooting Sports USA staff traveled to Back Woods Quail Club in South Carolina for the NSCA Sporting Clays U.S. Open, and we can confirm that it is a top-notch facility.
You can view the full results of the 2023 Gator Cup sporting clays tournament at the Score Chaser website.
Learn more about Back Woods Quail Club and Team Remington.