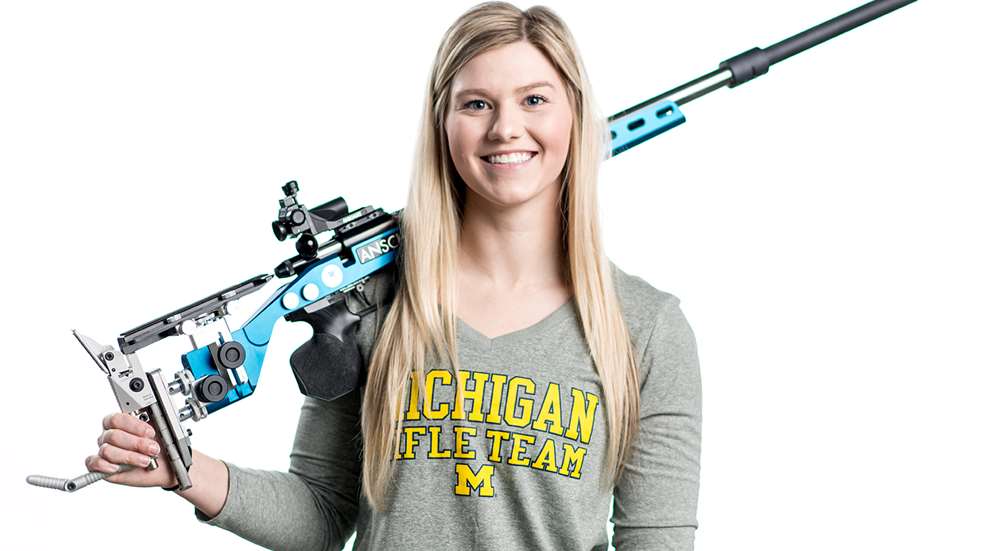 Enthusiastic 22-year-old University of Michigan student-athlete Elizabeth Harty competed at the NRA Intercollegiate Rifle Club Championships for the third time this past March. A senior, she concluded her collegiate shooter career with an impressive third place finish in the Individual Smallbore Championship, and spots on both the Air Rifle and Smallbore All-Star teams.

Thus, one chapter closes but another opens for Harty, who certainly has a bright future ahead of her in the shooting sports. Notably, she will be traveling to England this summer to compete on the Randle Team for the USA. Beaming with optimism, the prospective International competitor reflected on her collegiate shooting experiences—and her blossoming career thus far for Shooting Sports USA.

Getting started

Not long into her freshman year at the University of Michigan, she discovered the school's rifle club team. She attended a few practice sessions that year, and for Harty, it was a match made in heaven.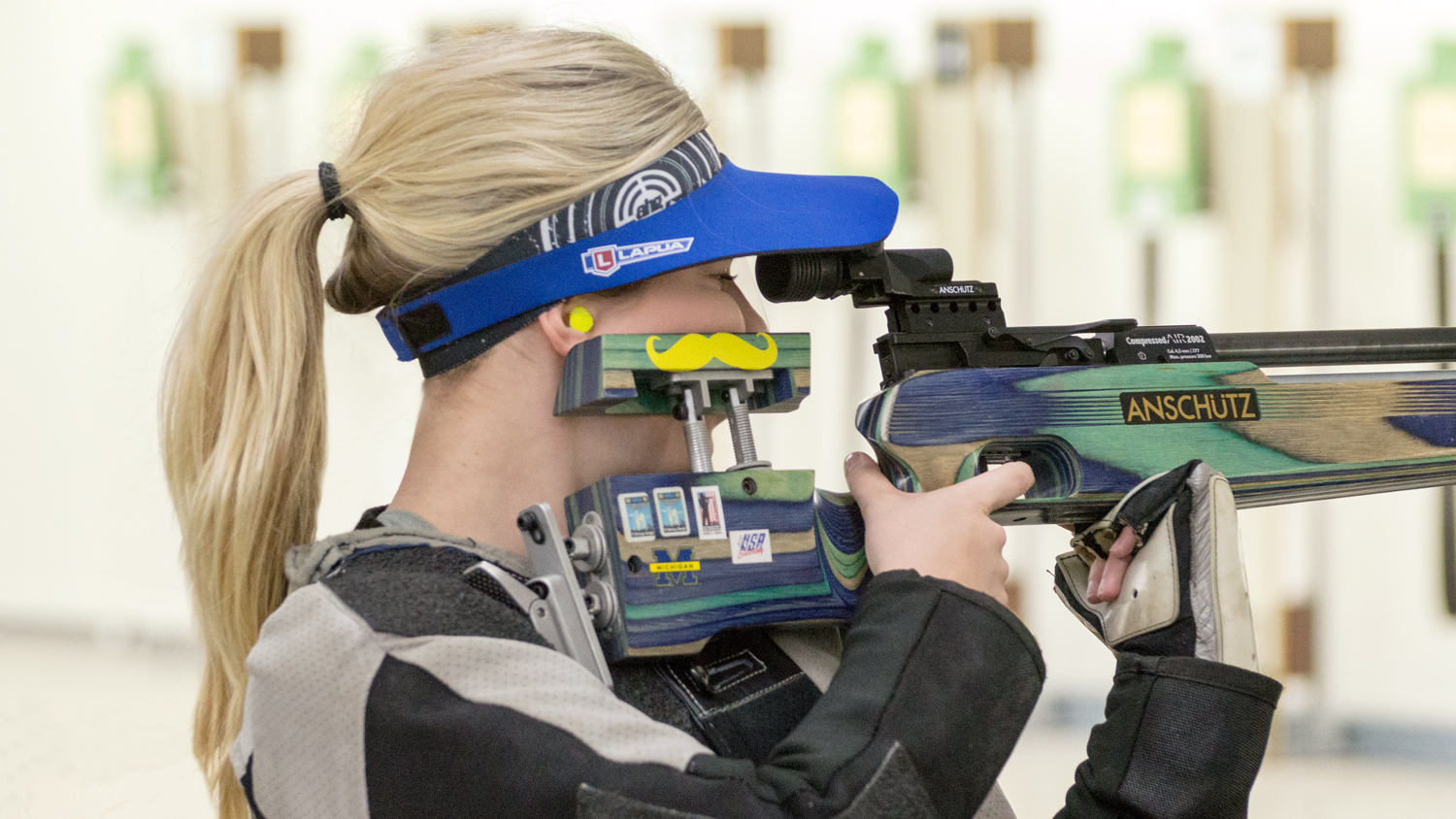 "I first got involved in shooting after browsing through the Michigan club activities page and saw Michigan Rifle Team. I will never forget the date—November 17, 2013—my first day of practice. Coach J. Michael O'Connor warned me before shooting standing that it would be very hard to shoot in the black of the bull, but I shot the target, and he soon realized that every shot I took ended up in the bull," remarked Harty.

Later that year at the behest of Coach O'Connor, Harty shot the NRA Smallbore Prone National Championships in Bristol, IN. "I shot there not really knowing how I would do, but it was a ton of fun and I met some great people."

By her sophomore year, she had purchased a SCATT shooter training system and was a part of the scoring team for Michigan. "Watching others shooting tight groupings, I wanted to do that—my competitive side had come out—my desire to win!"

Harty had to wait until the next fall to officially join the rifle team. "Coach O'Connor really wanted me on the rifle team. After my first practice, I had quickly fallen in love with the sport, and started training with the team. To everyone's surprise, I progressed very quickly," she exclaimed, beaming with pride. That same year, Harty and her Michigan Rifle Club teammates won the NRA National Intercollegiate Rifle Club Championship.

Sports have always been a big part of Harty's life. Originally a swimmer, she set and broke her own record in the 100-meter butterfly four times at Dublin Scioto High School in Dublin, OH. Harty was a four-year varsity letter winner, and went on to swim for Michigan before the rifle bug bit her.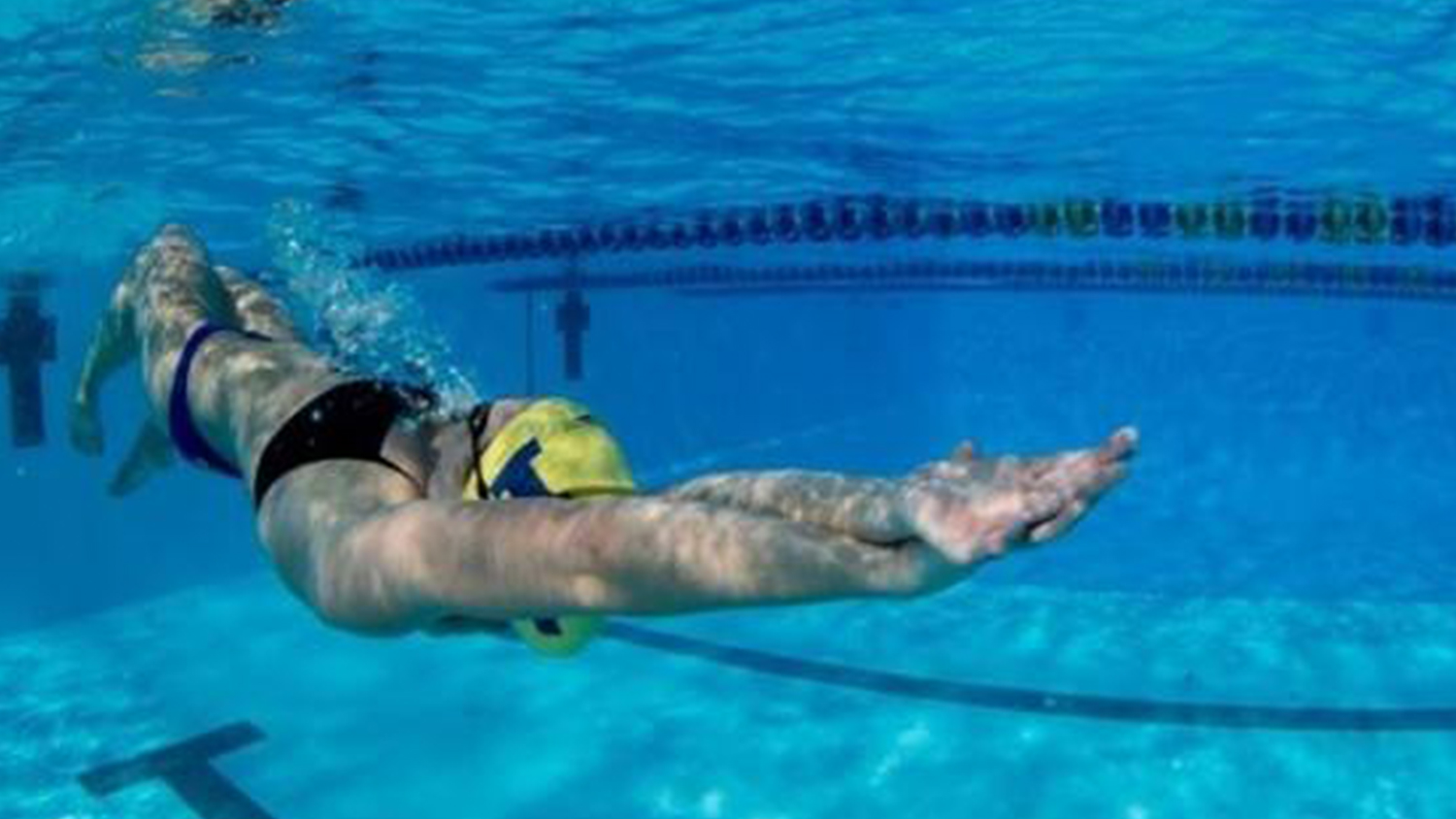 "I was always into sports from a young age. I swam for 14 years and becoming an Olympic swimmer was a goal of mine. For a year I swam at Michigan, afterwards I switched to shooting full-time."

Competing at the NRA Intercollegiate Rifle Club Championships

The NRA Intercollegiate Rifle Club Championships turned eight this year, making them one of the most recently established NRA National Championships. The match provides an excellent opportunity for rifle club teams from schools across the country to compete shoulder-to-shoulder at a neutral venue, as well as attend instructional clinics with some of the finest shooters in the nation. The congenial atmosphere and the friendships made are Harty's favorite parts of the event.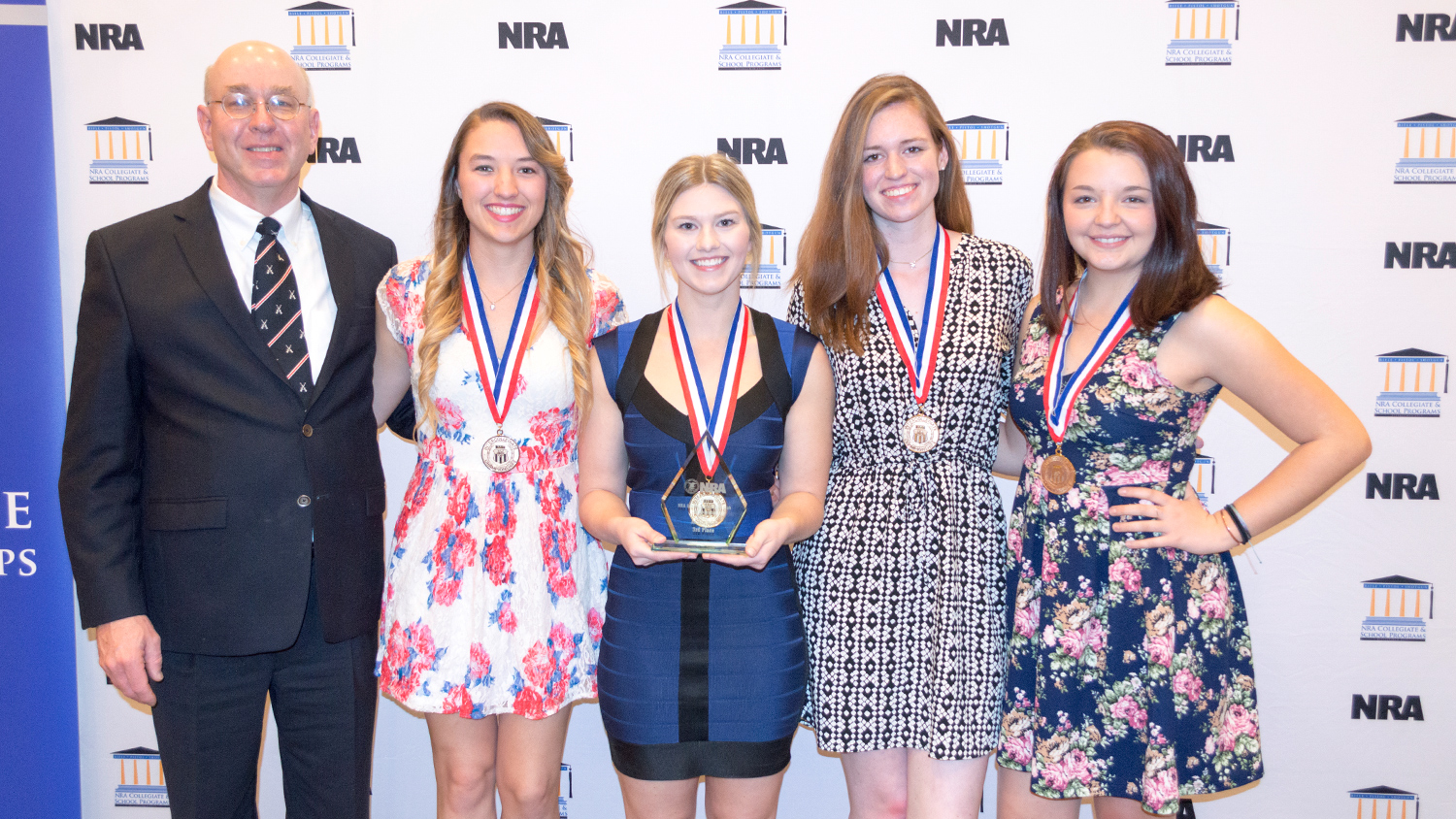 "My favorite part is the actual competition! The Championships provide a high level of competition to club teams. Every year, the level of competition has grown and become more challenging. I love the atmosphere, the team becomes your circle of friends and you become friends with the competitors from other schools. Everyone helps everyone do the best they can in the best spirit of sportsmanship."

Harty also commented on the level of professionalism the NRA and the U.S. Army Marksmanship Unit have with their conduct of the championship.

"The NRA and the U.S. Army Marksmanship Unit do a fantastic job of hosting the match and making the experience challenging, yet fun. Having this national championship for club teams has raised the sport to a higher level of competition and respect at each of the schools. It is my favorite rifle match of the year!"

Similar to other rifle club teams, the Michigan Club Sports Department supports teams with a small financial stipend each year—$1,500. Harty elaborated, "The bigger contribution is the logistics and administrative support they provide. The team raises money to support itself financially each year."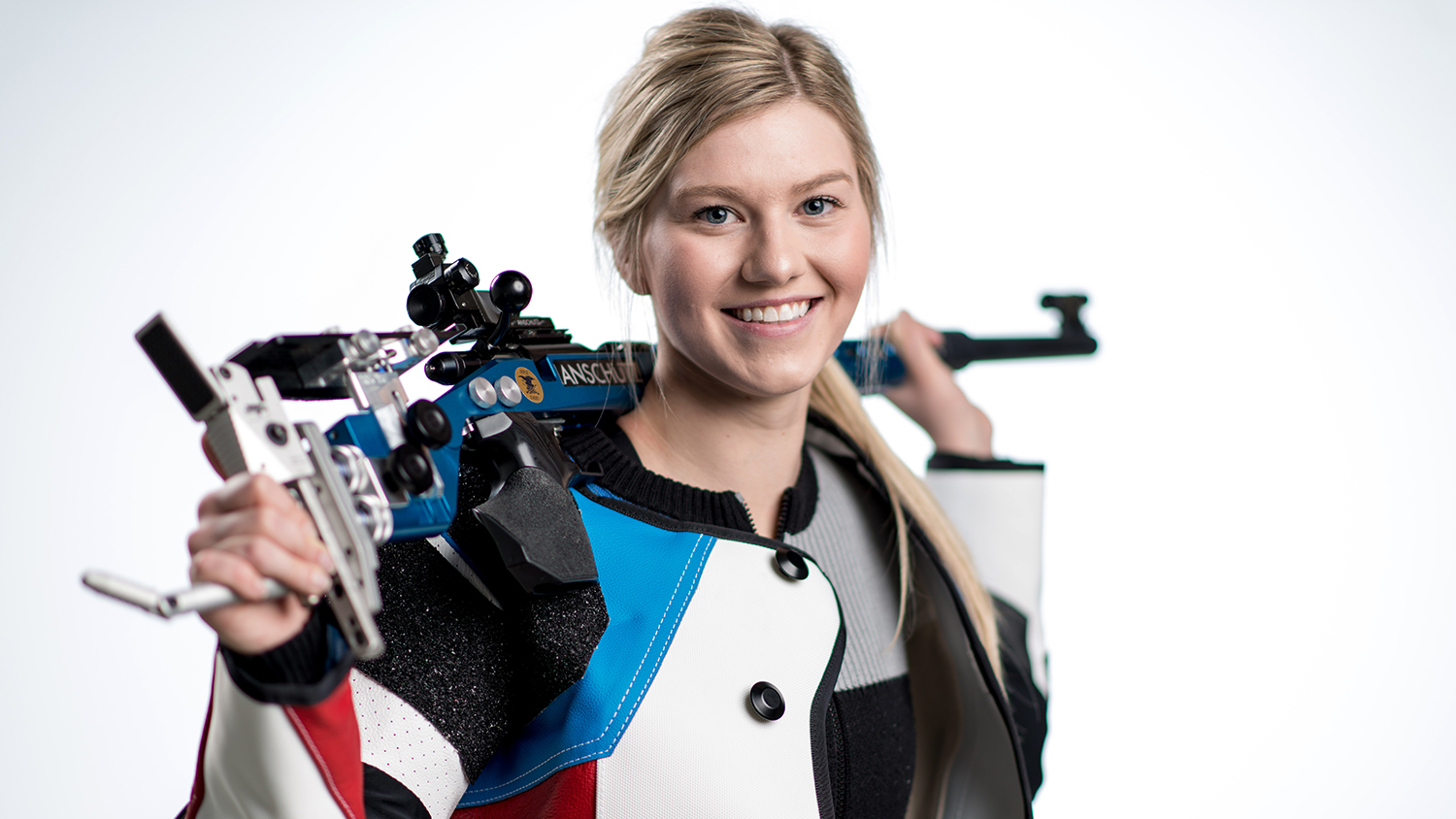 I asked Harty to walk through a typical intercollegiate season. Dedication is an understatement for these talented student-athletes.

"The season starts in September and runs until March. We begin with tryouts in September and full team practices October through March every Thursday and Sunday for five hours. We car pool to the range and back to campus—a 40 minute drive each way."

Every month, we shoot conference postal matches (targets we send in to the conference to compete with other teams without having to travel to a competition). In January, we begin traveling for shoulder-to-shoulder matches; we shoot the NRA Open Air Rifle Sectional and Camp Perry Open Air Rifle Match.

In February, we shoot the NRA Intercollegiate Sectionals at our home range. Then we travel to Purdue University for the conference championship, which is the final shoulder-to-shoulder match to the postal competitions. After the competition at Purdue, we head to Fort Benning, GA, for the Championship."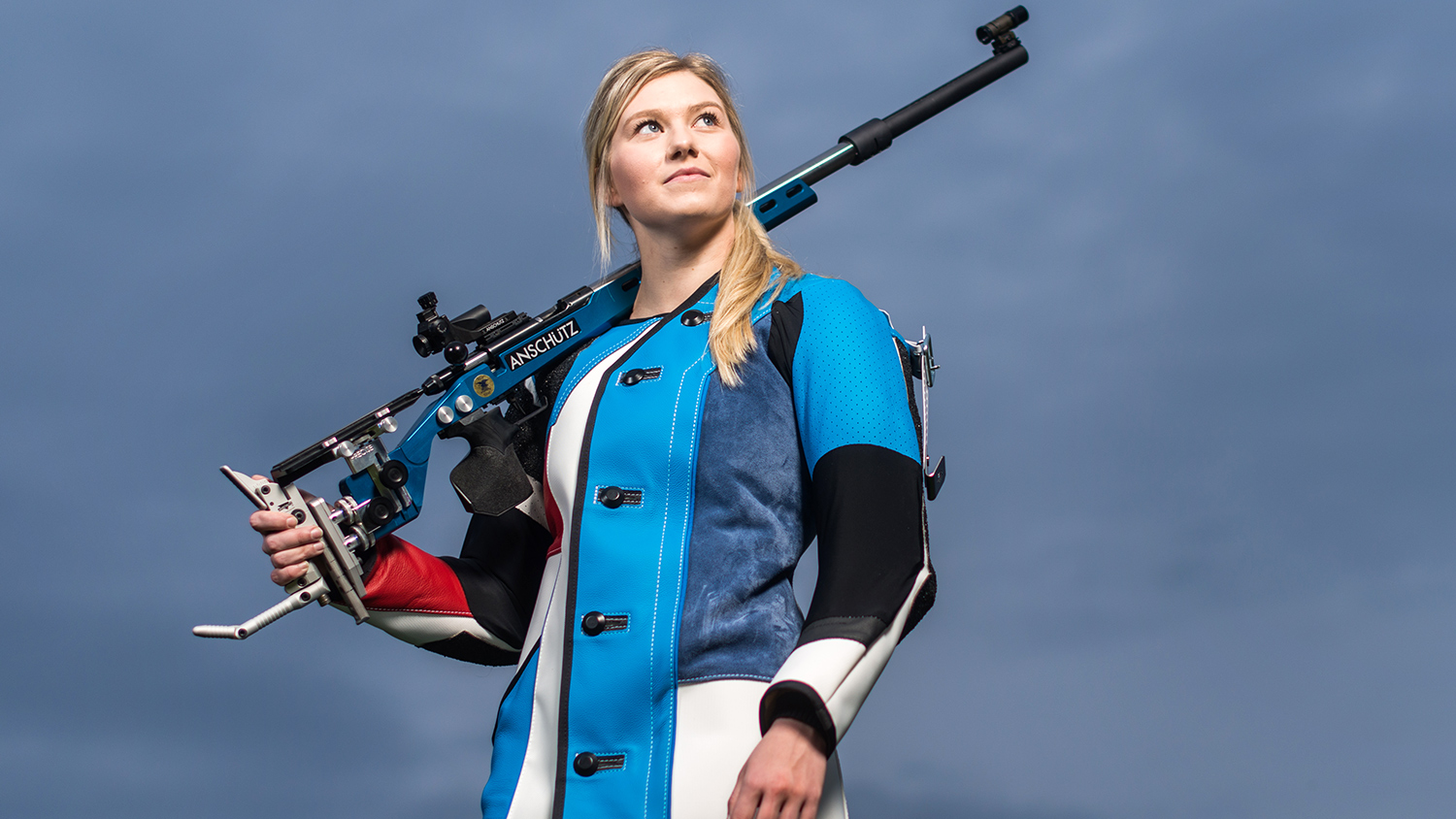 When she is not shooting or focusing on her studies, Harty can be found working at lululemon in Ann Arbor, MI. "It's a fun job to have while being a student at Michigan. When I'm not working or shooting, my hobbies are rock climbing, working out and being outside."

Gear

For Smallbore, Harty shoots an Anschutz 1913 action with a custom barrel in a precise stock. About this rifle, she said, "Compared to the Anschutz 1903 I started with, this rifle has a lot of adjustments for a better fit."

For Air Rifle, she uses an Anschutz 2002CA in a wood laminate stock. For ammunition, Harty commented, "My gun shoots really well with Lapua. I prefer SK Match or Lapua CenterX for competitions."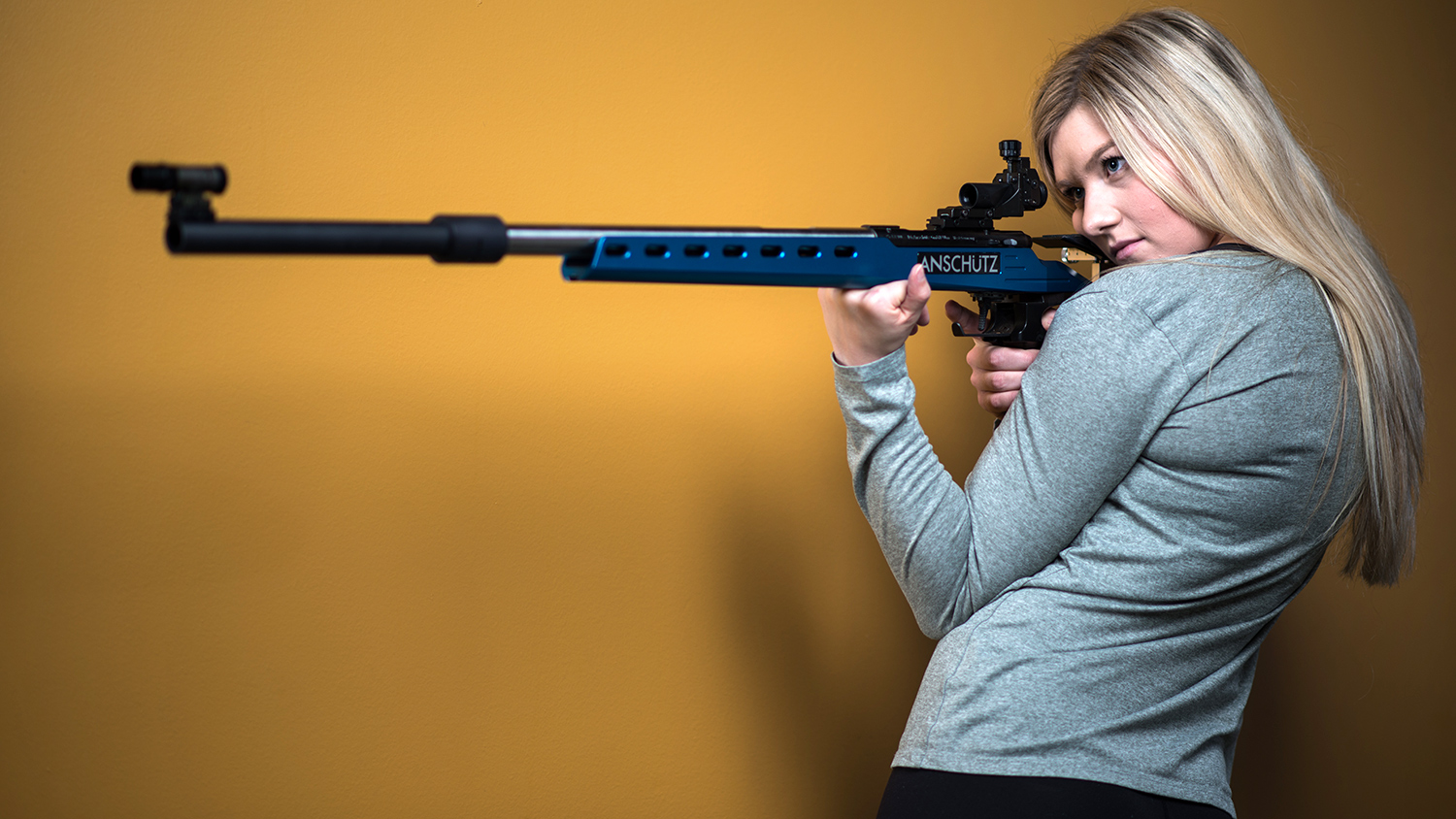 She added: "The Michigan Rifle team loaned out shooting gear to our club team during the season. Recently, I ordered my own customized jacket and boots for when I shoot in England. To continue shooting competitively after graduation, I needed my own suit anyways."

When asked if she preferred Smallbore or Air Rifle, Harty answered, "I wouldn't say I prefer one over the other. I actually love aspects of both! My favorite is .22LR standing. They both are very fun to shoot."

Reaching the next level

Harty's best tip for prospective intercollegiate shooters is to use practice time wisely.

"Our team only gets range time twice a week to practice. It is very hard to improve if you do not use that time wisely, and if you do not attend practices consistently. There is a huge difference in the progress that is made by consistent shooters, compared to ones who only make it to a few practices a month."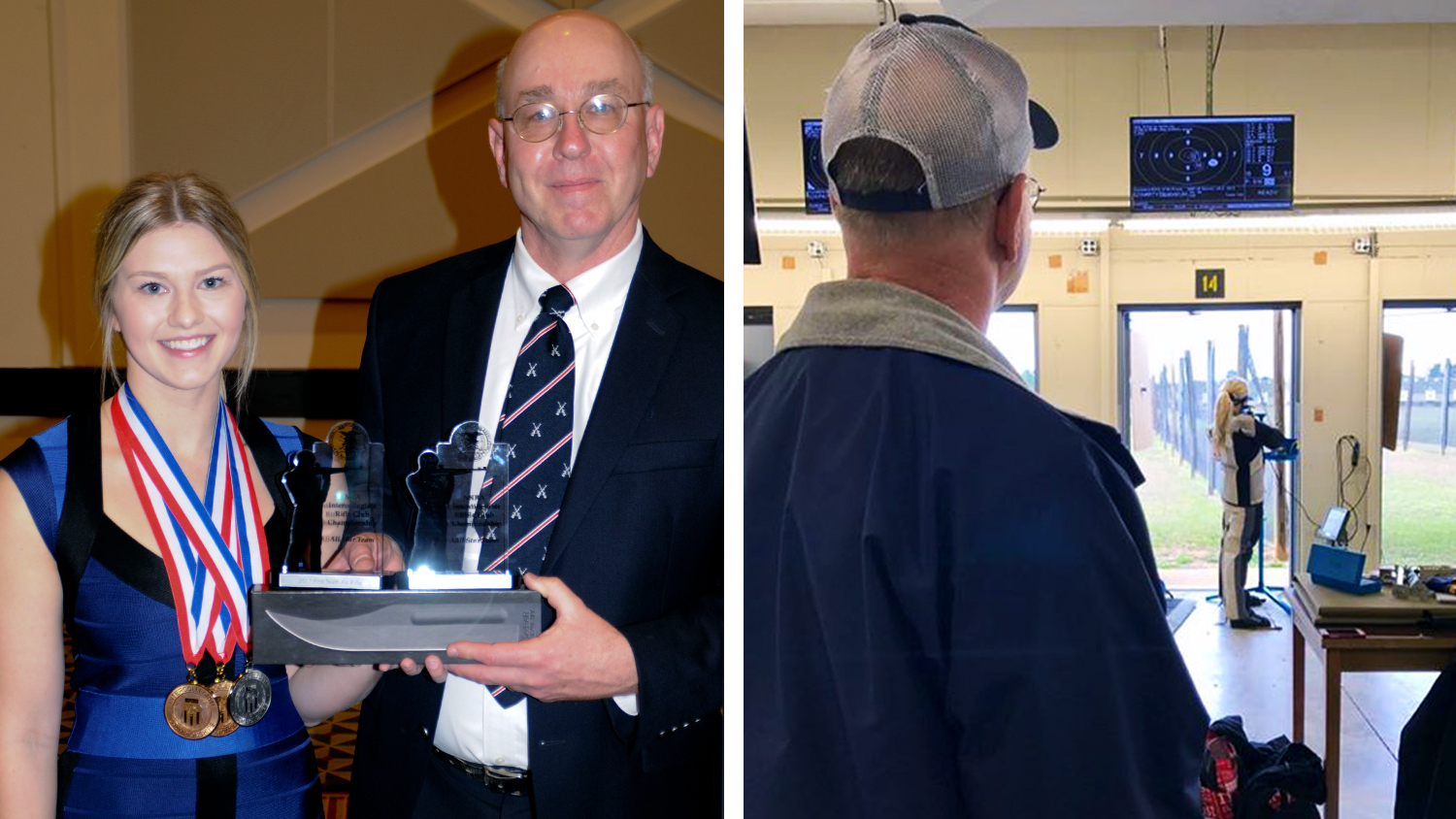 Earlier this year, the NRA honored Coach O'Connor with the 2017 Intercollegiate Rifle Coach of the Year Award. Harty gives University of Michigan Rifle Club Coach O'Connor credit to her success in competitive shooting.

"We have an incredible athlete-to-coach connection. He is the reason why I started in the shooting sports. He has made me the shooter I am today—we shoot the summer matches together, train together, and will travel to England together later this year! I could not have gotten any luckier. He has always been supportive and is an amazing coach."

Preparation for a match can be daunting for any age or skill level. Harty commented on how she gets ready for a match. "I prepare by visualizing, and trusting the work that I have done throughout the season. My background in swimming made me mentally steady in rifle … Coach said the core strength and upper body strength I gained from swimming definitely helped me in rifle shooting," she revealed. 
After graduation this May, Harty will have a degree in sociology with a submajor in criminal justice and social change, but plans to continue shooting competitively.

"I'm going to shoot several prone regionals this summer. This July, I will be in Bristol, IN, for the NRA National Smallbore Prone Championship. And in August, I will be traveling to Bisley, England to shoot on the Randle Team representing the USA. Additionally, I have begun to compete at USA Shooting matches, and my main goal is to improve enough to compete at the highest levels."

Harty wishes to make an impact at the next level of competition, in the vein of Ginny Thrasher.

She concluded, "All I have ever wanted my entire life is to be a part of Team USA and to become an Olympian. I want to shoot a 600. I want to be perfect. It will take hours of practice, but I know it is in me! I was inspired by Ginny Thrasher winning the gold medal last year in Rio—it made me really want to be an Olympian."

Lead photo by Eric Bronson.