Born as a military training exercise in Scandinavia and Northern Europe, biathlon is a combination of cross-country skiing and rifle shooting. The sport is currently governed by the International Biathlon Union (IBU).
Starting at regular intervals, each competitor skis along the same course, undulating over hill and dale, and returns two or more times to a central shooting range to fire a series of five shots at falling steel plate targets from the standing and prone positions. Targets, which are at a 50-meter distance (164 feet), are quite small. The standing target is 115 mm in diameter (4.53 inches), while the prone target is a mere 45 mm across (1.77 inches). Athletes have a one-minute time penalty added or are required to ski a 150-meter penalty loop for each missed target. Rifles are manually operated, equipped with iron sights and chambered in .22 Long Rifle. A carrying harness with two shoulder straps doubles as a shooting sling.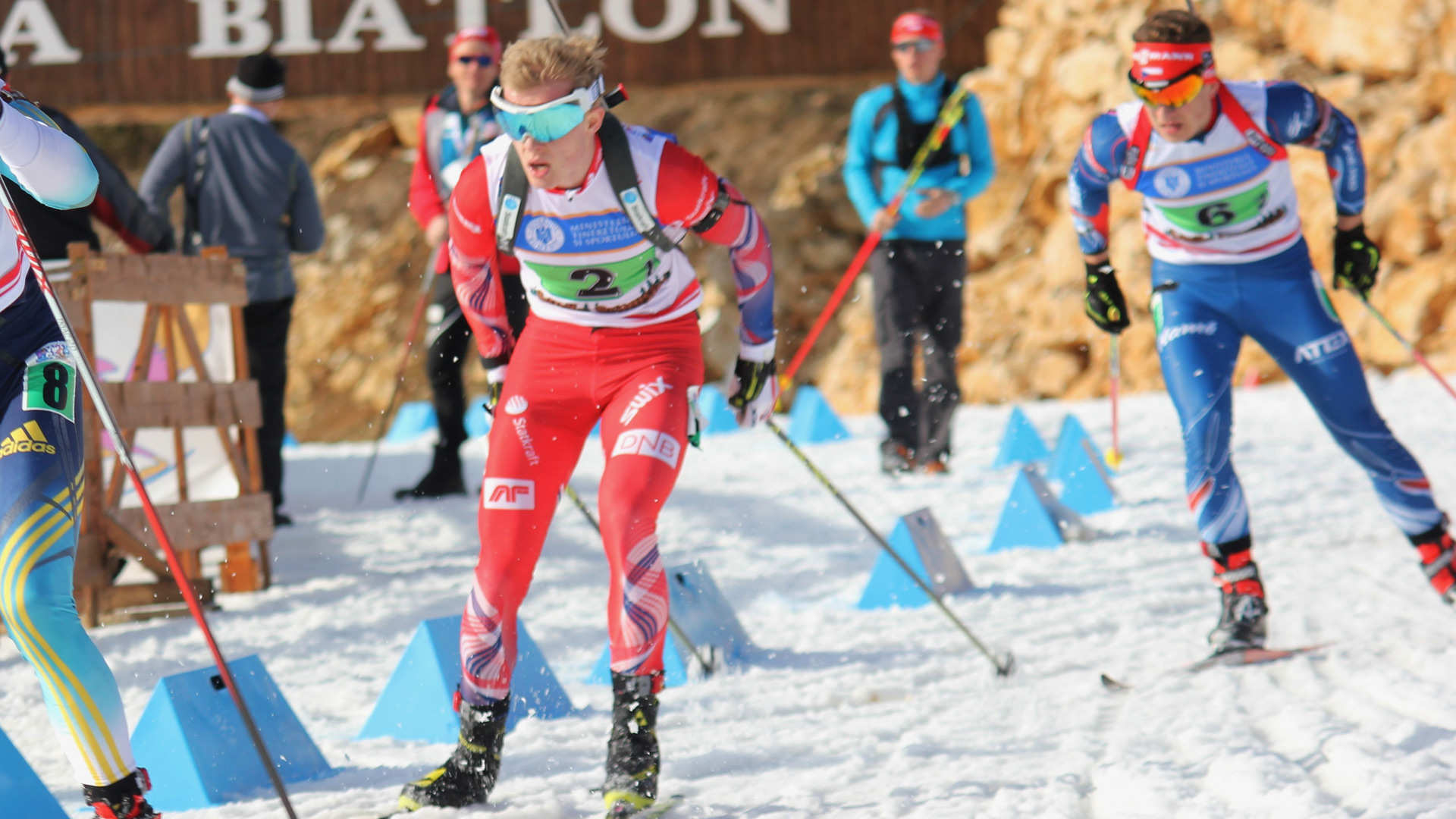 Physical conditioning, endurance and skiing sills, along with the ability to shoot precisely while teetering on the ragged edge of physical exhaustion are required to excel in this most demanding sport. Missing a single target in World Cup competition will often whisk an athlete from the lead deep into the also-ran listings. Currently, 59 nations participate in biathlon, and it is one of the most popular winter sports to watch in Europe, surpassing alpine skiing and figure skating and often rivaling soccer in audience share and advertising revenue.
Biathlon debuted as a World Championship in 1958 in Austria, and became an Olympic sport at the 1960 Squaw Valley Winter Olympic Games in California. It's the only winter sport in which the U.S. has not earned an Olympic medal―but at the PyeongChang 2018 Winter Olympics, Team USA came closer than ever to winning its first biathlon medal with a sixth-place finish in the men's 4x7.5 km relay event.
At the Beijing 2022 Winter Olympics, biathlon events will be held at the National Biathlon Center in the Zhangjiakou competition zone (Hualindong Ski Resort). There will be 33 medals available in 11 total events (five each for men and women and one mixed team event). Biathlon events start Saturday, February 5 and will conclude Saturday, February 19. Below are the biathlon event dates scheduled for the Beijing 2022 Games.
MEN
10 km Sprint (Saturday, February 12)
20 km Individual (Tuesday, February 8)
12.5 km Pursuit (Sunday, February 13)
15 km Mass Start (Friday, February 18)
4x7.5 km Relay (Tuesday, February 15)

WOMEN
7.5 km Sprint (Friday, February 11)
15 km Individual (Monday, February 7)
10 km Pursuit (Sunday, February 13)
12.5 km Mass Start (Saturday, February 19)
4x6 km Relay (Wednesday, February 16)

MIXED
4x6 km Mixed Relay (Saturday, February 5)

The U.S. Biathlon Association is the national governing body for Olympic biathlon in the United States. Learn more about the International Biathlon Union at biathlonworld.com.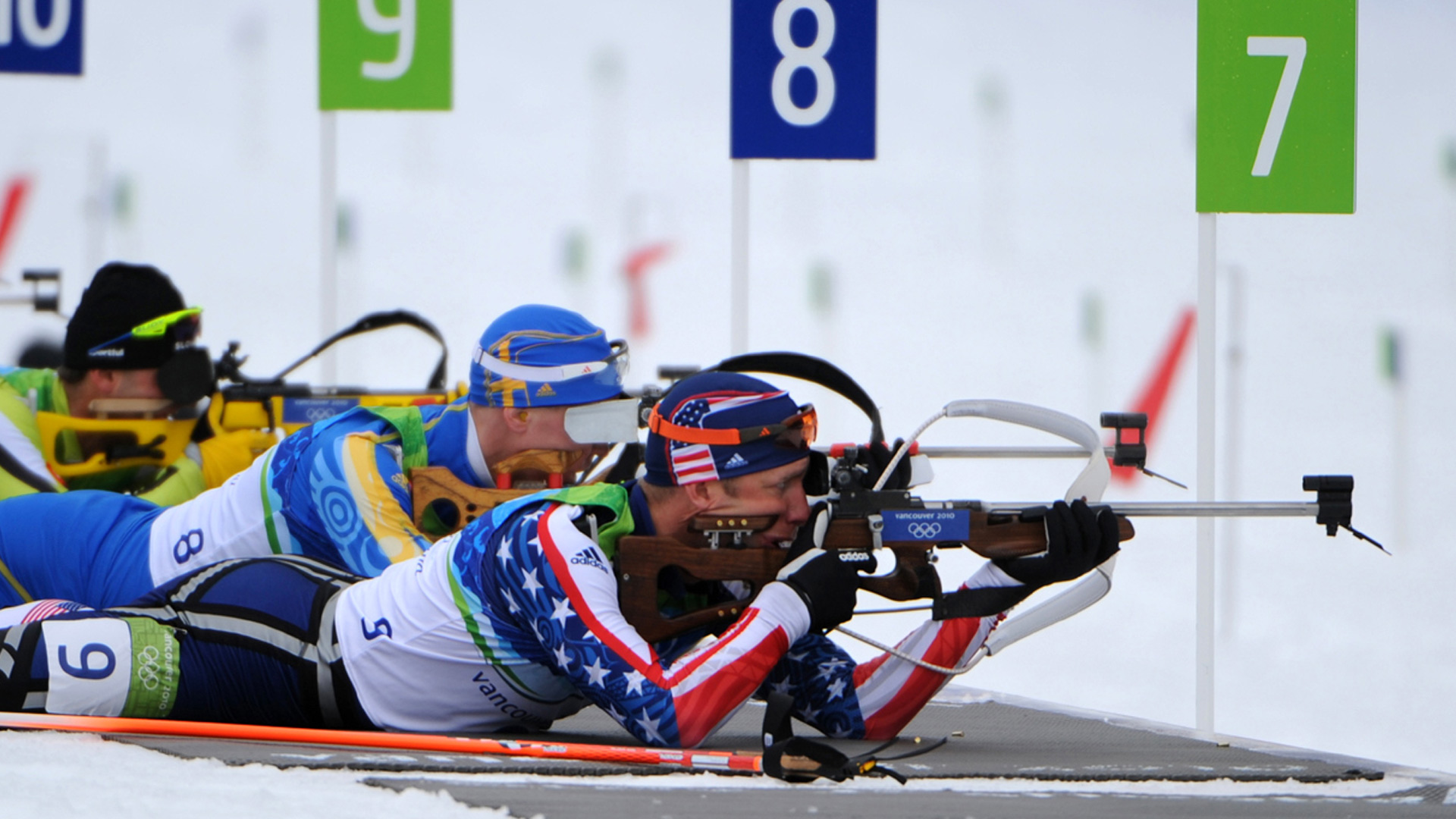 Lead photo: At the 2010 Winter Olympics, U.S. Army World Class Athlete Program biathlete Sgt. Jeremy Teela (foreground, No. 9) was 10 for 10 from the prone position on his way to a 24th place finish in the men's 12.5-kilometer pursuit event, held at Whistler Olympic Park in Vancouver, British Columbia, Canada. (Photo courtesy U.S. Army/DVIDSHUB)
---
Read more:
Hillsdale College Will Host 2022 Rifle Junior Olympic Championships