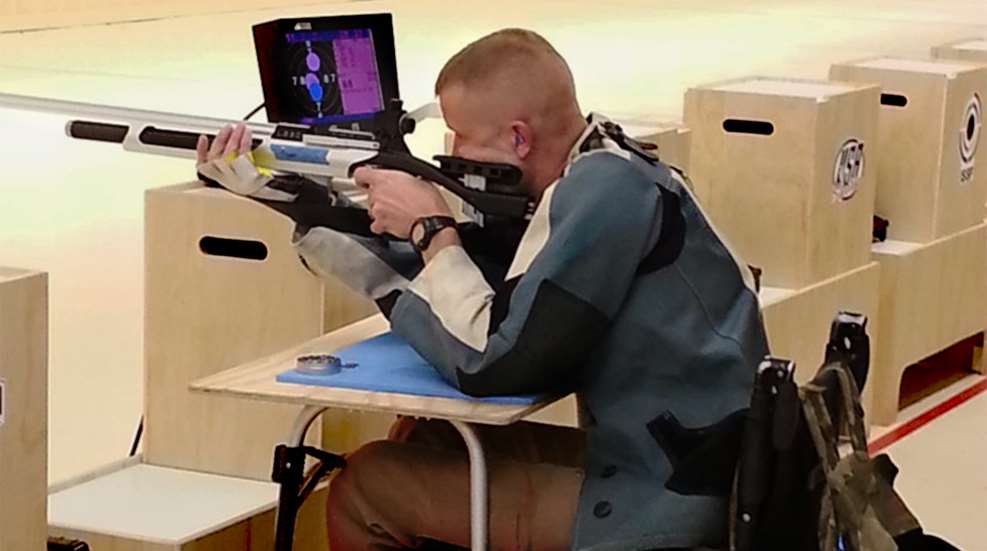 Adaptive shooting simply means that we have to adapt the shooting style or equipment for someone with physical limitations or disabilities. If you have a competitive shooting program, and especially if you have a junior program, reach out to the disabled. It doesn't matter if they are active duty or retired wounded warriors, or just people with physical challenges. With an easy-to-get waiver, potential shooters with physical challenges can compete in NRA matches with other competitors on an equal basis. For a disabled shooter, this might be the first time in their life they can do so; and the shooting sports may be the only avenue in which they can do so.

With the NRA waiver, junior shooters can compete in high school matches, as well as any NRA competition. Additionally, military veterans can go to the Warrior Games, National Veterans' Wheelchair Games and the Valor Games, with competitions held all over the country. And if they are good enough they can go all the way to USA Shooting in Colorado Springs, CO, as resident athletes and represent the U.S. in the Paralympics and international competition. They can compete on an equal basis with able-bodied shooters. With such a great opportunity, there are disabled shooters at USA Shooting who vie for positions to compete in the Olympic Games on both the regular shooting team and the Paralympic team.

Classifications
International shooting competition is governed by the International Paralympic Committee (IPC). The adaptations are fairly simple and divided into two classifications; SH1 for those that cannot stand (pistol and rifle), and SH2 for those that have trouble holding a rifle up (rifle only).

For SH1 you need a table and chair. You don't need anything fancy to start, any chair and table will do.

SH2 shooters are also allowed a spring stand. The rules for spring stands are on the IPC Shooting website, but don't worry about them to start. Just get them started, even if the stand doesn't have a spring. By the time they are ready to go to higher level competitions and need one that meets the IPC spec, you can get one for about $100.

In addition, you can easily make a table out of a medical walker and a piece of 1/2 inch plywood. Also, a good alternative are saw horse legs and 3/4 inch plywood.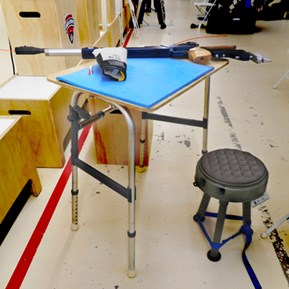 Getting started
At our club we started with very basic equipment; fold-up tables and metal folding chairs. The important thing is to simply get started. You can figure out the details as you go along.


Setting up an air rifle or air pistol range is easy. Of course, safety is the first requirement. You will need shooting lanes 50 feet long and 4 feet wide for each lane. From the firing line to the targets is 33 feet (10 meters) and the rest is for the athlete and their equipment. If this much space is not available, you can simply practice on targets reduced to match whatever distance you have. Backstops can be made from cardboard boxes with pieces of carpet hung vertically and the targets can be held to the front of the target box with push pins. And of course, always be sure to clean up spilled and used pellets. Additional details and construction suggestions are available at this link: http://youth.nra.org/documents/pdf/youth/NRA_HomeAG_web02.pdf.

Helping disabled or handicapped shooters get started in the shooting sports is an incredibly rewarding experience and I'll be happy to guide you. Email me at [email protected].