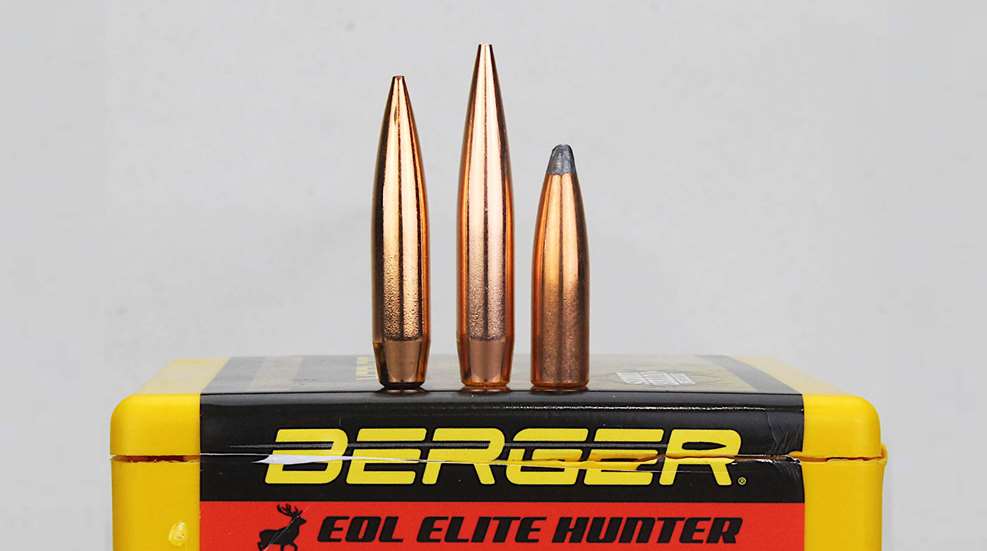 Above: The new Berger bullet (c.) hybridizes the secant ogive of Very Low Drag target bullets (l.) and the tangent ogive of standard hunting bullets (r.). The result is a very high-BC bullet without the typical sensitivity to seating depth.
New for 6.5mm cartridge reloaders, Berger Bullets announced the release of a hybrid design in a unique weight of 156 grains. The bullet combines the positive features of both secant and tangent ogive bullets, resulting in a heavyweight 6.5mm hunting bullet with the high ballistic coefficient (BC) of a precision target bullet.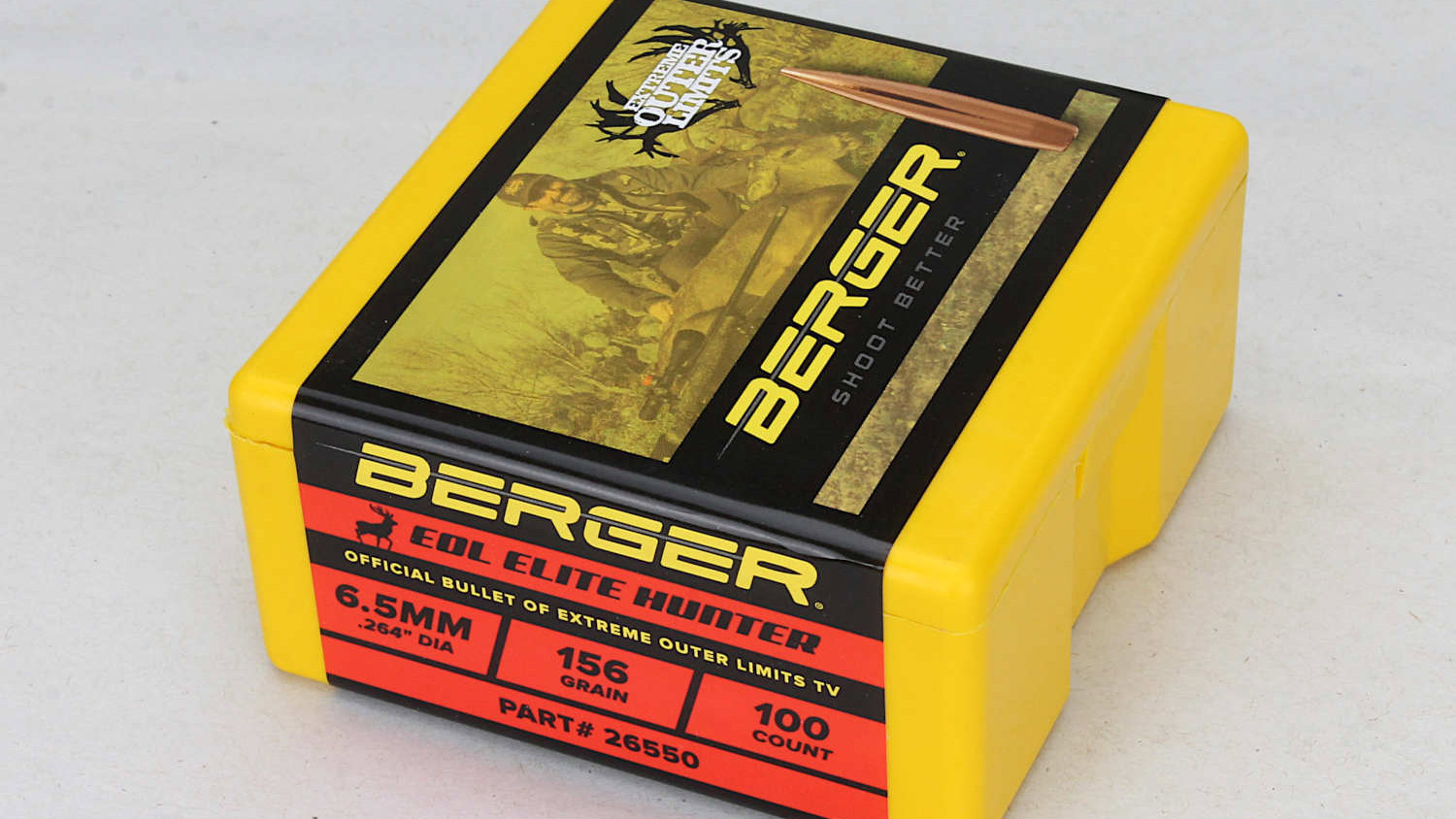 One of a kind
Why a hybrid? The curve or radius of the bullet ogive—it's "nose" that runs from the tip to the point on the shank of full diameter—is important to the bullet's BC. While imparting a high BC to retain velocity and precision over long range, secant ogive (long radius) bullets are notoriously sensitive to bullet seating depth. A difference between cartridges of one or two thousandths of an inch bullet "jump" to the rifling can negatively impact accuracy by widening groups. Bullets of tangent ogive (short radius) are nowhere near as sensitive, but their BCs can't match those of secant ogive bullets. Also, secant ogive bullets tend to be long for caliber, taking up powder room and making cartridge overall length a concern when trying to load them in magazines. For these reasons, hunters have not flocked to the highest BC bullets even though interest in long-range shooting at big game continues to increase in popularity. Berger's EOL Elite Hunter 6.5mm 156-grain bullet is a hybrid incorporating the benefits of both secant and tangent ogives. The one-of-a-kind weight is apparently a concession to optimum design.
Extended range
The new Berger EOL Elite Hunter 6.5mm 156-grain hybrid boasts a G1 BC of .679, compared to a premium 160-grain spitzer's .509 and a round nose (RN) 160-grain bullet's BC of .283. Crunching the numbers through a ballistics program, the new Berger bullet shoots significantly flatter than any 160-grain 6.5mm bullet started at the same velocity. For example, launched at maximum .260 Rem. velocity of 2,540 fps for 160-grain bullets and zeroed at 200 yards, the Berger EOL Elite Hunter drops 50 inches at 500 yards and 184 inches at 800 yards, compared to another maker's tangent ogive spitzer that shoots 55 inches and 214 inches low at those same respective distances. While a five-inch difference at 500 yards, one MOA, may not sound significant, it's a miss on a coyote or the vitals of larger game, and a miss rates as "significant" whether you're hunting or competing. The round nose bullet of the same weight and velocity isn't even in the running, dropping 75 and 344 inches at 500 and 800 yards.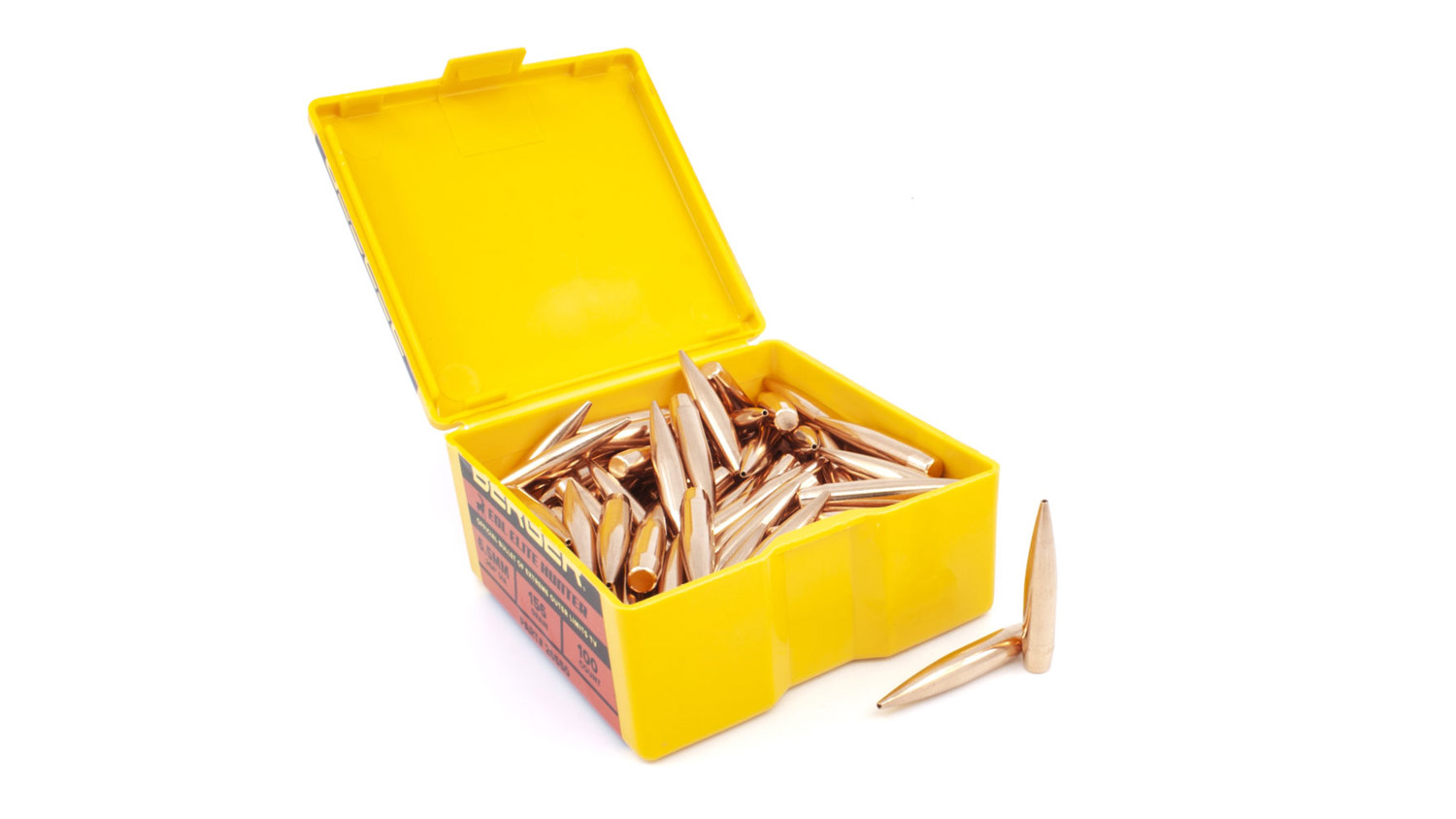 Berger says the minimum twist rate for stabilizing the 156-grain EOL Elite Hunter is 1:8 inches. At 2,540 fps, the bullet earns only a "Marginally Stabilized" grade on Berger's online Twist Rate Stability Calculator. While "marginal" is still "stabilized," a rifle with a 1:7.75 or 1:7.5 twist would wring the most from the Berger at extreme range.
Though published load data is not out yet, Berger says load data for 160-grain bullets will work. QuickLoad software program can also get you started, but keep in mind that QuickLoad loads are mathematical computations that have not actually been pressure tested, so caution is in order. Free load data for 160-grain bullets in several 6.5mm cartridges is available online at Hodgdon's Reloading Data Center.
For the handloader considering taking the 6.5 Creedmoor from the range to hunting field, the new Berger is worth a look. And for the hunter already using a 6.5mm/.264 cartridge, the EOL Elite Hunter 156-grain hybrid can extend your reach, if you've got the marksmanship skills.
Berger begins shipment of their new bullet Thursday, August 1. For more info, including useful online tools for the precision shooter, visit the Berger website and click on "Resources."
---
Read more articles by Field Editor Art Merrill: