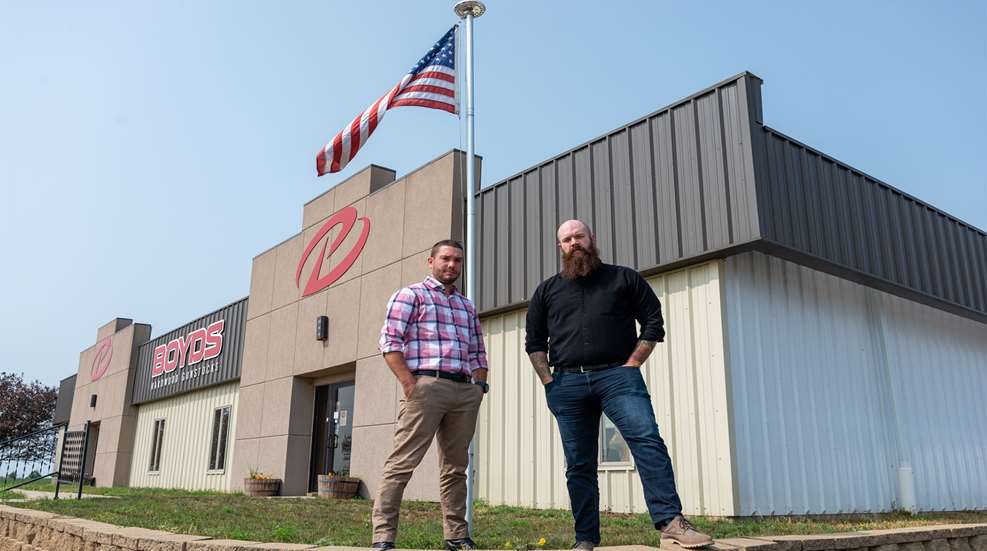 Boyds Gunstocks is celebrating 40 years of innovation in the firearms industry. The company currently offers aftermarket gunstocks for over 155 different gun brands and more than 1,200 models represented within those brands.
With its genesis in 1981 as a one-man operation, Boyds Gunstocks now employs over 100 talented employees. After 40 years in the business, Boyds continues to produce comfortable, stable and accurate-shooting stocks at an affordable price. 
Two longtime employees at Boyds Gunstocks—Dustin Knutson and Rob Carstensen (both pictured at the top of this article)—recently became the new owners. "Forty years says a lot about how we do business and how satisfied our customers are. They continue to support us year after year," said Knutson.
Last year, Boyds launched the Spike Camp, an inexpensive stock that did not skimp on quality, instead decreasing the available options to lower the price. For 2021, the company plans to launch several new stock shapes, which it says "are sure to capture the public's attention."
"Boyds has been dedicated these past 40 years to providing our customers with the innovation and technology they demand and deserve," said Knutson. "We are continuing that dedication by coming out with something really cool later this year. Our customers will love it."
Learn more at boydsgunstocks.com.
---
Read more:
5 Great New Competition Rifles And Accessories