by
posted on July 20, 2019
Support NRA Shooting Sports USA
DONATE
Bruce Piatt, the 2019 NRA Bianchi Cup Champion was excited to win this match for the first time in a decade.
"It feels great to come back and win the Bianchi Cup again after 10 years. It's just such an awesome feeling," he says.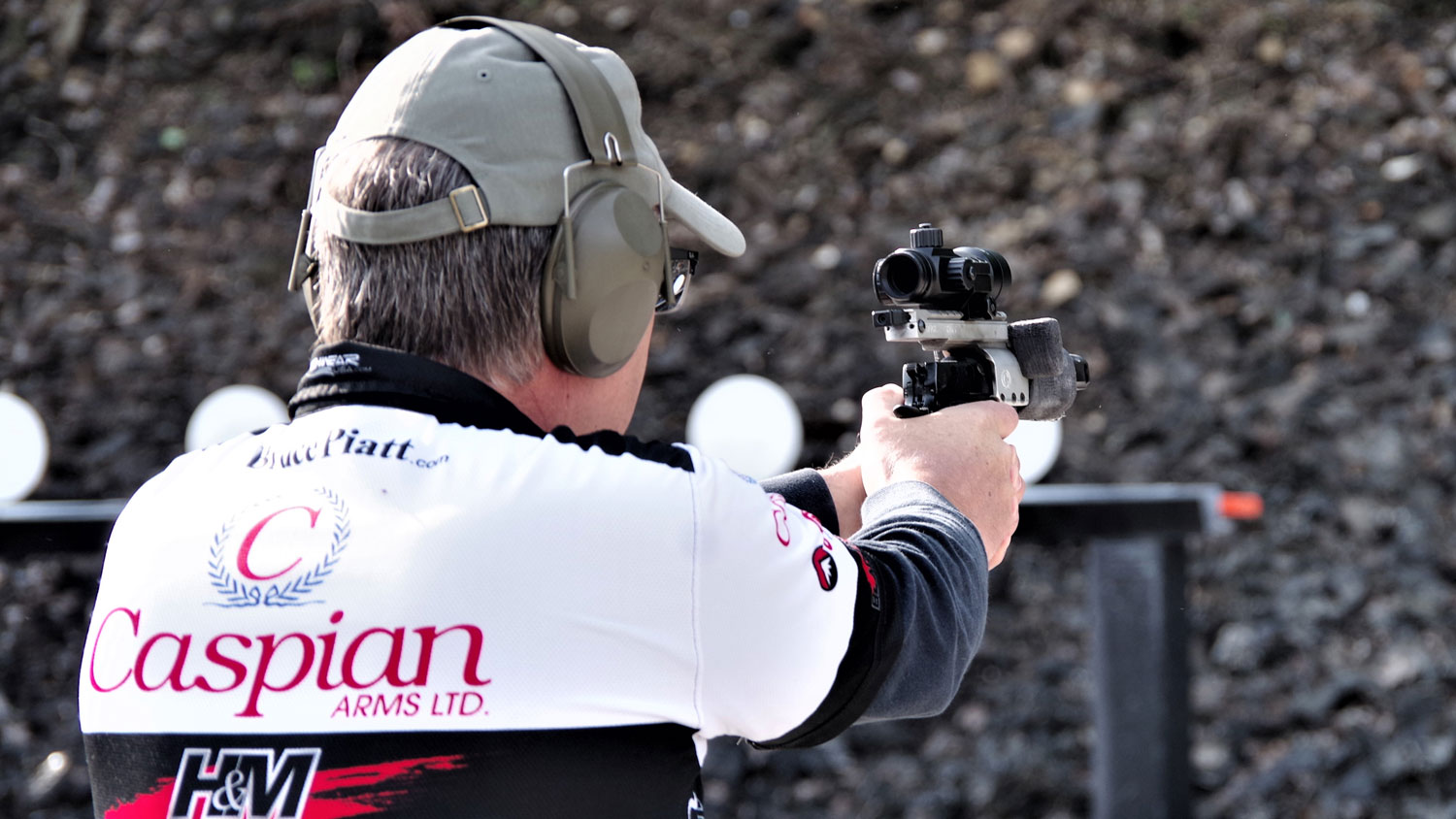 A total of 136 shooters from nine countries and 42 different states attended the Bianchi Cup this year, including Australia, Barbados, Germany and New Zealand. The match was held at the iconic Green Valley Rifle and Pistol Club in Hallsville, MO.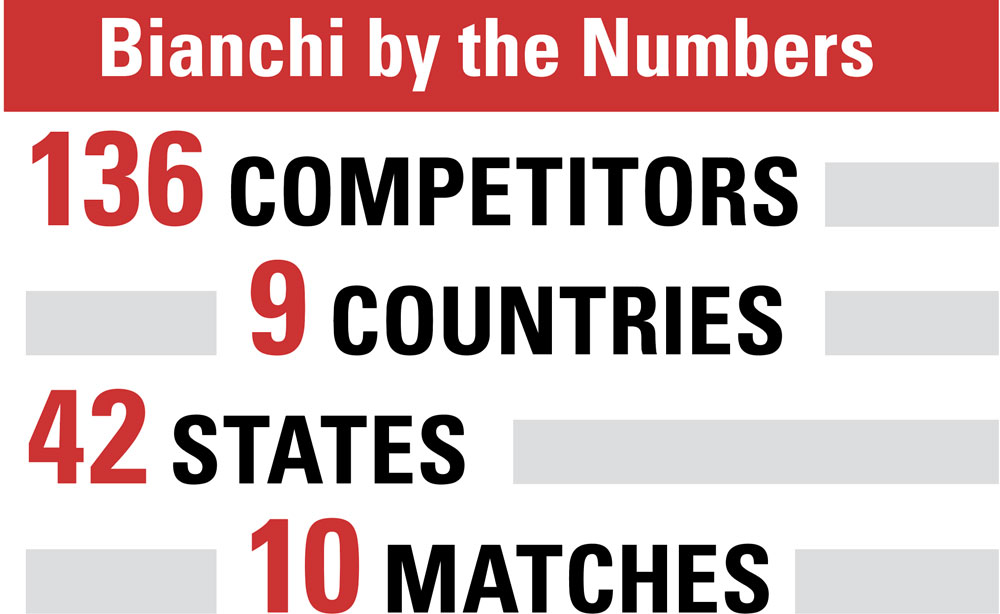 The victory marks Piatt's sixth Bianchi Cup crown, previously winning in 1993, 1997, 1999, 2006 and 2009. His score of 1920-179X was a single X ahead of last year's champion, SFC Adam Sokolowski of the U.S. Army Marksmanship Unit (AMU)—securing him yet another Cup for his trophy room.
After sitting out last year to recover from shoulder surgery, Piatt returned to Missouri confident in 2019. Hot off the heels of his win at Louisiana's annual Crawfish Cup in April, Piatt was in prime position to take this year's action-shooting crown.
"After taking a year off because of the injuries, coming back to the Bianchi Cup and winning is awesome," says Piatt.
On day one his performance suffered during the Practical—but he did not let that deter him.
"It was totally unexpected. I didn't feel good the first day and dropped a few Xs. I knew the other guys were ahead of me, but I did well on the Mover the last day."
Runner-up SFC Adam Sokolowski completed the match with a score of 1920-178X. Last year, the Army pistol shooter made history as the first competitor to complete a Bianchi trifecta in the modern age, after winning the overall Bianchi division as well as the Metallic and Production titles in previous years.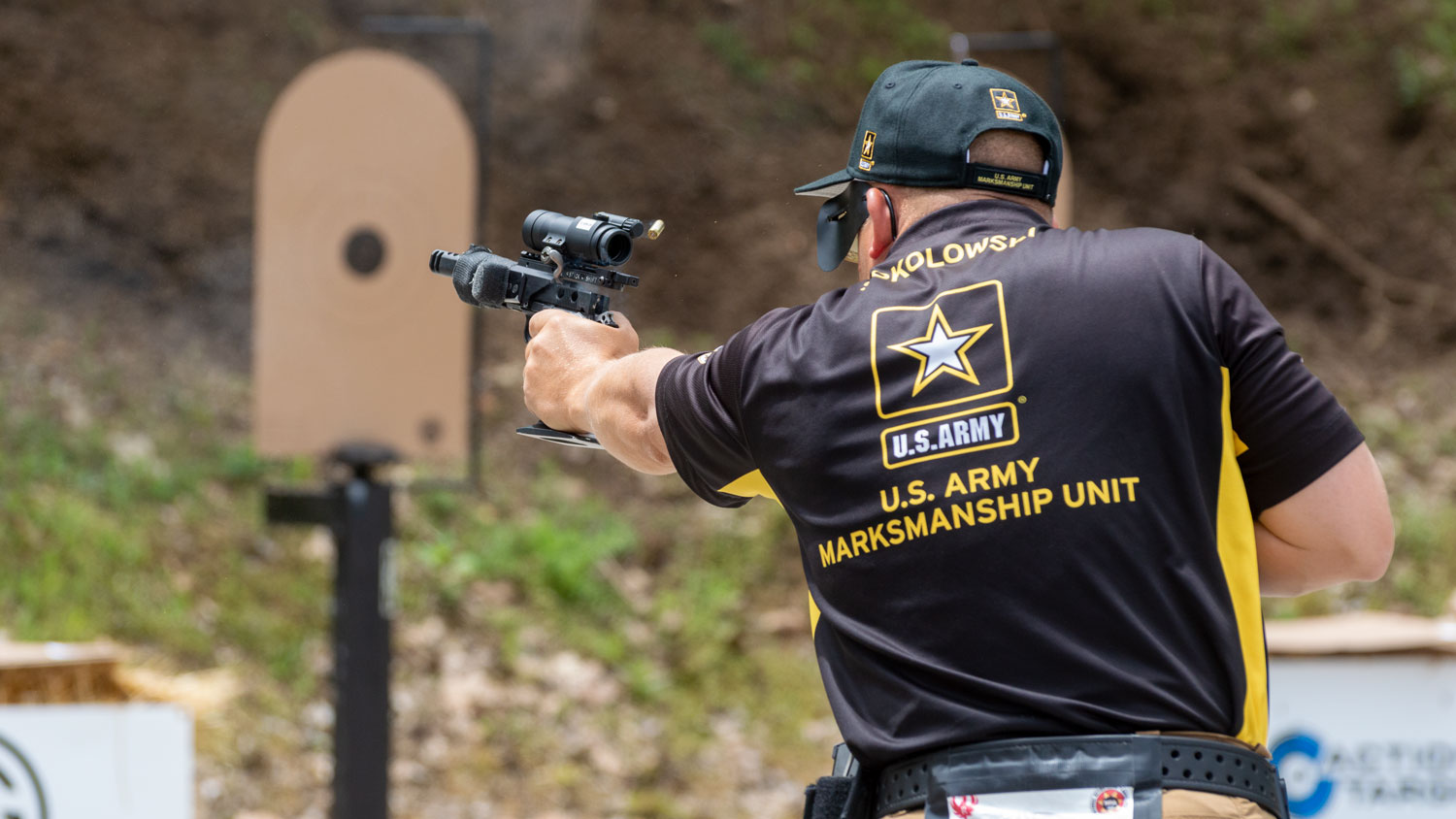 Carl Bernosky finished third with a score of 1920-175X. Additionally, he netted the Bianchi Senior Championship. Bernosky, well-known as one of the most-talented high-power rifle shooters of all time, was on top of his game, finishing with a perfect score six points ahead of the next. One of the all-time greats in competitive shooting, Bernosky is one shooter that we should all try to emulate.
Eighteen-time NRA Bianchi Cup Champion and Ruger Team Captain Doug Koenig finished in fourth place with a score of 1918-180X. He uncharacteristically dropped two points at the difficult Moving Target stage, denying himself a perfect 1920. With the dignity and grace to be expected of such a distinguished sportsman, Koenig presented the Cup to his friend Piatt at the awards ceremony.
All four shooters mentioned above garnered clean 480-48X scores for the Barricades and the Falling Plates.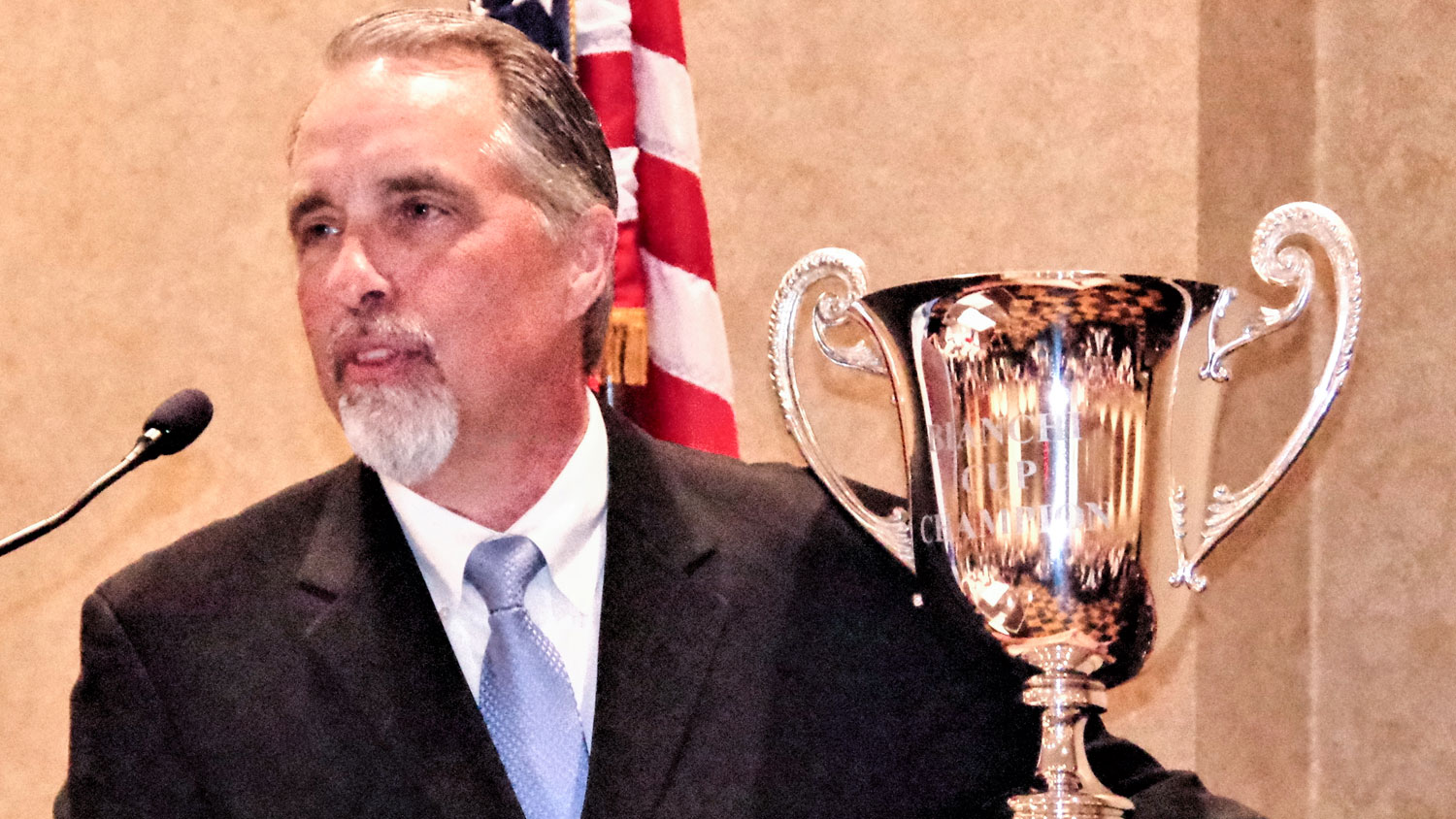 Piatt's equipment includes a Caspian Arms 1911 chambered in .38 Super that has been customized for Bianchi Open division. The pistol sports a black-nitride finish by H&M Metal Processing. As for his optic, Piatt opts for the Burris Red-Dot XTS-135. His ammo loads include Sierra 115-grain JHP bullets, Starline .38 Super brass and VihtaVuori N320 Powder. Piatt gives much of the credit to his success on the firing line to the gear he uses.
"When you're into your final stage with other competitors in contention of winning, the tension is high. That's when I have to keep the fight between me and the targets," says Piatt, adding, "All of my equipment ran flawlessly, which is a testament to my sponsor relationships which are some of the longest lasting in the industry. I cannot thank them enough."
Former NRA Bianchi Cup Coordinator Damien Orsinger weighed in on Piatt's victory.
"Bruce's dedication to the sport of NRA Action Pistol is hard to match. The sport is lucky to have such a great ambassador."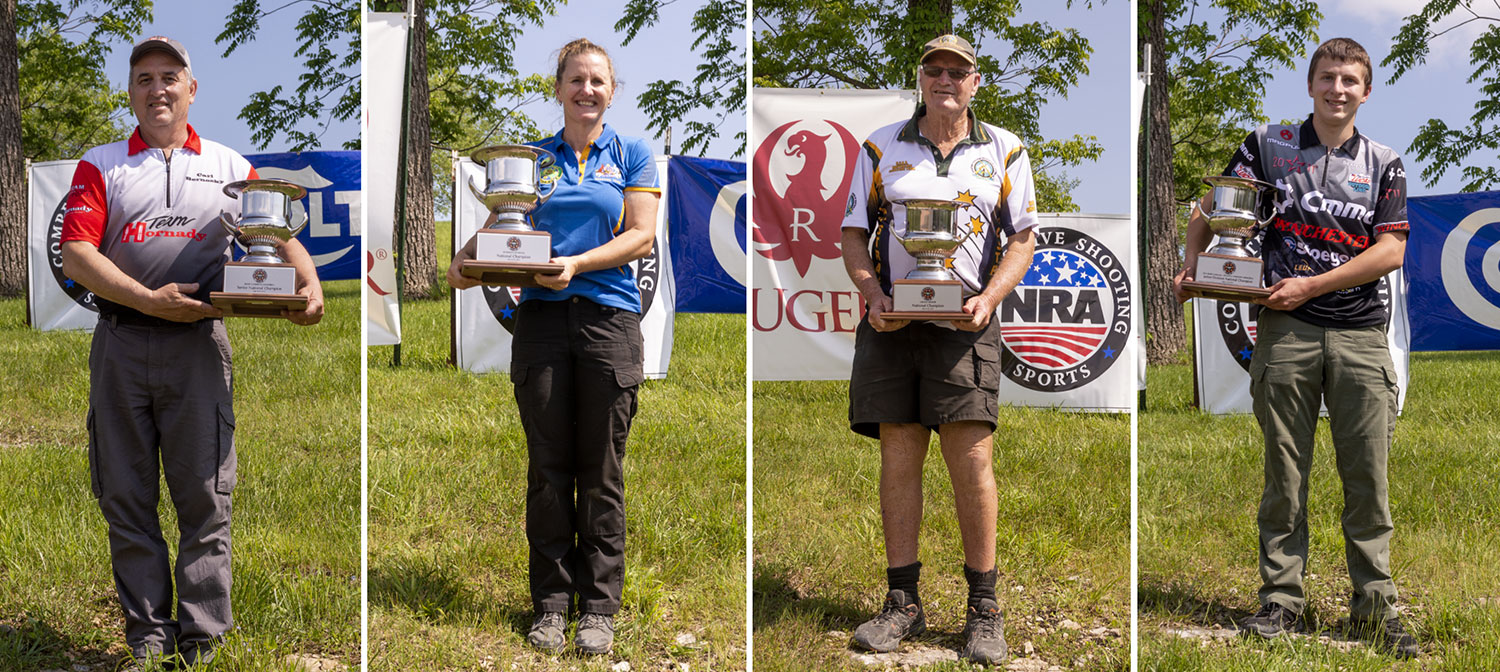 Tim Yackley, who has won the Bianchi Junior Championship many times previously as well as winning the 2018 NRA World Shooting Championship, finished this year's Cup with a score of 1918-169X, placing him fifth in the overall aggregate. Yackley's younger brother Sean took up his brothers mantle in the Junior standings, taking the top Bianchi Junior honors with a score of 1896-148X, 14 points ahead of runner-up Jonah Avenell. The younger Yackley cleaned the Falling Plate event with 55Xs—the only Junior shooter this year to perform such a feat.
Tempe, AZ, law enforcement firearms instructor Kyle Schmidt netted the Bianchi Metallic Cup with a score of 1905-137X. The win marks a second division title for Schimdt, the Production Cup Champion in 2010 and overall Bianchi Cup runner-up in 2016. He dropped a few points on the Practical Event and the Mover, but rallied with a perfect score at the Barricades to take the top spot 13 Xs over second place Walter Johnson. And, Enoch Smith claimed third place in Metallic this year scoring 1902-144X.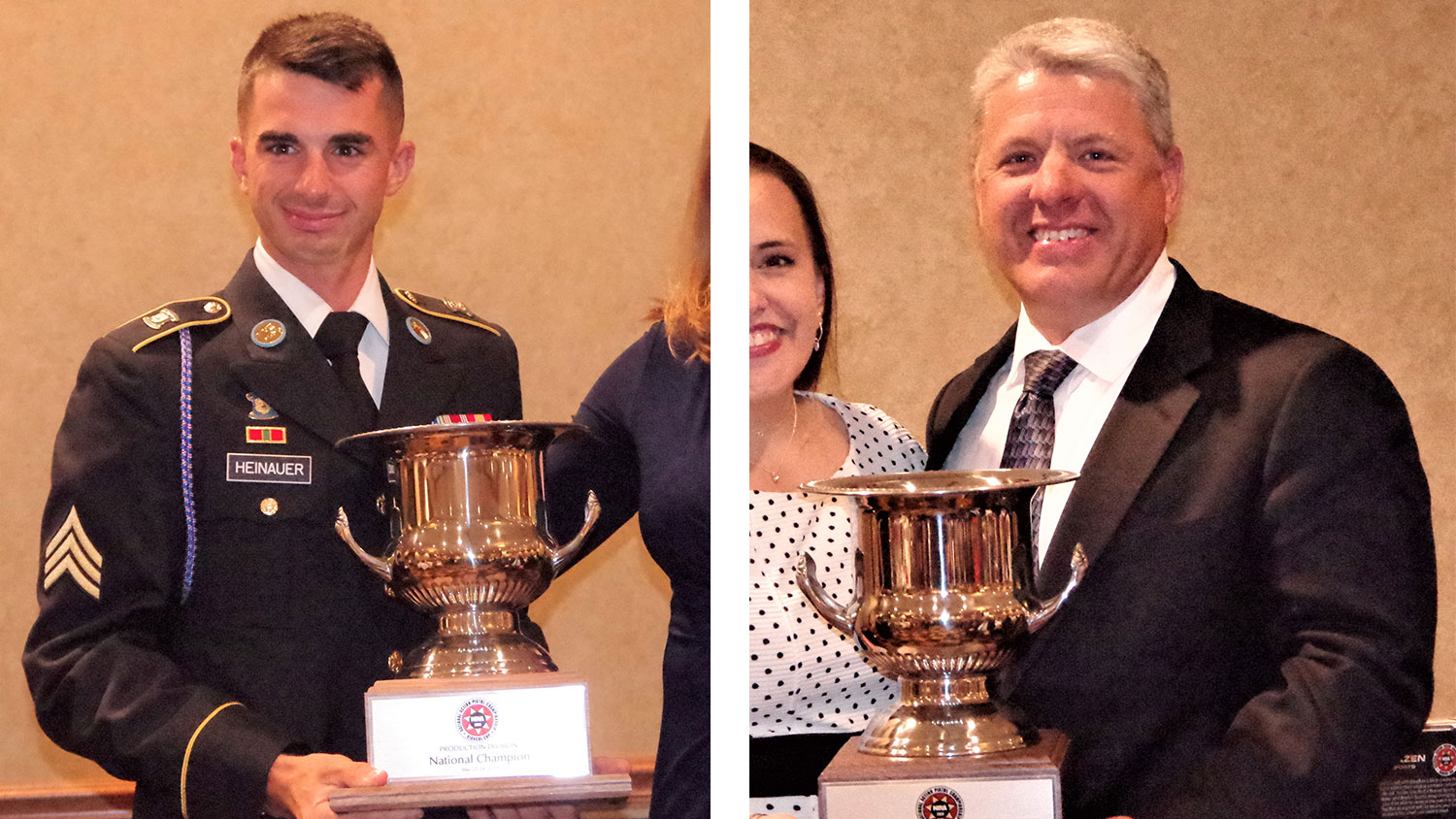 In Production, Army Marksmanship shooter Sgt. Anthony Heinauer tied with longtime Bianchi Cup shooter Rob Leatham at 1876-131X. To break the tie, match officials turned to the scorecards, looking at the X-counts per target at each event. At the Practical, Heinauer had five Xs over Leatham on his fourth target—giving the Army shooter his first Bianchi Production division victory. Both shooters struggled with different stages. It was the Mover for Heinauer, dropping several points to finish with 452-22X, contrasted with Leatham who finished the difficult event with 478-31X. However, Heinauer's performance at the Practical and Falling Plates secured him the victory, finishing both events with 10-point margins over Leatham.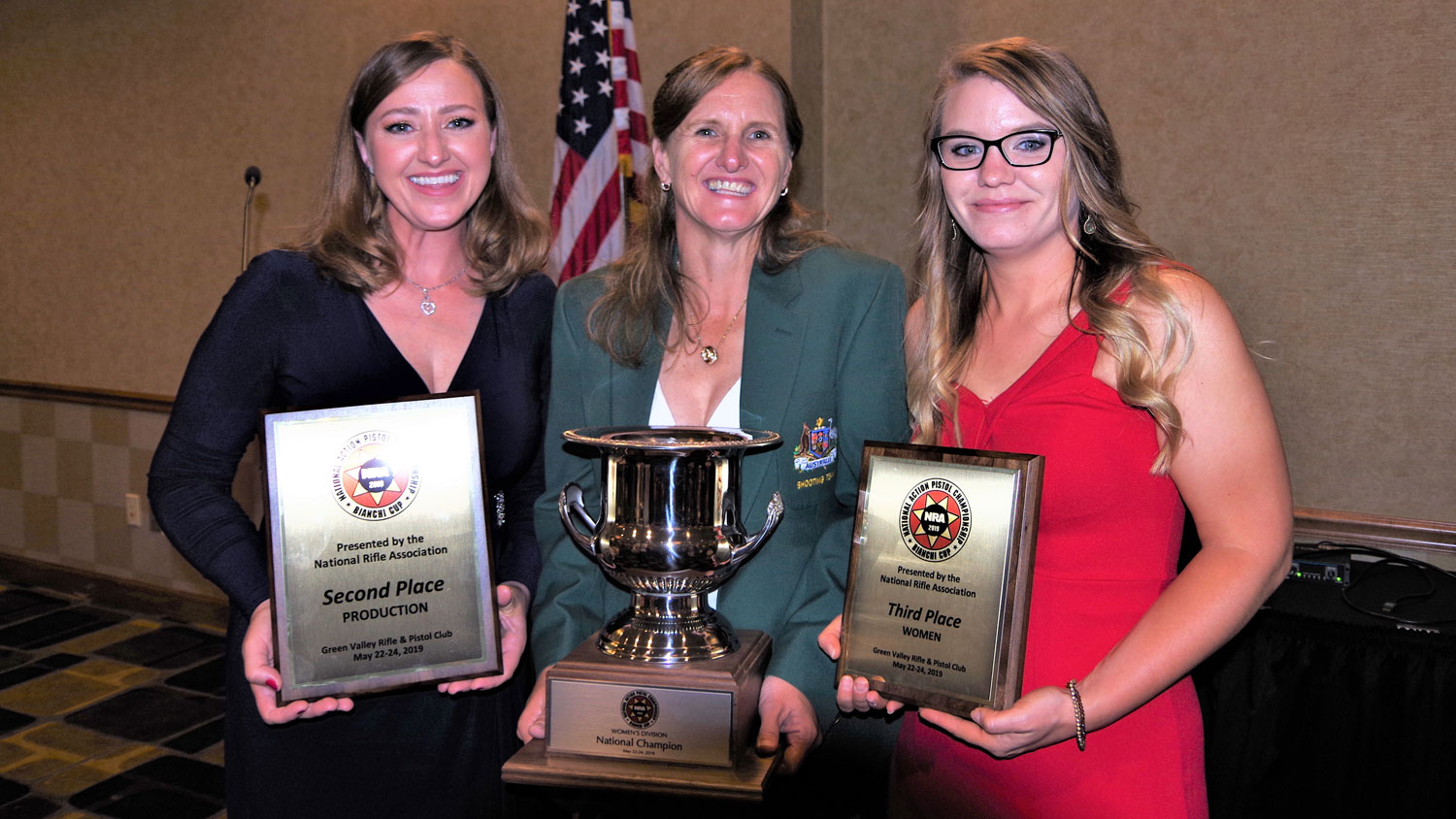 As for the Women's Championship, it was Cherie Blake of Australia once again taking the top honors. Blake was the 2017 Bianchi Women's Champion and last year's runner-up. She snagged the title with a commanding score of 1906-153X, including two perfect performances at the Practical and Falling Plates. Blake's score placed her 15th in the overall standings and provided a deep cushion to runner-up Julie Golob's score of 1829-133X. Although perfect at the Barricades, 450 scores at the Practical and Falling Plates, and 449-16X at the Moving Target event wasn't enough to keep up with Blake's tough competition. Rounding out the top three women shooters at Bianchi this year was Sydney Barlett (née Surgi) with 1817-111X. She had the highest Mover score of all women shooters this year with 471-19X.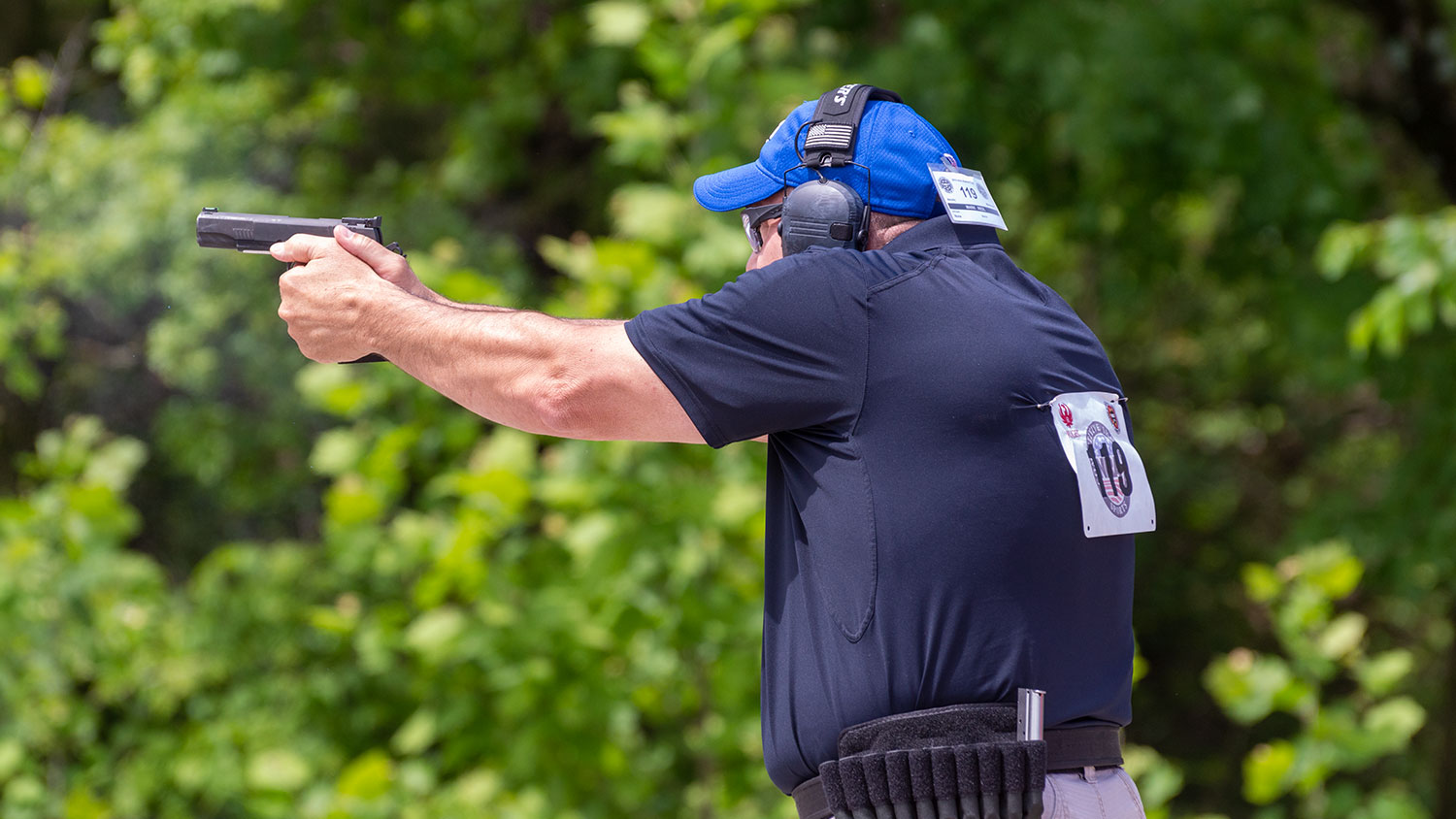 Be sure to join us next May in Missouri for the 2020 NRA Bianchi Cup. Click here to receive the latest updates.