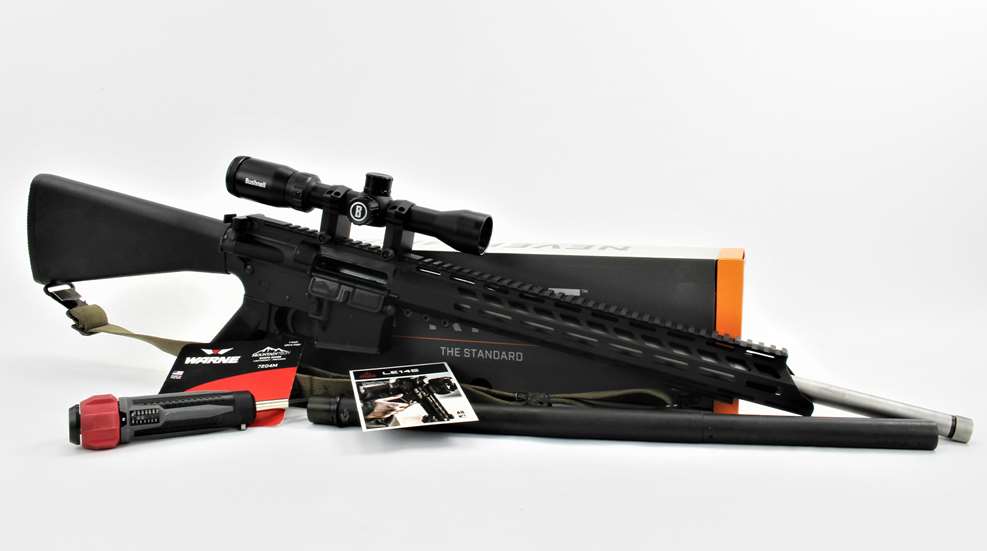 Service Rifle was never intended to be shot with the fanciest rifle on the market. The core of the sport revolves around shooting, not equipment. However as time went on, the 20-inch A2-style AR-15 was itself becoming rarer and more of a specialty item. Even the military was abandoning the A2 upper receiver to allow for optics, which have become standard equipment on the battlefield.
With all of this going on, the sport of Service Rifle needed to adapt or become extinct. Thus, in 2016, the High Power Rifle rulebook had its largest overhaul since the AR-15 itself was introduced into the competition. Not only were optics now allowed in Service Rifle but so were collapsible stocks and free-float tubes. With the new rules, I found myself looking down at a beautiful Rock River Arms National Match A2 that now might as well be an M1 Garand. I needed several upgrades to bring this gun up to speed, yet I didn't want to mess with it because I was thoroughly attached. However, there was at least one flattop rifle in my safe that wasn't receiving near enough use, so I decided to turn it from a range banger into a precision competitive instrument. Like many writers, I'm cheap. Not frugal, not thrifty—cheap.
My intention was to invest as little as possible into this project and share my experience with our readers in case they wish to do the same. I figured this way, if it becomes a "shoot-one-match-and-walk-away" sort of thing, I'm not out a ton of cash and at least I have another match rifle to add to the collection.
Reduce, Reuse, Repurpose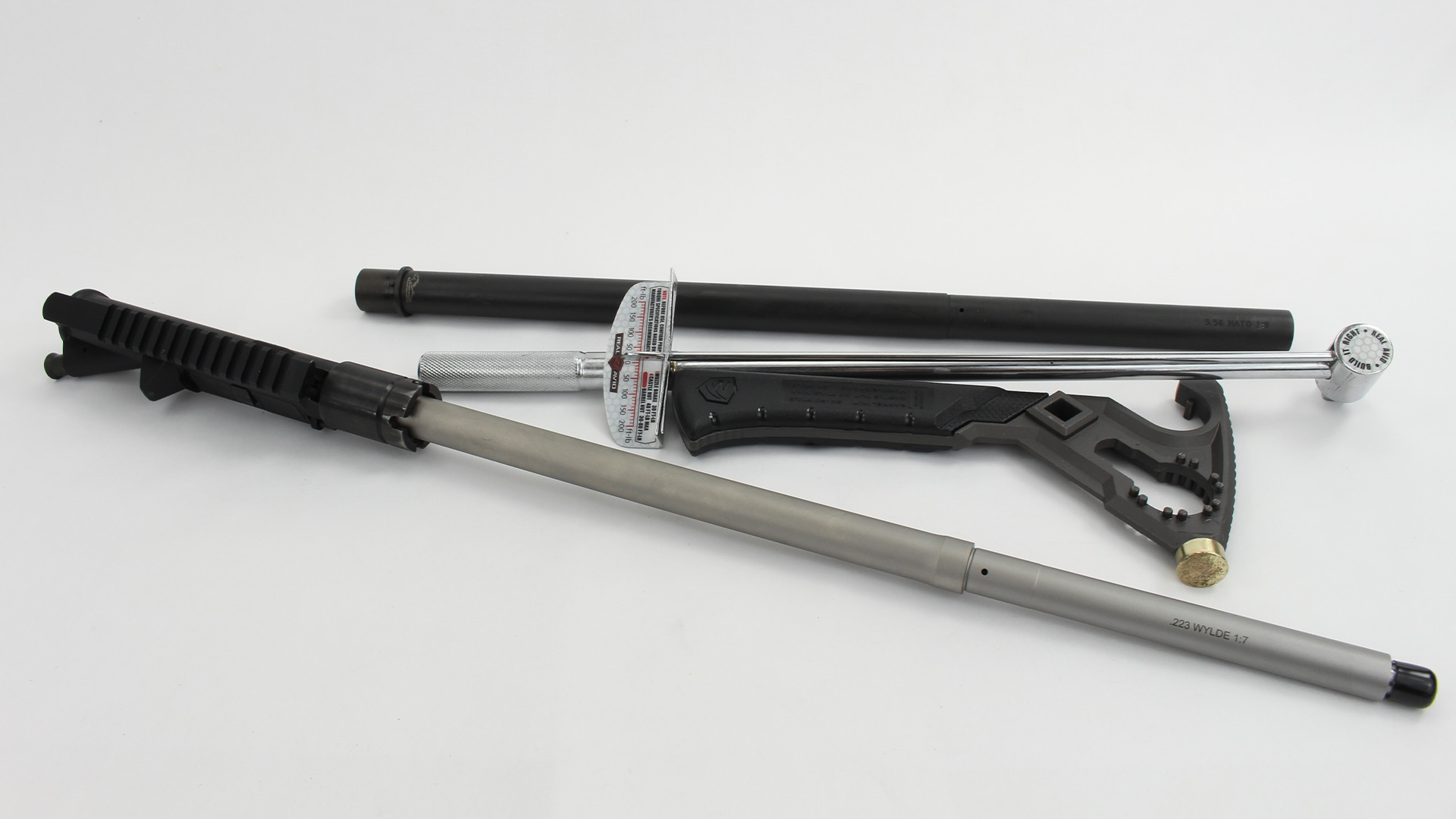 As mentioned, I wanted to conduct a major overhaul on an existing rifle for this project. Hey, there's no smaller amount of money than zero, so why not start with a rifle that I already owned? That rifle was a 20-inch heavy barreled 5.56 mm Anderson A3 AR-15. At first glance, it looks like all I would need to do is slap a scope on it, however, this barrel is cut with a slow 1:9-inch twist rate. While it shoots lightweight bullets through the same hole, it isn't fast enough to stabilize the heavier designs that are better suited for 600-yard targets. So it needed to go. I rebarreled it with a slightly thinner 1:7-inch twist .223 Wylde barrel from Tactical Kinetics. Many of you may not be familiar with this brand name, because the majority of its barrels are sold under various distributors' names. Ever see those inexpensive, house-brand barrels that always shoot really well? Bingo. I was able to retain the free-float handguard because it meets today's match rules. The process only took about 20 minutes and didn't cost me anything other than the barrel itself. I was off to a good start.
Stock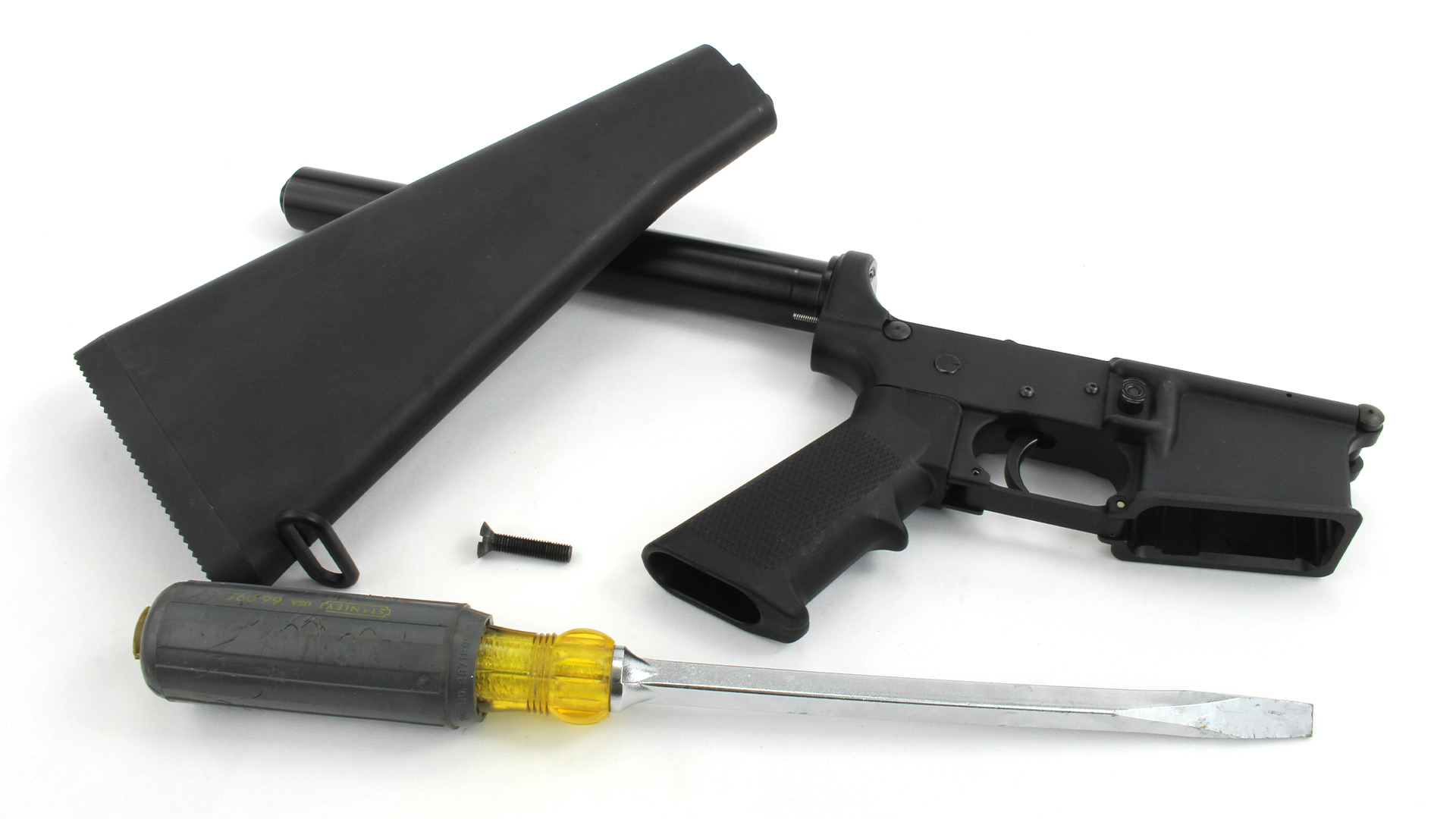 Adjustable stocks are legal for today's Service Rifle matches and are widely available. While there are dozens of options on the market, there is no denying that there is always a little bit of wiggle in them, and that is not acceptable for competition. Do you know what else is commonly available and also inexpensive? Old-school fixed A2 stocks. By the early 2000s, nearly every AR owner was transitioning their longer A2s into shorter M4-style builds and these stocks were getting tossed aside faster than you can say, "castle nut." I sourced one for this article for $20 at a local gun show (yes, even in 2021), and it was in like-new condition—probably removed the day the owner bought his rifle.
Trigger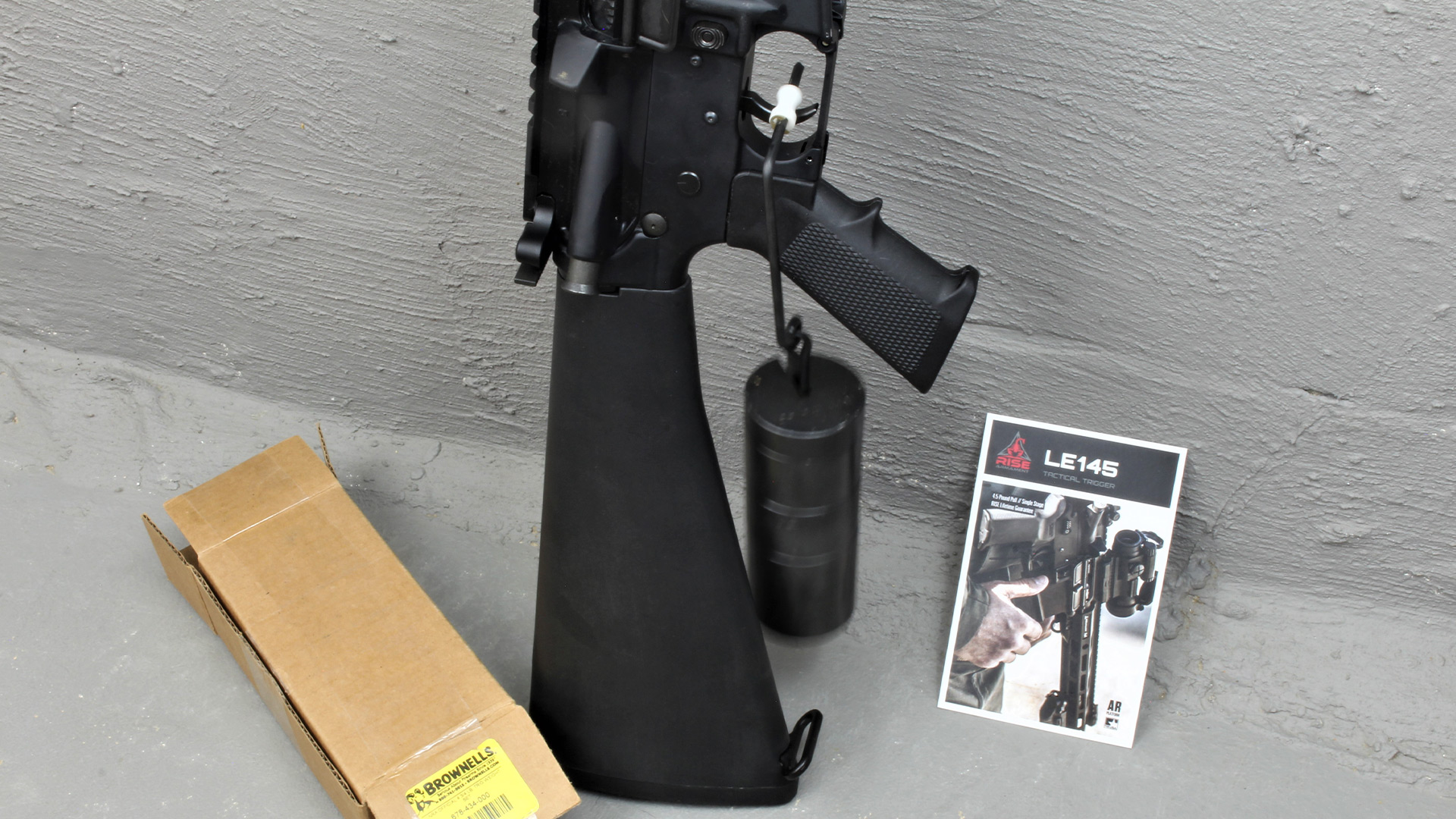 Next to stocks, there is about the same selection of triggers on the market. However, not all of them will be match-legal. It pays to check any trigger that you are considering against the Brownells NRA official trigger weight system, because if you do get into a serious match, you better believe that they are going to check your gun. True, there are several excellent trigger gauges on the market, but things are always in your favor when you have the same equipment as the match director. With that in mind, I selected a Rise Armament LE-145 drop-in trigger because it was advertised as 4.5 pounds, which is the match minimum. The LE-145 is a single-stage design, which is my personal preference, although Service Rifle is dominated by two-stage triggers. After spending a disproportionate amount of time behind long-range precision rifles, it's what I know best, and that aspect keeps things the same from gun to gun. Rise Armament is excellent at making triggers that are consistent, so I wasn't as nervous about it "lightening up" over time. Installation only took five minutes, and it didn't trip with 4.5 pounds of weight hanging on it, but did fall at 4.75 pounds. In other words, it was perfect.
Optic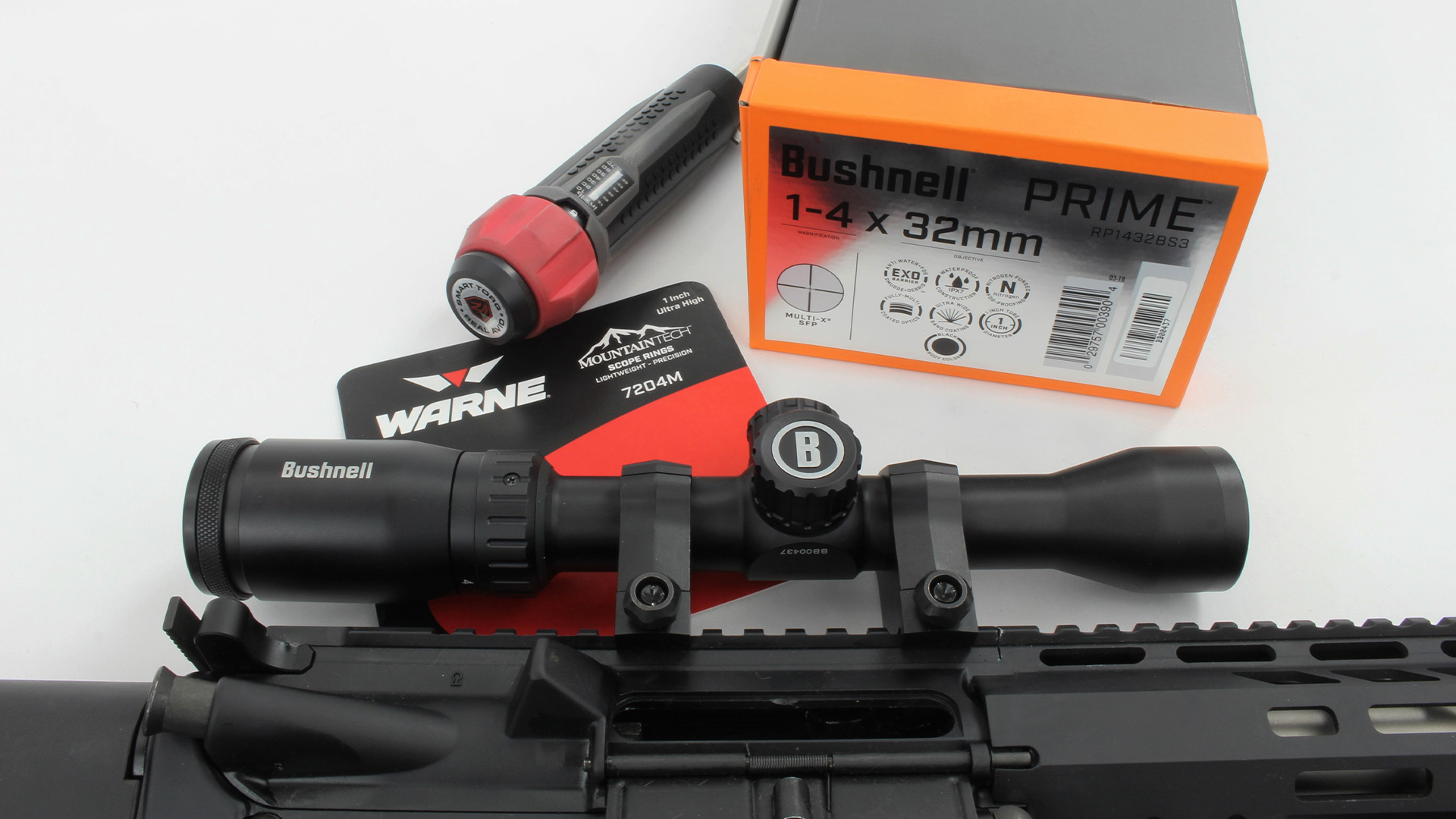 The addition of magnified optics to Service Rifle rules back in 2016 was the impetus of this project. While adding 4.5X magnification makes it easier to build a sight picture, I was excited about something altogether different. I've never been a fan of the six o'clock hold. Yes, I agree that it is the best way to put a black post against a black target, and that's why I've always shot that way. However, your elevation adjustment is dependent on not only how far away the target is but how far the center is from that bottom edge. If you find yourself shooting different variations of the reduced-distance course, it becomes a lot to track. Running an optic brings you back to a natural center hold, rendering distance to the target center irrelevant—all you need to keep track of is your bullet drop. This also opens your service rifle up to other uses, such as hunting.
To keep things within a budget, I chose the Bushnell Prime 1-4x32 mm. The specs of this scope fit neatly into the box that allows for 4.5X magnification and a 34 mm objective lens. For $129, I'll make do without the extra 0.5X of magnification and have some cash left over for ammunition. I also liked this scope for its simple duplex reticle, which was nice and fine towards the center, perfect for Bullseye-style targets. As a bonus, it had generous eye relief. Regardless of which position I was in, I never felt as if I was crowding the scope or had to turkey-neck my head to get a good sight picture.
One place you don't want to skimp is on scope-mounting hardware. I can't tell you how many times I've had screws come loose or installed rings, only to find out that they needed to be lapped. If nothing else, as things stress, you are going to experience a small point-of-impact change and need to make better use of your sighters. It's not much, but it could be the difference between the edge of the nine-ring and the line on the 10-ring. Initially, I was thinking about Warne's new Vaporware one-piece mount, because it's the perfect MSR height and not too expensive. While I had one on hand, it was unfortunately for a 30 mm scope, and my Prime was built on a 1-inch main tube. It wasn't the end of the world, because I also had a pair of Warne's ultra-high Mountain Tech scope rings. I can't exactly call this "budget" but remember—repurposed gear is the next best thing to free.
Ammunition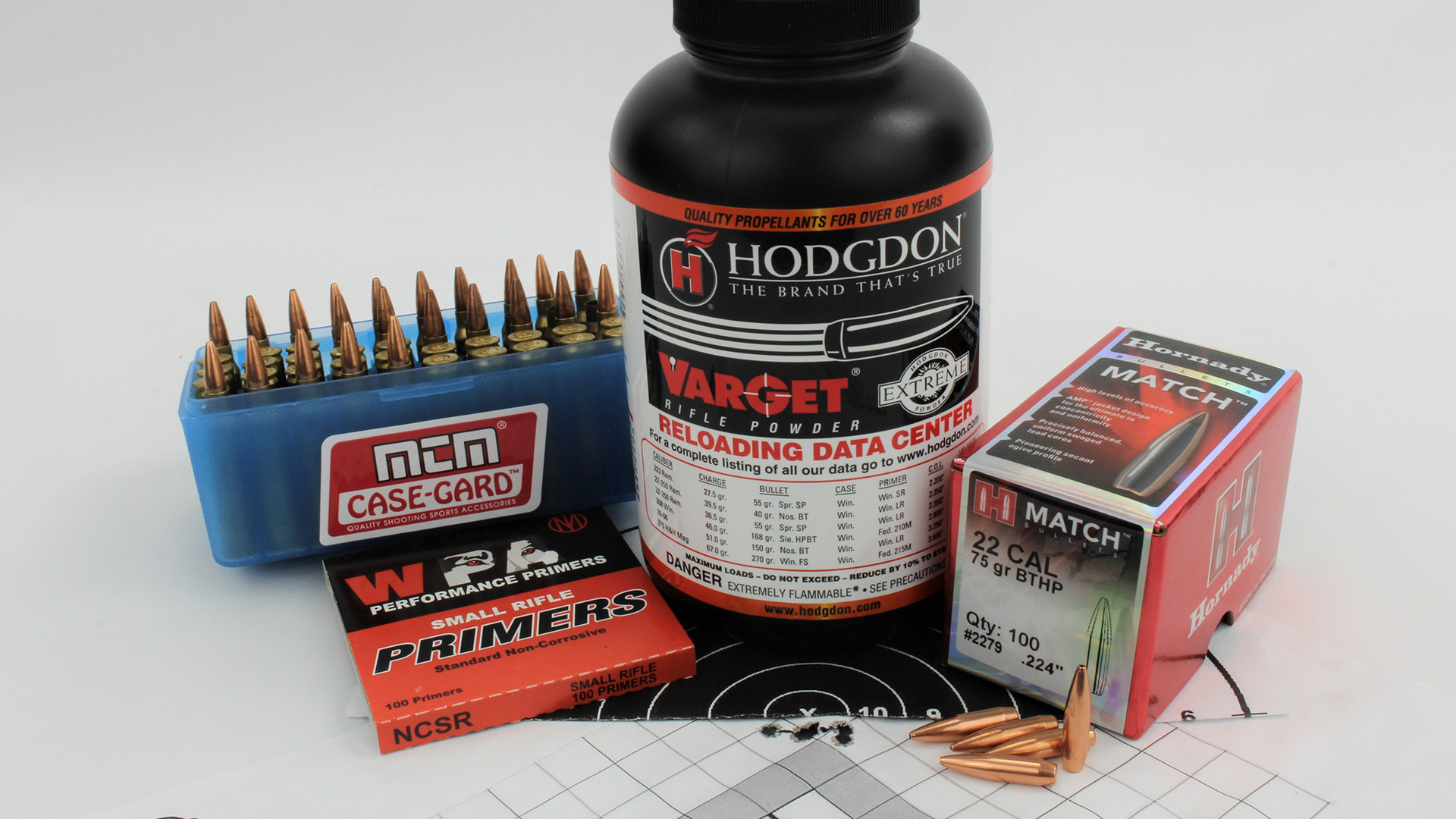 With a new barrel comes a new round of load development. Match ammunition can put you in the poor house; that's why handloading is so important. Also, a handload will make even an inexpensive barrel shoot well inside what it takes to win a Service Rifle match. A winning combination for me has always been 75-grain Hornady BTHP Match Bullets, Wolf Small Rifle Primers and Hodgdon Varget. These components are among the least expensive on the market and, as such, are affordable enough to practice with on a steady basis. In my opinion, that is where the real accuracy comes from—practice. Using Lyman's second edition AR Reloading manual, I built just a single round of load development, organized it in an MTM ammunition box and found a sweet spot that produced sub-MOA accuracy. Even though it seems insignificant, spend a few bucks on the MTM ammunition box to protect your rounds. Just one deformed tip can cost you several points, and they help you quickly see how many rounds of ammunition you put into your magazines—ensuring you didn't short yourself for the rapid-fire stages.
Conclusion
With the Service Rifle season over for several months now and it being a bit too chilly to enjoy long practice sessions (my range day was 15 degrees), it will be a few months before I have an opportunity to put this build up against some others. Nonetheless, it made a perfect wintertime activity, especially since most shooting is on hold due to ammunition availability. So if you're like me and looking to fan an old flame, consider giving an old AR-15 a facelift to take advantage of the new Service Rifle allowances. The time and money investment can be minimal, and nothing is as exhilarating as breathing new life into a sport you adore.
---
Read more:
5 Tips To Improve Your Service Rifle Prone Shooting