Team USA athletes Brian Burrows and Derek Haldeman won the Men's Trap gold and silver medals, respectively, in Lima, Peru, at the Pan Am Games on Tuesday, July 30. Along with the medals, the duo earned quotas for the U.S. at the Tokyo 2020 Olympic games.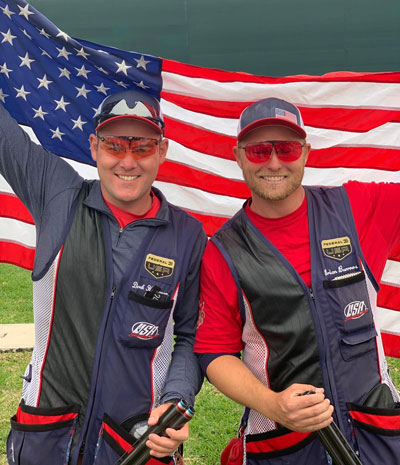 The U.S. hasn't sent athletes to the Olympic Games for Men's Trap since 2008. After the excellent performances from Burrows and Haldeman, Team USA now has a full shotgun team that will be headed to Tokyo in 2020 for the Games of the XXXII Olympiad.
Through 25 targets, Haldeman had missed four and Burrows' five. Haldeman held a one-target advantage through target 35, but then Burrows would take over after Haldeman failed to connect on four occasions. Burrows finished with a three-target lead to secure the gold medal.
"We knew they had all the tools to get the job done," Coach Jay Waldron told USA Shooting in a press release, adding, "I really want to give credit and a nod to the U.S. Army Marksmanship Unit for their investment in Derek [Haldeman]. The AMU is such a big part of this team with the training and support they provide athletes like Derek and so many others training there."
Photo courtesy of USA Shooting
---
See more:
After ISSF World Championship Victory, Ashley Carroll Takes Pan Am Games Women's Trap Gold